Manisa
Manisa
is an inland city in
Central Aegean
,
Turkey
.
Understand
Just east of the coastal city of
Izmir
over the Sabuncubeli Pass, Manisa was founded as
Magnesia
in 190 BCE. An important yet provincial centre during the Ottoman period, Manisa recently started to emerge as one of the industrial powerhouses of Turkish economy. As of 2010, the city has a population of around 300,000.
Get in
By bus
Manisa lies on the main route
Istanbul
–
Izmir
buses take, so has a very high frequency of bus connections from those cities, as well as from
Balıkesir
and
Bursa
, both of which also lie on the same route.
By train
Manisa lies on the main railtracks fanning out of
Izmir
towards north. The city station welcomes trains from Izmir (six times daily),
Bandırma
(twice daily, via
Balıkesir
—transferring from fast ferries from
Istanbul
is possible in this harbour town),
Ankara
(twice daily, via
Eskişehir
,
Kütahya
, and Balıkesir) and
Uşak
. There are also trains three times a day from the nearby town of
Alaşehir
.
By car
Manisa is on the main
Istanbul
–
Balıkesir
–
Izmir
highway, numbered
D565
, as well as the main Izmir–
Ankara
highway,
D300
.
See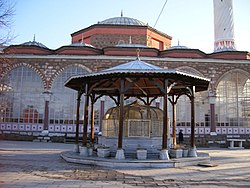 Connect
Telephone code of Manisa is (+90) 236.

Go next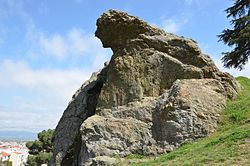 Sardis (Sart) — Formerly the ancient capital city of the Lydians (the indigenous people of the inland Central Aegean in ancient times), Sardis is 62 km east of Manisa, close to the town of Salihli and just off the highway to Ankara. Sardis features an almost totally intact gymnasium, a temple dedicated to Artemis, and a synagogue (the oldest one in Asia Minor, dating back to Roman times).
Mount Sipylus (Spil Dağı) — overlooking the city, Mount Sipylus (1,513 m/4,964 ft) is a popular weekend retreat for locals, and features dense forests, wild tulips, and beautiful scenery. Sipylus is also one of the few places in this region which regularly sees snow in winter. On the side of the mountain is a full-faced statue of Cybele, the mother goddess of many ancient Anatolian civilizations, carved into a rocky cliff, dating back to Hittites. Also closeby, facing the city, is the "weeping rock" (ağlayan kaya), a rock on the top of a cliff resembling a face, complete with water flow ("tears") coming out of the "eyes". The myth has it that, this was Niobe, who had her daughters killed by Artemis, her sons killed by Apollo, and her husband killed himself, so she walked away to the mountain and cried unceasingly until she petrified.