Manitoba
Manitoba
is a province in the
Prairies
of
Canada
. It is bordered by
Ontario
to the east,
Saskatchewan
to the west, the
USA
to the south, and
Nunavut
to the north. It was established as a province in 1870.
The province has 1.3 million inhabitants, half of them in
Winnipeg
, the capital. One-tenth of the population belongs to the
First Nations
.
Regions
Other destinations
, located approximately 75km south of Thompson.
Understand

Manitoba is one of Canada's Prairie Provinces. It is well known for its agriculture, culture and history.

Talk
English is the predominant language. French is also spoken in
Winnipeg
and other parts of the province but is slowly disappearing. Ukrainian, Polish, German, Filipino (primarily Tagalog), Icelandic, and First Nations languages (Cree and Ojibway) are also spoken in local circles.
Get in
By bus
Kasper Bus connects Winnipeg to Thunder Bay and points east.
As of August 2019, there is no scheduled bus service between Manitoba and the rest of Western Canada.
By plane
International travelers coming by plane to Manitoba will arrive in the international airport in Winnipeg. Smaller cities usually have domestic-only air service.
Winnipeg James Armstrong Richardson International Airport (YWG

), 1-204-987-9402, .
By rail
VIA Rail
is the only passenger rail service into Manitoba. The
Canadian
transcontinental train makes six stops in Manitoba, with the primary hub in Winnipeg.
By car
Within Canada
The main line of the
Trans-Canada Highway
, Highway 1, runs for 519 km (322 miles) through southern Manitoba and Winnipeg on its way from
Ottawa
to
Regina
. Nearly the entire route is a divided 4-lane roadway. The northern
Yellowhead Highway
branch, Highway 16, splits off west of Winnipeg at
Portage la Prairie
and heads west towards
Saskatoon
.
From U.S.A.
Interstate 29 in North Dakota connects to Manitoba Highway 75 at the
Pembina
ND-
Emerson
MB border. From Minnesota, traffic on U.S. Route 75 will need to detour slightly west to the I-29 border crossing, as the Noyes MN-Emerson MB crossing on US 75 is closed. Route 59 is an alternative, though most of it is only a two-lane highway.
On foot
There is relatively little within walking distance of Manitoba's borders; this is sparsely-populated rural prairie and
bitterly cold
in winter (-20°C is not uncommon). The largest of these tiny border villages is Emerson (pop 600), which is 8km (five miles) center-to-centre from
Pembina
ND.
In 2017, Canadian media is
widely reporting
that third-country nationals, at risk of being deported by the new US administration to their deaths in various Middle Eastern hotspots, are simply walking across the 49th parallel into Manitoba in the finest
Underground Railroad
tradition. Entering at abandoned border crossing points or snow-covered farm fields, they turn themselves in to authorities to claim refugee status once in Canada.
This strategy is risky
both from a legal and a logistical standpoint; refugees have lost their way in winter conditions, been unable to call the 9-1-1 emergency number or
been hospitalised
for frostbite-related injuries.
Get around
By car
Like most of Canada's provinces, Manitoba is large, so a car or any other road vehicle is probably the most convenient way to get around Winnipeg and all areas in the province.
By train
VIA Rail runs an intraprovincial service from Winnipeg Union Station to
Churchill
in the far north, three trains weekly. The complete 1700 km journey takes 37 hours. A branch line from
The Pas
continues northwest to
Pukatawagan
twice weekly.
Buy
An 8% provincial sales tax is added to most retail products sold in Manitoba, in addition to the 5% federal value added tax.

See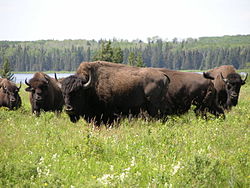 Historical sites
There are many historical sites and ruins found in Manitoba from the fur trade era of Canada.
Learn about the life in the past by visiting the Lower Fort Garry Historic site found in the Interlake region that shows how life was like in the 1800s.
Another place to visit is the remains of the St. Boniface Cathedral in Winnipeg which was burned down now another church is placed inside the cathedral ruins.
The Forks National Historic Site is a place where people have been meeting for around 6000 years. The Forks is the confluence of the Red and Assiniboine Rivers,
Winnipeg
's founding place. There are many different activities to do at the Forks like shopping at the Forks Market, the Johnson Terminal. Skating on river paths is a popular activity during winter. The Forks is a beautiful place in the heart of the city that includes things like parks,gardens, sculptures, shops, and restaurants. The site is a model for urban renewal and waterfront development.
Another great place to visit in
Winnipeg
is the Exchange District in downtown Winnipeg, the Exchange District is well known for it's well preserved and stunning turn of the century architecture telling the story of Winnipeg's amazing history. The Exchange District is now a days well known for its trendy boutiques, restaurants, cafes, and cool theatres. The Exchange District holds many festivals including The Winnipeg Fringe Festival.
Wildlife and gardens
The International Peace Garden found on the Canada-US border near Bossivain in Western region is a beautiful place that celebrates the peace between Canada and US. Oak Hammock Marsh found in the Interlake region is a nature reserve where you can see many different type of birds including the Canada goose and the Snowy Owl.
Riding Mountain National Park
is an excellent area to see large wild mammals and many species of birds in their natural habitat.
Do
Bear watching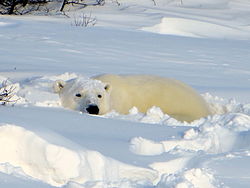 Churchill
is known for its Polar Bears and
Riding Mountain National Park
and adjacent
Parkland
area for its abundant population of Black Bears that vary in color from blond, cinnamon and chocolate to black.
Fishing
During the summer time there are many fishing areas found in Manitoba like in
Lockport
found in the Interlake region is an example where you can see many fishermen around the Red River. During the winter time you can experience ice fishing where people can rent huts to go ice fishing in.
The
Parkland
region has world-class trout lakes.
Festivals
There are many festivals in different regions of Manitoba.
Some of the best known festivals celebrated in this region is the Folklorama festival found all over Winnipeg.
The Winnipeg Fringe Festival is a popular festival that takes place in
Winnipeg
's Exchange District.
Another popular festival in Winnipeg is the Festival du Voyageur during February at Fort Gibraltar.
The Corn and Apple festival found in
Morden
found in the Pembina Valley region which sells some of its delicious Morden sweet corn and apple cider.
Beaches
There are also many inland beaches found throughout the province. Some of the well known beaches are Grand Beach and Winnipeg Beach in the Interlake region that are along Lake Winnipeg. Lake Winnipeg is the world's 11th-largest lake.
Winter activities
During the winter time there are many activities available like tobogganing on some of the toboggan slide like the one found in Kildonan Park in Winnipeg. Skating on the river paths including skating on world's longest skating trail on the Assiniboine and Red Rivers, and other skating trails in Winnipeg. Snowmobiling throughout the province is a fun way to get around.
Always check the weather report prior to going out in winter
. Temperatures can reach as low as -40°C from late December to early March, presenting significant dangers for anyone who is unprepared.
Eat

Enjoy the fine grain products such as the different varieties of bread offered in the different communities and restaurants. Manitoba also is known for producing the best pork products in the world, including back bacon. A popular dish in Manitoba are perogies.

Drink
The drinking age is 18 - younger than most other provinces in Canada. Manitoba is also the home of Crown Royal in
Gimli
.
The tap water in most communities is quite delicious, as far as water goes, though in some locales, where wells are used to supply the municipal water system, there is a pronounced mineral taste. The provincial capital of Winnipeg has an aftertaste to its water, though it does not settle-out solids like, say the water in
Regina
,
Saskatchewan
. Manitoba is known as one of the wettest provinces, and has in excess of 100,000 lakes.
Sleep
Those interested in meeting people and learning about Manitoba rural culture could stay at a B&B or a farm.

Stay safe
Weather
Winter
s in Manitoba are harsh, and the relative lack of moderating effects by oceans and its relative flatness makes most of the province exposed to weather extremes. Parts of Manitoba near lakes are prone to lake effect snow. Summers are another story, with the possibility of high humidity when the warm air from the Gulf of Mexico in the south blows through the province.
West Nile Virus
There have been some cases of
West Nile Virus
in the province it is recommended that you do the following things:
Reduce the number of hours you spend outside especially during dusk and dawn
Use mosquito repellent
Wear light coloured and loose fitting clothing
Go next