Martha's Vineyard
Martha's Vineyard
is an island located 8 miles off the
Cape Cod
peninsula in
Massachusetts
. Once a whaling center, it has become a vacation hotspot and a favorite summertime haven of many celebrities. Due to this, it has picked up the nickname "Hollywood East". It is the 57th largest island in the United States and third largest on the eastern seaboard. It is believed to be the inspiration of Amity Island, from the movie
Jaws
.
Towns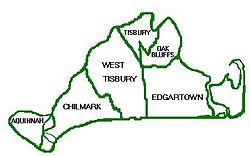 Martha's Vineyard is made up of six towns, each with a selection of restaurants and accommodations.
, formerly known as Gay Head
, including the fishing village of Menemsha
, which includes Chappaquiddick Island
, often mistakenly referred to as Oaks Bluff
, including the main village of Vineyard Haven in the town center
Understand
Residents have come to say "up island" to mean western areas of the island Aquinnah, Chilmark and West Tisbury. Edgartown, Oak Bluffs and Tisbury are "down island." These terms refer not to north or south, but to longitude. (From the island's whaling past...)
Celebrities
have been coming to Martha's Vineyard for decades. Locals have gotten used to them and scarcely seem to notice any more. It's considered impolite to stare.
South-facing beaches have the most surf. Uncle Seth's Pond on Lambert's Cove Road is the only freshwater beach and has only very limited parking.
Martha's Vineyard Museum, 59 School St. (Cooke and School Sts), PO Box 1310, Edgartown, MA 02539, . Open: Summer: mid Jun-early Oct, Tu-Sa 10AM-5PM; Fall: early Oct-mid Dec W,Th,F 1PM-4PM, Sa 10AM-4PM; Winter: early Jan-mid Mar, Sa 10AM- PM; Spring: mid-Mar to mid-Jun, W,T,F 1PM-4PM Sa 10AM-4PM. Authoritative source for history and genealogy on the island. Excellent exhibits including the Thomas Cooke house, the Francis Foster Museum, the Captain Francis Pease House and Carriage Shed with coverage of whaling and Wampanoag history as well. Adm.: $7 adult, 6-15years $4, under 6 free.
Get in
Ferries
Vineyard Haven, also called Tisbury, is the main port of entry for the Steamship Authority Ferries.
By plane
phone: +1 508-693-7022

address: Airport Rd.
Cape Air, Phone: +1-800-352-0714, . Regional airline serving Hyannis, Provincetown, Martha's Vineyard and Nantucket with service also to the off cape cities of Boston, Providence (seasonal), and New Bedford.
American Airlines, Service from Washington (DCA).
JetBlue, Phone: +1-800-JETBLUE offers seasonal service from JFK and BOS on its 100 seat Embraer E190 Jet aircraft
Get around
By bus
Martha's Vineyard Transit Authority

phone: +1 508 693-9440

11 A Street, Airport Business Park, Edgartown. Buses run all over the island. $1 each way per town you go through or buy passes. 1 day $10, 3 day $15, 7 day $25, 31 day $40.
Taxi
Adamcab, Phone: +1 508-627-4462, +1-800-281-4462.
All Island Taxi, Phone: +1 508-693-2929, +1-800-693-TAXI.
Atlantic Cab, Phone: +1 508-693-7110, +1-877-477-8294.
Bluefish Taxi, Phone: +1 508-627-7373.
Jon's Taxi, Phone: +1 508-627-4677, +1 508-627-5298.
Mario's Taxi, Phone: +1 508-693-8399, +1-877-627-6972, +1 508-645-2377.
Martha's Vineyard Taxi Company, Phone: +1 508-693-8660, +1-877-454-5900.
Stagecoach Taxi, Phone: +1 508-693-9632, +1-800-299-5411.
Tisbury Taxi, Phone: +1 508-693-7660, +1-800-597-2362.
Your Taxi, Phone: +1 508-693-0003, +1-800-396-0003.
Admiral Taxi Phone +1-508-693-2020
Bicycle
Most of the vineyard's roads are accompanied by a bike path.
Anderson's Bike Rentals Circuit Avenue Extension, Oak Bluffs Phone: +1 508-693-9346

Edgartown Bike RentalsOne Main Street, Edgartown. Apr-Oct. Daily 9AM-6PM. Book through phone or email. Delivery.

address: 212 Main St

Edgartown. Full service and on the bicycle path in Edgartown with parking. Delivery.

address: 4 Lagoon Pond Rd

Vineyard Haven. Will pick-up and deliver to any Island location. $15-$50 per day depending on the bike.
Martha's Vineyard Bike Rentals, 2, Dock Street, Edgartown, Phone: +1=800-627-2763, . Apr-Oct. Daily 9AM-6PM.
Sun 'N Fun, Lake Av., Oak Bluffs, Phone: +1 508-693-5457.
Quawk Cycle of Martha's Vineyard, Vineyard Haven, Phone: +1 508-693-1188.
Moped
Vineyard Vehicles Rentals, Beach Rd., Vineyard Haven, Phone: +1 508-693-1185.

address: 19 Beach Rd

Vineyard Haven.
King's Rental, Inc., Circuit Av., Oak Bluffs, Phone: +1 508-693-1887.
Vineyard Bike & Moped, Oak Bluffs Av., Oak Bluffs, Phone: +1 508-693-6886.
By car
A-A Island Auto Rental, +1-800-627-6333, +1 508-696-5300, info@mvautorental.com, . Locations in Vineyard Haven, Oak Bluffs, and Edgartown
By ferry
Menemsha Bike Ferry: +1 508-645-5154, : a small ferry carries bicycles and pedestrians from North Road on the northeastern side of Menemsha Harbor to West Basin Road on the southwestern side of the harbor.
The Chappy Ferry: +1 508-627-9427, : carries pedestrians, cyclists, and up to three cars between Edgartown and Chappaquiddick.
See
The Gay Head cliffs at Aquinnah are a "must see". Moshup Beach below the cliffs was also named as at top ten "walking beach" by the
Travel Channel
in 2003, beating out beaches in
Hermosa Beach
, CA and
Maui
. Menemsha is one of the few places on the east coast where you can see the sunset over the water.
Lighthouses
Cape Poge LighthouseA 4-wheel drive vehicle is required to visit it. Tours available by the Trustees of Reservations

Edgartown Lighthouse

address: Edgartown harbor

recently made open to the public
Beaches
The Martha's Vineyard Chamber of Commerce lists 19 beaches. These include:
South Beach. Located in Katama section of Edgartown, this is a large public beach with good surf. Free parking, a few miles bike ride from downtown Edgartown, or via the MV bus system.
State Beach. Located between Oak Bluffs and Edgartown, on Oak Bluffs Edgartown Rd, this is a large public beach with practically no waves. A good beach for young children. Free parking available along Oak Bluffs Edgartown Rd.
Aquinnah Beach (Moshup Beach). Located at the far western end of the island, this is a public beach with pay parking available. A small walk is required from the pay lots to the beach. This beach is known for the picturesque clay cliffs that rise up from the edge of the beach. Nudity has at times been common and tolerated on the northern end of the beach.
Lucy Vincent Beach. Located off of South Rd in Chilmark (listed as Lucy Vincent Rd on some maps, it is a dirt road just before the big bend at Windy Gates Rd), this is a private beach for town residents during the summer. Nudity is allowed in the area that is more than 1,500 feet from the entrance. It is open to the public during the off-season, October 1 through May 31. A great beach.
Do
Charter Fishing
Horseback riding in West Tisbury.
Art Galleries: The island also offers several first class art galleries for the art lovers making a visit. Several of the best are:
Island Art Gallery +1 508 693-3948 Tisbury/Vineyard Haven
All Things Millie Briggs -- +1 508 693-9232 (Tisbury/Vineyard Haven)
Chilmark Gallery -- +1 508 645-2587 (Chilmark)
Edgartown Scrimshaw Gallery, Inc. -- +1 508 627-9439 (Edgartown)
Golf: For those who like to add a challenge to their walks, the island offers several public golf courses.
Farm Neck Golf Course -- +1 508 693-3057 (Oak Bluffs)
Island Cove Mini Golf -- +1 508 693-2611 (Tisbury/Vineyard Haven)
Mink Meadows Golf Course -- +1 508 693-0600 (Tisbury/Vineyard Haven)
Bicycling. As small as people think the Vineyard is, it covers 100 square miles and offers a great cycling opportunity to visitors. Most of the islands roads are accompanied by a bike path. With most of the island being relatively flat, this is a great opportunity for cyclists of all ages and levels to see the island in a different way and help reduce traffic congestion while doing so. The terrain up island tends to be a bit more hilly and windy. During tourist season the roads do get congested and care should be taken to keep an eye on street traffic as well as pedestrians. Also, be sure to obey all traffic laws as they also apply to cyclists and be aware that all cyclists under 16 MUST wear a helmet.
Hiking: Several local groups have helped preserve many acres of land on the island, including miles of shoreline, for public use. This makes the Vineyard a great place to see on foot. Whether hiking the cliffs of Aquinnah or walking down to one of the great fishing spots available there is a hike to suit all visitors to the island.
Waskosim's Rock Reservation, Chilmark. Stand atop one of the highest peaks on the Island, travel alongside a pretty brook and trek across foothills and valleys on this 184-acre preserve.
Cedar Creek Neck Wildlife Sanctuary, West Tisbury. Miles of trails lead you over hills, alongside brooks and bogs and to a wonderful rocky beach on Vineyard Sound overlooking the Elizabeth Islands.
Aquinnah Cliffs and Beach. A spectacular view awaits at the top of these 150-foot cliffs, while miles of shoreline below invite walkers.
Public programs available all month long at the Massachusetts' Audubon Center at Felix Neck.
Martha's Vineyard Sharks Baseball
address: Vineyard Baseball Park
Annual Activities
All towns
Annual Martha's Vineyard Striped Bass and Bluefish Derby (Sept. 15 - Oct. 15)
Aquinnah
Chilmark
Chilmark Road Race (August)
Edgartown
4th of July parade and fireworks
12 Meter Boat Race at the Edgartown Yacht Club (Featuring many winning America's Cup boats)
Martha's Vineyard Striped Bass and Bluefish Derby (Early Fall)
Oak Bluffs
West Tisbury
Eat
The island supports a full range of restaurants from casual to fine dining.
Lobster Tales CateringSpecializing in traditional New England clambakes.

Theo's Restaurant, +1 508 645-3322, 74 North Road, Chilmark
Drink
There are two towns on the Island that permit the selling of alcohol: Edgartown and Oak Bluffs. A third town, Vineyard Haven, recently passed a law that permits the serving of beer and wine (but no hard liquor)at restaurants, and only with meals. The remaining three towns -- West Tisbury, Chilmark and Aquinnah -- have a "BYO" policy at most restaurants, enabling diners to bring their own alcoholic beverages. Places to grab a drink with (or without) dinner are
Sharky's Cantina. 31 Circuit Ave, Oak Bluffs +1 508-693-7501 & 266 Upper Main St, Edgartown +1 508-627-6565
Sidecar Cafe' and Bar. 20 Kennebec Ave, Oak Bluffs, +1 508-693-6261

address: Kennebec Avenue

The island's only brewery, open all year round
Sleep
The island's only campground is in
Tisbury
.
The island of Martha's Vineyard features a surprising number of options for lodging. Victorian inns, sizable resorts, and private cottages are all available, residing mostly in Oak Bluffs and Vineyard Haven.
Nobnocket Boutique Inn, 60 Mount Aldworth Road, +1 508 696-0859. Vineyard Haven.

Pequot Hotel

address: 19 Pequot Avenue

Oak Bluffs.

Island Inn

address: 30 Island Inn Road

Oak Bluffs.

The Madison Inn

address: 18 Kennebee Avenue

Oak Bluffs.

Ashley Inn Bed & Breakfast

address: 129 Main Street

Edgartown.

The Edgartown Heritage Hotel

address: 227 Upper Main Street

Edgartown.

The Clark House Inn

address: 20 Edgartown Road

Vineyard Haven.

The Crocker House Inn

address: 12 Crocker Avenue

Vineyard Haven.

The Dockside Inn

address: 9 Circuit Avenue

Oak Bluffs.

The Harbor View Hotel & Resort

address: 131 North Water Street

Edgartown

The Hanover House

address: 28 Edgartown Road

Vineyard Haven

High Haven House

address: 85 Summer Street

Vineyard Haven.

Lambert's Cove Inn & Restaurant

address: 90 Manaquayak Road

Vineyard Haven.
The Lightkeepers Inn 25 Simpson's Lane, Edgartown +1-800-946-3400

Mansion House

address: 9 Main Street

Vineyard Haven.

The Nashua House Hotel

address: 30 Kennebec Avenue

Oak Bluffs.

The Thorncroft Inn

address: 460 Main St

Vineyard Haven

address: 9 Main St, Vineyard Haven

Forty-room hotel with fitness centre and spa, four blocks from Woods Hole ferry dock.

Winnetu Oceanside Resort at South Beach

phone: +1 508-627-4747 (front desk)

address: 31 Dunes Road, Edgartown, MA

Consists of hotel rooms, 1-4 bedroom suites, private cottages and private homes. It's open mid-April to the end of Octobre. The restaurant has ocean views and among the resort's facilities are a fitness centre, tennis club, a children's program and shuttles to Main street.
Connect
Stay safe
There is very little crime anywhere on Martha's Vineyard.
Beware of poison ivy, a low-growing vine (which may climb) with three shiny leaves. It can cause skin inflammation at any time.
Ticks can be a problem and may carry Lyme Disease. Also, ticks in Aquinnah, particularly at Moshup Beach, may carry Tularemia. Martha's Vineyard is the only place in the continental US where Tularemia has been known to be carried and transmitted by tick bite.
When you are at the beach, swimmers should be aware of jellyfish that float north in the summer. Jellyfish are common at the State Beach, on the Edgartown-Oak Bluffs connector.
Go next