Mashhad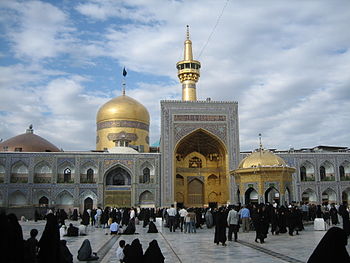 Almost everything about
Mashhad
relates to its role as the holiest city in Iran, even its name (literally:
burial place of the martyr
). As the capital of
Iran
's
Khorasan
province, Mashhad's year-round cool temperatures and fascinating insights into the Shi'ite heartland have much to offer visitors.
Understand
Mashhad started life out as Sanabad, a village pitstop for trade caravans headed towards
Turkmenistan
. But in the ninth century, the eighth Shi'ite Imam Ali Bin Moosa Al Reza, the great-grandson of Imam Ali who was the cousin & son in law of Prophet Mohammad was poisoned by the jealous caliph of the time. Imam Reza was buried in Mashhad, and his shrine became one of the holiest sites to the Shi'ite Muslims after the Holy Kaaba in Saudi Arabia and Karbala in Iraq.
Over the next thousand years, the shrine complex was levelled, ransacked and rebuilt a number of times depending on the ruling army of the day. Today the shrine is the most important place in the city and in the whole of Iran.
Dress code for women is strict, as it is in any part of Iran, however a self encompassing chador is not a must for any lady in public place in city. For women, a simple headscarf or
roo-sari
, with a trenchcoat and pants are fine. Men are also not allowed to wear shorts. These rules are the same for any and all cities and villages in Iran; it is national law.
Get in
By plane
Mashhad International Airport (Shahid Hashemi Nejad Airport)Being Iran's second largest city, Mashhad is connected to all Iranian cities that have an airport. On the busier routes, there are several options per day. However, during the peak seasons of pilgrimage, tickets sell out early. Mashhad is also connected internationally, as it features on the timetables of all the larger Middle Eastern airlines. There are flights to Bahrain, Damascus, Dubai, Kuwait, Bishkek, Beirut, Jeddah, Dushanbe, Kabul, Doha, Almaty, Lahore and Istanbul.
A taxi from the Holy Shrine area to the airport should not cost more than 150,000 rials.
By train
The is located just north of the Holy Shrine area. There are several regular trains from Mashhad to Tehran, both day trains and overnight trains. They vary in speed, price and quality, the fastest do the trip in 8 hours. There are night trains to Isfahan (one or two per day, 18 hours) and many other destinations.
You get here from
Turkmenistan
. There are trains from
Ashgabat
and
Merv
to the Sarakhs border. And at the other side of the border there is a daily train from the
Sarakhs
border to Mashhad.
By bus
There are mostly night buses to Mashhad from other important cities. There are
no
international buses from
Ashgabat
or anywhere in
Turkmenistan
. From the terminal walk outside to pay less for taxis. Alternatively, take the busway just in front of the terminal (10,000 riald) to connect to the metro.
Get around
See
Apart from Imam Reza shrine there is a number of large parks, the tombs of historical celebrities in nearby Tus and Nishapur, the tomb of Nadir Shah and Kooh Sangi park and Mellat Park that have modern attractions for children such as the tallest Ferris wheel or fanfar in Iran and Koohestan Park-e-Shadi Complex that includes a zoo, where many wild animals are kept and which attracts many visitors to Mashhad. It is also home to the Mashhad Airbase (formerly Imam Reza airbase), jointly a military installation housing Mirage aircraft, and a civilian international airport.
Some points of interest lie outside the city: the tomb of Khajeh Morad, along the road to Tehran; the tomb of Khajeh Rabi' 6 km north of the city where there are some inscriptions by the renowned Safavid calligrapher Reza Abbasi; and the tomb of Khajeh Abasalt, a distance of 20 km from Mashhad along the road to Neishabur. (The three were all disciples of Imam Reza).
Among the other sights are the tomb of the poet Ferdowsi in Tus, 24 km distance, and the summer resorts at Torghabeh, Torogh, Akhlamad, Zoshk, and Shandiz.
The Shah Public Bath, built during the Safavid era in 1648, is an outstanding example of the architecture of that period. It has been restored, and is to be turned into a museum.
Imam Reza Shrine ComplexThis complex has been developed around the tomb of the eighth Imam of Shia Islam. The burial chamber where the Imam rests is the holiest place for all Shia Iranians. Foreigners are allowed to visit the complex, while the central area and certain courtyards allegedly are off-limits for non-Muslims. Shiites come to this place as pilgrims to mourn the death of their religious leader and don't want to be disturbed by crowds of tourists. That said, there are no marks of any kind telling where you can go and where not. If you manage to blend into the crowd, it is possible to visit the core of the shrine. It is impressing from the architectural point of view with the corridors and domes completely adorned with Persian mirror mosaic. It pays off to take some time and soak in the athmosphere of praying and mourning. The complex also includes a library and the Ghoharshad Mosque, which is the largest mosque in the world by area and the second largest in capacity. Travellers have the option to visit the Foreign Pilgrims Assistance Office where you will be shown some videos about the shrine (from Press-TV) and handed out some booklets. There are some English-speaking volunteers available to guide you around in the complex, but they will not show you the Holy Shrine itself.

Central MuseumThis museum shows an arbitrary mix of items such as coins, stamps, European clocks and astronomical instruments, pictures of marine animals, but also some interesting items like the old tombs of Imam Reza and pictures dating back to the beginning of photography in Iran. Some of the explanations are in English. Avoid visiting this museum with a guide from the Foreign Pilgrims Assistance Office, as they will press you to adequately appreciate each of the items, even the Euro coins.

Carpet MuseumThe name says it all. Great and impressive pieces on display.

Nader Shah Park & MausoleumMonument to the founder of Afshar dynasty (1736–1747)

Ferdowsi Park & Mausoleum

Gombade Sabz Mausoleum

TorghabehSightseeing, village restaurants.

ShandizVillage restaurants.
Buy
Mashhad has three large bazaars. Interesting things to buy include Khorassan crafts, fur-cloak, jewelry, perfume, saffron, and religious souvenirs.
Sara-ye Bazaar-e Reza Mostly a fabric and textile bazaar.
Kuwaiti Bazaar, on the 17th Shahrivar Square.
Bazaar-e bozorg-e markazy, on the corner of shirazi Av. and akhond-e khorasani st.(Shohada crossroad).
Shargh-Zist Trade Center All things with best prices, Tabarsi Sqr, north side of Holy Shrine.
Proma Trade Center, Janbaz Sqr.
Almas-e Shargh, Northern Khayyam Blvd.
Zist Khavar, Shariaty Sqr.

Sajjad BlvdYou can find few good quality shopping centers in this Blvd (a bit expensive).

Sahar Khiz Saffron

phone: +98 51 3843 1542

address: Ahmadabad Blvd

A spice shop that sells high quality saffron among other spices like Kerman Cumin. No bargaining, fixed prices.
Money
A few line up on Imam Khomeini Blvd., this is where rates are competitive. Hotels change at much worse rates, if at all.
Eat

Iranian cuisine is one of the best in the world. They do not eat spicy food but even then their food is very tasty. Chello Kebab is a very popular dish as well as Bakhtiari Kebab. There are also different kinds of breads available. So eating will be an assured good and affordable experience in Mashhad
You can find lots of great restaurants and all kinds of fast-foods are available. The most advertised restaurant of Mashhad (and one of the most expensive) is 'Padide Shandiz'. There are also numerous other decent restaurants in Shandiz. Full meals with rice cost US$5-20.
Padide Shandiz address: Shandiz town.
You can find a kind of ice-cream named ice pack "Persian: آیس پک" in mashhad. it's really great to taste it. There are lots of Ice Pack bars in Mashhad. The main one is placed at "Shariati Sqr".
This kind of ice-cream can be found with all kinds of flavors like chocolate, apple, cherry, strawberry, coffee, peach and all kind of fruits.
This type of ice-cream was invented in Iran, is even getting popular in the United States of America.


Sleep
Mashhad attracts huge number of visitors specially during the summer months, so be sure to make travel reservations in advance. Mashhad can also be very cold during winters, hence heavy woolens are required during winters. Even in summers nights are pretty cold and requires light woolens.
Hotels
Five-star hotels in the city are:
Pars Hotel
,
Ghasr Talaee international Hotel
,
Ghasr International Hotel
and
Pardisan Hotel
.
There are also couple of good hotels near the Imam Ali Bin Moosa Al Reza Shrine, namely
Khayyam Hotel
,
Ghadir International
to name a few. The Shrine is 10 min. walk from the Khayyam Hotel and the rent for double bedroom with attached bath is US$100-120 per night.
but the rent for
Ghasr Talaee Hotel
is very expensive about US$400 per night. But there are lots of rooms for rent around the shrine which are pretty cheap and suitable to rent, they are ranged from US$30-90 per night depending on the distance from shrine.
phone: +98 513-8540830

Located close to the shrine on busy Imam Reza Blvd.

Ghasr Talaee international Hotel

phone: +98(51)-38038

address: Basij square, Imam Reza st., Mashhad, Iran

Five-star hotel, located close to the shrine on busy Imam Reza Blvd.
Homestays
phone: +98 513 851 6980, +98 915 100 1324

address: 38th (Farsi:۳۸) alley (previously 6th) off Malakoshoaraye Bahar street (previously Engelab Eslami street), house 277 (Farsi:۲۷۷)

Vali is a carpet merchant and a regional guide but most of all a chatterbox! (He speaks good English, basic French and German) His wife cooks delicious meals which you can enjoy sitting on the terrace. One bedroom and a comfortable dorm are available in the basement full of Persian rugs with a basic shared bathroom. The setting is simple but cozy and there is a warm family atmosphere. Internet and Wi-Fi. Lots of tourist information (Vali can help you to sort your visa for Turkmenistan). Hikes and excursions can be organized for one or more days in the villages and mountains surrounding Mashhad. (to help you find Vali's place copy this Farsi phrase and show it around: بین چهاره راه لشکر و استانداری ملکا اشعرابهار ۳۸ شماره۲۷۷ ولی انصاری).
Stay safe
In crowded places and places of worship, such as the Holy Shrine, be careful about pick-pockets. Take care of your possessions as there's a small risk of theft by pick-pockets.
Emergency services
Police: 110
Fire department: 125
EMS: 115
Road EMS: 115 or 112
Cope
The following countries have consulates in Mashad:
Go next
Inside Iran
You can easily use ground transportation and visit these ancient cities in a short period of time:
Since no public transportation goes across the Turkmen border, to get to
Ashgabat
in
Turkmenistan
, the following option is the most convenient:
Afghanistan
Herat
in
Afghanistan
is a few hundred kilometers from Mashhad.