Massachusetts
Massachusetts
is a state in the
New England
region of the
United States of America
. Massachusetts is known as "The Bay State" because of its three large bays which dominate and shape the coastline. Massachusetts Bay in the
Greater Boston
and Cape Ann area and Cape Cod Bay, which shapes
Cape Cod
against the Atlantic Ocean, are on the eastern shore. Buzzards Bay, on the south coast, is the other large bay.
Regions
Cities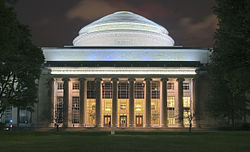 — The state capital and largest city.
— Home to Harvard University and the Massachusetts Institute of Technology.
— A former center for textile manufacturing, now gentrifying.
— "The Whaling City".
— Funky college city filled with galleries and farm-to-table food.
— Revitalizing factory town and hub of the Berkshires.
— Sailors, witches, and a world-class art museum.
— The City of Homes and The City of Firsts, the Pioneer Valley's largest city and cultural capital. Home to the Basketball Hall of Fame.
— "The Innovative City" Home to eleven colleges and universities.
Other destinations
— a rural area in Central Massachusetts filled with antique shops, farms & orchards, and beautiful scenery.
— the birthplace of the American Revolution.
and Martha's Vineyard — offshore islands.
— landing place of the Pilgrims.
— a major amusement park.
— where there is a recreated colonial village.
— the summer home of the Boston Symphony Orchestra.
Understand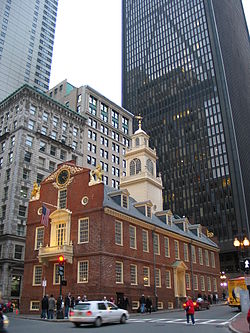 Massachusetts is an excellent travel destination, noted for many of its historical sites and diverse regional flavors. The eastern Massachusetts Bay area of the state from Gloucester to Plymouth is very metropolitan, with Boston at its hub. Here you can find great cooking, fresh seafood, and an intense concentration of colleges and universities.
To the south of Boston is
Cape Cod
, a tremendously popular vacation spot and home to the Kennedy family, one of America's more influential political families. West of
Boston
you'll find the Blackstone Valley National Corridor, a vast expanse of rolling hills and small towns, as well as some of the most unique vineyards in the East Coast.
The
Knowledge Corridor
features New England's second most populous urban area, the stretch between Springfield and Hartford, Connecticut. In western Massachusetts, this area is also known as the
Pioneer Valley
. It features an abundance of colleges, universities, and nature. Its cultural and economic hub is Springfield.
To the far west, you'll find more rural areas, the
Berkshire Hills
, the
Appalachian Trail
, and excellent skiing. Massachusetts has a lot to offer the prospective traveler!
Essentially the linchpin of the six-state New England region, Massachusetts has nearly twice the population of the region's second-most-populated state,
Connecticut
, and borders every other New England state except
Maine
(and even Maine is just a 15-minute drive from the state line via
New Hampshire
). Boston serves as not only the state capital but also the de facto capital of the entire region. Because of its central location and a character that incorporates elements of the other five states, Massachusetts makes a great jumping-off point for a larger New England trip.
History
Massachusetts is one of the oldest states in America, dating back to the foundation of the Massachusetts Bay Colony in 1620. The name Massachusetts comes from Algonquian Indian words that mean the great mountain, an apparent reference to the tallest of the Blue Hills, a recreation area south of the town of Milton. See
Early United States history
for Massachusetts' role in American history.
Massachusetts is a state of firsts - the first public school (Boston Latin School), the first public library (Boston Public Library), the first public park (Worcester), the first American university (Harvard), the first National Armory (Springfield), the first gasoline-powered automobile (Springfield), the first birth control pill (Worcester), the first public beach (Revere Beach), the first motorcycle (Springfield), the first modern fire engine (Springfield), the first liquid fuel rocket (Worcester), the birthplace of basketball (Springfield), and the birthplace of Volleyball (Holyoke). It also features the site of the Boston Massacre, the first event that galvanized anti-British sentiment in years prior to the American Revolutionary War, as well as the site of the first shots of the War itself, with the "shot heard 'round the world" fired off in Concord at the Old North Bridge.
Massachusetts also has its dark side, the Salem Witch Trials being one of the most significant black spots on the state's history. Though far less frequent than in the past, murders related to organized crime and rampant corruption of public officials were once a fact of life for Bostonians.
Today
Massachusetts today is a blend of old and new. In Eastern Massachusetts you can walk the 3.5-mile Freedom Trail in
Boston
to see more than 20 historical sites, then hop over to
Cambridge
and see some of the world's most advanced biotechnology, not to mention the legendary Massachusetts Institute of Technology (MIT), the gold standard for technical education in the United States. The state as a whole is a blend of rural and urban, from Boston and suburbs in the east, to the gently rolling hills and lovely small villages in the center, to the culturally, historically, and educationally rich Pioneer Valley and the rolling Berkshire Mountains in the west.
Demographics
The Boston metropolitan area is culturally diverse, being home to two of the world's most prestigious universities, as well as numerous other educational institutions, which attract students and faculty from all corners of the globe. Due to the large number of educational institutions, the population is significantly smaller in the summer months, when most of the students are away on their summer breaks. Rural Massachusetts, on the other hand, tends to have an overwhelming white Anglo-Saxon majority, with smaller minorities of other ethnicities. Massachusetts is generally considered to be a bastion of progressive and liberal politics, and is largely regarded as a safely Democratic state in presidential elections. While rural areas tend to be more conservative than Boston, they are for the most part still relatively liberal by national standards.
Get in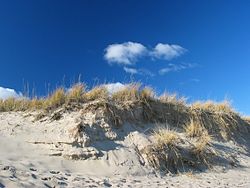 By plane
The easiest way to get into Eastern Massachusetts is through
Logan International Airport
in
Boston
. The easiest way to get into Western Massachusetts is through Bradley International Airport in
Windsor Locks
,
Connecticut
, which is 12 miles south of Springfield (and equidistant to
Hartford
,
Connecticut
.)
Other regional airports include
Worcester
,
Manchester
,
Providence
,
Chicopee
(
Springfield
), and
Albany
.
By train
Boston's South Station is the northern terminus of the Northeast Corridor, the most heavily trafficked rail route in the country, and one of the few routes serviced by
Amtrak
with a high frequency of service. Trains from
New York City
reach Boston in about 3½ hours; trains from
Washington
take about twice as long. The faster
Acela
trains shave about an hour off those journeys, and although they cost more, they generally present a more enjoyable trip.
Boston's North Station is served by the
Downeaster
which goes to
New Hampshire
and
Maine
.
Springfield is also served by Amtrak with trains entering from the north, south, east, and west. It is accessible by Amtrak's
Northeast Regional Service
, the
Vermonter
from the north and south, and the
Lake Shore Limited
from the east and west. Springfield's Union Station was reopened in June 2017 as a regional intermodal hub.
Other Western and Central Massachusetts cities are also served by Amtrak, although much less frequently than Boston. Pittsfield,
Worcester
, and Framingham are served by Amtrak's
Lake Shore Limited
from the east and west.
Though easily accessible by train, if traveling from
Pennsylvania
or further away, it is frequently cheaper and almost always faster to fly to Massachusetts than take the train (however, traveling on the Lake Shore Limited from
Chicago
and all points in between is often less than $100).
By car
Massachusetts has several large interstates that serve it, including:
I-90, the northernmost east-west interstate highway in the U.S., called the Massachusetts Turnpike (or the Mass Pike, or just "The Pike") from Boston west via Worcester and Springfield to the New York-Massachusetts state line.
I-93, which begins just south of Boston, goes under much of downtown (the famed "Big Dig"), then heads north to New Hampshire, crossing the Merrimack River at Andover.
I-91 follows Connecticut River south through Greenfield, Northampton and Springfield in Massachusetts, continuing south to New Haven, Connecticut. To the north it passes along the border between Vermont and New Hampshire, then through eastern Vermont to Canada.
I-84 has a very short length in Massachusetts. It begins off the Mass Pike at Sturbridge, and is the quickest route from much of the state to Hartford and New York City.
I-95, the major north-south highway of the East Coast, enters the state at Attleboro and heads toward Boston. It goes around the city itself, linking the western suburbs of Needham, Newton, Waltham and Lexington. It then turns north, through Woburn and Wakefield, before once again turning north and heading towards New Hampshire and Maine. The section of I-95 that forms a sort of belt around Boston is locally known as "Route 128," and its Interstate designation is rarely used by natives or traffic reporters.
I-290 runs from I-495 in Marlborough through downtown Worcester and ends at the Mass Pike in Auburn.
I-395 is essentially the same road as I-290. South of the Mass Pike, I-395 goes from Auburn south to Webster and is the road to Eastern Connecticut, including Mystic, New London and the Connecticut casino resorts.
I-190 is a short road that connects Worcester to the northern cities of Fitchburg and Leominster.
I-495 forms a sort of "outer belt" around Boston, beginning near the base of Cape Cod and swinging west, through Foxboro, Franklin, Marlborough, and back to the northeast through the Merrimack Valley before joining I-95 near the New Hampshire border.
I-195 connects Providence, Rhode Island with the South Coast, linking Fall River, New Bedford and continuing to the base of Cape Cod.
Other important non-interstate highways in Massachusetts include: U.S. Routes 1, 6, and 20; U.S. Route/State Route 3; and State Routes 2, 9, and 24.
Use
SmarTraveler
to determine traffic conditions in the Metro Boston area.
Dial 511 on your cell phone to listen to up-to-date traffic conditions for all major highways.
By bus
A number of
bus companies
run a Boston-New York route, from the nationally-known Greyhound to Springfield-based Peter Pan, to a variety of small, low-cost "Chinatown bus" carriers.
Get around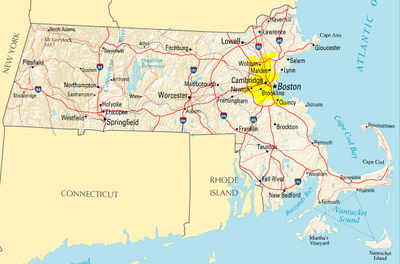 By train
Amtrak
goes to many major cities.
Within and around
Boston
, public transportation is run by the
Mass Bay Transit Authority or MBTA
and is called the "T", and there are commuter rails (purple on the maps) that go to surrounding suburbs and cities including
Framingham
and
Worcester
.
The suburbs in the south are served by Boston's South Station, while the suburbs in the north are served by Boston's North Station.
Within and around Springfield, the public transportation system is called the
PVTA
. It travels as far north as the college towns of Northampton and Amherst.
By car
I-90 (also called the Massachusetts Turnpike, or simply the Mass Pike) is the major East-West route across the state. Rt 2 is a more northern equivalent, though there are sections through town centers with traffic lights.
You should familiarize yourself with your route in advance, and using a GPS navigator is strongly recommended. Massachusetts is one of the hardest states in the nation to find your way around. The roads curve a lot and you can easily lose your sense of direction.
On foot
A portion of the
Appalachian Trail
runs through the state.
By bicycle
There are a number of
"rail trails"
- converted rail road lines - throughout the state that have been paved for pedestrian and bicycle travel. There are also designated "bikeways" along secondary roads.
By thumb
Although it is illegal to hitchhike on the highway, I-90 has a very good system of commercial rest stops placed conveniently every few miles. Hitching a ride from these rest stops isn't too hard. Make a sign, stand in the parking lot and put out your thumb for cars on the way out. As these rest stops are quasi-private property, it may be advisable to buy something small, like a pack of gum, so that you are a paying customer.
By bus
See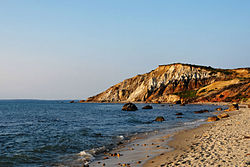 More than 170 art, history and sporting museums, including excellent colonial "living history" museums:
Plimoth Plantation in Plymouth,
Old Sturbridge Village in Sturbridge, and
Hancock Shaker Village in Pittsfield.
New Bedford Whaling National Historical Park and exhibits in Gloucester, Provincetown and Nantucket harken to the days when fishing and whaling were a vital industry.
Springfield (Massachusetts) Armory National Historic Park, the site of which was selected by George Washington. From 1777 until Robert McNamara's controversial decision to shut down the Springfield Armory during the Vietnam War, the National Arsenal led to innumerable military and industrial innovations, including interchangeable parts.
Over 50 theatres and performing arts centers. Northampton, Cape Cod, Rockport and Gloucester have thriving artist colonies and numerous galleries. In addition, Northampton is a LGBT mecca.
Numerous historical sites and monuments as Massachusetts played a central role in the American Revolution. Minuteman National Historical Park in Concord gives a taste of what times were like when America was born.
For history buffs, Taunton is a small city filled with well-documented archives, preserved historical sites, and an extensive chronology of notable history dating back nearly 400 years. This includes (within the city): many significant historic firsts, innovations, national and/or regional leading center of industries, former prominent residents, numerous high-profile political visits/public speeches (e.g., pioneers, U.S. presidents, civil rights activists), war-related events, unique range of architectural structures, special industrial production (Civil War artillery, Olympic medallions, the White House's silverware, etc.), and filming locations for several popular 'Hollywood' movies. Do make sure to visit the city's Old Colony Historical Society and Museum.
For decades, artists have migrated to Provincetown on Cape Cod and Northampton in the Pioneer Valley. Now both are full-blown artist colonies, home to numerous galleries and performance venues. They are the two LGBT capitals of Massachusetts. Both places are renowned for their liberal attitudes, great shopping, restaurants, and unique atmospheres. "P-Town" features beautiful beaches while "NoHo" features mountains, rivers, and streams.
Do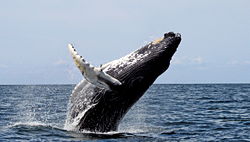 If you're looking for something that's fun for the whole family, head to Agawam, Massachusetts. Agawam, Massachusetts is home to Six Flags New England. There are plenty of places to stay nearby. Six Flags New England is a place that everyone of any age can enjoy.
The Massachusetts coast offers some of the best whale watching opportunities in the world. The diversity of whale species that can been seen here is only equaled by far off corners of the Earth such as Antarctica, Patagonia, and Alaska. This abundance of whales, combined with the close proximity of both Stellwagen Bank and Jeffrey's Ledge, is no doubt responsible for Gloucester's popularity as a whale watching port. One of the truly great things about whale watching from Gloucester is that the city's location (on the southern end of Cape Ann) is directly between these popular whale feeding areas. Whale watching tours are also available from other ports, including Provincetown, Newburyport, Boston, and Plymouth.
Bicycling. There are many routes and bikepaths throughout Massachusetts. The Claire Saltonstall bikeway traverses a marked route from Boston to Cape Cod on some less-travelled roads. Minuteman Bikeway from Cambridge to Bedford is one of the more outstanding bike paths.
Fishing, hunting, wildlife viewing
Mass Wildlife maintains
an excellent site
showing access points and maps of wildlife areas as well as regulations, permits and fees. Saltwater fishing does not require a license (shellfishing usually does), but there are regulations under the authority of the
State Division of Marine Fisheries
. Local regulations may also apply in regards to shellfishing or taking of herring.
Bay Circuit TrailA network of interconnected trails extending from Plum Island, Newburyport in the north to Kingston Bay in the south. About 150 miles are completed and accessible.
Skiing
Eat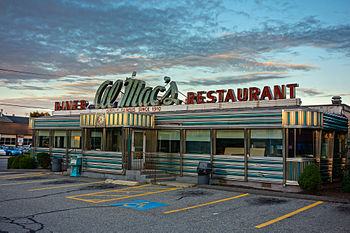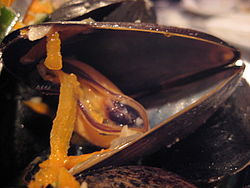 Coastal Massachusetts is blessed with great shellfish including, lobster, clams and oysters. A
New England clambake
is, in many ways, the equivalent of Hawaii's luau. A hole is dug, (sometimes in beach sand, but more often inland), lined with stones and a fire started in it. Later the coals are covered with wet seaweed to create a steam pit into which packages of lobster, fish, clams, mussels, potatoes, and ears of corn are put. This is then covered with more seaweed and covered with tarps to cook.
The
New England boiled dinner
is a contribution of the state's many Irish immigrants. It is a simmered pot meal of corned beef, cabbage, carrots, potatoes, and sometimes turnips. Horseradish, mustard, and sometimes vinegar are used as condiments.
Massachusetts folks are serious about their
clam chowder
. Many seacoast towns schedule chowder festivals at which locals compete for bragging rights.
Fried clams
are an alternative way to serve these delectable shellfish, usually accompanied by French fried potatoes.
Haddock and cod
are the local fish mainstays and one often sees "schrod" on menus. It is purported to be young cod or haddock, but is assumed by locals to mean generic white fish. Bluefish is worth trying, though some may find it a strong-flavored. The other local gamefish, striped bass, is considerably milder in taste.
Fast food
in Massachusetts is also often based on fish and various types of seafood. A number of chains specialize in seafood.
Worcester's ethnically diverse population offers home-style food from all over the world in funky little restaurants hidden in odd corners all over the city. Stylish Shrewsbury Street (near UMass Medical School) offers many trendy new restaurants, as well as a few classic diners.
Massachusetts' best farmland is in the
Pioneer Valley
, along the Connecticut River. Residents from Springfield to Greenfield benefit from local farmers markets throughout the year. This complements the diverse and cosmopolitan dining scene in the 15 miles from Northampton-Amherst to Springfield.
Southeastern Massachusetts was once the world's largest producer of
cranberries
. Large flat sandy bogs of colorful berries are harvested in early October.
Inland areas offer traditional New England country cuisine, especially at rural church suppers and breakfasts. Notable dishes include spaghetti-and-meatballs, roasted chicken, baked beans, baking powder biscuits, fruit pies, and cobblers.
Far eastern and far western Massachusetts's rocky soils produce two outstanding crops: tomatoes and apples. Orchards are still mostly family-owned and many growers offer pick-your-own sales. Cider mills churn out fresh cider to sell alongside bags of apples in roadside farm stands. On a crisp fall day the stands often offer warmed fresh cider mulled with cinnamon, clove and other spices. A list is maintained
here
.
Drink

The alcohol purchase age in the Commonwealth is 21. No one is permitted to serve alcohol to a person under 21 years of age. No one is allowed to possess, drink, transport or purchase alcohol if they are under 21. No open containers of alcohol are allowed in most public areas (e.g. sidewalks and parks), even for people of legal drinking age. Massachusetts, more than any other state in the union, vigorously enforces both "Blue Laws" and the drinking age. Most bars, pubs, and nightclubs in Boston have a city mandated 21+ policy, which is vigorously enforced. Additionally, many establishments in Boston and Cape Cod will not serve to out of state visitors under 25. Under state law, only Massachusetts-issued IDs, passports, and US military IDs are valid proof of age for alcohol sales. Get a Liquor ID, a state ID card available to non-residents from the Registry of Motor Vehicles if you'll be in the area for awhile, costs $25 for five years of validity.
A controversial "third party liability" precedent has been set in Massachusetts. For example, a landlord rents an apartment to young adults who have a party and a person drinks and drives and causes an accident. Under this "third party liability," the landlord, those who hosted the party, and the one who drinks and drives can be held responsible. Rule of thumb for anyone drinking is to not drink and drive; second, if you are under 21 and want to drink in Massachusetts, you're out of luck unless you're at a private party.
Traditional New England culture back to Pilgrims and Puritans was far from abstemious. Surprising amounts of beer, wine, hard cider and distilled spirits were consumed. Although "Blue Laws" once prohibited alcohol purchases on Sundays, alcohol remains central to socializing in both urban and rural settings.
Microbreweries and brewpubs are becoming more common in urban areas and college towns. They usually offer sandwiches and other casual fare as well as a selection of brews that can be far superior to the megabreweries'.

Stay safe
Driving - Massachusetts drivers have a well-deserved reputation for aggressive and careless driving, including running red lights and unpredictable changes of lane or direction. Speeds up to 20 mph (30 km/h) over posted limits are common on highways and interstates. Pedestrians should not count on getting the right of way just because it is legally theirs. Contrary to popular belief, Massachusetts drivers aren't all that bad, despite their aggression. The Commonwealth has the lowest rate of traffic fatalities in the country. People in Massachusetts are used to tailgaters, speeders, and other sorts of aggressive drivers and aren't particularly flustered by them. If you aren't used to this kind of driving, it's probably best to avoid it. If you must drive, simply pay more attention to the road and you should be fine. Drinking is a widespread social activity and intoxicated drivers may be encountered evenings after work in working-class neighborhoods, or in college towns on Friday and Saturday evenings.
Many roads in Massachusetts are built to extremely old standards, and are therefore narrow, winding, and congested, including some freeways. Massachusetts is notorious for poor road signage, although this has improved since new regulations in the 2000s. Be forewarned that certain state routes are marked with cardinal directions that are completely detached from reality. For example, Route 28 on Cape Cod is consistently marked as heading north from its end in Eastham, but first heads geographically south, east, south again, and then west from that point before finally turning north in Falmouth some 50 miles from the beginning of the route.
Winter driving involves snow and ice, December through April. Roads are generally plowed and treated throughout the winter, but black ice can appear without any warning, and snow plows will not be able to keep up during a nor'easter. Similarly, during the fall months, fallen leaves that are wet with rain can be just as slippery as the winter ice.
Deer are abundant and car-deer collisions frequent, especially during fall migrations and breeding seasons which may peak on moonlit nights in November. Collisions can occur in suburbs as well as alongside forests and fields. These animals frequently bound high enough to crash through windshields and endanger occupants with flailing hooves.
Although in 1846 author Thoreau had to leave Walden Pond and travel to Maine to observe moose, these larger relatives of deer are recolonizing Massachusetts as old farms revert to forest. Moose are tall enough to topple through windshields in collisions and adults will weigh about 1/2 ton, potentially a deadly combination for vehicle occupants. Immediately slow down and be prepared to stop if you should see one ahead of you. Count yourself doubly lucky to see such a large animal in a densely populated state, and to have avoided a collision.
Outdoors - Ticks can transmit Lyme Disease unless promptly removed. After walking in woods, brush or tall grass remove clothing and look for flattened dark insects 1/8" to 1/4" diameter. If they have already attached themselves touch them with something hot to encourage them to let go.
Getting lost in thick woods is surprisingly easy, especially in the short days of fall and winter. In unfamiliar areas, plan your route before you set out. Carry a map, a compass, and a whistle or some other way of making noise. Also carry extra clothing and high-calorie snacks in case you are benighted.
Crime - Statistically, Massachusetts is one of the least violent states. Nevertheless, there are cities with declining or vanished industries where economic desperation makes crime a career option. Other cities have tough neighborhoods, usually with telltale signs like trash in the streets, rundown housing, graffiti and barred windows. Try to avoid walking or using public transit in these areas. Also use paid parking lots and while driving keep windows rolled up and locked. Licensed taxicabs will usually be a safe way of getting around these areas. Tough neighborhoods have disproportionate numbers of people with bad attitudes. Try not to "cross" them. Bicycle theft and car break-ins are the most common types of crime. Avoid leaving electronics or other valuables visible in your car. In cities, having a strong bike lock (U-locks are best) is highly recommended as bike thieves do carry bolt cutters. Leaving your bike parked in a high-visibility area (especially if there are few other tempting bikes around at the time) significantly increases the risk of theft compared to finding indoor parking.

Respect

Massachusetts, home of Northampton and Provincetown, and the first US state to legalize same-sex marriage, is arguably the most LGBT-accepting state in all of the USA. Gay villages exist in abundance in Boston, and in smaller cities such as Springfield.
Massachusetts has an intense sports rivalry with New York, notably between the Boston Red Sox and New York Yankees (baseball), but also in American football (between the New England Patriots and New York Jets, and, to a lesser extent, the New York Giants). The Boston Celtics and Los Angeles Lakers (basketball) also have a fierce rivalry, although there are fewer visible LA fans due to distance. Finally, the Boston Bruins and Montreal Canadiens (hockey) have been rivals for a long time. While wearing merchandise of rival teams will generally only elicit mild comments or playful joking throughout New England, it can sometimes lead to harassment or confrontation, particularly before, during, or after important sports games. This is especially true of Yankees gear. It should also be noted that wearing rivals merchandise in bars or other more casual settings may result in poor service or harassment from other tables. Many people from outside the US wear Yankees caps or t-shirts after visiting New York, unaware of the connotations in Boston/Massachusetts, and can find themselves getting yelled at for no apparent reason.

Go next