Meizhou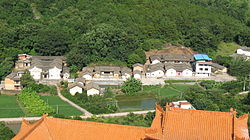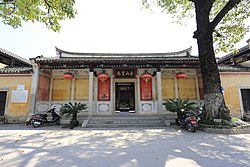 Meizhou
(梅州;
Mòi-chû
in Hakka,
Méizhōu
in Mandarin) is a city of about a million in
Guangdong
. Meizhou is honored with the titles of Hometown of Culture, and Hometown of the Overseas Hakka Chinese.
Understand

The name Meizhou comes from the Mei River and the Chinese name for the plum blossom (梅; méi). Meizhou was established as the prefecture of Jingzhou during the Southern Han (917-971). It has a population of 4.3 million (2010), with about a million in the urban area.
Because of its mountainous location, Meizhou has numerous natural scenic areas and good air quality. Many visitors come to the Yannanfei Tea Garden to climb the mountain.
Hakka folk music is also a feature of the area. The songs sing of the Hakka people, their passion for their hometown, and of love.

Get in
Apart from the Meixian Airport which serves the city, the second closest airport is
Shantou
which is an hour and a half away by car.
High-speed trains are available from
Guangzhou
,
Shantou
,
Shenzhen
,
Xiamen
,
Yichang
, and
Zhuhai
.
It is a 5 hour journey by bus from
Shenzhen
. Getting to the correct bus station is the problem. Nevertheless you can get buses at Zhao Por Lu (literally grassy field road, ¥30).
The long distance bus from Meizhou to Hong Kong, which happens to stop at the border crossing in Shenzhen which is not that far from HK costs ¥100. The bus makes the trip in about 4 hours but with the border cross at two points each way it takes just about 6 hours on the dot. Rail is about the same but twice the price but if you get boogered sitting in the last row of the bus behind the reclining seats you will regret it. Plus there are no facilities on the bus and it only stops once on the journey.
Get around

Many private cars with driver will approach you for inexpensive travel within Meizhou and surrounding areas.
There are also three wheeled bicycles that are for hire. Usually for about ¥5-6 they will take you about two miles or so. They will try to get more so set the price beforehand. Taxis are a little bit more but not outrageous at all. Sometimes a private motorcycle will be waiting around on a street corner and they are for hire too for the adventurous. Traffic in Meizhou is a mind boggler and is just plain reckless. They will drive anywhere even the sidewalk and the wrong way on the streets and then mix the bicycles.

Talk
The local language is
Hakka
, which is not mutually intelligible with Mandarin, and only slightly with
Cantonese
. Nevertheless, most locals are trilingual in Hakka, Cantonese and Mandarin.
See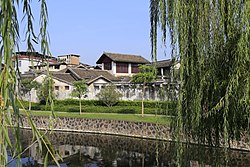 Jiaying University

phone: +86 753 2118888

address: Dongsheng Village, Sanjiao Town, Meijiang District (梅江区三角镇东升村)

phone: +86 753 2258830

address: No. 2 Dongshan Avenue, Meijiang District (梅江区东山大道2号)

phone: +86 753 2831180

address: Yinna Village, Yanyang Town, Meixian District (梅县区雁洋镇阴那村)

phone: +86 753 2235504

address: 7 Fudong Er Lu, Xincheng, Meixian District (梅县区新城府东二路七号)

Meizhou Confucian Temple

address: Lingfeng Road West, Meijiang District (梅江区凌风西路)

Temple of the Thousand Buddha Pagoda

phone: +86 753 2290362

address: Lianhua Hill Summit, Dongyan, Jinshan Sub-District, Meijiang District (梅江区金山街道东岩莲花山顶)

phone: +86 753 2828888

address: Yanyang Town, Meixian District (梅县区雁洋镇)

Longguizhai Waterfall

address: Tangkeng Town, Fengshun County 丰顺县汤坑镇

A roaring waterfall in rural Meizhou.
Eat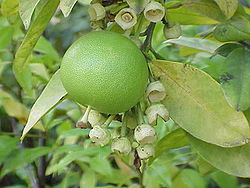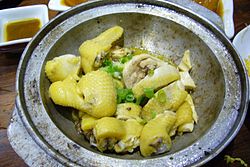 During the period after August or September, a sea of pomelos can be seen, especially in village orchards. Salt baked chicken (盐焗鸡) is one of the most well-known Hakka dishes, which can also be bought in many other cities in China. Another local dish is Yong tau foo (酿豆腐), tofu stuffed with meat, of which it is said that when Hakka people first came to the south, there was no wheat flour to make dumplings so they used tofu instead. They put meat and some other ingredients into the tofu to create a special taste. This recipe was handed down and became a feature of Hakka cuisine. Other foods including preserved beef and ginger candies are also popular locally.
This is Hakka country and generally speaking the bill of fare for the general public is noodles. You will pay about ¥6 for a bowl of noodles with some green leafy stuff thrown in. The food tends to be a bit bland and stodgy. There are no eggrolls but there is dim sum to a point. Dumplings usually are in the morning for breakfast, as well as, you guessed it, noodles, the breakfast of champions. As for eating street food, no stomach issues so be a little adventurous.
The bigger and better restaurants and hotels have a wider spectrum. Tofu from street vendors is quite good and sort of a distant cousin to scrambled eggs.
There are plenty of places doing rice instead of noodles and although that is not much of a stretch it does help when you are noodled out. Fried rice is not the norm, usually it is a bowl of white rice with bowls of other stuff. Some of it, as at the Happy Restaurant on Ding Min Lu is quite tasty although the place looks like a warehouse instead of an eatery. The pork stuffed tofu is quite good but the pigs legs are not for the faint of heart.
Sleep
Puxing Youth Hostel

phone: +86 15602781029

address: 17 Meixing Road, Jiangbei, Meijiang District (梅江区江北梅兴路17号)

Howard Johnson Changsheng Plaza Meizhou

phone: +86 753 8666666

address: 8 Fuqian Avenue, Meixian District (梅县区区府前大道8号)
Go next
To the UNESCO Heritage sites of the
Tulous near Yongding
,
Fujian
Province.
Also a transit point to
Taipu
, another Hakka city from where it's a hop to Yongding (by bus Y35), then a local bus Y11 to Wu Kang Village (or if you miss the late afternoon bus, by taxi Y100), the heart of the Tulou trails.