Melbourne/City Centre
The
city centre
of
Melbourne
is the city's cultural, entertainment and financial heart. Locally called the Central Business District, the CBD or simply "the City", it is where international and interstate visitors spend the bulk of their time. Most must-see attractions sit within the city's grid-planned centre, as do much of the accommodation and nightlife.
Understand
The main visitor information centre is in Federation Square, right near the intersection of Swanston and Flinders Streets. There's another information centre near Cooks Cottage in Fitzroy Gardens, and a small information booth is in the Bourke Street Mall. Additionally, volunteer city ambassadors dressed in a distinctive red uniform are stationed along Swanston St to help tourists with enquiries and directions.
Melbourne Visitor Centre

address: Federation Square, Cnr Swanston & Flinders Streets

A good starting place if you're new in the city. Provides lots of information and tips about the city and the whole of Victoria, including itinerary advice, accommodation details, public transport information and hands out free maps and travel brochures. Also has a booking agency and souvenir shop, which sells myki packs and discounted show and attraction tickets. The centre also books for the Melbourne Greeter Service, a free, multilingual private tour by a volunteer for about 2-3 hours.

Fitzroy Gardens Visitor Centre

address: Wellington Pde, East Melbourne

A newer visitor centre set amongst the heritage-listed Fitzroy Gardens. Provides information about the whole of Melbourne, but more detailed info about East Melbourne and the adjacent Cooks Cottage. Also sells tickets for Cooks Cottage.
Precincts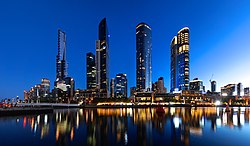 Southbank and South Wharf — This major entertainment precinct spans the southern bank of the Yarra River, opposite the CBD. The riverfront features a large number of fantastic, but generally expensive, restaurants. The area is a hub of activity and movement, complemented by its family-friendly landmark, the Crown Casino and Entertainment Complex.
Docklands — Just west of Spencer Street in the CBD, the old shipping yards have been redeveloped into a mixed-use residential, commercial and entertainment district perched upon the waterfront. A variety activities, sights and shopping facilities exist throughout the area. While originally a fairly stoic area, it has begun to shake its reputation to become a more lively and inviting waterfront precinct.
Chinatown — Melbourne's Chinatown is the longest continuous Chinese settlement in the Western world. It dates back to the times of the Victorian Gold Rush of the 1850s, which saw mass Chinese immigration. The locality has only grown since then and is still a mecca of activity and good food. Most of Chinatown is situated on the eastern part of Little Bourke Street.
Greek Precinct — Famous for its good food and Hellenic architecture and culture, the precinct is located in the general area surrounding the intersection of Lonsdale and Russell Streets.
Paris End — The eastern part of Collins Street, from Swanston Street to Spring Street, has long-been named after the French capital due to its generally strong European flavour. Grand plane trees, lit in pink at night, line the street famed for its historic connection to the city's rich and famous, grand European architecture and numerous designer labels such as Louis Vuitton, Emporio and Giorgio Armani, Prada and many others.
Legal and banking precinct — A number of new and old court buildings are based around the intersection of William and Lonsdale Streets, traditionally known as the city's legal centre. Historically, the area around Collins Street further south, near William and Queen Streets, was known as a banking precinct, with a number of grand Victorian-era buildings remaining, including the Gothic-style ANZ Banking Museum.
Government Precinct — The state's politicians and public servants frequent the area around Spring Street in the east, with major sights including Parliament House, the Old Treasury Building, the grand Windsor Hotel and a number of bars where various decision makers are known to have a drink during sitting weeks.
Arts Precinct — The area of Southbank around St Kilda Road is home to many of the city's art institutions, including the iconic Arts Centre spire, the National Gallery of Victoria (International), the Melbourne Recital Centre and the Victorian College of the Arts (part of the University of Melbourne).
There are also a number of cultural precincts outside the city centre, including Melbourne's
Little Italy
in Lygon St (
Inner north
) and various others.
Get in
The City Centre is Melbourne's hub of public transport. Every train line and most tram routes pass through or terminate in the city. All suburban trains stop at Flinders Street Station, the city's busiest interchange. Country trains terminate at Southern Cross Station. Trams mostly run east to west along Bourke and Collins Streets, and north to south along Swanston Street.
Much of Melbourne's freeway network is designed around moving cars into the city, with the major citybound freeways being the Eastern, Monash, West Gate and CityLink. Most locals leave the car at home and use public transport to reach the city centre, owing to congestion (often all day), very high parking rates and the ease of getting in by public transport.

Get around
PTV HubThe Public Transport Victoria hub is located at Southern Cross Station, and assists with any transport or myki related enquiries, including the sale of tourist packs.
By tram
Most major thoroughfares in the inner city are serviced by a tram and it is the simplest and most traditional way to get around. The north-south routes are Spencer, William, Elizabeth, Swanston and Spring Streets. La Trobe, Bourke, Collins and Flinders Streets are the major east-west routes.
If travelling only within the central grid, there is often no need to work out what tram route or number you need to catch. Trams typically travel along the entire length of a street in the city centre, and do not turn (apart from the edges of the grid at Spencer, Spring, Flinders and La Trobe Streets). Therefore, simply get on a tram that is going in the direction you want to go, and get off at the stop you want.
Although the frequency of trams is high, they can be very slow for even a short distance. In busy periods, you may see pedestrians moving faster! Trams are often crowded; make sure you
hold on
to the rails, as the trams often accelerate and brake suddenly.
Most of the City Centre sits within the
Free Tram Zone
, where you can catch trams for free and do not need to touch on your myki. The zone stretches to Docklands in the west, Spring St in the east, up to Queen Victoria Market in the north and only as far south as the Yarra River. Be cautious, as you must touch on your myki if you leave the zone, and many attractions such as Crown Casino, the Arts Centre and Cooks Cottage lie just outside the boundary and you may want to walk the last few hundred metres across the river.
By foot
The city centre has an excellent network of footpaths and crossings, making it safe, simple and easy for people of all ages and abilities to walk around. Jaywalking is a major issue in the city, and you should only cross at marked crossings, or else risk an incident with a car or tram. It is not unheard of to be fined by the police for jaywalking. The Victorian Police will have jaywalking blitz and will give you on-the-spot fines.
The Melbourne Visitor Centre has seven self-guided walking tours which are useful to discover the city and its history. Guides for the walks can be found
here
.
By bicycle
Melbourne has had a major shift towards becoming a bicycle friendly city. New bike lanes and infrastructure are constantly under construction in the inner city. The main bike routes in the CBD are:
Swanston Street, north-south, lanes all the way down past St Kilda and up to Melbourne University in the inner north. Parts are segregated by concrete with right of way, others are on-road lanes right next to traffic and parked cars. In the centre of the city, remember to stop behind boarding trams at the new shared superstops.
William Street, north-south, marked lanes
La Trobe Street, east-west, segregated from parking and traffic
Various bike lanes and routes in the Docklands precinct
Trails including the Capital City trail along the Yarra and past Southbank
The
Melbourne Bike Share
scheme makes it fairly straightforward for visitors to borrow a bike. There are just over 50 bike stations and 600 bicycles around the city centre, recognisable by their distinct blue branding.
To borrow a bike, you will need a valid credit/debit card; cash is not accepted. Simply follow the instructions at a station. You are legally required to wear a helmet, sometimes available to share for free on the bikes, or else can be purchased for $5 from vending machines at Southern Cross Station or Melbourne University (can be returned for $3). Apps such as
Spotcycle
(iOS/Android/BlackBerry) assist in finding the nearest bike stations. There is an unavoidable
base
cost of $2.90 to subscribe for a day, or $8 for a week, along with a refundable $50 deposit. There may be an
additional
cost depending on the time you use a bike between stations. If you hire and return a bike within 30 minutes, there is no additional fee. If you spend up to an hour, it is an extra $2; up to 90 minutes, $7, before it starts becoming fairly expensive. The cheapest option is to simply return the bike every 30 minutes, meaning you will only pay $2.90 for the day. After docking a bike, you are free to rehire a bike after waiting 2 minutes by reinserting your credit card at no extra base cost.
By train
The
City Loop
forms the backbone of the entire Melbourne train network and serves the city centre. It runs around the edges of the grid layout, with a mix of sunken, elevated and underground sections. The iconic
Flinders Street Station
in the south serves as the hub of all suburban rail travel throughout Melbourne, while the also iconic
Southern Cross Station
in the west is the hub of rural rail and bus travel.
Parliament
,
Melbourne Central
and
Flagstaff
stations are all underground, located in the east, north-east and north-west respectively. Melbourne Central station is built into a major shopping centre.
There is no single service that continually runs around the Loop, but rather a selection of suburban services that pass through. Each station in the CBD has a TV display of popular stations, including the next two train services and the platform they depart from. Trains are frequent enough that there isn't a need to plan intra-CBD travel and you won't have to wait more than 5 minutes. However, most trips within the CBD are more simply accomplished by tram.
By car
The design of the city centre's roads may look straightforward on a map, but it is a fairly different situation on the ground. The abundance of trams means that at many intersections vehicles have to make right-hand turns from the far left lane. Cars in the turning lane must wait until the traffic light of the street they are turning into changes to green before they can finish their turn. This infamous manoeuvre has come to be known as the "hook turn", and is sometimes touted as a unique Melbourne experience.
Other important things to note are to stay clear of the centre tram lane, watch for wayward pedestrians and bikes, and that most of Swanston and Bourke Streets are permanently closed to car traffic in favour of trams, bikes and pedestrians. Parking is mostly provided through multi-storey or underground garages, with some on-street parking, but can be
very
expensive on weekdays. Parking in Docklands is more reasonable, with $10 parking all day at Harbour Town and the option to catch a free tram into the city from there.
See
Historic sites
Flinders Street Station

address: cnr Flinders and Swanston Streets

Arguably the defining landmark of Melbourne, this colonial-era railway station was designed in an 1899 competition. The station's front steps, below a row of clocks announcing train departure times, are a popular meeting point for locals. It is the busiest suburban station in the Southern Hemisphere. Although grand from the outside, the interior has become dilapidated over the years and many rooms including the ballroom are closed to the public. A restoration project began in 2015 and is expected to take four years.

Government House

Governor La Trobe's Cottage

phone: +61 3 9658 9658

address: cnr Swanston and Collins Streets

Built in 1870, the city's town hall is grand and historic. 1 hour tours allow visitors to see the ornate Council chambers, the richly-carved Grand Organ and sit in the Lord Mayor's chair. Bookings recommended.

phone: +61 3 8663 7228

address: 377 Russell St

Built in 1841, it is now a penal museum, with a watch house and magistrate's court also on-site. Bushranger Ned Kelly was hanged here in 1880. The scaffold on which he and many others were hanged is displayed, as is Kelly's death mask. There are other displays in many of the cells. Allow an hour or so for your visit.

phone: +61 3 9651 8568

address: 110 Spring St

Built between 1856 and 1879, the Australian federal parliament sat in this impressive building from 1901 to 1927 while Canberra was built. It now houses the state parliament.The majestic façade can be seen right down Bourke St. Tours of the assembly halls and libraries are conducted when parliament is not in session. Visitors are also welcome to sit in the public gallery when parliament is in session.

phone: +61 3 9650 9903

address: cnr Collins and Russell Streets

Gothic church built in 1873, the first Presbyterian house of worship in the city.

Shrine of Remembrance

State Library of Victoria

phone: +61 3 8664 7000

address: 328 Swanston St

Built in stages beginning in 1854, it has an impressive classical revival façade. Includes a good newspaper reading room, genealogy room and an art collection, as well as the fantastic La Trobe Reading Room and its huge dome. Bushranger Ned Kelly's armour is stored permanently on display, along with a variety of galleries and exhibitions. Internet terminals are provided for research only, not email, and usually need to be booked because of high demand. Coin-operated lockers are available just off the lobby, where large bags must be deposited before entry. Free Wi-Fi and guided tours are also available.

phone: +61 3 9654 5120

address: cnr Collins and Russell Streets

Romanesque-style church built in 1866.

phone: +61 3 9662 2332

address: 2 Cathedral Pce, East Melbourne

The original part of this Gothic Revival cathedral was built in the 1850s. It was consecrated in 1897 and the spires added in 1939. It is the largest and tallest church in Australia.

phone: +61 3 9653 4333

address: 198 Flinders St

Gothic-revival cathedral on the site of the colony's first church services in 1836.
Modern attractions
Galleries and the arts
Australian Centre for the Moving Image

phone: +61 3 8663 2200

A museum, gallery and collection of cinemas dedicated to film, TV, video games, new media and art, both old and new. Regularly holds a number of interesting exhibitions.

Hosier LaneIf you want to sample street art, head for this little lane full of ever-evolving, colourful graffiti from end to end.

phone: +61 3 8620 2222

address: Federation Square

Houses over 25,000 works of only Australian art, including paintings, sculptures, photography and fashion. Famous artists such as Frederick McCubbin and Sidney Nolan are on display, along with a fine collection of Indigenous art.

phone: +61 3 8620 2222

address: 180 St Kilda Road, Melbourne

The premier venue for international fine art exhibitions in Melbourne, with a permanent collection and international collections. A must-see for art lovers.

address: 100 St Kilda Road

The Arts Centre Melbourne is home to the Melbourne Symphony Orchestra, the Australian Ballet, Opera Australia and the Melbourne Theatre Company. It has a variety of performance venues, exhibition spaces, bars and restaurants. On Sundays, it hosts an Artisans' Market.
Museums
Parks and nature
Alexandra Gardens

Captain Cook's Cottage and Fitzroy Gardens

address: 230 Wellington Pde, East Melbourne

Features Captain Cook's Cottage which is the cottage that belonged to Captain James Cook's parents and was transported from Yorkshire to Melbourne in 1934.

Queen Victoria GardensFeatures memorials to Queen Victoria and King Edward VII, sculptures and a floral clock of 7000 plants.

Royal Botanic GardensRecognised as one of the world's finest botanic gardens, with over 10,000 species and 50,000 individual plants in the 38 hectare gardens.
Do
phone: 1300 756 699 (local rate)

address: 105 Pearl River Road, Docklands

The largest ice recreation venue in the Southern Hemisphere, the Icehouse allows visitings to skate around a large ice rink. Free beginners classes on weekends and school holidays. Regularly holds public events such as dancing, games and music parties.

phone: +61 3 8688 9688

address: 101 Waterfront Way, Docklands

Loathed by Melburnians for its exorbitant cost and constant delays, this observation wheel opened late to much fanfare in 2008, to only be closed 40 days later due to engineering faults and cracks. After complete reconstruction, the wheel is now safe and operational, and offers views over the city, suburbs, the bay and to hilly and mountainous districts in the distance, taking 30 minutes for a full ride/rotation. An "encore ticket" can also be purchased which gives the rider two trips; one at day and one at night.
Buy
Melbourne's vibrant retail scene thrives with alluring labels, products and shopping experiences. It's an eclectic mix of high end fashion, funky boutiques and mainstream stores, all of which have a home in the city's laneways, retail centres and tree-lined streets.
Fashion
Bourke Street MallA popular pedestrian and tram-only mall in the city centre lined with both big-name fashion brands and start-up designers.
Hussy

address: 338 Bourke St

A cult designer label that caters to a ultra chic and fashion forward clientèle.

Fat

address: Shop G03, GPO, 350 Bourke St

Renowned for discovering some of Australia's most beloved labels; stocks emerging labels as well as the now established brands.

David Jones

address: 350 Bourke St

Large, multi-level store of the higher-end department store chain.

phone: +61 3 9639 0039

address: 350 Bourke St

Famous Swedish retailer's first store in Australia, housed in the historic General Post Office building. Sells a variety of cheap, quality womens, mens and kids clothing, along with a variety of home furnishings.

Myer

address: 314-336 Bourke St

The recently-renovated, flagship store of Australia's largest department store chain.
Aesop

address: 35 Albert Coates Lane

QV A Melbourne born brand starting 17 years ago, Aesop is decked out in apothecary style and uses botanical extracts and natural preservatives where possible. Their products will definitely earn a prized rank in your bathroom.
phone: +61 3 9614 3294

address: 211 Flinders St

A famous icon for many Melbournians, the City Hatters sits just beneath the main entrance to Flinders Street Station on the right. It has survived the test of time, opening at the location in 1910, and stocks a wide variety of accessories, mostly for men. The store also provides hat cleaning and measurement services.
Laneways and arcades
phone: +61 3 9654 5244

address: 280 Collins St through to Elizabeth St

A historic shopping arcade built in 1891, lined with boutiques and cafés, housed within carved stone and wood walls with a glass canopy above.

phone: +61 3 9670 7777

address: 331 Bourke St Mall

Built in 1870, it is a historic shopping arcade that runs between Little Collins St, the Bourke Street Mall and Elizabeth St. The carved statues standing guard next to the iconic clock are worth a look, along with the numerous small shops.
Shopping centres
Usually native to Melbourne's suburbs, a few new shopping centres (or
malls
) have been popping up in Melbourne's CBD. Emporium, Melbourne Central and QV are all located in the same area at the top end of Swanston St, connected by various walkways or crossings.
Souvenirs
There are souvenir shops on the southern end of Swanston St.
phone: +61 3 9663 2233

address: S2, 8 Driver Lane

A variety of high-quality wares such as mugs, cushions, phone cases, clocks and a Melbourne-style Snakes and Ladders rip-off. Items are assembled in Yarraville in the city's west.
Art
Outre Gallery

address: 249 Elizabeth St

For the art lover that doesn't have a lot to spend, Outre can get you started with originals for under $100.

address: Between Hamer Hall and Arts Centre Melbourne

Every Sunday, the small park between Hamer Hall and Arts Centre Melbourne is filled with stalls that sell arts and crafts locally made by the sellers. The place is animated with live performance at 12 noon.
Eat
Cafe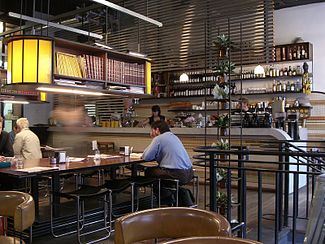 Between Degraves St and Centreplace (which link Flinders St to Collins St, between Swanston St and Elizabeth St), you will find several breakfast restaurants. Most open from 7AM and serve all kinds of breakfasts. Competition is strong and keeps quality up so the range of choice is impressive.
AixHas a huge selection of mouthwateringly good crepes.

Manchester Press

phone: +61 3 9600 4054

address: 8 Rankins Ln, Melbourne VIC 3000

Speciality coffee, brekkie and bagels served in a light, vintage-chic cafe with eclectic decor.
Burgers
There are a number of burger joints in the Melbourne CBD.
phone: +61 3 9687 8838

address: 231 Swanston Street

Serves hamburgers, milkshakes, fries and hotdogs.

phone: +61 3 9620 0296

address: 470 Collins St

Royal Stacks is a mini homage to US burger chain, Shake Shack
Chinese
Melbourne's
Chinatown district
centred on Little Bourke St is filled with cheap Chinese options and some well-hidden (but excellent) Japanese alternatives. Search Tattersall's Lane for deliciously cheap dumplings. The CBD is also suffused with postmodern Oriental restaurants catering to the large Asian student market.
Camy Shanghai Dumplings

address: 25 Tattersalls Lane

Chinese food in large servings, notable for its dumplings. Meals served with complimentary tea.

White LotusOffering good vegetarian Chinese for those on a no meat diet.

Gigi

address: 237 Swanston St

This is the place for Japanese served fast and friendly.

Shanghai Street

phone: +61 3 9662 3226

address: 146 Little Bourke Street, Melbourne

Cheap and cheerful dumplings, expect a queue as they don't take bookings
Indian
Gaylords

address: 4 Tattersalls Lane

Kitschy ode to Bollywood in the heart of Chinatown.
Vegetarian
Crossways

address: 123 Swanston St.

Tasty lunch cafe with a 2-course vegetarian all-you-can-eat meal. May be possible to work 30 minutes for your meal.

Gopal's Vegetarian Restaurant

address: 139 Swanston St.

Sister restaurant to Crossways
Greek
Medallion

address: 209-211 Lonsdale St

Serves gyros and other standard Greek lunch fare.

phone: +61 3 9663 3316

address: 177/183 Lonsdale St, Melbourne

This Greek restaurant decorated with stalactites has delicious gyros and earthy meals.
Others
Melbourne Bar & Bistro

address: 168 Elizabeth St

Hungry budget travellers can eat all they want.

address: Melbourne GPO, G25 Postal Ln, Melbourne VIC 3000

Set in the modernised historic building of the Melbourne General Post Office, this Vietnamese restaurant offers quality meals at reasonable prices. As an indication, a set menu meal costs $25 each and includes a drink, entree and main, with four choices in each.
Drink
Coffee
The CBD holds some hidden gems as far as coffee is concerned. You cannot go wrong with the hipster coffee cafes but avoid the cafe chains.
Degraves Espresso Bar

address: 23 Degraves Street

Tucked into a bluestone laneway near Flinders St Station, this outlet has long-held the title of Melbourne's best coffee. Hours: Mon–Fri 6:30AM–7:30P, Sat–Sun 7:30AM-6:30PM.

Laurent Bakery

address: 306 Little Collins St

If Parisian pastries and good coffee are what you crave, then head here to a now franchised establishment with well-trained baristas.

Brother Baba Budan

phone: +61 3 9606 0449

address: 359 Little Bourke St, Melbourne VIC 3000

Speciality coffee shop serving cakes in a quirky space with wood panelling and bar stools.

phone: +61 3 9642 2237

address: Little Bourke St & Little William St, Melbourne VIC 3000

Trendy, bare-bones, standing-room-only spot for artisanal coffee ground on-site, and small treats.

phone: +61 3 9417 5578

address: 247 Flinders Ln, Melbourne VIC 3000

Speciality outpost crafting home-grown coffee in a stylish interior with light, wood-panelled walls.

phone: +61 409 504 936

address: 390 Little Bourke Street, Melbourne VIC 3000

They claim to specialise in serving and educating their customers all about speciality coffee. Their premium house blend, "Mega Choc" is always on offer, along with a rotating single origin of the day. Also on order are alternative brewing methods such as Aeropress, V60, Syphon and Cold Drip.

65 Degrees

phone: +61 3 9662-1080

address: 309 Exhibition St

The owners have a long history of accolades. Champion barista, world latte artist and award winning coffee blend, gridlock coffee. Fast, friendly service and some of the finest coffee around.
Bars
Serious cocktail aficionados should check out The Gin Palace (190 Little Collins St; 9654-0533), for a welcome mix of knowledgeable bartenders, funky bordello ambiance and a laid-back crowd.

The Carlton Club

address: 193 Bourke St

Melbourne. Great late night joint on middle of the day, very functional with heaps of little spaces to get cosy and open areas to get your Sunday on. The rooftop bar in up there with the best in town. A must for people coming to Melbourne.
A little more upmarket is Tony Starr's Kitten Club (267 Little Collins Street, tel 9650-2448 ) which offers a leopard-print throwback to the smooth cats and cool jazz of the 50s. The weekday crowd of funk loving twenty-something professionals sip on a range of cocktails blended and shaken by well-trained and attentive staff. The upstairs performance area hosts local and visiting funk, jazz and cabaret acts.
The Croft Institute (21-25 Croft Alley, tel 9671-4399) epitomizes the kitschy-hidden-bar trend of the past few years. Tucked within the narrowest and smelliest alley in Melbourne, this place is somewhat charmingly fitted out like a high school laboratory; complete with beakers, test tubes and retorts. Check out the upstairs 'gymnasium' playing house and electro, and the hospital gurney (with stirrups) on display near the women's toilets.
Arthur's Lounge (Corporation Lane, tel 9654 9744) is a decadent club / bar with prices and door policies to match. A crowd-friendly mix of house and electronica will keep you going, and the fun-loving (but sometimes pretentious) patrons are a pleasant mix of funky bohemia, city glamour and party people.
For a taste of Fitzroy in the CBD, drop into the cheerful Rue Bebelons (267 Little Lonsdale Street, tel 9663-1700) for a reasonably priced coffee or beer. The Nepalese family behind the bar mix up great music and a friendly vibe to a crowd of laid back artists and students from nearby universities.
Misty's (3-5 Hosier Ln, tel 9663 9202) hosts a smiliar crowd, but in slightly cooler retro-sci-fi surrounds. The staff are friendly, live DJs spin groovy tunes most nights and it makes a great launching pad for shows at the nearby Forum.
Cookie (Swanston St between Lonsdale and Bourke opposite the Lounge). Excellent bar and cocktails with an upstyle crowd that likes to party hard. Has a restaurant upstairs for dinner serving excellent thai inspired meals.
"Section 8" (27 - 29 Tatersalls Lane) bar in a car park made from shipping containers. 'nuff said?
Bar Americano on Presgrove Pl serves up awesome cocktails and excellent coffee, but we warned, they don't serve skim or soy milk.
Madame Brussels (63/59 Bourke Street PH:(03)9662 2775) This English Garden party themed bar is located on the roof and serves up excellent cocktails by staff in Tennis outfits. Cocktail jugs $30 and $50, 2+ and 4+ serves respectively
The Workshop Bar (Upstairs Cnr Elizabeth and A'Beckett Sts)This relaxed bar is located in a former motorcycle workshop hence the name. The Workshop has reasonable priced drinks and an outside (roofless) smokers area. It's run by the same people who run e55.
Sleep
Budget
phone: +61 3 9620 1022

address: 2 Spencer St

24-hour reception.

Arthouse Hotel

phone: +61 3 9347 3917

address: 616 Elizabeth St

Also a live music venue so it may be rather noisy at night.

Elephant Backpackers

address: 250 Flinders St

Offers amenable facilities.

Elizabeth Hostel

phone: +61 3 9663 1685

address: 490 Elizabeth St

Friendly and relaxed atmosphere.

Flinders Station Hotel

address: 35 Elizabeth St

24-hour reception. Centrally located. Twins and doubles have TV.

The Friendly Backpacker

address: 197 King St

Includes free internet and breakfast.

Greenhouse Backpacker

address: 228 Flinders Lane

Free internet and breakfast included

Melbourne Central YHA

address: 562 Flinders St

Centrally-located hostel in the backpacker hub of Melbourne.

phone: +61 3 9328 4383

address: 196 A'Beckett St

Toad Hall Hotel

address: 441 Elizabeth St

Victoria Hotel

phone: +61 3 9653 0441

address: 215 Little Collins St
Mid-range
Atlantis Hotel

phone: +61 3 9600 2900

address: 300 Spencer St

24 hour reception

Explorers Inn

phone: +61 3 9621 3333

address: 16 Spencer St

24 hour reception

Rydges Melbourne

address: 186 Exhibition Street

Opposite Her Majesty's Theatre, one block from The Comedy and Princess Theatres, and only a few more to other popular Melbourne theatres.

Travelodge Southbank Melbourne

phone: +61 3 8696 9600

address: 9 Riverside Quay, Southbank

Parking available

phone: +61 3 9039-8888

address: 131–135 Bourke St

Apartments available range from studios to two-bedroom executives, and have separate living and dining areas. It also offers a flexible service menu.

Somerset on Elizabeth Melbourne

phone: +61 3 8665-8888

address: No 250 Elizabeth St

Provides a choice of one or two bedrooms apartments equipped with a kitchen, broadband internet access and home entertainment system.
Splurge
Connect
Wi-Fi is plentiful throughout the CBD. Federation Square and the Melbourne Visitor Centre have free Wi-Fi, as does Flinders Street Station, the Crown Casino Complex, City Library and the State Library of Victoria. McDonalds outlets throughout the city will also offer free Wi-Fi with some moderate censoring. Local bars, cafés and restaurants sometimes offer their own password-protected Wi-Fi, which can be accessed on request (if you're a paying customer, of course). The City of Melbourne keeps
a list of retailers
with Wi-Fi access.
The
State Library of Victoria
has a number of internet-connected computers available that can be used for free without registration. Some may be used on-the-spot for up to 15 minutes, while it is also possible to book a computer for up to an hour in advance.