Mendoza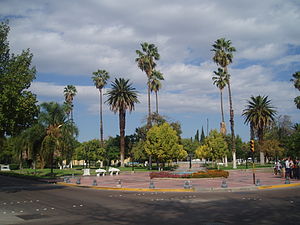 Mendoza
is a city in western
Argentina
, in the desert
Cuyo
region. Mendoza is the center of the Argentinian wine industry, for which it is world renowned. It is also near the
Aconcagua
, the highest mountain outside of the
Himalayas
. Mendoza is the capital of
the province of Mendoza
.
Understand
Although it is in an extremely dry desert region, Mendoza has an extensive
artificial irrigation system
, which allows for greenery throughout the city as well as the growth of grapes used to make its wines. Most streets have irrigation channels on either side, with bridges for pedestrian and vehicular traffic. These are periodically flooded with water diverted from the river. The trees and the wide avenues give the city a beautiful ambience, a change from much of the bare feel of many Argentine cities.
To the immediate west is the Pre-Cordillera of the Andes towering over the city, with peeks at some of the snow-covered (throughout the year) Andes peaks beyond.
A
siesta
, or afternoon nap, is still taken in Mendoza. Most businesses close approximately 13:00-17:00, then re-open until about 20:30-21:30. Banks are only open in the mornings M-F 09:00-13:00.
Climate
Summers can be hot and dry in the city. January is particularly hot; temperatures of 40°C (104°F) are not uncommon. However, the lack of humidity makes both the heat and cool more bearable than, say, humid Buenos Aires. The nearby mountains are cool, though, even in the summer.
Winters are moderately cold in the city from late June to late August, and very cold in the mountains. Many
ski centres
are located near Mendoza (see
#Do
below).
The Zonda wind, a wind characterized by warm, dry air descending from the mountains frequently occurs in the winter, causing temperatures to raise as much as 20°C (36°F) in a few hours. These events can cause temperatures to be warm to hot, even in the middle of winter.
Get in
By bus
The large bus terminal is about 2 km east of the city centre. Taxis and
remis
(private taxis) are readily available (USD3-4 to the centre), or it's a 15-minute walk (not recommended at night, the area between it and the centre borders on the red light district).
There are daily bus connections to all major destinations including
Bariloche
and
Santiago de Chile
, a beautiful 7-hour bus ride crossing the
Andes
. Santiago de Chile is not always reachable by bus as the Andes pass closes after the first heavy snowfall in the winter months, normally around late May, but when it does snow heavily, the pass is usually only closed for a few days at most. The joint immigration/customs control for Chile-out-stamps/Argentina-in-stamps (convenient) for entry into Argentina is at Los Horcones near Puente del Inca, and the one for entry-into-Chile/exit-from-Argentina stamps is at Las Libertadores in Chile, 5 km past the tunnel. The waiting time at the border which may be very long (up to 8 hours during high season).
Bus travel times to/from Mendoza:
By plane
El PlumerilloA small airport, with flights to Buenos Aires (LATAM and Aerolineas Argentina), and Santiago de Chile (LATAM and Aerolineas Argentina), but tickets are very expensive as compared to bus fares (the fares to Chile and Peru are more reasonable, as you do not have to pay the foreigner premium for domestic flights). There are flights to and from Salta, Iguazú and Bariloche on Tuesdays, Thursdays and Saturdays with Aerolineas Argentinas.
From the airport, you can take a remis (a type of taxi) for fixed posted prices (AR$225 to the centre - 2019). There is also a city bus (collectivo) that takes you downtown, but it comes only every 40 minutes and takes an hour to make its way downtown (but you need to buy a buscard, not available at airport).
Mendoza is a travel hub of sorts for Argentina.
Buses from Buenos Aires:
Micros de Retiro
.
Get around
Central Mendoza is relatively compact and walkable - for example, it's a 20-30 minute walk from Plaza Independencia to Parque San Martin. However to get to the bodegas (vineyards) to the south, walking isn't recommended as it they are at least 10 km away.
In January 2019, there was the radical transformation of the public transport system, introducing
Mendotran
, a system which is based on the setting up of two different transport "webs": one that takes you into and out of the city proper, and one that connects the different areas of the periphery. These changes have been met with near-universal condemnation, both for their design and their implementation. Getting around by public transport may therefore present some minor challenges for the tourist, and even the people who live in Mendoza may offer little help when giving advice on how to get somewhere. Also be aware that bus stop signs may still be missing, and you'll have to rely on Mendotran's website, Google Maps, or the knowledge of people in the area (particularly store-keepers) to find your stop.
Buses
are plentiful, but a little confusing at first. Buses have two numbers, a line (línea) number, which is a three-digit number which usually appears at the top of the front of every bus, and a route number, which is also three digits (i.e. 401) and is on a small sign behind the windscreen. To further confuse you, they may on occasion be the same (that is, buses 400 and 401 both belong to line 400). Buses on the same line all go to
roughly
the same place (e.g. Godoy Cruz) but the route varies by route number - so be careful not to get on the wrong route! A single ticket is AR$18 as F Jan 2019, though it rises along with inflation every few months. You cannot pay cash for your fare, and it is necessary to purchase a RedBus card (a prepaid proximity card not compatible with the SUBE card of other cities' public transport) that you touch-in when boarding a bus. You can buy this card from
some kioskos
near a bus stop for AR$30, and charge it up at the same place. An interactive map of the city bus routes can be found on this city website:
city bus map
. You may also use Google Maps or other map apps to find the best way to get somewhere. The new system relies heavily on the need to change buses to get to your destination, and so it is common for Google Maps to suggest doing just that. Depending on how long your first journey is, you may not have to pay for your second one: after touching in, you have a 90-min period during which it is free to get on another bus.
There are also
Trolleys
, which have the same fare price, coin machines and use the same RedBus card. A popular run is the Parque circuit (bus route 130), which takes you to the gates of Parque San Martín every 10 minutes or so. You can cath this bus on 9 de Julio, Colón or Arístides Villanueva streets downtown. After a walk in the park and back at the gates, you could also return by catching the bus at the same stop, or simply walking down Emilio Civit street (it's not a long way to Plaza Independencia).
The
Metrotranvía
(
MTM
) is a modern electric tram-train system. The Green Line connects the city center with the south-eastern suburb of Gutiérrez in Maipú district and is being extended to Las Heras in the north of the metro area. It uses the same prepaid-card system than the buses, and combinations with buses can be made at no cost.
Taxis
are plentiful, use meters, and fairly cheap, costing about the same as in Buenos Aires. A trip from the bus terminal to Plaza Independencia will cost around AR$50 (May 2018)
You can hire
bicycles
in town - most hostels can put you in touch with a bicycle hire outfit - prices are negotiable (i.e. they will charge you as much as they think you are willing to pay) but you shouldn't pay more than AR$80-100 per day. You will need some form of ID to leave as deposit. Ask to see the bike
before
handing over your money - many are old clunkers.
See
Parque San Martín. This huge park is nice for walking or biking around. There is also a zoo at the north-west corner of the park with animals in small cages. Behind the zoo begins a path up to Cerro de la Gloria where there is a large statue and nice view over the city and of the mountains - particularly pleasant at sunset. You can rent a bicycle at "Bicis del Parque - Bike the Park!".
Many bodegas (wineries) offer tours. Wine-tasting events are common; check the culture section of local newspapers or ask around. A good period to visit is during harvesting in March and April. Visiting wineries often requires reservations booked in advance (many are closed during the weekends). Some major wineries (Norton, Rutini, etc.) have regular "walk-in tours".
Festivals occur often and are usually free. Each has a different theme, and they usually have a stage with singing and dancing and booths that sell food around a plaza. The harvest festival at the end of February is a major event.

Plaza IndependenciaThe central main square of the city is the best starting point to explore downtown Mendoza. It boasts some nice buildings around, restaurants and even some street shows. The Mendoza Museum of Modern Art is under the plaza also (AR$6, free on Wednesdays). The Plaza can also be visited at night, where you can see some nicely illuminated buildings and a beautiful big coat of arms of the city that is made of lights.

Plaza EspañaPossibly the most beautiful square in the city, this square is an artistic expression of the special relationship that this city (and all others in Hispanic America) has with Spain. It is decorated in a splendid way with typical Andalusian and Spanish motifs all around the place. The central wall depicts some images and texts of the Spanish colonization and it is crowned by a gorgeous statue.

Central Park

address: El Parral & Vendimiadores

A modern city park, contrasting with the tradition of the better-known Parque San Martin. Not a Mendoza must see, but the park has some nice water fountains and a grassy hill - often amateur Mendocinans set up their easels here and paint away.

Casa de FaderA historic house museum, is an 1890 mansion once home to artist Fernando Fader in nearby Mayor Drummond, 14 km south of Mendoza. The mansion is home to many of the artist's paintings.
Do
Many companies organize trekking, expeditions, horseback riding, and whitewater rafting in the desert and the mountains.
Mountain cabins
in areas with spectacular scenery are easily rentable in the city. Check the classified ads in the newspaper.
Campo Base Travel and Adventure

phone: +54 261 425 5511

address: Peatonal Sarmiento 229

Trekking, rafting, horseriding, paragliding, mountain bike, aconcaguaes tour, and wine tasting tours. Another rafting company above Potreillos (same run) is "Rio Mendoza", and for a more leisurely raft, Betancourt Rafting below the reservoir.
phone: +54 261 441 1234

address: Park Hyatt Mendoza Hotel, Chile 1124

Termas de Cacheuta (Spas of Cacheuta)

address: 2624 490 139

Cacheuta, about an hour outside of Mendoza, has a very large network of "natural" hot-tubs called the "Parque del Agua". During high season and weekends, you will pay AR$70. For easy transportation, inquire regarding Cacheuta at the Bus Terminal, Espreso Uspallata bus counter at the immediate south side of the terminal near platform 50; buses depart Mendoza in the morning (before noon) and return in the evening (last bus departs Cacheuta at 18:50). You will pay AR$14 for each way, and it is recommended that you purchase both directions before departing. If you're in for the full day adventure, consider bringing some food to cook on their plentiful and free grills.
If you want the natural hot springs, just go down to the river and find some rocks forming a pool. For free.
An upscale alternative is to go for the day to the Termas Hotel, about a km before", with swanky pools, masseuses, jacuzzis and an incredible buffet lunch, all for AR$80, but well worth the value - if you go, you had better book at the hotel a few days before for the package (do not bother staying at the hotel, the overpriced rooms are very cramped.
Aconcagua - America's highest peak Aconcagua (highest in the world outside the Himalayas) provides trekking and climbing possibilities. All travel agencies and backpacker hostels can organise trips - although a considerably cheaper and more flexible option is to take a Transportes Uspallata bus to the park from Mendoza's bus station. Probably you would be happy just paying the AR$25 at the park entrance to walk the short interpretive trail and lookout, rather than paying the hefty hiking fees past that you need to pay in town at the Provincial Park office in Parque San Martin (depending on how far and how many days you trek). If you want to see the top of Aconcagua, check the weather for the area before going, or you will waste your time and money.
Wine tour - The nearby vineyards will let you taste wine if you show genuine interest. It's possible to do a tour by bike, but there are also fully organised tours going from Mendoza. The most popular destination for biking and wine tasting is Maipu, a short bus (line 10-173) or cab ride out of Mendoza. Many outfits rent bikes and provide a map of the standard route. Do yourself a favor and choose your bike company carefully. For example, Mr. Hugo has well maintained bikes, but Bikes and Wines had terrible old clunkers and there is no better wat to spoil your day than to battle with an awful bike. The most popular high-end wine tours are Malbec Symphony Wine Tours, Ampora Wine Tours and Trout & Wine, which take small groups to better wineries and include a multi-course lunch. There are several excellent wineries on the typical route, including Tempus Alba, Viña El Cérno, Familia Di Tommaso, and Carinae. As an alternative, Bachhus Wines runs bike tours out of Chacras and will rent bikes for about AR$40, provide a map and call ahead to several vineyards. Please be careful with your belongings on the wine tours, as there have been cases of bags being snatched out of the baskets on bikes recently. Budget from AR$80 to 140 per person for "tastings", based on visiting between 4 to 6 wineries.
Cooking Class - Ampora, who primarily does wine tours, also offers a cooking class for about AR$115 per person (less if paying cash). The four-hour course includes lots of wine, hands-on prep for several dishes and of course dinner. Finca Adalgisa, about 30 minutes from downtown, likewise offers a cooking demonstration several night per week. Unlike Ampora, this class is more of a demonstration than a hands-on class, but it is immensely popular. The teaching chefs for Ampora and Adalgisa both cooked under legendary Argentine chef Frances Mallmann (1884, Patagonia Sur).
Vines of Mendoza - around the corner from the Hyatt in downtown (Avenida Belgrano 1194), Vines of Mendoza is the premiere wine bar in the city. They choose top wines from the region and offer various flight options, each coming with five glasses. Options include the Iconos (top wines), whites, reserves, Uco Valley reserves, Sensory Tastings and even a Blending Lab where you experiment mixing different varietals and take home a bottle of your own personal blend. The Vines hosts a (meet the) Winemaker Night on Wednesdays (7-21:00) during high season. Their website has great local tourist information and the definitive "Insiders' Guide to Mendoza."
Paragliding (parapentes in Spanish) can be done in Mendoza every day of the year, depending on the winds of course. Tours include a tandem flight of about 15 minutes with an experienced pilot. Costs are about 100 US$. There are two companies going off Cerro Arco, both easily googleable: "zonadevuelo" (aka Fly Excursion) and "flyadventure"(aka mendoaventuras).
Skiing is popular in the winter, but the season is short. Closest are Penitientes (bigger) and Los Puquios (beginner) on the highway almost to the Chile border. You could either take the Espreso Uspallata milkruns, or by bus tickets or packages from the many agencies on Las Heras Street, between Mitre and Peru streets, where there are also lots of ski equipment and clothes rental shops.

Hike up Cerro ArcoA pleasant half-day hike easily done independently from Mendoza, offering great views of both the Andean foothills behind and the vast expanse of Mendoza's plains to the front. Cerro Acro is the looming mountain to Mendoza's north west, topped with various antenna. It is also used as the base for paragliding. Take bus 114/115 (linea 3) in west direction from the road named Monevideo right next to Plaza Independencia (or Parque San Martin on Av Del Libertador) to El Challao Mirador, at the end of the line 8km to the northwest. From here walk across from the white nightclub following the dyke 100 metres, then take an unpaved track further west until you reach a small restaurant, mountaineering museum and clubhouse - then follow the track to the north (going through the gate). This is a popular hike for Mendocinos at the weekend, but during the week it may be deserted. You can treat yourself to a hearty asado as the restaurant - it has two menus, one more expensive than the other! From the Mirador, the hike is about a 3½-hour round trip. Get out of the area well before dark. In the summer, go early to avoid the worst of the heat, and in the winter bring a jacket, as it can be cool and windy at the top. Afterwards you could visit the aircraft hanger sized church in Challao, a local version of Lourdes.

Horse riding Gaucho Experience

phone: +54 261 15 5592711

Every hotel, hostel and travel agent can organise horse riding trips close to the city - but these guys have one of the better reputations - can do day and overnight rides, look after their animals and speak good English. Expect to pay around AR$120 for half a days riding. A late afternoon ride, with a return at sunset will enable you to avoid the heat of the day and night-riding is very atmospheric. If you phone them direct you will get a lower price compared to organising through a hostel.

phone: +54 261 4297730

address: Valle de Las Leñas

Las Leñas is definitely the most important ski resort in Argentina. The Andes Mountains are the highest outside of Asia with reliable skiing every ski season. Dry, plentiful powder, all levels welcome, Nordic skiing, incredible off-piste skiing and a base up at 2,240 metres describes Argentina's most important ski resort, Las Leñas.

phone: +54 9-261-543-3292

address: 256 Rivadavia

Wine tours are directed by sommelier, Julian Dlouhy and his knowledgeable staff. Tailor-made, customized tours with chauffeurs and bilingual guides in Mendoza, and other Argentine wine growing regions (Patagonia, Salta, San Juan, Cafayate, Valle de la Luna, Talampaya). Staff speaks French, German, English and Portuguese. Olive oil tours, cooking classes, mate classes, and spirit tours.

phone: +54 261 4297730

address: San Martin

Mendoza Holidays is a boutique operation specializing in upscale private tours, gourmet itineraries and specialty programs throughout Mendoza, Chile and other areas in Argentina such as Buenos Aires, Salta, Iguazu Falls, Patagonia and more. Recommended by Frommers and The New York Times Travel & Dining.
Learn
As with many cities in Argentina, there is a variety of Spanish courses and private lessons are available. There are two extablished language schools in Mendoza:
Intercultural
is the biggest, has a range of afternoon activities, and is slightly more expensive,
Greenfields
(aka COINED) is smaller and feels even less well organised, but many of the teachers work at both schools.
Another great option for individual or very small tailor-made quality group lessons with a highly trained instructor:
Spanish in Mendoza, Argentina
(SIMA)
.
Another interesting way to learn Spanish is by sharing accommodation. For people planing to stay for a couple of months, renting a room in a shared place could be the best option. Prices are reasonable low compared to hostels and hotels ranging from AR$700 in a student apartment to AR$130 for a homestay with no meals.
Buy
The wine is excellent and can be extremely inexpensive, although in terms of quality you most often get what you pay for. There are several wine boutiques which offer wine tasting. In general, you can buy the same bottles of wine at local supermarkets at lower prices.
Clothing tends to be fashionable and cheap for those paying in US dollars or euros.
Electronics are imported and thus expensive.
There are several mountaineering and trekking equipment shops offering a wide variety of outdoor equipment. A couple of shops are on Av Juan B. Justo near Av Belgrano.
Many unique home decor items are available at good prices.
Leather goods are also readily available and inexpensive. There are many shops on Las Heras Ave.
Eat
Good restaurants abound. For a round-up of Mendoza's more expensive eateries ask for the
Guía Mendoza Gourmet
from the tourist office. The main restaurant strip is on Aristides Villanueva, which runs east-west from Ave Belgrano (where the defunct railway tracks are) to Parque San Martin. It is difficult to have a bad meal here, although as a general rule be wary of special offers from places near the hostels - they may be cheap, but this shows in the quality. There are also some excellent (and pricey) restaurants on Ave Sarmiento running west from Plaza Independencia. A cluster of cheaper restaurants are on Ave Juan B Justo
Try world-famous Argentinian beef
asado
(roasted) from a
parrilla
(grill) restaurant, with a bottle of Mendoza's excellent wine. Mendoza's most famous varieties are the Malbecs from Maipú and Luján de Cuyo. Other good options are Cabernet Sauvignons and Merlots.
Even by Argentinian standards, Mendocinans eat late. On weekdays kitchens open around 21:00, but few diners arrive before 22:00. On Fridays and Saturdays things don't get going until 23:00.
1884, Belgrano 1188 in the Godoy Cruz neighborhood. One of Francis Mallman's famous restaurants. The food is expensive but excellent and focuses on local meat and produce.
Tenedor Libres: (literally, free fork) Mendoza has many good buffets that serve reasonably priced lunches and dinners. Most offer 5-10 meat dishes freshly cooked on a giant grill and a variety of side dishes and desserts. The quality of the food can be quite good and it's an excellent way to try a selection of Argentine food.
Onda Libre Av. General Las Heras 446

phone: +54 261-4299836

address: Aristides Villanueva 650

Stylish restaurant and one of the more upmarket on the Aristides strip. Extensive menu of meats, salads, pastas, and a curious 'exotic' range, including Wok Chicken, Wok Beef, and more oddly, Wok Pizza.

La Nilda

phone: +54 261 423 2317

address: 780 Arístides Villanueva

Pleasant Argentinian restaurant at the far end of Aristides Villanueva - a good choice on Friday and Saturday nights when the popular places nearer the centre are full and you don't have a reservation. Solid menu of beef and pork dishes, hearty salads, good wine list and reasonable prices. If this restaurant were closer to the action it would be full every night! Not always open in the off season though.

Zinc

address: Aristides Villanueva

One of the first restaurants you'll encounter walking up from Ave Belgrano. Not a bad choice for a uncomplicated meal - often runs promotions of 'steak + desert' for AR$35 or so, aimed squarely at budget-conscious foreigners - and surprisingly the food is pretty good - beware of the cheap wine offerings, they are cheap for a reason.

Il Panino

phone: +54 261 428 5922

address: 147 Paso de Los Andes

A pleasant restaurant away from the bustle of Arístides Villanueva - the garden is a welcome oasis away from the traffic noise that blights al fuera dining elsewhere in the city. Serves perhaps the best pizza in the city, with thin Italian style bases with a traditional range of toppings (although still cheese-heavy). Also good salads, meats, and pastas. Often has a AR$25 lunch special.

address: 788 Boulogne Sur Mer

Pleasant & pricey restaurant with, as the name suggests, a patio. Asado, steak, chicken and more steak. For an interesting dining experience have a meal whilst a football game at Club Independiente next door is underway.

phone: +54 261-496 0131

address: Pedro Molina s/n - Ruta 60 Km 2.5 - Russell – Maipú

15 minutes south of the city center (close to suburban Chacras de Coria) and in the middle of one of the Tapiz winery vineyards, this stylish restaurant offers a series of regional dishes and a superb wine list. Make the best out of the visit by touring the vineyard, visiting "Pour la Galerie" a maginificent art space located beside the museum featuring works of renowned artist Sergio Roggerone, and learning about the Club Tapiz boutique hotel (see below). Reservations required.

Cafe Las Palmas

address: Alma, near intersection with Rioja

Offers good menu of salad, soup, main course, bread and drink for 20 Pesos.

La Barca

address: Espejo 120 City Center

Open for lunch and dinner, this is a classic, family-owned restaurant that serves authentic, quality Argentine food. Great home made pasta. Daily specials. Friendly to English speakers. If you're in the city center and want a dependable meal, you can't go wrong here.
Sleep
Although Mendoza is a very liveable city, and many choose to stay for a few weeks to take language courses and the like, there is not the same short term apartment rental infrastructure as in Buenos Aries. An internet search will bring up a few options but be wary of paying deposits before you arrive as the apartment may not live up to your expectations. Traffic noise can be a particular problem.
The most pleasant part of town is between Plaza Independencia and Park San Martin - with quiet street and well kept neighbourhoods, and the bars and restaurants of Aristes Villanueva within walking distance. East of the centre is the more low rent area, and contains the cheaper hostels.
Budget
phone: +54 261 432 4976

address: Carlos Pellegrini 377, Guaymallen, Mendoza, Argentina

Nice little hostel about 15 minutes walk from the city center. The owners are a lovely young couple who'll try to make your stay as pleasant as possible. They offer good information on tours and activities in town, but there's no pressure to book anything through them. The kitchen is big and rather well-equipped, so good for self-catering.
Cuyum Mapu Hostel Av San Martín 2348, Mendoza. Located right in the center of the city, just seven blocks from the downtown area +54 261 4201147 US$10/person/night. A cozy, friendly hostel with big rooms, hot water 24/7, and a huge beautiful garden with BBQ and pool in an old mansion. It's close to downtown, but on a shady pedestrian street so there is no traffic noise.
Hostel Lagares Corrientes 213 Downtown Mendoza; ten minutes from the bus station and 2 blocks from Ave. San Martin +54 261-4234727 US$7.80-$18.20 A very friendly, welcoming hostel with big, bright rooms, each with a full bathroom, thick mattresses, daily cleaning service, lockers, Wi-Fi, breakfast, and large common rooms stocked with fun things to do. Very close to all the downtown restaurants, bars, clubs, shopping, and more.

Savigliano International Hostel

phone: +54 261 4237746

address: Pedro B Palacios 944, at junction with Alem

Located conveniently across from the bus terminal, this hostel has an eager-to-help staff and can arrange bus tickets (with no commission) and activities such as winery tours and paragliding.

phone: +54 261 425 7212

address: Calle Beltran 315

Comfortable family-run hostel. Aldo and Sofia will make you very welcome and will definitely help you practise your Spanish during your stay. 3 blocks from the main street, Av. San Martin. Dorm rooms start at AR$40 per person per night and private rooms from AR$45 per person based on at least 2 sharing. A simple breakfast is included. The hostel has a nice patio, well equipped kitchen, Wi-Fi internet and satellite television in the lounge. The owners are very helpful and can help you organise tours to the vineyards, Aconcagua and horseriding.
Mid-range
phone: +54 261 429-5565

address: Necochea 740

Less of a party hostel than the hostels located on Av Aristides. Located just off Plaza Chile, and very close to a large supermarket, you can expect to pay around AR$45 or AR$50 per night.

phone: +54 261 423-0575

address: Granaderos 954

In one of the most elegant neighbourhoods of the city, the fifth section.

phone: +54 261-4239514

address: Av Aristides Villanueva 241

Excellent Resto Bar, comfortable rooms, swimming pool, breakfast & friendly atmosphere.

phone: +54 261 429-0707

address: Av. Mitre 946

A hostel with discounts for Hostelling International members. It is definitely a party hostel. Well located, near Plaza Independencia. Excellent atmosphere for backpackers. Tourist information also available.

Hostel Chimbas

address: Acc. Este y Cobos 92

Beautiful hostel, charming owners. Approx. Ar$18. There is access to a pool, BBQ, brick oven, bike rental, and extensive excursion information.

phone: +54 261-425858

address: Av Arítides Villanueva 282

Not a party hostel. With swimming pool and breakfast. Guests are crammed into small 6-bed dorms, while the larger, cheaper 12-bed dorm remains mysteriously half-empty. The staff think they're your parents. AR$75 to stay in a six bed dorm (in May 2013). Rooms are noisy night and day, with music blasting from reception and the bar at the front. The shower heads are broken, and the flow is poor. The toilet have no seats, and the bath has some weird red stuff in it.

phone: +54 261-4240018

address: Av. Espana 343

A comfortable hostel, with excellent facilities, four beds rooms with private bathroom, excellent price. Also with great options for tours, including wine tours, horseback riding, rafting and excursions into the mountains. Expect to pay between AR$35 and AR$45 per night.

phone: +54 261 423-4727

address: Corrientes 213

A cozy hostel with a relaxed and friendly atmosphere.

phone: +54 261 438-0454

address: Rioja 771

Rated very highly on hostel booking sites. Friendly, sociable and relaxed hostel. Attractive garden and pool. Runs weekly wine tasting events. Dorm and private accommodation available.

phone: +54 261 4380818

address: Aristides Villanueva 470

In a beautiful house with large open spaces, couches and big garden with swimming pool and hammocks. Spacious and equipped kitchen for guests and a bar to buy beer and wine. Bedrooms are comfortable. The beds have new thick mattresses and lockers. Friendly and helpful staff that can recommend you lots of activities to do in Mendoza.

Modigliani Art and Design Suites

phone: +54 261 429-9222

address: Alem 41, Ciudad, Mendoza, Argentina

A few steps away from San Martin Ave. and Peatonal Sarmiento (kilometer "zero" of downtown Mendoza) Modigliani Art and Design Suites is a boutique complex with just a few exclusive apartments, emphasizing Architecture, Art, Design and Lighting, specifically used for vacation rentals in Mendoza. A sexy alternative to an accommodation in a conventional hotel. Modigliani is a development with accent on ultracontemporay design and a very complete furnishing in each and every apartment; as well, the "Modigliani" building has an Art Gallery on its top floor (Espacio Modigliani) which permanently exhibits works of local and international artist, combined with wine tastings and live music.

phone: +54 26-14416464

address: Avda.España, 1324. M5500DWN

Close to the main square, this hotel offers modern, comfortable rooms. Take advantage of the on-site restaurant and fitness centre.

phone: +54 261-4251535

address: 25 de Mayo 1889

Around 8 blocks from Plaza Independencia, it's a decent point for exploring downtown Mendoza. Its staff is very friendly and helpful. They offer excursions and complete information what to do in the city. Breakfast and lockers are included.

Savigliano International Hostel

phone: +54 261 4237746

address: Pedro B Palacios 944, at junction with Alem

Across from the bus terminal, this hostel has an eager-to-help staff and can arrange bus tickets (with no commission) and activities such as winery tours and paragliding.

phone: +54 261-4524757

An amazing lodge with great park, BBQ, swimming pool and wine tours.
Splurge
Stay safe
Be wary of scams, especially around the bus terminal. Occasionally foreigners will pretend to have been robbed and use your sympathy to "borrow" money for a bus ride.
Be careful arriving early morning on overnight buses. If you put your bags down, someone may try to take them.
As everywhere in Argentina, be careful of the vehicles. They do not honour the right of way for pedestrians or stop-sign laws (the police just stand around and are mostly unhelpful). Intersections are death traps, this cannot be emphasized too much, the vehicles are usually driven erratically, fast, without attention, wandering and without signalling. Look everywhere, and make no assumptions. Especially be careful when there is a bus or taxi approaching from any direction. Many pedestrians choose to jaywalk (not a crime here) in the middle of the block to avoid endangering their lives and limbs at intersections!

Cope
Consulates
Bolivia

phone: +54 261 4292 458

address: Perú 765

phone: +54 216 520-1400

address: Necochea 712
Go next
San Juan
, the quieter, greener, "Ciudad Oasis" is 150 km, about 2 hours, to the north. Bus departures every hour or two.
During the December to March high season, July mid-winter break and holidays when bus usage is especially high, buy your bus tickets out at the terminal at least a few days before you leave.