Milton Keynes
Milton Keynes
is a very large town in the
South East
of
England
.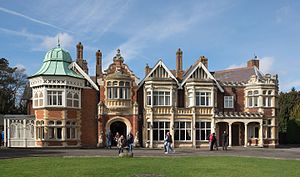 Understand
Imagine being able to design the perfect city almost completely from scratch. This is the premise under which internationally renowned urban planners and architects set out to create Milton Keynes in the 1960s and '70s. Of course, when mentioning Milton Keynes, people will often be met with "Ugh, it's a soulless new city" or "What, is that the place with the concrete cows?" Most irritating is that often, the people that make those dispassionate comments are those who have neither lived nor indeed spent much time there. Yes, it is a new city and yes, the centre of that city could be described as a little soulless with its chain restaurants and large shopping centre, but it was built on 150 million years of history and dotted around the 22,000 acres of countryside it resides in are many things to do, see and explore. Sites dating back to 2000 BC have been unearthed along with the remains of a major Roman villa, then dispersed amongst the city, itself built amongst many old towns. Also are numerous green spaces, a plethora of indoor and outdoor activities, and fabulous shopping opportunities. The Ministry of Housing and Local Governments brief in 1967 requested a new town that could accommodate an incoming population of 150,000 Londoners over a period of 20 years. Now Milton Keynes is a thriving city of contrasts; from innovative new business and entertainment hubs, to theatre, cinema, walks in natural parkland, pub lunches and peaceful canal trips; it really does have something on offer for everyone—and yes, it really does have concrete cows (as well as real ones)!
The town encapsulates and has merged into a number of settlements and villages including Wolverton and Bletchley.
Since 1967 Stony Stratford has been part of Milton Keynes. It boasts a number of fabulous British pubs serving good food and beer, a good variety of quaint shops to browse and beautiful river walks just behind the high street. Stony Stratford claims to be the place of origin of the term 'Cock & Bull Story' (from the name of two pubs/hotels on the High Street.

Get in
By train
Rail connections are maintained by Virgin and London Midland on the West Coast main line, and frequent trains connect to
London Euston
, Northampton, Birmingham, Liverpool, Manchester, and farther north at to
Milton Keynes Central station
. Local and slow services also stop at Wolverton in the north and Bletchley in the south. Trains from Bedford (the Marston Vale line) serve Bletchley and Fenny Stratford. Most local bus services connect with the central train station, with more limited services to Bletchley and Wolverton.
By bus
National Express services provide regular connections with coach services to many cities and regional airports, as well as larger ones such as Heathrow. Regional coach services are provided linking Northampton, Aylesbury, Oxford and Cambridge, and can be taken from either the railway station, town centre or the Milton Keynes Coachway, which is located near junction 14 of the M1.
By car
Milton Keynes is on the M1 motorway and on A5 trunk road. From
London
,
Luton
and the south, Milton Keynes can be accessed via junction 13. From
Leicester
,
Northampton
and the north, Milton Keynes can be accessed from junction 14.
For east-west connections, the A421 links to
Bedford
and
Cambridge
to the east, and
Buckingham
and
Oxford
to the west.
The Park and Ride service has 200 buses run every 30 minutes from Central Milton Keynes to MK Coachway (located near junction 14 of the M1) Sunday to Friday and every 15 minutes on Saturdays, see
National Park and Ride Directory
By plane
London Luton Airport
(
LTN
), 25 miles south via the M1.
London Heathrow Airport (LHR), 55 miles south via the M1 and M25.
London Stansted Airport (STN), 58 miles to the east via the A421 and A1.


By taxi
Get around

Buses in Milton Keynes are frequent, and all estates are quite well covered. There are regular buses from most places to the city centre, train station, and Bletchley. Travelling by car is usually preferable as one of Milton Keynes's saving graces is its road network, although during rush hour, it can get somewhat congested in some areas.
The dominance of the car is greatly helped by the road layout – the main roads of the city are laid out in a grid system with roundabouts at the intersections, so getting about is quick, although predictably less so in rush hour. The grid is formed of numbered 'H' roads running horizontally on the map and 'V' roads running vertically. Visitors who drive to Milton Keynes often get lost on these roads because they all look the same—the main roads are in tree-lined linear valleys to reduce road noise so there are few landmarks visible to navigate by. A map is recommended for people who are new to the town.
Pedestrians and cyclists have their own network of 'redways' – paths made of red tarmac that broadly follow the grid roads but never meet them, either crossing over or underneath. The redways are a good way to get about. As with any place you are unfamiliar with, caution is advised, and as many of the redways cross minor roads cyclists and those with children should beware of traffic!
The redways are often not well signposted, and that traversing them without a map can lead to you getting lost quite quickly!

See
phone: +44 1908 640404

address: The Mansion, Bletchley Park, Sherwood Dr, Bletchley, MK3 6EB

Milton Keynes has a claim to being the home of the modern computer, as the German Enigma codes were cracked by Sir Alan Turing at Bletchley Park. The historic value of this site and its importance to the development of the computer has now been belatedly recognised in the form of a museum with a significant number of things to do for both adults and children
The National Museum of ComputingThe site is also home to the National Museum of Computing. Only the Colossus Galleries of the NMC are open 7 days per week; the full museum is open most weekends and some weekdays.
The Peace Pagoda

address: Willen Park

The first example in the Western world, is also worth a visit for a more tranquil experience.
Concrete CowsIn the UK, the city is known for its concrete cows, an art installation created by Liz Leyh (was once just off the H3, in Bancroft, but now is in the Centre:MK shopping centre).
Stony Stratford was a charming and picturesque market town; now a district, it contains a number of buildings in the 'Arts and Crafts' style, notably The Plough pub, 'The Retreat' alms houses and 'Nisi Domus' beside the RC Church.
Iron Trunk AqueductBuilt in 1811, cast iron trough navigable aqueduct that carries the Grand Union Canal over the River Great Ouse,
Do
Milton Keynes has attractions for the adventurous. Willen Lake has a wakeboard tow rope system; the Xscape has an indoor snow slope, a climbing wall and an indoor skydiving tower; the central bus station has a skate park' and the town has also a BMX track at Pineham.

phone: +44 1908 357 025

address: 602 Marlborough Gate, MK9 3XS

A giant dome, home to a 16-screen cinema and Snozone, the largest indoor ski slope in the United Kingdom.
Families with younger children might like to head for the Gulliver's Land theme park or Eco Park next door or take a stroll and have a picnic at the nearby Willen Lake.
Watch football at

address: Stadium:mk, Stadium Way, MK1 1ST

The Dons were promoted in 2019 and now play in League One, the third tier of English football. They play at the Stadium MK, two miles southeast of the railway station.
Because of the local value of the car culture, a growing car cruise and meet is staged in the car parks around the Network Rail head office on Sunday nights, and it is popular both with modders and the police.

address: 500 Marlborough Gate, MK9 3NZ

Billed as the country's "most popular" since it has the most people attending for any theatre in the country. Travelling shows and longer running productions are staged here, often large productions will come here as a final dry run before they take their shows to London's West End.
Stony Stratford is worth a visit to experience the more tranquil and traditional side of Milton Keynes. About 10 min from the City Centre by car, you will find a quaint high-street with some quirky independent shops, lots of pubs where you can get good old-fashioned British grub, a pint of beer and warm yourself by a real fire during colder months. If you feel like taking a stroll, you can walk out of the town and take a pleasant stroll along the river.
Woburn Village is about a 15-minute car journey from Milton Keynes and is well worth a visit.

Milton Keynes Lightning

phone: +44 1908 540020

address: Planet Ice Arena, South Row, MK9 1DL

From September to late March you can see ice hockey most Saturday nights in Milton Keynes at the new Arena MK next to the railway station. The MK Lightning play in the top English Elite league.
Buy
The Centre: MK is the main
shopping centre
for the surrounding area and is where most of the shopping in Milton Keynes is to be had. It features branches of many high street chains, with over 230 stores. The centre is undercover with good disabled access.
address: Witan Gate, MK9 2HP
The High Street in Stony Stratford offers a pleasant but small alternative. Most residential areas have their own convenience store.
There are various retail parks with the larger DIY, carpet, furniture and warehouse-style clothes shops.
Eat
Milton Keynes has a wide variety of restaurants both in the City Centre and in the outlying areas.
In the city centre the restaurants are centred around the theatre district, Xscape and a new area called "The Hub".
phone: +44 1908 331883

address: 5 Savoy Crescent, MK9 3PU

This is an excellent Chinese restaurant in the heart of the theatre district
The Centre: MK, John Lewis restaurant is convenient.
There is a wider range of smaller independent restaurants in outlying areas such as Stony Stratford, Wolverton, and Fenny Stratford. There is also decent pub food (and somewhat better beer) at The Plough in Simpson, and Ye Olde Swan in Woughton on the Green. Pub grub at the Old Beams in Shenley Lodge can not be beaten.
The Salford Swan, while not in Milton Keynes, is well worth a look for some excellent pub-restaurant food with a delightful atmosphere.
Treat yourself to an English fry-up at
Kay's Kitchen
in Stony Stratford.
Drink
On a summer evening a trip to the theatre district or Xscape almost transports you to a Spanish holiday resort, such are the number of bars and clubs with people walking between them. Not much for a CAMRA member here though, as it's more for the bottle of Bud or Smirnoff Ice crowd.
More traditional pubs can be found along the Stony Stratford high street, popular for pub crawls at weekends. Newport Pagnell, a few miles from the city centre, is also a good option with many good pubs and a good atmosphere
The night life
The nightlife (pubs and clubs) in Milton Keynes are focussed around the theatre District, Xscape snow dome and The Hub areas.
Alternative venues
phone: +44 1908 313864

address: 59 Stratford Rd, Wolverton, MK12 5LT

This pub with a large room attached has a series of bands, comedy, open mics sessions and other acts every week. Voted the Best Live Music Pub in the South East 2011.

The Pitz

address: Woughton Leisure Centre, Rainbow Drive, Leadenhall

A 500-person capacity venue catering mainly for rock acts, large supporter of local music.

phone: +44 1908 280800 (box office)

address: Stockwell Lane, Wavendon

A 450-person capacity venue a few miles outside of Milton Keynes. It is focused on Jazz music but attracts many musicians of all genres.

address: Refurb, Margaret Powell Square Theatre District Central Milton Keynes (Friday) & Station Square Elder Gate Milton Keynes (Mondays)

City-based alternative promotion with a wide range of music from DJs to live bands.
Sleep
Youth hostel
phone: +44 345 371 9307

address: Bradwell Village, Vicarage Rd, MK13 9AG

In the district of Bradwell. The house dates from the 17th century (an oddity in Milton Keynes) and is in very pleasant surroundings. There are rooms and dormitories available. A bed in a dormitory normally costs around £13 a night. The house and facilities are kept nice and clean, and secure lockers are available at no additional cost to store valuables.
Hotels
Milton Keynes offers a variety of chain hotels, including Holiday Inn, Hilton, Ramada, Jury's Inn, Travelodge, and Holiday Inn Express. Some are located in the bustling town centre and others in more peaceful spots, including the Holiday Inn Express adjacent to Willen Lake.
phone: +44 1296 722100

address: Mursley Road, Little Horwood, MK17 0PH

phone: +44 871 902 1624

address: Tongwell St., MK15 0YA

address: 72-74 High St, Stony Stratford, MK11 1AH

The Annex Guest Guardens

address: Guest Gardens, New Bradwell, Milton Keynes, MK13 0AF

Self-contained large annex. Max 4 people. 1 king bed and 1 sofa bed. Lounge, kitchen, bedroom and shower room.

phone: +44 7889 322773

address: 1 Clare Stables, Vicarage Rd, Stony Stratford, MK11 1BN

First floor apartment for one or two people. Formerly part of the stable block of an old coaching inn, it has a comfortable king size bed, with ample storage space for clothes and shoes, a well stocked kitchenette, dining area, sitting room and even a desk and adjustable desk chair, shower room and toilet. There's also central heating, a little wood burner, free-standing electric heaters, 'cool towers' for those hot summer nights, hair drier, towelling bathrobes and slippers, books, games, DVDs, CDs and USB electric sockets. Minimum two nights stay.
Go next