Mino (Gifu)
Mino
is a city in the
Mino
area of
Gifu Prefecture
,
Japan
.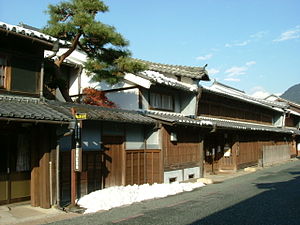 Understand
The Mino area is renowned for its ceramics, known as 美濃焼 (Mino-yaki). Mino City is specifically known for its production of traditional Japanese paper. An annual Japanese paper lantern festival has been held in Mino since about 2003. The festival is in the fall, usually early- to mid-October. Mino is a small city and it shares its suburban sprawl with
Seki
, which lies immediately South.
Get around

A privately owned train line passes through the city and is used by commuters, especially students. The annual Japanese paper festival is usually held at a location within walking distance of the main station, 美濃市駅 (Mino-shi eki).
However, the easiest way to access different parts of the city is to use a car.

Do
The annual Japanese paper lantern festival, called the "
Mino-washi Akari Art Exhibition
" is by itself worth a trip to Mino. The festival is held over one weekend in early- or mid-October. (Check the link for details.) Contestants from around the country build and submit hundreds of illuminated displays out of traditional Japanese paper. Designs range from abstract to exotic, and a handful of winners (often professional designers) receive awards and cash prizes on the second day of the event. Thousands attend this event each year, meaning parking becomes sparse within the city. Arrive at least two hours before dark to find a free parking space near the event. Alternatively, the city converts soccer and baseball fields into parking lots for each night of the event. The charge is reasonable (about ¥500), and shuttle buses are chartered at 10-minute intervals between these makeshift parking lots and the event. The festival generally runs from dusk until about 21:00.
Sleep
address: 333-1 Matsumori

One of the city's few hotel accommodations.
Go next