Monterey (California)
Monterey
is a city (population 28,000) in the
Monterey County
area of
Monterey Bay
in
California
.
Understand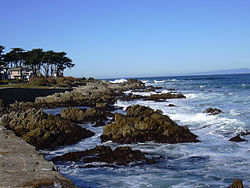 Monterey is one of the more beautiful coastal cities of California and can make for a great two day trip for those visiting
San Francisco
or a weekend getaway for California natives. It was originally the state capital of California, and has more historic buildings in its downtown than any other city west of
Santa Fe
. Today it is best known for its beautiful coastline, its world-class aquarium and from the many John Steinbeck novels set there, including
Cannery Row
and
Tortilla Flat
.
Rugged terrain and vicious Pacific currents made much of the California coast virtually unexplorable to European ships. After a disastrous attempt to explore this new territory by sea, Spanish missionaries in Mexico launched a series of overland expeditions from
San Diego
. Monterey was established in 1770 by Father Junipero Serra and soon became a Spanish military base with a small fort or "presidio" located near a calm harbor that could provide shelter to supply ships. The military presence eventually gave way to a thriving commercial trade that brought in many enterprising foreign merchants.
Once
Mexico
gained its independence from
Spain
, Monterey became the capital of Alta California under Mexican rule. From this era come many classic stories of flirtation, fashion, and politics in the Mexican colonial era. Lands once owned by the government began to come into private hands, and local families began to consolidate their property and power into business enterprises based on the ranches or "ranchos," where they raised cattle or invented the famous Monterey Jack cheese.
Monterey soon fell under American power in the Mexican-American War and remained the capital of the territory. A delegation of writers drafted the constitution which marked the entrance of the State of California into the
United States of America
. This era saw the mass northward migration of ambitious people in search of gold, which led to a near desertion of the town. Monterey soon recovered, however, and today is known for its magnificent natural beauty, world famous Aquarium, and temperate year-round climate.
The Monterey Peninsula has the largest population of sea otters on the California coast. The abundance of marine wildlife visible from the shoreline is one of the primary attractions of the region. Seals, sea lions, and sea otters are visible year-round, and migrating whales are commonly seen in the fall and spring months.
Alvarado Street serves as downtown Monterey's "main drag." It has superb restaurants, a selection of bars, and unique shops.
Get in
By car
State Highway 1 (the Pacific Coast Highway) runs through Monterey, providing access from the north Santa Cruz (50 minutes), and from the south along the world-famous Big Sur coast.
From the San Francisco Bay Area, take US 101 south through San Jose and Gilroy to State Highway 156, going west at Prunedale (inland of Monterey Bay, 9 miles north of Salinas). Go west 5 miles on State Highway 156 (a two-lane highway that often gets congested on touristy weekends) through Castroville, at which point State Highway 156 becomes a freeway and shortly thereafter merges with southbound Highway 1. Monterey is then 15 miles south along Highway 1.
If heading to Cannery Row or the Aquarium, look for brown signs that advise which exit to take. (If Highway 1 has ceased to be a freeway, you've gone past Monterey and are near Carmel.)
From the San Francisco Bay Area, internet map sites, mapping software, and GPS systems will advise you to take State Route 17 to Santa Cruz and then State Route 1 south. Although State Route 17 through the Santa Cruz Mountains is shorter than US 101, it is filled with sharp curves and corners, is often highly congested, and accident-prone, so may actually take longer to drive than Highway 101, and certainly is a more stressful drive. At uncongested times and in good weather, SR 17 can be enjoyable, but otherwise opt for US 101 and State Route 156.
Alternatively, for a more scenic but even slower route from San Francisco, you can take State Route 1 all the way along the coast to Monterey from San Francisco. The actual difference in driving time, compared to taking US 101, is about a half hour, but the ocean-side scenery makes that worth it, particularly if there isn't fog along the coast.
From the south, take US 101 north to Salinas, then State Route 68 west to Monterey.
Again, for a scenic but slower route, you can take State Route 1 along the coast north to Monterey through
Big Sur
. That route is extraordinarily scenic but also full of very tight turns and a lot of stretches that require patient, careful driving. From
Morro Bay
(on the Pacific Ocean, to the west of
San Luis Obispo
), the drive to Monterey through Big Sur takes, in good driving conditions, about a half hour longer than going via Salinas and US 101. But the Big Sur coastal route should be avoided if there is any chance of fog, or in darkness—it's just too twisty, with too many dropoffs, to be advisable for drivers unfamiliar with the route, in adverse driving conditions. In the winter rainy season, it is always wise to check to make sure that the Big Sur route is actually open to through traffic—occasionally, a rock slide will close the road for a short period.
Despite Monterey's popularity, all of the above routes will require you to traverse a two-lane road section at some point: State Route 1 between just south of
Watsonville
and Castroville, State Route 156 between Prunedale and Castroville, State Route 68 between Salinas and Monterey, or State Route 1 from most of the way from Morro Bay up to Carmel. Unfortunately, because the Monterey Peninsula is so popular with tourists, all of those roads are often busy with traffic, particularly on weekends, which means there is a higher risk of traffic delays and even of head-on crashes. No matter which route you take, drive with caution.
By train
Amtrak
's Coast Starlight train stops in
Salinas
. From the Salinas transit center, take the
Monterey-Salinas Transit
route 21 or 56 to Monterey. Amtrak runs a Thruway bus service from the station to the major hotels of Monterey and on to
Carmel
.
By bus
MST runs a bus service (which is a part of Amtrak's Thruway) from San Jose to Monterey Transit Plaza (temporarily diverted to nearby stops for road construction). The ticket costs $10 (one way).
By plane
Get around
Monterey-Salinas Transit
provides convenient public bus service to the nearby towns of Carmel and
Pacific Grove
, as well as to historical Salinas and breathtaking Big Sur. MST runs a
free trolley
through Monterey's downtown during the summer months, especially busy weekends.
For car drivers, garage parking is available, and street parking is often free for periods of two hours on weekends and after 6PM. Many hotels offer parking for an additional charge. The Cannery Row area (where the Aquarium is located) has an aggressive, expensive parking ticket policy. A few minutes over at a meter and you will be welcomed to town with a $35 parking ticket.
See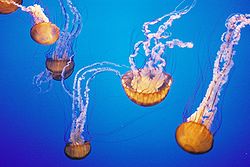 phone: +1 831-648-4888

address: 886 Cannery Row

This large aquarium specializes in exhibiting local sea life in typical local habitat displays, and has many spectacular exhibits. It is particularly known for its Kelp Forest exhibit, three stories high, filled with several varieties of giant kelp and a wide variety of marine animal species, and also for its million-gallon Open Sea exhibit with large blue fin and yellow fin tunas, mahi-mahis, sharks (including an occasional Great White Shark as a very temporary visitor, before being released back to the ocean), ocean sunfish (mola-molas) and sea turtles. The best exhibits include a large tank of silver sardines that swim around and around above one's head, and one of rescued sea otters deemed unreturnable to the wild and therefore kept at the aquarium. (The Aquarium has rescued and released back to the wild over 500 sea otters.) Feedings of the various tanks are scheduled throughout the day and are fascinating, particularly the Open Sea exhibit feeding at 11AM each morning, and feedings in the Kelp Forest exhibit during which a diver in full dive gear enters the exhibit's water, feeds the fish, and talks to the Aquarium's visitors from inside the exhibit. Quite expensive, but for a good cause (the Aquarium is privately funded, and much of the money goes for conservation research), and most visitors will consider a visit well worth the charge. Hotels sell a 2-for-1 special ticket.

address: 20 Custom House Plaza

The historic downtown area known as Old Monterey, containing a number of historic buildings. Follow the yellow plaques in the sidewalk along the Path of History to take in some of the town's most intriguing buildings. Informational signs are posted at each stop. Maps can be found at the California State Parks office near Customs House Plaza. Guided tours are also available.

address: 20 Custom House Plaza

Offers detailed displays on local history and Native American life.

Maritime Museum of HistoryShowcases exhibits that revolve around Monterey's history as a port, and the history of both seafaring and commercial fishing, from the whaling era to the present day.

Old Whaling StationDon't miss the whalebone sidewalk. Whalebone was once a common material for sidewalks in seaside towns; it is very likely this is the last one of its kind.

phone: +1 831 646-3456

address: Corporal Ewing Rd

Gives the history of the Presidio of Monterey from pre-history through the War on Terror.

phone: +1 831-372-5477

address: 559 Pacific St

Has two locations. The 559 Pacific Street location, across from Colton Hall, has eight galleries, with both permanent and rotating exhibitions. The La Mirada building is one of Monterey's Mexican-era adobes. Located at 720 Via Mirada, near Monterey Peninsula College, it has four galleries, plus great views of Monterey Bay. Admission is $10, with $5 admission for students and military. One Thursday a month, the Pacific Street location hosts "Art After Hours," with free admission, light appetizers and drinks.

Seals at the wharvesThere are two piers and a breakwater that provide excellent viewing of sea lions. Monterey's original "Fisherman's Wharf" generally has a handful of sea lions lounging about, and occasionally, harbor seals on the beach next to the pier. Larger groups of sea lions can generally be found at the more industrial wharf ("Municipal Wharf #2") a short walk to the east from Fisherman's Wharf. Wharf #2 has a small fishing industry warehouse still in operation, so numerous sea lions have made it their home. Towards Cannery Row from Fisherman's Wharf, near the Coast Guard station (reached by driving on Del Monte west from Fisherman's Wharf, through the traffic tunnel and taking the first exit and then the first right turn), there is a large breakwater that is generally occupied by a huge number of sea lions, piled on the breakwater's rocks. One can walk part way down that breakwater on its paved portion and view the sea lions from only a few feet away through a steel fence at the end of that paved portion. Additionally, sea otters can often be seen in the bay, and harbor seals can often be seen at Hopkins Beach, just west of the Hopkins Marine Station (part of Stanford University) that is just west of the Aquarium, or in the calm waters next to Fisherman's Wharf, particularly resting on the tops of rocks that are just above the ocean level (sea lions can jump from the water up to places like the top of the breakwater, harbor seals can't).
Do
Dennis the Menace ParkA giant kids park that includes a full sized train, numerous bridges, ducks and geese you can feed and paddle boat rentals. One of the better free municipal parks in Northern California.

Monterey Bay SailingMonterey Bay Sailing offers sailing trips on Monterey Bay and the chance to see sea otters, sea lions, and harbor seals. This is a safe and eco-friendly activity for all ages.

Play on the dunes and the shore at one of the city's five public beaches. Enjoy a romantic or family style Monterey bonfire on the beach.

Monterey Bay Coastal Trail29 mile-long (47 kilometer-long) walking/biking trail. Bikes available for rent at several places along the path (and at some other places, e.g. Monterey Transit Plaza). Multi-passenger surrey bikes are particularly popular and available for rent.

address: 693 Del Monte Ave

Offers kayaking equipment rentals as well as guided kayaking tours, classes, and fishing trips.

Wharf TheaterShows often include local interpretations of hit musicals.

Golden State TheatreThis recently refurbished theatre offers diverse, family-friendly shows centering around the themes of classic cinema and musical theater. It's worth a trip just to see the ornate interior of the theater.

Monterey County Fairgrounds

address: Fairgrounds Rd

The fairgrounds hosts the annual Monterey Jazz Festival and hosted the one-time Monterey Pop Festival in 1967. Other music festivals occur throughout the year, and the locally famous Monterey County Fair occurs every year in late August.
Several companies offer year-round whale watching boat tours, departing daily from Fisherman's Wharf. The area is particularly famous for sightings of gray whales as they travel to warmer waters during the winter and early spring.
Get your wet suit on and go Scuba Diving. The Monterey Bay National Marine Sanctuary has the most amazing kelp forests on the West Coast, and an incredible collection of marine life.
Get a panoramic view of the Monterey Bay (and Carmel to the south) from Jack's Peak County Park, the highest point on the Monterey Peninsula and amazingly free of crowds.

Laguna Seca Raceway1021 Monterey-Salinas Highway. Famous indy car and motorcycle race track.

Golf at the local public courses Rancho Cañada, Bayonet and Black Horse, Laguna Seca Golf Ranch, Monterey Pines Golf Course. If you're lucky, you might be able to get a tee time at the world-renowned Pebble Beach.
Find out about upcoming events on the events calendar of the Monterey County Convention and Visitors Bureau website.
Buy
Eat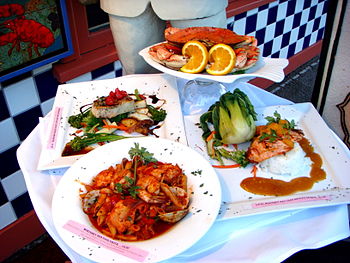 The local specialties are artichokes and sanddabs. Artichokes can be found at nearly every restaurant - fried, grilled, broiled, boiled, in soup, on pizza and almost any other way you can imagine. The nearby town of Castroville is "the artichoke center of the world," and the local source for the wealth of artichokes. Sanddabs are a local seafood, often served fried. Clam Chowder in sourdough bread can be found at Fisherman´s Wharf. Abalone is available, too, but expensive. The area is notable for other seafood delicacies, including calamari and Dungeness crab.
The Monterey Bay Aquarium runs a "Seafood Watch" program, and keeps a list of which sea life is overfished and which are safe, and environmentally friendly, to eat. Pick a copy of the list up at the Aquarium, or around town. Many local restaurants have signed on to the Seafood Watch program.
Monterey's status as a tourist destination have provided it with a wealth of restaurants beyond what might be expected in a community this size. Almost every cuisine, from oriental to occidental, may be found represented - and usually represented well - in the local area, including the neighbouring communities of Pacific Grove, Seaside, and Carmel-by-the-Sea and the Carmel Valley.
phone: +1 831-641-0610

address: 565 Abrego St

Authentic Indian cuisine from appetizer to dessert. Faults in the service are redeemed by the extraordinary flavors and presentation of the meal.

The Fishwife's Turtle Bay Taqueria

address: 431 Tyler St

Creative Mexican dishes with Caribbean flair and a wide selection of salsas, served in a relaxed and colorful (literally) atmosphere. Claim your table with a number flag – stuck into the back of a rubber turtle.

phone: +1 831-649-3474

address: 514 Lighthouse Ave

A local favorite for sushi.

address: 422 Tyler St

A truly charming restaurant - cozy, well-lit, hand-decorated, with superb Greek food and a passionate staff. The spanakopita with a Greek salad can make a meal on its own.

address: 434 Alvarado St

A downtown, family-friendly classic serving up wonderful portions of comfort food. Famous for its spectacular cakes - make sure you have someone to share with!

India's Clay Oven

address: 150 Del Monte Ave

The second best Indian food in the area, after Ambrosia's. Try the "naan burrito" - a perfect blend of Indian tradition and Monterey historical heritage!

East Village Cafe

address: 498 Washington St

address: 2999 Monterey-Salinas Highway

For a taste of Monterey history head to this historic former homestead, housed in a beautiful stone building nestled into a hillside. Classy atmosphere with classic California cuisine - accompany your meal with one of the many local wines on offer.

Tabouli's Deli & Mid-Eastern

address: 309 Lighthouse Ave

If you are looking for a relatively cheap (particularly for Monterey prices), but great meal, Tabouli's is a great place. Tabouli's has great food and great company. The owner and cook is friendly but not overbearing. Because he's the only one running the place usually, it's not place to go if you are in a hurry.

Pizza My Heart

address: Del Monte Center on Munras.

Great, cheap pizza, made with all fresh ingredients, and open until 10PM. If you're looking for a live show that night, just ask the staff; they know everything going on in town.

address: 539 Hartnell St

Tucked away in the historic Fremont Adobe building next door to the post office, this small patisserie offers some of the best French pastries and lattes this side of the Atlantic.

Bubba Gump's Shrimp Co.

address: Cannery Row

Good food, obviously including seafood. This is a more recognizable location set in the background of many smaller seafood places in the Cannery Row area - explore the options as you walk around.

phone: +1 831-655-4852

address: 622 Lighthouse Ave

Hula's Island Grill and Tiki Room is an intimate local's restaurant offering a dining experience in a tropical setting. Offers fun, friendly, enthusiastic service, fresh fish, steaks, seafood, and an overall menu which includes a hint of Asian, a dash of Latin and a touch of Caribbean, all with Hawaiian inspiration.

phone: +1 831 375-5987

address: 2000 Prescott Ave

The deli is a little out of the center of town and easy to miss, but it's worth a short car trip. They make great sandwiches with excellent quality cold cuts, delicious meatballs made in-house, very fresh vegetables, and use tasty bread in several varieties. Very popular with local military men and women and civilians. Nice service, too. Be patient; you will wait on line, and they won't rush you.
Drink
Monterey has many superb
vineyards
located near the town. There are a number of tasting rooms located on Cannery Row, all within an easy walk. Some, such as
Scheid Vineyards,
Bargetto Winery,
Baywood Cellars
and
Silver Mountain Vineyards
provide wines from only one winery.
A Taste of Monterey
allows visitors to try wines from throughout Monterey County, while taking in a spectacular panoramic view of Monterey Bay through their windows.
Monterey-Salinas Transit
's bus route Number 24, also called "The Grapevine Express", leaves from downtown Monterey and stops at all the wineries in nearby Carmel Valley. A daypass, which allows riders to hop on and off at will, is $4.50 as of December 2008. Maps and schedules, which detail the wineries that the route stops at, are available at Monterey County Visitors Centers.
Alvarado Street
has the densest collection of bars and pubs in the area.
LallapaloozaHas the widest selection of martinis.

phone: +1 831-641-9463

address: 241 Alvarado St

Boutique wine shop and tasting room specializing in wines from artisan, partner and family wineries throughout California, with a special selection of Monterey Bay Area boutique wines. Offers over 30 wines for tasting at either the bar or at their comfortable tables or sofas. Over 150 different wines are also available for purchase.

Indian SummerA hookah bar with an exotic atmosphere and local brews. Try to plan a visit during a live bellydancing show.

address: Cannery Row

Provides live musical entertainment most nights of the week.

Carbones Old School New RulesThis is a fantastic bar featuring a large back patio area with fire pit. On Fridays and Saturdays Carbones OSNR features both live music and belly dancers and on Sunday features free pool.

Doc Rickett's Lab

address: Cannery Row

Often hosts live comedy nights.

phone: +1 831-655-2010

address: 774 Wave St

Both an intimate live venue and a recording studio, Wave Street Studios is a great place to see a show.

phone: +1 831-656-9463

address: 751 Cannery Row

A tasting room with a swank wine-bar atmosphere, Scheid Vineyards sells wine, wine-related items, and locally produced cheeses and charcuterie.
Sleep
Budget
phone: +1 831 375-2168

address: 1288 Munras Ave

Affordable hotel accommodations with comfortable, clean rooms.

Hostelling International Monterey

phone: +1 831 649-0375

address: 778 Hawthorne St

Dorms and private rooms available. Features kitchen facilities and locker rentals.

phone: +1 831 655-1900

address: 55 Camino Aguajito

Grungy location next to Lake El Estero and walking distance of the beach and wharf. Featuring on-site restaurant, heated pool, and other amenities.
Mid-range
Splurge
phone: +1 831 375-8284

address: 500 Martin St

A historic bed and breakfast featuring fabulous gardens. Breakfast included. Pet friendly rooms available.

InterContinental The Clement Monterey

phone: +1 831 375-4500

address: 750 Cannery Row

A contemporary respite from the busy streets of Cannery Row. A semi private courtyard overlooks the water, with a sustainable seafood restaurant and views of the water. Pricey, modern, zen and beautiful.
Go next