Mostar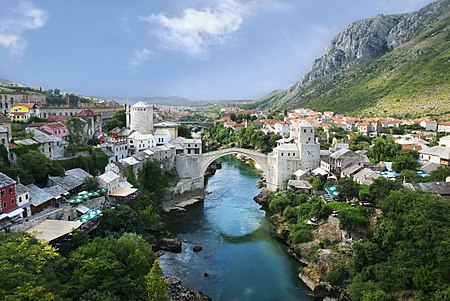 Mostar
is a city in
Bosnia and Herzegovina
, formerly one of the most ethnically diverse cities in the country, and today suffering geographical division of ethnic groups. The city was the most heavily bombed of any Bosnian city during the war in Bosnia and Herzegovina following the breakup of Yugoslavia. At the beginning of the war, air strikes destroyed many important buildings and structures, including the cultural and spiritual icon: The Old Bridge (Stari Most), which is a .
Mostar has been most famous for this beautiful historic Ottoman-style bridge, which spanned the Neretva river in what is considered the historic center of the city. Through combined efforts with the international community, rebuilding of The Old Bridge was completed in 2004, almost 11 years after its destruction, using some of its original pieces recovered from the Neretva river. A significant portion of the city has been rebuilt and visitors might be surprised to see that this formerly war-torn city is a lively and beautiful destination once again, particularly the area within and around the old town. However, many visible signs of Mostar's troubled recent history remain.
Get in
By bus
Mostar Main (east) bus station

address: Maršala Tita, Mostar 88000

The main transit terminal for buses and trains, located on eastern part of Mostar, close to Carinski bridge and University of Dzemal BIjedic.

Mostar (west) bus station

address: Vukovarska, Mostar 88000

Newly built bus station in northwestern part of Mostar
There are many buses (first at 06:00, last at 19:55 - approx. 1 per hour) from Sarajevo to Mostar. There are also many buses from Mostar to Sarajevo (first at 06:00, last at 18:15 - approx. 1 per hour). Journey takes 2,5 hours and costs 17-20 BAM (depends on bus company). Timetable is available
here
, but not all buses are listed.
Other destinations
Bus timetables are online
, but not all connections are listed. Frequent buses run between Mostar and
Ploče
,
Dubrovnik
(2 per day, 3-4 hours, BAM30),
Split
(4 hours, HRK125),
Zagreb
,
Podgorica
,
Jajce
(3.5-4 hours, BAM19),
Banja Luka
,
Belgrade
(2 per day) and most cities in
Bosnia and Herzegovina
.
Note that the stop in Mostar for the bus from
Podgorica
, which continues to
Banja Luka
, is several kilometres from the city center on an expressway. A taxi from there costs BAM10.
By train
Mostar train station

address: Maršala Tita, Mostar 88000

Platforms are opened 30 minutes before train departure.
There are two trains daily from Sarajevo to Čapljina via Mostar, leaving Sarajevo in the morning and in the afternoon. In the other direction, there's an early morning train from Čapljina around 6AM in the morning and around 4PM in the afternoon. Schedules can be found the website of
ZFBH
. The scenery on the train ride between Sarajevo and Mostar is stunning, passing through rugged terrain with a series of tunnels, U-turns and viaducts. It is much more picturesque, as well as cheaper, to travel between these cities by train rather than by bus.
One way ticket costs 11 KM (October 2017) and has to be purchased at least 5 minutes before the scheduled departures.
There is no longer connection between
Ploce
and Mostar. There is also no more direct connection between
Zagreb
and Mostar - you need to change in Sarajevo.
There is a regular bus connection from
Dubrovnik
for 126 kunas (October 2017).
By car
Mostar is easily reachable from Western Europe via
Croatia
. From,
Zagreb
take the A1 (green signs for
Karlovac
,
Split
and
Dubrovnik
). There is a border crossing Nova Sela - Bijača, and the motorway continues in Herzegovina until the end at
Međugorje
. Then just follow the signs to Mostar on the remaining 30 or so kilometres of two-lane road. There are plans build a motorway all the way to Mostar, but this might take several more years.
From
Sarajevo
it's a two-hour scenic drive through the Neretva river valley. This route is also planned to be upgraded to a motorway.
By plane
See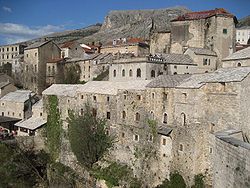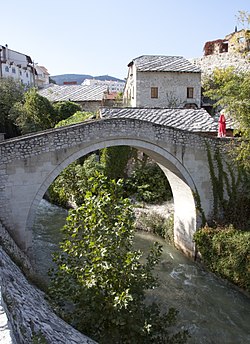 The Old BridgeOriginally built by the Turks in 1566, it was destroyed in 1993, but rebuilt in 2004. The bridge is the highlight of Mostar and is a . The bridge is 21 m high and you will frequently see members of the Mostar Diving Club dive off the bridge. It is customary to give the divers a few marks after they make the jump.

Old Bridge MuseumIncludes exhibits on the history of the bridge, a panoramic view from the top, and entrance into the excavations below, along with a video detailing the reconstruction of the bridge. It opened in 2006, commemorating the second anniversary of the bridge's reconstruction.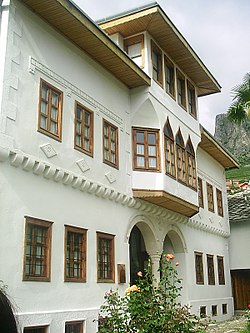 Muslibegovića HouseConstructed 300 years ago, it is considered the most beautiful house from Ottoman period in the Balkans. The house is comprised of separate quarters for women (women's courtyard – haremluk), and men (men's courtyard – selamluk). Unlike earlier architectural styles, this house resembled a four-storey house built around the centre. Double-arched entrance with the central pillar reveals Mediterranean influence. The house preserved authentic monumental structure, items and documents providing an insight into the life of a wealthy bey family from the time. In addition to museum exhibition, visitors are invited to take traditional beverages or cookies, or spend a night in this authentic surrounding.

Museum of HerzegovinaHas a small collection of photographs from various phases of Mostar history, including a small exhibit on a native son who was Prime Minister of Yugoslavia for 6 years. Also shows an excellent video on the recent history of the Old Bridge.

Koski Mehmed Pasha Mosque

address: Mala Tepa 16

Small but simply pretty Ottoman mosque built in 1618, destroyed during the war but rebuilt with Turkish financial support. Climb the minaret to see a great view over the town. Ascending the minaret is not recommended to those with claustrophobia, but the 192 step climb rewards with a fantastic view on the Old Bridge.

Karađoz Bey MosqueOttoman mosque built in 1557; central mosque of Mostar.

CemeteryA park turned into a cemetery in 1993 when the dead needed a place to be buried and other cemeteries were inaccessible due to the war.

Ottoman house

address: Bišćevića Street

An Ottoman house, where you only can see the few rooms in upstairs.
Do
Watch locals dive off the Old BridgeMembers of the Mostar Diving Club will dive off the bridge into the emerald green waters, but first they will try to collect some money from tourists. Do not attempt this yourself. The waters of river are at a constant 12°C, and going suddenly from 30°C to 12°C can cause a heart attack among even the fittest. The young local men diving would hose themselves down first in order to lower their body temperature before diving. The best place to watch this is below Old Bridge on shore of Neretva river.

Walk Along the Former Front-line

address: on Bulevar Revolucije

Here, in 1993 the city was divided between Croats on the West and Bosniaks on the Eastern side. It is a surreal and sobering experience to see the bombed out buildings which still stand in this area only 5m from the division.
Drink Bosnian coffee. Don't let anyone tell you that Bosnian coffee is the same as Turkish coffee. Instead, let the good people of Cafe de Alma (Rade Bitange not far from the bridge) educate you about this distinct way of preparing coffee. They are the only roasters in town and they are passionate about preserving this tradition. The café will serve your coffee in a traditional coffee set, plus a Turkish delight to sweeten your drink, all for 1€, 2 marks or 8 Croatian kunas. Before you drink your coffee, the staff will explain to you how it is prepared and how best to enjoy it.
Buy
The Bosnia and Herzegovina convertible mark (BAM) is pegged to the euro at a rate of €1 = BAM 1.95583. Shops and restaurants will accept euros at a 1:2 rate with the Bosnian convertible mark. Croatian kuna are also widely accepted in Mostar, with 4:1 rate to BAM. Numerous banks have their affiliates and ATM machines across the city. Most restaurants in the Old Town will accept cards and there is ATM machine next to tourist company across Restaurant Kulluk and Europa.
From 2016, fast and free Wi-Fi provided by TGM is available in the vicinity of the Stari Most (Old Bridge).

Eat
Budget
National Restaurant Ćevabdžinica Tima - Irma

phone: +387 62 958 539

address: Onešćukova bb

Pizzeria RomaGreat pizza.

phone: +387 62 322 962

address: Karađozbegova 3

A great place to have cheap and good dishes. Prices range between €2.5 to €6 for a really big meal.
Mid-range
Aleksa

address: Ljubića 7

Restaurant and café with a terrace on the river. Is also the seat of Club Aleksa, in the name of the Mostarian poet. Local food, nice atmosphere, many internationals go there.

Dado

phone: +387 36 552 043

address: Trg 1. maja bb

Delicious traditional Bosnian fare.

Hindin Han

phone: +387 36 581 054

address: Jusovina bb

Highly recommended, although service is slow.

phone: +387 36 551 716

address: Kurluk 1, with direct view on Stari Most

Great view overlooking the Stari Most.

address: Kujundžiluk bb

Great view overlooking the Stari Most. Part of Hotel Bristol.

address: Mostarskog bataljona 11

Decent rendition of a mixed grill.
Splurge
Veranda

phone: +387 36 512 245
Drink
Many of nice lounge bars are located in the Old Town.
address: Alekse Šantića 25

Bar with alternative concerts and other art events, founded on the former front line of the last civil war. On the second story of the bar is a small book-exchange.

Ali Baba's CaveThis bar has drinks and hookah; the ambiance is great as the lounge was built directly in a cavern. You won't be able to miss it while walking around the bazaar in Mostar's Old Town, as there is loud music emanating from the entrance.

Black Dog Pub

address: Jusovina 5

Fantastic pub with a great atmosphere and lots of locals, tucked away beside the Radobolja river. Charming building with a terrace and the odd live band playing.

Studio Lounge

address: M. Balorde

A cool open-air bar on top of a high building with jazzy/world music and a great view over the town. Sometimes live bands; keep your eyes open to see posters when walking in the Old town.
Sleep
Budget
phone: +387 61 523 149

address: M. TITA 187

Free Wi-Fi, city tours - tours around Mostar. Free pick up service 0-24h.

Hostel Golden Bridge

address: 45 Mladena Balorde

Small hostel with a family atmosphere, staffed by the outrageous Stephan, kitchen, parking, WIFI. Thoroughly recommended.

phone: +387 61 382940, +387 61 382941

address: Pere Lažetića 9

This is the first hostel in Mostar. The owner, Majda, is very friendly and will bend over backwards to accommodate you, suggest restaurants, bars, sights, and day trips. Free internet, TV, kitchen, linen. Homecooked breakfast and coffee for free every morning. A tour is offered, too.

phone: +387 36 552 408

address: Braće Fejića 67

Cool clean hostel in the Old town. Free Wi-Fi, staff speaks very good English.

phone: +387 61 628 933, +387 61 272 525

Apartment and hostel.

phone: +387 61 382 743 or +387 61 817 196

Clean hostel in the Old town. Free internet, staff speaks very good English. Free pick up from the bus/train station can be arranged. In their own bar on the Old bridge you can taste local drinks for local prices; first round is always on the house if you are a guest of the hostel. Furthermore the tours are great! Zika knows the real stories as he is a guy from the streets and can tell you everything about the city, the war and places around the city.

phone: +387 61 218 311

address: Braće Šehovića 11

Opened in 2013 in the pedestrian zone of Mostar centre, about 500 m from the Old Town, Hostel Bojo offers air-conditioned rooms with lockers for each bed, free Wi-Fi and free breakfast. Guests can use the shared garden's seating area with free barbecue facilities. The hostel offers a common room with cable TV, and guests are welcome to use a shared fully equipped kitchen with dining area. A shared bathroom with shower and hairdryers are available.
Mid-range
phone: +387 63 289 256

address: Fra A. Miletića 42

Offers a warm, homely feeling with close access to the Old Bridge, an 8 minute walk. All stays come with a rich continental breakfast in the morning. There is car parking with a secure locked gate and lock-up garage. Open fireplace in the living room. Free Wi-Fi is provided, or use of the hostel's personal computer if you are not travelling with a laptop. Washing and drying for clothes is available upon request.

Hotel BevandaLocated at Balinovac. It's so far Mostar's only luxurious four star hotel. It's located in a quiet area with beautiful nature and a river running under hotel itself, yet it's not more than 15 minutes walk from the historical core of the city. The hotel has a capacity of 28 rooms and two luxurious apartments. All rooms have access to a mini bar, Pay TV, internet adapter and balcony. There are both rooms for smokers and non-smokers. Here you will find a big restaurant, café, and a huge terrace outside lying on the river Radobolja. Also a hotel garage as well as outside parking are available.

Hotel Bristol45 rooms, a restaurant, and two conference rooms. The rooms are equipped with new furniture, air-conditioning, telephone, new bathrooms and satellite TV. The restaurant has a capacity of 150 seats inside and outside. The Musala square across Neretva and Korzo Street in front of the hotel are two of the most frequent places in the city, which gives this hotel something extra.

Hotel Ero165 rooms and eight apartments. Rooms are equipped with telephones, internet adapters and satellite TV. The hotel also has a huge restaurant that provides both local and international food. This hotel is also ideal for conferences. The glass hall is the biggest one with up to 100 seats, thereafter there are the blue and the white halls with up to 50 seats. All rooms are equipped with projectors and video players. Outside the hotel there is a parking lot for visitors.

Mostar Old Bridge View VillasThree fully furnished two bedroom apartments with terraces on Neretva River directly over looking the Mostar Old Bridge.

phone: +387 36 578 317

address: Kapetanovina 1

10 rooms with air-con, cable TV, bathroom with shower, balcony with a view on the Old town and Old bridge, restaurant closed type, parking and internet wireless connection which is free of charge for guests.

phone: +387 36 502 610

address: Muje Bjelavca 5

Spotlessly clean.

Motel Emen6 rooms. Free internet.

Oscar PansionRooms are very clean, with television and air-conditioning and the price is surprisingly low.

Pansion MostarRooms are friendly, quiet and spacious, equipped with TV and balcony. Bathroom spotless, owner Marijana friendly and with good English.

Shangri-La Bed and BreakfastAll rooms with TV, internet, air-con, bath. Parking provided.

address: Lacina 14

The Old Bridge can be reached in just 10 minutes by walking. Villa Sann offers private parking for guests at a fee.

Villa Sara

phone: +387 36 55 59 40

address: Sasarogina br. 4

Nice location, decent beds. Rooms on the second floor have the quickest access to the terrace and a view of the city and the hills.
Splurge
phone: +387 62 969000

address: Faladžića 1C

More of an apartment complex than a hotel. Excellent breakfast.
Go next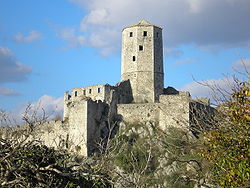 Day trips
Many of these areas are hard to reach with public transport; however, several agencies such as
Herzeg Day Tours
offer guided tours.
- a well-preserved walled Bosnian town dating back to 1383 that is 35 km south of Mostar. It is reachable by public transport by taking yellow bus #41 towards Čapljina for 45 minutes. Excellent view of the Neretva River. During the Middle Ages, Počitelj was considered the administrative centre and centre of governance of county Dubrava župa. The town has a few small restaurants, coffee shops and street vendors selling local grown fruits and souvenirs.
- a village 12 km southeast of Mostar. It is reachable by public bus 10/11/12 in 20-25 minutes (2.1 KM, stops in Španski trg in front of the Gimnazija). The bus may leave from the road opposite the main station, not the bus station itself. At Blagaj, a karst river flows out of a mountain. It's very beautiful, with deep blue water. A historic tekke is built into the cliff. Women must wear headscarves to enter the tekke. Trouts are farmed in the river, and several excellent restaurants serve trout with seating on the riverbank. There is an impressive ancient fort with amazing views on top of the mountain. Follow the road past the village's "old town" and then ask where the trail starts, or just follow the road (keep right) to where the road swerves left (you'll see several ancient gravestones) and you'll find the path on your right. The trail is about 2 km. There are numerous campsites in Blagaj directly adjacent to the Buna river. Velagićevina (the Velagić family House) was built in 17th century and is a beautiful example of the Ottoman residential architecture, a one-story structure with typically extended porches. In the vicinity there are also old flour mills that were in the old days powered by the strong Buna River. There are two guesthouses including Ottoman Villa Velagomed Hotel .
, 25 km from Mostar, is popular among pilgrims due to an alleged apparition of the Blessed Virgin Mary to youths in the town. Buses depart from the bus station every few hours.
- an old Ottoman town with the medieval cemetery of Radimlja (Nekropola Radimlja), the Illyrian site of Daorson and the palaeolithic cave painting at the Badanj Cave (Pećina Badanj).
Waterfall gorge, 25 km north of Mostar, is popular for outdoor sports such as biking, hiking, canyoning, and climbing. The Drežanka River is a tributary of the Neretva, and the two rivers join in an artificial hydropower lake. Take a bus in the direction of Drežnica - there are buses which go all the way to the end of the gorge, Gornja Drežnica. Or take the train in the direction of Sarajevo and get off at train stop Drežnica, approx. 30 min. There are several camp sites and basic accommodation, although you will need your own sporting equipment.
Further destinations