Mount Popa
Fifty kilometres southeast of
Bagan
in
Central Myanmar
at the base of
Mount Popa
is a solitary peak with a temple/shrine topped by gold stupas.
Understand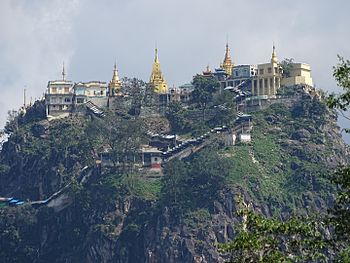 There is a difference between the peak of Mount Popa itself and the temple/shrine on top of the cliff many pilgrims long for.
The Popa Taungkalat shrine is the favoured home of 37 Mahagiri Nats or animist spirit entities, statues of which can be found at its base. These spirits were once so important to the country's early kings that it was essential for them to consult the Nats before commencing their reign.
Popa means "flower" in Sanskrit and you will find bottled flowers that you can purchase as offerings at the temple.
Get in
The common transport hub for Mount Popa is the nearby town .
In addition, the Bagan overnight train from Yangon also stops in Kyauk Padaung. Departing at 16:00 from Yangon and arriving about 07:40. in Kyauk Padaung the next day. Fares are: upper class sleeper 16,500 kyat, upper class seat 12,000 kyat, ordinary class seat 4,500 kyat.
There should also be a train from
Pyay
, but it could be seasonal. Ask at the local railway station.
Get around
Most people are dropped off in the at the junction near the highway. There are many shops, some accommodation and lots of transportation options up to the available here. Walking up the 3.4 km to the pilgrim village and the shrine can take up to an hour. Motorbike taxis demand 1,000 kyat, but a shared ride should not be more than 300-500 kyat, or even free if you look like an interesting sight yourself.
A more convenient walk and way up to the shrine, coming from Kyauk Padaung, is directly from the (use the GPS marker). The junction is about 300 m before the road winds uphill towards the pilgrim village. When your transport out of Kyauk Padaung reaches the 180° turning road uphill, get off and walk back a few dozen metres and then straight up to the mountain. From Bagan this is not an option.

See
Popa Taungkalat ShrineTo reach the top of the shrine, you must remove shoes and socks and climb the 777 steps to the summit. Along the way are a multitudes of monkeys expecting treats. Sometimes they can get a little aggressive (supposedly, the monkeys like to go after people's glasses) so it is recommended that you keep a tight grip on your possessions. And because of the monkeys, the ground is filthy. People clean it along the way and ask for a donation, but there are plenty of places they don't clean. It's wise to bring baby wipes or tissues to clean your feet when you leave because they will be dirty.
Do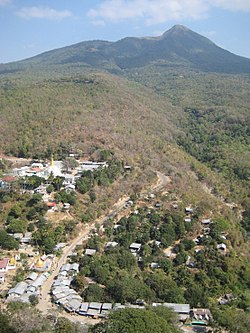 Mount Popa Peak
phone: +95 9 794 911949 (NP)
The hike takes about 1 hr, and on a mist-less day (e.g. during wet season when the air is cleaned by the rain) you can easily spot Bagan. About 1 km before the peak, you will hit a small temple with pagoda. Take enough water and sunscreen for the top.
Buy
Mount Popa, and especially the shrine, is primarily a pilgrimage destination for Myanmar people, so the souvenirs available typically are not very interesting for foreign tourists. Common things sold are religious items, traditional medicine, flower bulbs and flowers for the shrines. You can purchase sweets and liquor from stalls along the road to the mountain.

Eat
There are a few local food stalls available in the village at the base of the mountain as well as the pilgrim village at the foot of the shrine, and there are many fruit vendors. A more sophisticated menu is offered at Popa Mountain Resort that also caters for western tourists.

Drink
Not really an evening destination. However, the convenient location of the shrine allows for a great sunset experience.

Sleep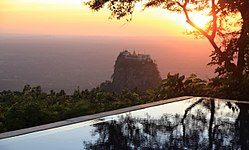 phone: + 95-9-789 364 015

address: Byatta Pan Sat Road

Hotel-restaurant featuring 28 rooms (standard & superior), all with AC, TV, minibar, private hot/cold shower bathroom, choice of double/twin bed. Room service possible. Breakfast from 7AM to 9PM, taken on their restaurant floor offering a beautiful view of the premises & rural surroundings (including the 2 main spots of Popa, Mt Popa & Taung Kalat monastery). Wifi from the lobby area. Doctor on call. Massage on request. Mountain bike rental. Small museum, showcasing petrified forest & mammalian fossils, in collaboration with Mount Popa Global Geopark. Souvenir shop. Small playground area for kids. Free parking.
Popa Mountain Resort

phone: +951 399 334, +95 2 69168, +95 2 69169, +95 2 67140

This resort is on the side of Mount Popa, overlooking the surrounding area and the cliff with temple/shrine. A beautiful complex with an excellent restaurant featuring Burmese and European dishes. The bungalows are better than the dated rooms.
phone: +95 9 445566200, +95 9 445566300, +95 9 445566400, +95 9 445566500

address: In Popaywa

Popa Garden Resort is built on a 7-acre garden overlooking Mt. Popa and the surrounding mountain ranges. Has an excellent restaurant featuring Asian and European cuisines.
Go next
Most of the following transport from Mount Popa is via Kyauk Padaung (300-500 kyat with local transport), except for local transport to Bagan.
In addition, the Bagan-Yangon overnight train also stops in Kyauk Padaung. Departing at 18:00 from Kyauk Padaung and arriving about 10:30 in Yangon the next day. Fares are: upper class sleeper: 16,500 kyat, upper class seat: 12,000 kyat, ordinary class seat: 4,500 kyat.
There might be a train to
Pyay
; ask at the Kyauk Padaung railway station.