Mountain View (California)
Mountain View
in
California
is located in the heart of the
Silicon Valley
. Mountain View is one of the major cities that make up Silicon Valley, and has many notable Silicon Valley companies either headquartered there or with a large presence, including Google, Symantec, Nokia and Microsoft.
Get in
By train
Caltrain
service connects Mountain View to San Francisco and San Jose (and Gilroy). Almost all Caltrains stop at the on Castro Street, including all local and limited-stop trains, and most Baby Bullet trains. All local trains and some limited-stop trains also service the , near the border of Mountain View and Palo Alto.
To get to Amtrak trains from Mountain View, connect at the San Jose Diridon or Santa Clara stations via Caltrain.
There is also a VTA light rail service that connects downtown to several suburban locations in the South Bay. VTA light rail can also be used to connect to the Amtrak Capitol Corridor train (to Sacramento) in Santa Clara.
By air
Mountain View is reachable from all three Bay Area airports:
San Francisco International Airport (SFO): The BART train has a stop directly at the airport, which you can ride to the Millbrae transit center. From Millbrae, leave BART and take Caltrain southbound service. If you are taking a taxi, note that San Francisco-based taxis may charge 150% of the normal fare when going more than 15 miles outside the city limit, and the fare is likely to be over $100.
San Jose (SJC

): Take a free shuttle to Caltrain's Santa Clara station and then take the northbound train service. Also, you can take a free shuttle to the VTA Metro/Airport station and take the VTA light rail. Taxi fare is likely to be in the $35-45 range.

Oakland (OAK

): Take a shuttle van service. This is the most distant of the three area airports. You can take BART from the new Oakland Airport BART extension, ride to Millbrae station, then connect at Millbrae to Caltrain southbound. Taxi fare from OAK is likely to be about $100.
Get around
For travel within Mountain View itself and the neighboring area, the
Santa Clara Valley Transportation Authority (VTA)
operates bus and light rail service. The
Caltrain
, which runs all the way from
San Francisco
to
Gilroy
stops in Mountain View as well. Caltrain also provides relatively easy access to both San Francisco and San Jose Airport, via BART or bus connections.
Mountain View is good for cycling: many streets have bike lanes or are wide enough to comfortably support bike traffic. There are several Bay Area BikeShare stations located in Mountain View, as well as in a few neighboring cities.
The downtown area is walkable.
See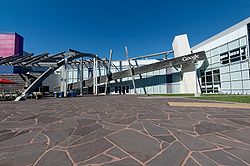 phone: +1 650-810-1010

address: 1401 N Shoreline Blvd

The world's largest and most complete museum on computing history, documenting the area's primary industry. Be prepared for a massive collection of room-sized computers, vacuum tubes, entangled wires, and devices large and small. A geek's delight and a must-see in Silicon Valley.

Castro StreetCastro Street is a charming district full of ethnic diversity and interesting local businesses. Although there is a strong Asian presence among restaurants and shops, many different cultures are represented along these blocks. There is a weekly farmers' market and on certain Thursdays it is home to a great street fair with vendors and a classic car show. Also convenient access from public transportation by way of several trains and buses. If you live near this area or in most of Mountain View, Google provides free Wi-Fi internet all over (though it is spotty in many locations).

Google Headquarters

address: 1600 Amphitheatre Pkwy

Drive around the large campus of buildings to see where all the geeks work and get a taste of the mischievious Google corporate culture. The campus is also a 10 to 30 min walk from the Computer History Museum depending on where exactly you want to go. Make sure to take a picture in front of the huge bunch of Android statues on the Google Android lawn on Landings Dr. They are located right next to the company store, which sells a wide range of rather affordable swag and has a Google bike to take pictures on. On your way, have fun spotting the colorful bikes (easy), the "Noogle" propeller hats bestowed upon new employees (less easy, but worth it!), and the various Android statues hidden between the buildings. Google is arguably the friendliest of all tech giants with tourists—the Googleplex's courtyard, complete with a dinosaur skeleton, is open for selfie takers—but, as with the rest of Silicon Valley, no public tours are available.

Shoreline Wildlife Refuge Area and Trail

phone: +1 650 903-6392

Once the site for dumping trash, Mountain View closed this area as a dump and turned it into a park instead. Now it's a beautiful 700-acre park with a saltwater lake, golf course, rolling grassy hills, and bay trails.

address: 599 Fairchild Dr

Non-profit community center for geeks.
Do
phone: +1 650-967-3000

address: 1 Amphitheatre Parkway

Outdoor concert venue with huge tent cover, location for many large Bay Area concerts as well as community events.

Century Cinemas 16

phone: +1 650-960-0970

address: 1500 N. Shoreline Blvd

Large movie theater with ample parking showing recent big movies.

phone: +1 650-965-7474

address: 3160 N. Shoreline Blvd

Water sports center with boating, windsurfing, and other aquatic activities. Equipment rental available.

Stevens Creek TrailGood for walking or riding a bike.

phone: +1 650 604-6497

Founded in 1939, Ames Research Center has evolved into one of the nation's premier research labs. Ames provides the products, technologies and services that enable NASA missions and, in turn, expand human knowledge.
Buy
Mountain View has many big-box stores including REI, Best Buy, IKEA, and Costco near the Hwy 101 Rengstorff exit. And Walmart, Target, Ross, Kohl's, and Safeway are in the San Antonio shopping center.
address: Mountain View Caltrain Station, 600 West Evelyn Ave

Features fresh produce and prepared foods from farmers and small food producers in the area. On '49ers game Sundays, the market is relocated to the corner of Bryant St. and California St. a few blocks away.
Eat
Castro Street
is the main street in the downtown area with many restaurants and bars. East and South Asian food is available in abundance, but it is by no means the only choice. Watch the hours of operation; most restaurants in Mountain View are not open very late. There are some wonderful Mexican restaurants in the area serving
Poblano
style food.
Budget
Gelato Classico

address: 241 Castro St

Italian ice cream. A local favorite, with long lines out the door during peak hours.

The Posh Bagel

address: 444 Castro St

Bagels, sandwiches, crepes, and grilled panini.
Mid-range
phone: +1 650-988-9323

address: 174 Castro St

Good Thai food. Also has branches in Santa Clara and San Jose.

address: 2290 W. El Camino Real

Indian.

Bangkok Spoon

address: 702 Villa St

address: 341 Castro St

Turkish food

address: 1005 Shoreline Ave

Serves delicious sea food dishes as well as the famous and elusive Enjococado chicken.

address: 735 Villa St

address: 153 Castro St

Dim sum is the staple of this restaurant, so come here hungry! Most dim sum plates cost between $3–5, and with the endless parade of food being served, you're guaranteed to walk away full. The shrimp and pea sprout dumplings come recommended.

phone: +1 650-961-7795

address: 1245 W El Camino Real

Vegetarian (Vegan) Chinese.

Hong Kong Bistro

address: 147 Castro St

Western-style food from Hong Kong, vestiges of a colonial era. One of the few restaurants in Mountain View open late; serving until midnight.

Kirin Chinese Restaurant

address: 485 Castro St

Look past the fish tank crawling with lobsters outside and look in for some cheap and tasty Chinese food. Parking is accessible and the service is quick.

address: 590 Showers Dr

Thai.

phone: +1 650-968-1364

address: 240 Villa St

Mexican food

phone: +1 650 969-4884

address: 1910 W. El Camino Real

Only certified authentic Italian pizza in the South Bay. An experience.

address: 304 Castro St

Relatively inexpensive all-you-can-eat Mongolian BBQ (fill a bowl with ingredients and sauce, and it will be cooked for you)

address: 216 Castro St

The location formerly occupied by Sue's Kitchen (and Godavari, in another incarnation) now holds a Pakistani restaurant with superb food full of subtle flavors.

address: 800 California St

Shiva's has been reviewed as one of the top north Indian restaurants in the Bay area. Lunch buffet is a popular choice. Good for group dining.

address: 223 Castro St

Stiff drinks, good pub food and plenty of standing space available, St Stephens Green is perfect for happy hour drinks or just a casual meet up with friends. Although an Irish pub, it seems that hip hop is the vibe of choice here.

Taquería Los Charros

address: 854 West Dana St

Mexican food. Excellent tacos, and many other choices. Very inexpensive for the Castro St. area.

address: 954 Villa St

American.

address: 108 Castro St

Italian food, served in a restaurant with substantially-Italian-speaking staff

phone: +1 650-938-2020

address: 2020 W. El Camino Real

Specializes in cuisine from the Pueblo region of Mexico. An outdoor seating area makes this a great place to go on a warm summer evening.

phone: +1 650 262-9728

address: 400 Moffett Blvd

Sichuan Chinese food focused on fresh food in an unfussy setting. Try traditional dishes like pig's feet or goat, or American favorites like General Tao's chicken. Take out or dine-in.
Splurge
address: 400 Castro St

Excellent Latin American Tapas, particularly good for sharing food in groups.

phone: +1 650 964-9647

address: 938 Villa St

Swanky, Michelin-starred restaurant.

phone: +1 650-237-3131

address: 401 Castro St

Updated American comfort food. It has a great bar with unusual, craft selections of American distilled spirits. Also, good soups, salads, and appetizers. Main courses are inconsistent but many are quite good.
Sleep
Go next