Munich/Haidhausen
Haidhausen
is a mixed residential and night life area just to the east of
Munich's
historic city center on the eastern banks of the river Isar. It consists largely of the boroughs of
Haidhausen
,
Au
,
Alt-Bogenhausen
, and
Untergiesing
.
Understand

Au-Haidhausen, founded towards the beginning of the 9th century, began as a quarter for day laborers and craftsmen, outside the city fortifications. It was incorporated into the city of Munich in 1854. The center of this neighborhood is the French Quarter - the streets here are named after places in France and the layout of the street grid copies that of French cities - right in front of Munich East station. Although largely destroyed by Allied bombing during World War II, there are still some buildings preserved from the end of the 18th century. Today, Au-Haidhausen is a popular district to live in. Moreover, the area has a very high density of bars and clubs, with Kultfabrik (which claims to be the largest party zone in Europe, as it has been developed into a maze of bars, clubs, skate parks, cinemas, games halls, climbing walls, etc.) and Optimolwerke being the most famous.
Unlike Au-Haidhausen, Alt-Bogenhausen was virtually undamaged during World War II and today is one of the most exclusive residential areas of Munich.
Untergiesing, which was incorporated into Munich together with its northern neighbors, used to be a typical working-class neighborhood. Its main attractions nowadays are the recultivated banks of the Isar, where people on warm summer evenings gather to enjoy a local beer and relax in the sun. The area roughly is bounded by the river Isar to the west, Mittlerer Ring (B2R) urban expressway to the north and north-east, Leuchtenbergring and Ampfingstraße to the east, and Werinherstraße and Candidstraße (B 2R) to the south.

Get in
By car
The Haidhausen area is close to the ends of autobahns A 8, A 995 from the south and A 94 from eastern directions, and therefore easily accessible by car. The main arteries of the area running from east to west (and vice versa) are
Prinzregentenstraße
and
Einsteinstraße
in the north of the area, which connect the city center to autobahn A 94, and
Rosenheimer Straße
, which cuts right through the center of the area and conncets the city center with autobahn A 8. Going from north to south (and vice versa) the most important streets are
Orleansstraße
,
Tegernseer Landstraße
, and
Richard-Strauss-Straße
. Traffic can be very heavy, especially during rush hours, and parking is scarce and mostly limited to residents with special parking permits.
By suburban train (S-Bahn)
(Munich East Station) is one of Munich's two Category 1 railway stations which offers regional and interregional connections. Almost all S-Bahn lines pass through the station as it is the endpoint of the S-Bahn backbone tunnel. It also provides a U-Bahn station (U5 Ostbahnhof), a tram station (line 19), and a terminal for urban and regional buses.
S-Bahn lines S1, S2, S3, S4, S6, S7, S8, and S27 stop at Ostbahnhof (Munich East Station) and .
S-Bahn lines S2, S4, S6, and S8' at Ostbahnhof (Munich East Station) go on in north-eastern direction and serve the station at Leuchtenbergring, while S3 and S7 branch off to the south to stop at Sankt-Martin-Straße.
By subway (U-Bahn)
Subway line , coming from the city center at Sendlinger Tor and traversing Isarvorstadt, stops at Kolumbusplatz and Candidplatz in the very south of the area, and goes on in southern direction.
Subway lines and , coming from the city center at Sendlinger Tor, operate in the very south of the area as well and stop at Kolumbusplatz, Silberhornstraße, and Karl-Preis-Platz to go on in eastern direction.
Subway line , coming from the city center at Odeonsplatz, stops at , Prinzregentenplatz, Böhmerwaldplatz, and Richard-Strauss-Straße serves the Alt-Bogenhausen area in the north of the district.
Subway line , coming from the city center at Odeonsplatz, stops at Max-Weber-Platz and Munich East (Ostbahnhof) and goes on in south-eastern direction.
By tram
Tram lines 15 and 25 run though the whole area from south to north with stops including Max-Weber-Platz and Ostfriedhof and connect it to the southern parts of East Munich.
Tram line 16, coming from the city center at Sendlinger Tor and Isartor serves the north-western and northern parts of the area with a number of stops along Innere Wiener Straße with stops at Am Gasteig, Wiener Platz, Max-Weber-Platz, and Friedensengel, and the terminus at Effnerplatz.
Tram line 17, arriving from the city center at Sendlinger Tor, cuts through the southern center of the Haidhausen area with stops including Marishilfplatz and Ostfriedhof to continue in south-eatern direction.
To reach the northernmost parts of the ditrict around Effnerplatz you can also use tram line 18', which runs along the left banks of the Isar to cross into northern Alt-Bogenhausen at Tivolistraße. It continues further north into the Bogenhausen area of East Munich.
Tram line 19, coming from the very city center at Nationaltheater, cuts through the northern center of area with stops including Maximilianeum, Max-Weber-Platz, and Ostbahnhof. It goes on to the central part of East Munich.
By bicycle
Going to the Haidhausen area by bike - though only a short way from the city center with bike lanes along the streets - is rather for the sporty type, as the ascent from river Isar up to the center of Haidhausen is quite steep.
Get around


As most of the locations of touristic interest are within an 800 m radius around Munich East (Ostbahnhof), it's no problem to explore the area on foot. Another option are Tram lines 15 and 25, which cover the whole area, and Tram line 16, which will take you to all major sights of the area. As everywhere in Munich, exploring the area by bike is always an option - however, in this case it's rather for the sporty type as there are some steep ascents in the area.

See
Angel of Peace Monument

address: Europaplatz 1

The Friedensengel monument marks the entrance of the Bogenhausen neighborhood at the Isar. The statue on top of 44-m-high structure depicts Nike, the Greek goddess of victory. The monument, which is in the Maximiliananlagen park, is accompanied by a fountain and a small temple.

Bavarian Public Observatory Munich

phone: +49 89 406239

address: Rosenheimer Straße 145h

The observatory is open to the public every working day after dark and offers regular 2-hr tours in English language every Monday (and on other days if prearranged).

Bogenhausen Cemetery

address: Bogenhauser Kirchplatz 1

This small cemetery is the last resting-place for many local celebrities and artist, like Bernd Eichinger, Rainer Werner Fassbinder, Oskar Maria Graf and Erich Kästner.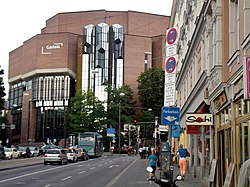 phone: +49 89 69365880

address: Gietlstraße 2

The structure is the oldest completely preserved Gothic Revival church in Munich, because it was wonderously unharmed by the Allied bombings during World War II. Being at the top of a hill, its 95-m-high bell tower is visible already from afar.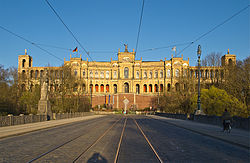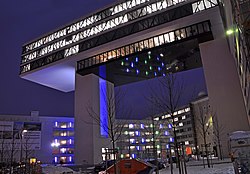 address: Rosenheimer Str. 145E-F, 81671 München

The Medienbrücke ("media bridge"), a horizontal office building that hovers on two pillars at a height of 46 m, is one of Munich's most unusual buildings. A rooftop lounge, Upside East, is on the building's roof.

Möhlstraße

address: Möhlstraße

Möhlstraße is a perfectly preserved architectural ensemble of 30 historic mansions, which dates back to the end of the 19th century. The area around Möhlstraße and the adjacent streets is Munich's most expensive neighbourhood.

phone: +49 89 4555510

address: Prinzregentenstraße 60

The neoclassicistic mansion is the former residence of Munich artist Franz von Stuck. Today the historic house museum shows the former owners works and features changing exhibitions of other works, but the building itself is worth a visit.

phone: +49 89 23396211

address: Friedenstraße 40

The 63-m-high glass and steel building is home to the technical and engineering departments of the city administration. To a traveler it is interesting because of the Courtyard in the Wind and especially the café in the top floor, that provides a fantastic view of Munich and the area.

address: Dingolfinger Straße 1-15, D-81673 München

Ten Towers is a complex of five pairs of high-rises connected by a bridge and housing companies such as Deutsche Telekom. A rooftop lounge for events, Sky Lounge, is on the building's roof.
Do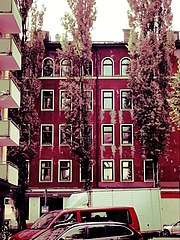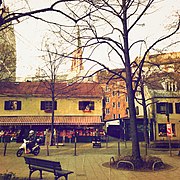 Auer Dult

address: Mariahilfplatz

Auer Dult is an annual market, that takes place three times a year for nine days in May, July, and the weekend after Kermesse. Apart from the very small beer festival (where tourists are virtually unheard of) that goes with the market, Auer Dult is considered to be the largest crockery market in Europe.

phone: +49 89 41859970

address: Friedenstraße 22a

In this large bouldering hall you can test your climbing skills without a harness on 13 different courses. It also offers a competition wall, a kids area with 3 courses, a bistro, and an outdoor course with slackline park and beer garden in summer. Just around the corner in the Werksviertel there is also a tall indoor rope climbing hall in a former factory silo called Heavens Gate, but it is being renovated.

address: Weißenburger Platz

Visit the Christmas market in Haidhausen, which is said to be one of the most beautiful in Munich.

phone: +49 173 6774435

address: Atelierstraße 11

Enjoy a 30-minute ride and a unique view over Munich and the Alps from this giant wheel in the Werksviertel district, which is recorded in the Guinness Book of Records as being the world's biggest transportable giant wheel.

phone: +49-89-62 83 44-450

address: Grafinger Str. 6, 81671 München

This large indoor and outdoor adventure park for kids, pupils and parents is located within a decomissioned power plant of the former Pfanni factory which previously housed one of Germany's most famous techno clubs, KW – Das Heizkraftwerk, from 1996 to 2003. Beyond being a playground for climbing and sliding, the venue also offers a variety of activities and courses such as mother and baby aerobics, ballet, hip-hop dance, acrobats school, circus, painting or cooking clubs.

phone: +49 800 796 796 0

address: Rosenheimer Str. 1

Have a swim at this Art Nouveau public indoor swimming pool which was the world's largest and most costly when it opened up in 1901.

Nockherberg strong beer festival

phone: +49 89 4599130

address: Hochstraße 77

The strong beer festival on Nockherberg - the Holy Mountain of Munich - is the most famous of that kind of beer festivals in Bavaria. It takes place during Lent, normally starting around the mid of March and lasting for 17 days. Much of its fame originates from the traditional beer tasting (Starkbieranstich) at the first day, which is a fixed date for every higher ranking Bavarian politician. Be aware of the strong Paulaner beer though: it finishes you much faster!

phone: +49 89 218502

address: Prinzregentenplatz 12

Prinzregententheater is one of the most important stages in Munich. It is the home of the Bavarian Drama Academy. The focus of the shows lies on opera and musical. The building is a magnificent Art Nouveau structure, built after the example of the Richard-Wagner-Festspielhaus in Bayreuth.

Tram 19Hop on to Tram line 19 somewhere in the city center (like Nationaltheater) and ride east to see some of Munich's most overwhelming architecture. It will take you to the most important places in the Haidhausen area.

phone: +49-89-215 446 220

address: Atelierstraße 18, 81671 München

Visit an exhibition at this contemporary art gallery. About 30 visual artists also have their ateliers at this 2,400-m² space.
Buy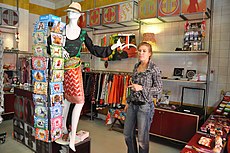 phone: +49 89 28643154

address: Einsteinstraße 130, 81675 München

Modern shopping center which houses the world's largest Media Markt consumer electronics retailer, supermarkets, shops and a pharmacy.

phone: +49 89 72488944

address: Pariser Str. 50

Record store offering new and second-hand vinyl with a focus on jazz, blue note, RnB, funk, soul and easy listening but also some electronica.

phone: +49 89 4585540

address: Orleansplatz 3

Large department store offering fashion, jewellery, books and household supplies.

phone: +49 89 4485141

address: Rosenheimer Str. 77, 81677 München

One of Munich's oldest second-hand record stores offering a huge selection of vinyl and CDs of all music genres.

phone: +49 89 483351

address: Pariser Str. 32, 81667 München

Guitar shop founded by the lead guitarist of the hard rock band Scorpions, Matthias Jabs, who is collecting vintage guitars on his worldwide tours which are then offered in the shop, but you will also find affordable ones there.

Monkey Island Records

phone: +49 89 4487218

address: Steinstraße 67, 81667 München

This small record store and bar offers rock vinyl.

phone: +49 89 4802614

address: Breisacher Straße 21, 81667 München

Longstanding second-hand record store and a place to dig for rare vinyl and CDs from indie to electronic music.

phone: +49 89 80998556

address: Elsässer Str. 19, 81667 München

A screen printing workshop and creative space which offers silkscreen and t-shirt printing courses.

phone: +49 89 44109592

address: Pariser Straße 31

A jewelry lovers' paradise featuring beautiful creations by local designer Christine Berger. Fun original rings, earrings, chains and bangles, all created from solid silver and tarnished 900-carat gold.
Eat
Budget
In the Au area (southern part of the area covered by this article):
address: Zeppelinstraße 27

Mostly vegetarian dishes, chaning regularly (short menu of daily offerings), and coffee from a very renowned local roastery (Fausto).
Mid-range
In the Au area (southern part of the area covered by this article):
phone: +49 89 448 14 00

address: Lilienstr. 51, 81669 München

A traditional Wirtshaus with long history, already existing in the former suburb Au. One of the good choices if you want to have a decent Bavarian Wirtshaus, also populated by locals.

phone: +49 89 62489924

address: Taubenstraße 2, 81541 München

Austrian restaurant, supposedly very good, be sure to book as it's normally difficult to get a table.
Splurge
Drink
Cafés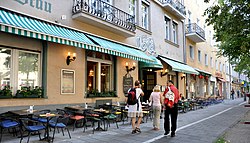 In Haidhausen (central part of the area covered by this article)
phone: +49 89 4891654

address: Wörthstraße 5

Long-standing café, bar and restaurant and local favorite for cocktails that serves generous portions in a welcoming atmosphere. Standard fare that is cooked well.

phone: +49 89 448 99 64

address: Sedanstraße 29

In a house in a courtyard, this lovely place is decorated and features regular piano live music and exhibitions. They offer breakfast/brunch throughout the day and have good cakes.
In Werksviertel (southeast of the München Ost station):
phone: +49 89 2664647666

address: Atelierstrasse 4, 81671 München

Coffee, orange juice and sandwiches at an improvised place called Container Collective with a nice elevated outdoor terrace. The alternative radio station Radio 8000 that plays techno, house, funk and jazz is also here.
In Au (southern part of the area covered by this article):
address: Lilienstraße 34

An Icelandic café.

phone: +49 89 21562990

address: Am Nockherberg 8

Café and bar in a former public restroom, which according to the New York Times attracts "a steady stream of visitors with its unusual setting, craft beers, homemade sodas and a weekly outdoor concert series."

phone: +49 89 189 387 13

address: Eduard-Schmid-Straße 8

An easy-going café with good cakes, in warm weather it's also very nice to sit outside.
Bars
address: Atelierstraße 4

Bar at the entrance of the Werksviertel quarter with a large outdoor terrace, situated on an elevated site on a pile of shipping containers.

phone: +49 89 63899510

address: Friedenstraße 22C

Caribbean cocktails, exotic food, dancing and beach volleyball on a warm indoor sand beach with beach bar and deckchairs all the year round.

Carlito's MINIbar

phone: +49 177 42324330

address: Ohlmüllerstraße 11

A very small (20 people max) and cozy bar with a impressive selection of rum, gin, and whiskeys. The proprietor is an artist when it comes to mixing cocktails and always has an open ear for the problems of his guests.

Johannis Café

phone: +49 89 4801240

address: Johannisplatz 15

When all other locations close and you still haven't enough, the Johannis Café is still open and waiting for you. It's very popular with locals, especially in the very late hours of the night and very early hours of the morning. The mix of customers is strange, as is the interior.

phone: +49 89 486167

address: Steinstraße 42

No sign and just a bell at the door - when you pass by this bar you won't find it if you are not specifically looking for it. After ringing said bell and gaining entrance you find yourself in a small, dim lit bar with a very intimate atmosphere and good cocktails and long drinks - an almost perfect place for a (second or third) date.

phone: +49 89 6887510

address: Kellerstraße 21

Irish pub with nice atmosphere and many expats among the guests. It's likely to be full in the evening. Every Monday is a pub quiz starting at 21:00. Food is middle-rate, the chips are usually good. Has a big selection of whiskeys and sport events are shown on TV.

phone: +49 173 3619237

address: Ohlmüllerstraße 8

Schwarzer Hahn (which translates to Black Cock) is one of Munich's most famous dive bars and very popular with the hip crowd from the neighbouring Gärtnerplatz area. The longdrinks and cocktails menu is comprehensive, but the audience mostly sticks to beer. The relatively cheap prices plus the rather long opening hours make the bar a popular spot for a nightcap - and all previous drinks.

phone: +49 89 44992999

address: Pariser Str. 34

Restaurant-bar hybrid by the owners of the Crux club where traditional Bavarian dishes meet delicious cocktails, a modern-minimalist design and hip-hop music.

phone: +49 89 62231187

address: Rosenheimer Str. 108

This beer bar at the edge of the Haidhausen district offers 200 craft beers from around the world.

phone: +49 89 4485035

address: Lothringer Straße 11

Vivo! is an offbeat, slighthly leftist bar in the French quarter of Haidhausen, which makes it somewaht special in its own right in this rather upscale neighbourhood. Although the focus of the place is definitely on drinks, the choice of warm dishes is rather comprehensive. The bar is a sanctuary for all those, who do not want to go to the rather posh places around.
Clubs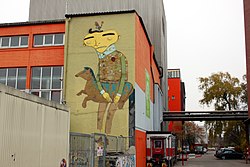 This place is a 60,000 m² (72,000 yd²) entertainment mecca. After Europe's then largest disco complex - in the terminal buildings of the former Munich airport - had to close in 1996, the city had to find a replacement for the crowds of partygoers. It was called
Kunstpark Ost (KPO)
because of its location in a former industrial complex near the eastern railway station. Rumors about closing this area started soon and in 2003 it looked as if the days of the KPO were coming to an end, so some of the clubs moved to an area 200 m (220 yd) in the west, . As of 2018, only a few clubs in the original area, which is called now, remain open.
Werksviertel and Optimolwerke (and two more discos on the west end of the whole area) are one big complex and most people do not distinguish whether they go to Werksviertel or Optimolwerke. To have more than 30 discos, clubs and bars on a relatively small area is brilliant and efficient as there is something for (nearly) every taste. And if you don't get into one, there is always another club to try. The crowds don't arrive until midnight or later, but if you come earlier, you are more likely to get cheaper/free entry.
phone: +49-89-628344411

address: Atelierstraße 24, 81671 München

Concerts within a decomissioned factory hall at the former Kultfabrik party area.

phone: +49-89-628344411

address: Speicherstraße 26, 81671 München

A popular concert venue at the Werksviertel.
Beer gardens
phone: +49 89 4599250

address: Innere Wiener Straße 19

This well-known beer garden with 1800 seats serves Höfbräu beer, but don't confuse it with the famous "Hofbräuhaus", the tourist trap in the city center.

phone: +49 89 4599130

address: Hochstraße 77

Munich's holy mountain Nockherberg is well known for its strong beer festival in March. The beautiful beer garden with 3000 seats is open year round (weather permitting) and serves Paulaner beer.

phone: +49 89 45875073

address: Zellstraße 4

This small beer garden with only 400 seats is next to an industrial land mark (which now houses a bar and clubs). All served dishes are made of organic food. The basic beer brand is Hofbräu, but the beer garden also serves a naturally cloudy organic beer from Lammsbräu.
Sleep
Budget
phone: +49 89 45994430

address: Rosenheimer Str. 103, 81667 München

Small and cozy hotel in an urban area with breakfast and free Wi-Fi.

phone: +49 89 59976490

address: Orleansstraße 87

Modern and sleek interior with simply decorated rooms. Downstairs is the "One Lounge" with a lobby, breakfast café and bar in one. Free wifi access is available (incl. in breakfast price).

phone: +49 89 90421860

address: Rosenheimer Straße 110, 81669 Munich

Modern hotel at the edge of the Haidhausen district. Downstairs is the living-room style "One Lounge" with lobby, breakfast café and bar in one, and a view onto the street through wall-sized windows. Free wifi access is available throughout the premises.

mk hotel münchen

address: Einsteinstraße 34

A simple and inexpensive two-star hotel with free Wi-Fi.

Motel One München - Deutsches Museum

address: Rablstraße 2

Sister Motel One in Au-Haidhausen at the corner of Hochstraße and Rablstraße, not exactly at the Deutsches Museum, but some 500 metres away.
Mid-range
Splurge
Hilton Munich City

address: Rosenheimer Str. 15

The Hilton enjoys a direct underground connection with the Rosenheimer Platz S-Bahn station, where many lines, including the S1 and S8 going to the airport, stop. Otherwise, it is a pretty nondescript and a tad aged business hotel, although situated right next to the most charming part of Haidhausen.

Courtyard by Marriott Munich City EastThe Courtyard occupies a building between the Residence Inn and the Motel One close to the Ostbahnhof
Connect
M-WLAN wifi hotspot Ostbahnhof

address: Orelansplatz

The city of Munich provides free Wi-Fi hotspots at some of the major tourist spots around the city.