Music in Britain and Ireland
Britain and Ireland
have a rich heritage of
music
, from folk songs, through
classical music
, to pop genres such as
rock
, grime, and electronic music.
Understand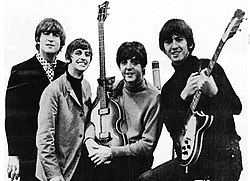 Scotland
has a thriving music scene. Outdoor popular music festivals attract vast crowds and attract internationally-renowned live music acts. Scottish bands and musicians are also prominent, particularly those originating from in and around Glasgow, the largest city in Scotland. This city is home to a fantastic music scene; must-visit destinations include King Tut's Wah Wah Hut (where Oasis were spotted and signed for their first record deal).
Scottish folk music is also flourishing, with traditional and modern folk music sung in both English, Scottish Gaelic (and sometimes Scots). Folk music often features instruments such as fiddle/violin, acoustic guitar, harp, accordion, piano, various sorts of bagpipes, and other traditional instruments as well as voice. You may also encounter Scottish forms of dance which are also popular. This may range from simple, as at a ceilidh (pronounced "kay-lee", a mix of dances performed to traditional music and descended from ballroom and country dancing), to more complex Scottish Country Dancing which is a form of social dancing descended from renaissance dance styles, to solo Highland Dancing (which has a military heritage) if you go to a Highland Games. These styles exist alongside other popular forms of music and dance also found in other modern countries.
Wales
is often referred to as "the land of song", and is notable for its harpists, male voice choirs, and plethora of solo artists like Charlotte Church. Cardiff has a big rock scene and has produced some of the biggest acts in the UK today. The principal Welsh festival of music and poetry is the annual National Eisteddfod. The Llangollen International Eisteddfod echoes the National Eisteddfod but provides an opportunity for the singers and musicians of the world to perform. Traditional music and dance in Wales is supported by a myriad of societies. The Welsh Folk Song Society has published a number of collections of songs and tunes.
Although
England
's Classical music tradition lags somewhat behind it's continental counterparts France, Germany, Italy, Austria and Russia, it has nevertheless produced several world-renowned composers such as Henry Purcell and Edward Elgar. Despite the relative lack of famous native-born English composers besides the aforementioned Purcell and Elgar, London has for over two centuries been an important city in the classical music circuit, with famous foreign composers such as George Frideric Handel (Georg Friedrich Händel), Johann Christian Bach, Joseph Haydn and Felix Mendelssohn having lived there or spent a significant amount of time there on tour.
Destinations
phone: +353 1 417 0000

address: Earlsfort Terrace, Dublin 2

Offers classical concerts. Frequent performances by the resident orchestra, the RTÉ National Symphony Orchestra.
Events
See
See also