Naha
Naha
(那覇) is the capital of the
Okinawa Prefecture
in
Japan
and is the main city on
Okinawa Island
, with a population of around 700,000 - more than half the total population of
Okinawa
.
Understand
Tourist offices
The website of the national travel organisation provides useful information and links.
Get in
By plane
Naha AirportThe largest airport in the Okinawa area and the main hub for international and inter-island flights. A new monorail, opened in 2003, connects the airport to the city center.
Note
: There is also a Naha Airport (
NAH
) in Indonesia, which should not be confused with this!

By ship
Ferry services to Okinawa have been cut drastically, with Arimura Sangyo filing for bankruptcy and RKK Line stopping passenger services entirely. With long travel times, bumpy seas, frequent cancellations in the fall typhoon season and prices that aren't any cheaper than flying, it's easy to see why this isn't too popular anymore.
As of 2014, the only survivors are A-Line Ferry, aka Maru-A (マルエー), which runs twice a week from Kagoshima (25 hours, ¥16,000 2nd class one-way) and once a week from both Osaka/Kobe and Tokyo (44 hours, ¥28,000) to Naha, and Marix Line, which runs between Kagoshima and Naha only. All ferries call at various minor islands including Yoron and Amami Oshima along the way. If you don't speak Japanese, you will find it easier to book through a travel agent.

Star CruisesCruises from Keelung (Taiwan) via Miyako between late April to the end of October, but this is not a ferry service (you must board in Keelung, and stay with the ship for the round trip.
Get around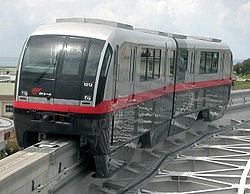 The
Naha monorail
(
monorail website in Japanese only
) links the airport, the city and Shuri Castle. Tickets cost ¥200-290 depending on distance, or you can get a one-day pass for ¥800. You can also get a two-day pass for ¥1,400 (2019).
For places that are not near the monorail or for people who don't want to use the monorail, there are many buses that travel throughout the city to every area.
See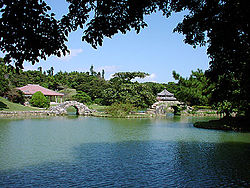 Shuri CastleShuri Castle has partially re-opened after most of the structures were destroyed by a fire on the morning of 31 October 2019. This location is the former seat of the Ryukyu Kingdom, built in the Okinawan gusuku style. Completely destroyed during World War II, the buildings were most recently rebuilt in 1958 and 1992. No original Ryukyuan castles remain and this is the only site where the castle keep has been rebuilt, so it's an important part of preserving Okinawan history and culture. This is one of the reasons it is listed as part of the World Heritage Site, "Gusuku Sites and Related Properties of the Kingdom of Ryukyu". Authorities are hoping to rebuild the main structures by 2022. Access via the monorail Shuri Station, ¥820 for adults, 20% discount if you have a monorail daily pass. See also Japanese castles.

Sonohyan-UtakiAlthough it is in Shuri Castle Park, this sacred grove of trees and plants (utaki) is independently famous as one of Okinawa's World Heritage listings. Situated near the Shureimon Gate, it's not very big or grand so it's quite easy to miss. The Sonohyan Utaki is a place where the Ryukyu kings and queens once came to pray.

Tamaudun MausoleumA Ryukyuan mausoleum that entombs kings of the Second Sho Dynasty. It was built in 1501. The impressive stone structure is separated into three sections. The central section is where the bodies are brought in and rituals were performed to prepare them to be entombed. The remains of kings and queens were then taken to the chamber on the left. Other members of the royal family were placed in the chamber on the right. The tomb suffered damage during World War II and had to be repaired. There is a small museum at the entrance where you can see pictures, artifacts, and the layout inside the tomb. Today the mausoleum is listed as one of Okinawa's World Heritage Sites.

phone: +81 98-869-5266

A museum housing artifacts from the city. As the former capital of the Ryukyu Kingdom, it houses artifacts and belongings of former rulers and important documents outlining relations with foreign nations. They also have special exhibits.

phone: +81 98-862-3761

Naha's Tsuboya District has been reknowned for its pottery for hundreds of years and there are many craftsman still there today. The museum showcases historic and exemplary specimens of the pottery.

Shikinaen Garden

phone: +81 98-855-5936

Like many of the mainland gardens, Shikinaen was built by Okinawa's royal family as a detached residence and to entertain guests. The original garden was almost completely destroyed in World War II, but it was rebuilt in the 1950s. It centers around a pond with beautiful bridges connecting an island to opposite sides in the center.

Naminoue ShrineIt once served as the main shrine of the Ryukyuan Kingdom. Sitting on a cliff overlooking the sea, the view of the shrine, cliff and water is quite picturesque.
Do
Kiteboarding is possible year round with the winter months being the best.
phone: +81 98-851-0180, +81 90-6779-9990 (mobile)

address: 270-102 Gibo, Tomigusuku-shi

Call before coming (Japanese only). Taka-san is a first rate kite-boarder and a very nice guy. Drop by for lessons, supplies, information about car rental, lodging, tours, and such.
Scuba Diving. A number of diving businesses offer training courses and diving excursions to the nearby Kerama Islands.
Blue ZoneA diving shop with their own boat. Their very friendly staff offer scuba diving courses and diving trips to the Kerama Islands.
Naminoue BeachNaha has one beach, Naminoue. Not the most beautiful beach in Okinawa, but a clean beach for all practical purposes. Also, one has to keep in mind that the swimming area can be very limited depending on the season and the weather.
address: 43538882929201b Okinawa, International Street

This business specializes in offshore big game fishing for marlin, tuna, wahoo, mahi mahi, and other fish year-round.
Buy
Makishi MarketKnown as "the kitchen of Okinawa", This market started as a kind of black market after World War II. There are more than 400 shops in one floor. You can buy any Okinawa's traditional foods like dried sea snake (イラブー irabū), pork (Okinawas say they eat everything except the hooves and the scream), special vegetables not found on the mainland, colorful fish, or edible seaweed. There are many restaurants upstairs, serving traditional Okinawan home cooking. You can bring your own ingredients (fresh seafood or pork for example) bought downstairs and they will cook it for you for a small fee.

Kokusai DooriFull of shops that sell a multitude of Okinawan products. It's also a good place to check out the nightlife and youth scene.
Eat
Afro NestA reggae themed basement-restaurant with surprisingly good food. Delicious goya champuru and karaage. Try the Afro Rice and Jamaican Jerk Chicken, they're excellent. The staff and customers here are fun to talk to and the menu is a laugh.
Drink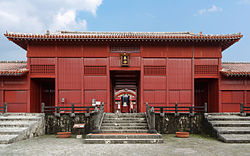 You can find several establishments in and around Kokusai Street to enjoy the odd drink or two. There's a few clubs about as well; those frequented by locals, those frequented by US military folks and a mixture of both. Don't try gaining admission (around ¥2,500) wearing sandals.
For the more daring drinker
habushu
(ハブ酒) is widely available in bars and souvenir shops. Each bottle of fiery shochu liquor comes with a venomous snake inside, best drunk down in one as sipping is not recommended!
Bar DickFor a less frantic, more intimate time, you could do worse than check out this American-style bar that's verging on refined. Take care not to be too noisy as it will only upset the otherwise friendly and attentive staff. Bar Dick is the premier whiskey and scotch bar on the island, with expert bartenders, some of whom have been featured in magazines and received awards at national level competitions.

address: Kokusai-dori

Canadian-owned bar with English-speaking staff. The customers are mostly English teachers and expats and quite a few Japanese nationals. Very friendly place. Limited food menu.

address: 1 block from Kokusai Street

Really nice place to drink. The staff speaks English. One bloke lived in London for 5 years. Lots of friendly locals. Food is good and they had Union Rugby on the TV. Just walk up the hill from Ryubo Shopping Centre on Kokusai Street. It is on the left side.

Campnou Bar

address: Paradise Dori, behind JAL Hotel on Kokusai Dori

Great place to watch football. The owner, Hiro-san is a lovely guy and football mad. He can speak enough English to get by and is foreigner friendly. He is often open odd hours to accommodate matches held in different time zones.

Paddy MacsOn BC street, just off of "gate 2" street, outside of Kadena airbase, this Irish pub is second to none for a good time. Martin, the Irish expat owner, is always a wonderful host who keeps the atmosphere lively and upbeat. Paddys also has the distinction of being the preferred drinking hole of Okinawas own Hash House Harrier group. Any true party animal's Okinawa experience would be incomplete without a night on the town with these local larrikins.

address: Matsuo 2-5-15

Carpenter Takeshi Yamamoto moved out to Okinawa from Tokyo for a more chilled out lifestyle. This bar is filled with beautiful driftwood structures made by Yamamoto. In summer he sometimes constructs tree house bars out on the beaches of nearby islands. He's really friendly as are the regulars who are mostly locals. You'll need to speak Japanese to enjoy this place though.

BakkuA friendly, homely bar with great staff and a good crowd. The selection of beers is nice and the food is delicious. Try Haruka's Raftee! It also has Strongbow, for people trying to find some cider.

address: Asato 101, Naha City

Okinawa's only karate and kobudo theme bar, The DOJO opened in 2011 and is owned and run by James, a local resident and long-time karate fan! The DOJO features draft beers, cocktails and a delicious food menu. The English and Japanese speaking staff are knowledgeable about all aspects of activities and places on the island including local dojos to for karate and kobudo training.

UtahimeLive minwa performances in a relaxed and friendly atmosphere. Can sit at the bar or on sofas. If you are familiar with any minwa songs, they take requests.
Sleep
Naha's budget accommodations are famously cheap, but you tend to get what you pay for and some can be incredibly dirty.
address: 3-6-3 Makishi, Naha

Women ¥1500, men ¥1800. There's free internet and a 24-hour shop nearby.

Grace Naha HotelSmall family-run guest house. Inexpensive, incredibly friendly and spotlessly clean.

Sora HouseInexpensive, friendly hostel. The staff speaks little English, but they are very friendly and helpful. The staff seems to arrange trips around Okinawa. If you get a chance to attend to one, you probably should.

address: 1-17-5 Wakasa

Ten dorm rooms and a couple of lounge rooms make this a really nice place to stay when on a budget. There is also free Internet, laundry, bikes, etc. If you want to get there, walk up the street from the Kencho-mae monorail station towards Wakasa. After passing Wakasa-dori, turn left at the first crossing without a traffic light (there's a very small sign there that says "BASE").

address: 1-8-15 Kumoji, Naha

A business hotel that is suitable for divers. It has drying space for scuba diving gear and free parking. There is free internet. Room prices include Japanese breakfast. Staff are friendly, though they only speak Japanese.

Osaruno Oyado Naha (Monkeys Inn)

address: Naha-shi, Wakasa 3-24-3

very friendly and clean hostel with English speaking stuff which creates a welcoming and family like atmosphere for all guests. You can use bicycles for free, wash and dry for ¥100 and the hostel is located directly next to the Okinawa ferry port, with connections to the smaller islands near Okinwawa island. Also the host cooks from time to time in the evening for ¥300-400. There's a small beach and you can reach Kokusai dori in ~ 10 minutes. They have dorms and private room.
Cope
Consulates
phone: +81 98-876-4211, +81 98-961-1800 (After hours emergency)

address: 2-1-1 Toyama, Urasoe City
Go next