New Smyrna Beach
New Smyrna Beach
is a city in
Volusia County
,
East Central Florida
. Blue skies meet over of white sand in New Smyrna Beach, consistently voted one of the "Best Beaches". New Smyrna Beach lays claim to the best Florida offers — excellent backwater, offshore fishing, golf, historical sites, cultural events, and eclectic shopping and dining experiences along historical Flagler Avenue and Canal Street. The beach is the "Shark Bite Capital of the World", but don't let that discourage you from visiting the beach and having a good time.
Understand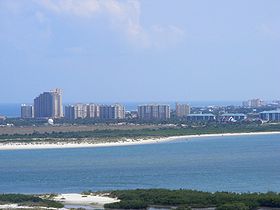 New Smyrna possesses a distinct hometown quality reflected in its cracker architecture, lush tropical landscape and community. Enjoy culinary delights from fresh seafood to steaks and pasta on the waterfront, or under an umbrella at a sidewalk cafe. At the end of the day, retire to a charming bed and breakfast inn, family-size condominium or oceanfront hotel.
Name
Since "New Smyrna Beach" is a mouthful, locals sometimes call it "NSB". It comes from the name of a former European colony in the area, "Smyrnea".
Orientation
New Smyrna Beach is about 20 miles (32 km) south of
Daytona Beach
along
U.S. Highway 1
. The towns of
Edgewater
and
Oak Hill
, and some unincorporated areas of Volusia County, such as Samsula, are considered to be part of the
Greater New Smyrna Beach Area
.
New Smyrna Beach can be divided into in three parts, which are almost like "districts". Here, they're listed going from east to west:
The coast, which is separated from the mainland by the Intercoastal Waterway. Some of it is residential, but a lot of it consists of hotels and resorts that go along the shoreline. On the east side of the coastal island is the beach itself, although in reality, all of the island is a large sandbank. There is a downtown area along Flagler Avenue.
The mainland, which is west of the Intercoastal Waterway and includes the Canal Street downtown area. Like the coast, it's the older side of town, but unlike the coast, parts of the mainland have low population densities, with a few buildings scattered here and there.
The Venetian Bay area, which is west of I-95 and is in many ways like a separate community from New Smyrna Beach. However, Venetian Bay is mostly residential, so it is included with the coastal and mainland sections of the city of New Smyrna Beach. There are many man-made lakes in Venetian Bay, but they are not collectively a "bay" as the community's name implies. There is a downtown for Venetian Bay, but it doesn't have many places to eat.
New Smyrna Beach is part of a group of cities in the
Daytona Beach
area. In the north is
Ormond Beach
; then to the south is Daytona and a couple small, coastal villages; then the city of
Port Orange
; then NSB; and then, finally, in the south, Edgewater. Also, on the coast, to the south of New Smyrna Beach, is parkland (nationally-owned), and farther south again,
Cape Canaveral
and the Kennedy Space Center.
To the east of New Smyrna Beach, there are several miles of forest, and then farther east are the cities of
DeLand
and
Orange City
; these cities are the northern end of the
Orlando
metropolitan area.
Climate
New Smyrna Beach offers a humid, subtropical climate characterized by hot, humid summers and mild winters. Winter temperatures very rarely drop below freezing. The summers are long and hot, with temperatures frequently in the upper 90's F (35-38 °C) in July. Dangers include hurricanes from June until November.
Get in
By plane
Although New Smyrna Beach has a Municipal Airport, it is chiefly used by private aircraft. Commercial flights to this area should be sought arriving to either
Daytona Beach International Airport
(the closest),
Orlando International Airport
, or
Jacksonville International Airport
.
A relatively easy option for getting to New Smyrna Beach is through the Daytona Beach Airport. If you
fly
with Delta, you can go from basically anywhere in the United States to
Atlanta International Airport
; from there, you can get flights directly to Daytona Beach International Airport. Daytona's airport is fairly small and generally not too busy, and it's pretty easy to get a rental car, etc. From the airport, it's a short drive to I-95, and I-95 will take you to New Smyrna Beach (near Venetian Bay).
By train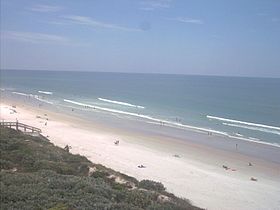 Amtrak
offers the
Amtrak Auto Train
service with its southern Terminus in
Sanford (Florida)
, about 35 miles west of New Smyrna Beach. The Amtrak Auto Train carries passengers and automobiles between Sanford and
Lorton
,
Virginia
, effectively serving as a car-rail link to Florida from the
Washington, D.C.
Metro Area. You can easily drive your car into New Smyrna Beach after departing from the Auto Train.
Amtrak offers regular passenger service with the closest stop being near the city of
DeLand
. This stop is rather remote and is not the best option.
By bus
Greyhound Bus Lines
offers bus service to nearby
Daytona Beach
. Upon arrival at the Daytona Beach bus station, you will need to either transfer to a local Volusia County bus or take a taxicab to complete your trip to New Smyrna Beach.
By car
New Smyrna Beach is easily accessed by car, as Interstate 95 passes through the western side of the city, and
U.S. Highway 1
("Old Dixie Highway") passes through the center of the city. There's also a Florida state road that goes from DeLand to NSB; I-95 intersects this freeway near the Walmart grocery store.
You can't, however, get into NSB by driving along the coastal island, either by going north or south, in the north because the island ends and in the south because the road ends. You have to enter New Smyrna Beach via the mainland. Once you're on the mainland, then you can get to the coast quite easily (see "
get around
" section below).
Get around
By bus
Votran
is the local Volusia County bus service, which also provides a public transit connection to nearby
Daytona Beach
. The buses offer service in New Smyrna Beach, M-Sa 7AM-7PM. Votran is a cheap way to get around and is handicap accessible. The website provides maps and timetables. Buses travel to most sites and places of interest. Cost: $1.75 per trip, or $3.75 for a one-day bus pass (Valid for all routes).
By car
The main road that goes along the beach is A1A. From A1A, numbered streets (1st, 2nd, etc.) go towards the beach. Some have beach parking or lead to the beach itself, so you can drive along it and park on the beach.
A1A comes to a dead end south of NSB. If you travel north along A1A along the coastal part of town, the road eventually turns to the west and goes over a high bridge to the mainland. This route is called the
South Causeway
. There is another, smaller route to the north of the South Causeway, called the
North Causeway
. The North Causeway leads to the Flagler Avenue downtown area.
If you go west on the South Causeway to the mainland, you go onto Florida Route 44, which goes just south of Venetian Bay and then goes toward Deland. Airport Road goes north/south in Venetian Bay.
See
The main sight in NSB is the beach; however, because it is an activity, it is listed in the
Do
section.
Parks
Many historical and cultural sites make New Smyrna Beach noteworthy. From the Turnbull and Sugar Mill Ruins, to the Eldora State House, the area is rich in history.
Flagler Avenue ParkThe Flagler Avenue Park is a popular beachfront park just off historic Flagler Avenue, complete with its quaint shops and restaurants.

address: 4150 Boy Scout Camp Road

Lake Ashby Park is a 124-acre rural setting park in the Osteen area that includes primitive tent camping, playground, volleyball court, nature/horse trails, boardwalks, fishing pier, pavilions with picnic tables and grills. It also offers a free public boat ramp nearby. The park is open sunrise to sunset and offers a play area for children that includes a variety of climbers, swings and ladders.

phone: +1 386 424-2935

Open daily Sunrise to sunset. Perched on 250 acres of pristine land at the northern tip of the New Smyrna Beach peninsula, the area is surrounded by water on three sides. The park consists of five ecosystems (ocean, river, dunes, scrub zone, saltwater marsh). $3.50 per vehicle, $1 per person for vehicles with more than eight passengers.

Sugar Mill Ruins

address: 600 Mission Drive

Doris Leeper Spruce Creek Preserve (County)

address: 1755 Martin Dairy Rd

This secluded wildlife preserve offers miles of lonely trails that lead to sand cliffs that slope gracefully into Spruce Creek. These sand bluffs are among the largest in Florida.
Arts
Named one of "America's Top Small Cities for The Arts," New Smyrna is home to the Atlantic Center for the Arts, an artists-in-residence community and educational facility, the Harris House, the Little Theatre and Arts on Douglas. Frequent arts shows featuring visual and performing arts take place throughout the year.
phone: +1 386 409-0402

address: 310 Flagler Avenue

Galleria di Vetro, a unique experience in glass is a thriving gallery and working studio. The Galleria specializes in architectural installations for both commercial and residential spaces, as well as custom pieces in any form. Featuring live glassblowing demonstrations, classes for all ages and world famous and local artists such as Hans Godo-Frabel, John Blazy, Shane Fero, Kyle Carni and many more.

phone: +1 386 427-6975

address: 1414 Art Center Ave

Founded by local artist Doris "Doc" Leeper, this tranquil artist seminary plays hosts to artists worldwide, and invites them to come and create art at the center. The center itself is an architectural marvel. Donations accepted, but admission is free. Exhibits are always coming and going.

address: 123 Douglas St

An upscale art gallery on Douglas Street.
Do
Above all, go to NSB for the . You can even park on the beach here — drive onto the beach at one of the approved entrances, drive along the designated traffic route that runs along the beach, and park. The rest of the beach is open for activities, although be careful about going into the water — as stated at the beginning of the article, this is the shark attack capital of the world.
Check the tides
before going to the beach.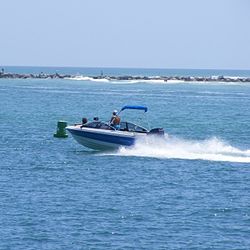 Fishing
Anglers at nearby Mosquito Lagoon have set international records with giant redfish catches. Deep-sea charters leave New Smyrna Beach daily, giving offshore fishers an easy way to wet a line in the beautiful Atlantic Ocean.
Eldorada Charters

phone: +1 386 409-7380

Capt. Brian Clancy is a full-time fishing guide on this Coast Guard licensed, National Park permitted and insured trip, specializing in red fishing. All ages and experience-levels welcome. Call for reservations.

Fishin' Cove Bait & Tackle

phone: +1 386 428-6781

address: 129 N. Riverside Drive

A full-service marina, Fishin' Cove offers river fishing and deep-sea fishing charters and boat rentals.

Floridays Fishing ExcursionsExperience the thrill of the strike, fishing for red fish and sea trout. Fly fishing trips are available. Call for reservations.

Marker 57 at Cameron's Marina

phone: +1 386 428-0201

address: 2001 S Riverside Drive

Rentals include boats for flat bottom fishing. Tackle and bait shop and boat slip rentals.

Fish the Mosquito Lagoon

phone: +1 386 214-3940

Capt. Tony Pantuso is a full-time fishing guide specializing in light tackle inshore fishing for trophy redfish and seatrout.
Golf
Hidden Lakes Golf Course

phone: +1 386 427-4138

address: 35 Fairgreen Ave

New Smyrna Municipal Golf Course

phone: +1 386 424-2192

address: 1000 Wayne Ave

Turnbull Bay Golf Course

phone: +1 386 427-8727

address: 2600 Turnbull Estates Dr

phone: +1 386 424-5775

address: 63 Airport Rd
Horseback riding
phone: +1 386 478-1244

address: 687 N Samsula Drive

Flying B Ranch is a 33 acre horse facility, offering horseback riding and horse boarding.

address: 4311 Pioneer Trail

Pioneer Trail Reserve is a gated community of 21 equestrian ranches in a conservation area. Horse training and riding offered.

phone: +1 386 527-1666

address: 137 State Road 415

Offers horse boarding and riding lessons.
Racing
phone: +1 386 427-4129

address: Corner of State Route 44 and 415

Half-mile race track offers regular schedule of FASCAR (Florida Association of Stock Car Auto Racing) races.
Scuba diving & snorkeling
Sea Dogs Dive Center Guide & Services

phone: +1 386 424-1644

address: 111 Flagler Ave

Provides a 42-ft custom Newton Dive Vessel, New Smyrna Beach's only U.S. Coast Guard Certified dive vessel. Relaxing SCUBA diving for up to 16. Divemaster or instructor on every trip. Full service PADI dive center. NITROX Fill station. Spearfishing specialists. Full range of PADI certifications. Beautiful reefs and countless wrecks. Largest lobsters on the east coast of U.S.
Tennis
Detwiler Park Tennis Center

phone: +1 386 424-2175

Corner of Oakwood & Horton. Offers 5 hard tennis courts.
Boating
address: 156 Hiles Blvd

Hiles Boat Ramp is a concrete single boat ramp off of Hiles Boulevard. It's the perfect ramp for canoes, and those eager to navigate the county's beautiful Intercoastal Waterway.

address: 1151 Commercial Ave

The boat ramp at Lake Ashby Park is open 22 hours a day, seven days a week. The launch site is on Commercial Avenue.
Buy
ATMs can be found throughout New Smyrna Beach. Usually larger hotels and convenience stores will have a "generic" ATM available; however, be forewarned about hidden service fees.
Shopping
Flagler Avenue and Canal Street feature several quaint shops and cafes. It should be no surprise that the second oldest city in Florida is also home to many antique shopping pavilions.
Eat
Coast
phone: +1 386 427-7475

address: 115 Flagler Ave

A healthier foods restaurant with sandwiches, wraps and ice cream.

address: 400 Second Avenue

An institution in New Smyrna Beach that successfully made the change from fans, screen doors and smoked mullet to fine dining, wines, and air conditioning.

Boston's Fish House

address: 1414 South Atlantic Ave

Seafood and Chicken.

address: 3401 South Atlantic Ave

Florida seafood and luscious tropical drinks. Listen to live music while laying around the pool and sipping on a special cocktail.

JBs Fish Camp & Seafood Restaurant

phone: +1 386 427-5747

address: 859 Pompano Avenue

Seafood.

address: 556 East Third Ave

Ambience is unbeatable at the upscale Garlic. Featuring savory tuscan music. Al Fresco dining, and live music most nights.

phone: +1 386 428-1865

address: 101 Flagler Ave

Offers fine dining with a great view of the Indian River.

Ocean's Seafood

phone: +1 386 423-5511

address: 601 East Third Ave

This little place doesn't have a view, but what it does have is the best local seafood around, and at cheap prices to boot. Caught daily in local waters. Only open till 7PM, so get there early.

phone: +1 386 423-5126

address: 600 East Third Ave.

Health food store that offers wonderful organic prepared food to grab 'n' go. Delicious smoothies, wheat grass and vegetable juices available daily. The store also has a full array of grocery items, organic produce, gluten-free products & organic meats.

New Smyrna Steakhouse

phone: +1 386 424-9696

address: 723 East Third Ave
Mainland
Venetian Bay
The restaurants in Venetian Bay are gathered in a plaza area near Airport Road.
phone: +1 386 402-4675

address: 424 Luna Bella Ln #111

phone: +1 386 410-3776

address: 424 Luna Bella Ln #128
Drink
Half Wall Brewery

address: 1889 State Road

The old Gilley's Pub has changed hands many times. It is now owned locally and operating as the "Half Wall Brewery", featuring a wide selection of craft beer and locally brewed favorites.

Sopotnicks Cabbage Patch Bar

phone: +1 386 427-8969

address: 549 Tomoka Farms Road

Biker bar, on the west side of New Smyrna Beach. Popular destination during Daytona Beach Bike Week and Biketoberfest.

phone: +1 386 428-2019

address: 518 Flagler Ave

This place is a beach bar/restaurant, far from fancy, with the oceanfront setting and great cheeseburgers.
Sleep
Budget
Mid-range
Splurge
Campgrounds
Connect
Seven digit dialing
is in effect for local calls in the New Smyrna Beach area. The
local area code
is 386.
New Smyrna Beach Visitors' Bureau

phone: +1 800 541-9621

address: 2238 State Route 44

The official sales and marketing organization for New Smyrna Beach and surrounding area of southeast Volusia County.
Radio stations
There are about 20 radio stations in
Volusia County
.
AM
WSBB, 1230 AM, New Smyrna Beach, Standards
FM
WKTO, 88.9 FM, Edgewater, Religious
WJLU, 89.7 FM, New Smyrna Beach, Religious
WKRO, 93.1 FM, Edgewater, Country
WLGM, 95.3 FM, Edgewater
Go next