Newcastle upon Tyne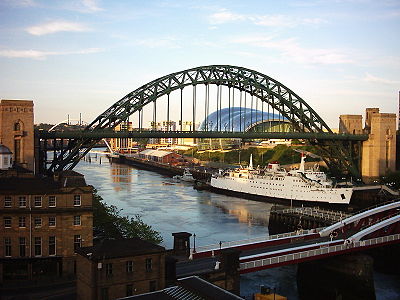 Newcastle upon Tyne
is a port city in the
North East
of
England
. It has a population of 250,000 but including the surrounding urban area its population is almost 1 million. It has among the best nightlife in all of Britain, and has a distinct
Geordie
vernacular.
Understand
Newcastle is a lively and diverse city, known for its nightlife, art, music and sports. Compact, attractive and friendly, it is one of England's core cities and is a centre of culture, architecture and business. Newcastle is a starting point for tours of the Northumberland coast and Hadrian's Wall. The city is also home to the Geordie culture, with a rich heritage of folk music and dance and its own dialect.
History
Newcastle was founded around 2,000 years ago as a Roman fort called Pons Aelius along
Hadrian's Wall
, a ruin of which remains at Segedunum, a short walk from Wallsend Metro station. The city developed into an important port and was at the centre of the Industrial Revolution during the 18th and 19th centuries. As heavy industry declined, Newcastle's fortunes took a dip. The city has now re-invented itself as a cultural centre and Science City, and is possibly one of the trendiest places in the UK.
Climate
Tourist information
All tourist information centres have been closed down, and tourists are requested to do research online instead. It's a good thing you found Wikivoyage!
There is a tourist information kiosk near the check-in hall at Newcastle Airport.
Get in
By plane
Newcastle International AirportFlights are available to the interchange hubs of Heathrow-British Airways, Stansted-FlyBe, Amsterdam-KLM and EasyJet, Paris-Air France/CityJet, Dubai-Emirates and a lesser extent Brussels-Brussels Airlines/FlyBe and Copenhagen-SAS. There are domestic services operated by FlyBe, easyJet and Eastern, as well as low-cost carrier flights to Ireland and many European cities such as Nice, Barcelona and Rome.
Travel options into the city centre include:
Most travellers find that the Tyne and Wear Metro is the best all-round option for getting to the city centre. The journey from the Airport station to the city centre (Haymarket, Monument or Central station) takes about 20-25 minutes and costs £3.40. There is a metro every 12-15 minutes. The first metro leaves the airport M-F at 5:37AM, Sa at 5:42AM, and Su at 6:29AM. The last metro leaves the airport to the city centre at daily 11:12PM. The first metro leaves Central station (city centre) to the airport M-F at 5:58AM, Sa at 6:19AM, and Su at 6:43AM. The last metro leaving from Central station (city centre) to the airport is at daily 11:29PM. The interior of the metro is not wide. If you have big luggage, it may barely squeeze through the aisle on the metro. Your luggage is probably ok if it protrude slightly into the aisle on the first 6 stops heading into the city due to low ridership in this area, but once you get to South Gosforth station and beyond, you may find that your luggage is blocking the way of many passengers.
Bus services are operated by Stagecoach between the airport and the city centre, but the metro offers a much better service if running.
Taxis are readily available outside the airport and it costs about £15 to get to the city centre.
By car the distance to the city centre is and takes up to half an hour to get in. There are several car rental firms with offices in the airport terminal building, although you'll generally pay a premium over city rates. See "By car" for car rental listings.
By train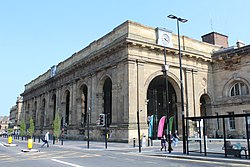 Newcastle Central stationServed by three long-distance rail operators:
The local rail network is operated by
Northern Rail
, with relatively frequent services to destinations such as
Carlisle
,
Middlesbrough
,
Hexham
and
Morpeth
.
Newcastle Central Station is also served by the
Tyne and Wear Metro
system, for frequent services into the Newcastle suburbs, and other destinations in Tyne and Wear.
In the UK, tickets can be bought on the day at the station using cash or debit/credit card, but long-distance tickets are cheaper to book in advance. Times and fares information is available from
National Rail
, +44 8457 484950, or the station booking office.
By car
Newcastle upon Tyne is well signposted from the north, south and west. The city lies at the joining of the A1 (the main East Coast route from London to Edinburgh) and the A69 (a major east-west route to Carlisle and the M6). The A1 bypasses the city to the west.
There are a number of 'park-and-ride'
National Park and Ride Directory
points around the city to avoid the hassle of parking in the city centre. From these points, the Metro or bus will take you into the city for between £1 and £3. Otherwise, there are over 10,000 spaces in the city centre, though for stays of more than a few hours this may prove expensive. Generally, parking in the city centre costs between £1 and £2 per hour, while parking about 10 minutes walk from the centre will set you back about £0.50 per hour.
phone: +61 24 965-0162

address: Newcastle Airport, Woolsington

phone: +44 870 6086350

address: 7 George Street, Newcastle, NE4 7JL

Avis car rentals are also available at the Newcastle airport

phone: +44 191 219-9102

address: 90 Westmoreland Road, Newcastle, NE1 4DZ

National car rental is also available at the Newcastle airport
By bus
phone: +44 371 781 8181

address: Churchill St, NE1 4EE

5 bay coach station served by National Express

phone: +44 900 1600900 (premium rate)

address: John Dobson Street

Discount coach operator - coaches must be booked in advance.
By boat
North Shields
, 7 miles east of the city centre, has a daily
ferry service to Amsterdam
in Holland. Special buses run from the Central Station to the ferry terminal and are charged at £3.50 (one way). Much cheaper are local stopping buses to the Royal Quays shopping outlet down the road or the Metro (15-min walk to Meadow Well station).
Taxis are available from outside the Ferry Terminal operated by
BlueLine Taxis
and
EastCoast Taxis
. A taxi from the Terminal direct into Newcastle city centre is £11.50 for up to 4 passengers.
Get around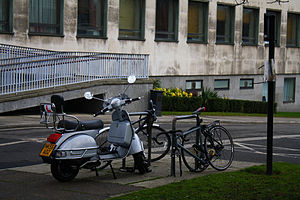 By bicycle
Newcastle is a reasonably cycle-friendly city. There are a number of places to lock a bike up in the city centre and cycle lanes exist (though these are often shared with buses or taxis). A few Metro stations also provide secure storage for bicycles, but only fold-away bicycles are permitted on Metro trains. Unless you're touring the UK on pedal power, the best use for a bike is to explore the Quayside, Ouseburn and Jesmond Dene areas, travel to out-of-town attractions or head off to more distant places such as
Whitley Bay
and
Seaton Sluice
on the coast.
The
Sustrans
National Cycle Network Route 1 (East Coast) passes through Newcastle from the North to the South.
Bicycle hire:
phone: +44 191 256-2266

address: 19-20 Rudyerd St, North Shields, NE29 6RR

phone: +44 191 276-7250

address: Ouseburn, Quayside, Newcastle upon Tyne, NE61BU

A full-service place with a cafe, a shop, a workshop, and a hire with quite a lot of bikes. Definitely expensive, but very good and friendly service: You are really looked after well.

phone: +44 191 427-4615

address: 307-312 South Shields Business Works, Henry Robson Way, South Shields, NE33 1RF

A not-for-profit, community-oriented place which is focused on recycling bikes, but also does bicycle hire. It has not been tested by me (the person who made the entry: I arrived in Newcastle on a Wednesday), but sounds friendly and interesting and, likely, more affordable. The website is rather minimalistic, so calling them might be the best option.
By bus
City Centre
Quaylink
services run every few minutes between the city centre and the Newcastle/Gateshead quayside. Single fares are 80p and the distinctive yellow livery makes the service easy to recognise.
Suburbs
There are 2 bus stations in the city, Haymarket with services to the north of the city and Northumberland. Eldon Square Bus Station mainly serves Gateshead, County Durham and Teeside.
An extensive and efficient network of bus routes radiate out of Newcastle into the surrounding towns and suburbs. Though the services are operated by several different operators they are coordinated by
Nexus
, Tyne and Wear's transport authority. Maps and timetables can be found on the
Nexus website
, though it may be easier to use a personalised journey planner such as
Traveline
.
Bus operators include:
The participating bus operators for the
Plusbus ticket
are: Stagecoach, Go-North East and Arriva.
By foot
Newcastle city centre is relatively compact and is therefore easy to navigate on foot. Many areas are pedestrianised. Being on the banks of the River Tyne, some areas slope quite steeply. Buses and taxis are fairly cheap and plentiful should this pose a problem.
Newcastle and Gateshead walking directions can be planned online with
walkit.com walking route planner
.
By metro
The
Tyne & Wear Metro
is a fast, safe and reasonably cheap way of getting around the city and also to outlying suburbs and surrounding towns including
Whitley Bay
, Tynemouth, North and
South Shields
,
Sunderland
and Newcastle International Airport.
There are two lines: the Green Line runs from Newcastle Airport to South Hylton (in Sunderland) and the Yellow Line runs from St James Park to South Shields via a lengthy loop via the coastal towns of North Shields, Whitley Bay and Tynemouth. Note that the east-west and north-south sections of the Yellow Line cross at Monument Station, so if, for example, you are travelling from St James Park to South Shields, it is much quicker to transfer to the southbound Yellow Line at Monument rather than riding along the entire route. The Green Line shares tracks with the Yellow Line for the majority of the section through central Newcastle and Gateshead.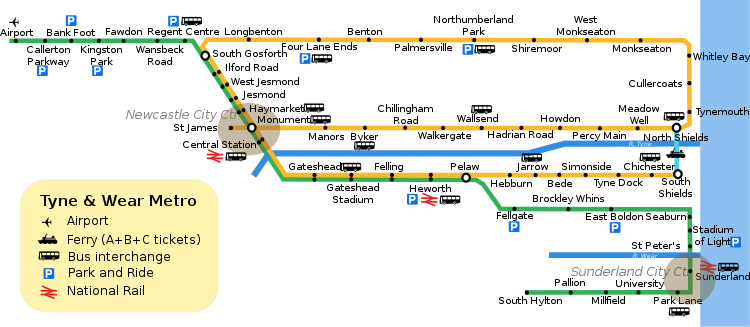 Services run approximately every 6–10 minutes between 6AM and 11PM. Single tickets range from £1.80 to £3.40 depending on the distance travelled, return fares and day passes are also available. The
DaySaver
allows for unlimited travel on one day and costs £2.70 (one zone), £3.70 (two zones) and £4.60 (all zones). Some ticket machines only accept coins (10p, 20p, 50p, £1 and £2) although change is given; most stations have been fitted with new ticket machines that accept notes and credit/debit cards. Although there are no ticket barriers at many stations and hopping (riding without paying) is widespread, it is advisable to keep your ticket handy as trains and stations are patrolled by ticket inspectors. Major stations have automatic ticket gates, but these may be left open at quiet times.
Smoking is banned on the entire system, including open-air stations. However, this rule is often overlooked and it's not uncommon to see people smoking on the trains, particularly late at night, despite the CCTV surveillance cameras.
The
Plusbus ticket
is
not
valid on the Metro.
By train
Regional rail services are regular and offer quicker access to nearby towns such as
Durham
,
Sunderland
,
Hexham
and
Corbridge
. Details are available from
National Rail Enquiries
or
Northern Rail
.
See
North East England has established a reputation as one of the most beautiful regions in Britain. And Newcastle is becoming more and more of a popular tourist destination thanks to regeneration within the city and also its close proximity to areas of outstanding natural beauty such as the Northumberland coastline and the Pennine hills.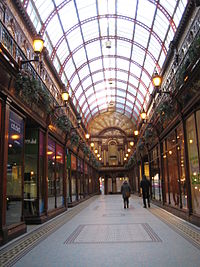 The River Tyne is a short walk from the station, and has a pedestrian quayside path on the north side reminiscent of the Queen's Walk in London. There are also city walks along the river, running from May to November. Information can be found at the Tourist Information Centre, near the Monument Metro station.
The Jesmond Dene is an artificial park around the Ouseburn river, somewhat east of the city centre. It was laid out by captain of industry and inventor Lord Armstrong in the 19th century and later donated to the people of Newcastle. Although funding for its maintenance does not seem to be available in abundance, it truly deserves its designation as an area of outstanding natural beauty. Probably the best place to go if you want to escape from the city and relax, weather permitting.

Tyne BridgeA good example of a compression arch suspended-deck bridge famous the world over.

Gateshead Millennium BridgeAcclaimed worldwide for its physical and aesthetic beauty. Tilting times are announced regularly at the Gateshead Council web site.

phone: +44 191 230-6300

address: The Black Gate, Castle Garth

Remains of the Castle Keep and the surrounding castle garth, the "new castle" of the city's name. Parts of it were built by Henry II between 1168-1178. The original castle was built by the brother of William the Conqueror in 1067. Some of the outer walls were removed to allow the railway through in the 19th century.

address: Grainger Street

A beautifully preserved Victorian shopping arcade, which houses the Tourist Information Bureau and Windows of the Arcade, one of Newcastle's oldest music shops.

Grainger TownThe beautiful and historic heart of the city. Based around classical streets built by Richard Grainger between 1835 and 1842, some of Newcastle upon Tyne's finest buildings and streets lie within the Grainger Town area of the City centre including Grainger Market, Theatre Royal, Grey Street, Grainger Street and Clayton Street. Grey Street was voted as England's finest street in 2005 in a survey of BBC Radio 4 listeners.

Grey's MonumentAt the heart of Grainger Town is a Grade I listed monument to Charles Grey, 2nd Earl Grey built in 1838. The wide base of the monument is a popular spot for people-watching, and often acts as a venue for buskers (most notably Apu with their Andean music), religious speakers and political activists/protesters. These days, unfortunately, people tend to crowd around the monument so much it is nigh impossible to view the plaques.

phone: +44 191 232-1939

Worth visiting during opening hours. The seat of the Bishop of Newcastle.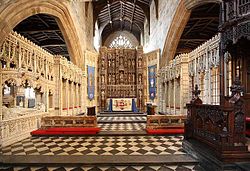 ChinatownWalk around Newcastle's Chinatown centred on Stowell Street in the city centre, it contains many Chinese, Korean and Japanese restaurants and shops, and has its own Chinese arch.
Galleries & museums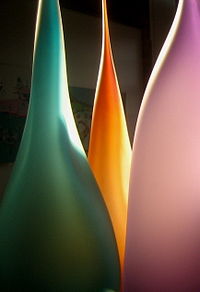 Further afield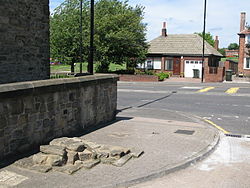 Segedunum Roman Fort, Baths & Museum

phone: +44 191 278-4217

The remains of the Roman fort at Segedunum, a short walk away from the Wallsend Metro stations. In fact many of the signs at the metro station have been translated into Latin, including the aptly named Vomitorium.

phone: +44 191 257-1090

The Tynemouth Castle and Priory is a fortress and religious site that is perched on a rocky headland overlooking Tynemouth Pier. The moated castle-towers, gatehouse and keep are combined with the ruins of the Benedictine priory where early kings of Northumbria were buried.
A modern sculpture designed by Antony Gormley, is just a short drive from Newcastle city centre in Gateshead. It can be seen from quite a far distance (including some parts of Newcastle) whilst travelling to it, which makes it even more enjoyable to some. It is 20 m tall.

phone: +44 191 200-7146

A museum where visitors can re-live the glorious days of the steam railway.
There are remains of Hadrian's Wall, a stone and turf fortification built by the Roman Empire across the width of England, in the west of the city and further out in Northumberland.
Do
A very good source of information on what is going on in and around Newcastle is
The Crack
magazine. It is free and can be found lying around in cafes and bars.
River CruisesCruise from central Newcastle upriver to the countryside or downriver to the sea, or on a shorter Saturday cruise under the Tyne bridges.
Theatre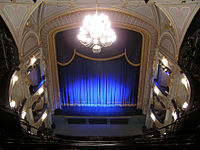 Music venues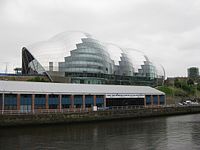 phone: +44 191 443-4666

address: St Mary's Square, Gateshead Quays, Gateshead

Attend a concert at this contemporary venue in Gateshead, opened in 2004. It is a short walk to the other side of the Tyne. If you can't go to a concert, just go in as the building is certainly worth seeing, there are frequently informal events in its atrium, and there is an excellent cafe. The building was designed by Norman Foster.

phone: +44 844 493 4567

address: Arena Way

This is the largest music venue in Newcastle actering for 12,000 during concerts, situated in the south of the city centre near the Centre for Life.

phone: 0905 020 3999 (premium rate)

address: Westgate Rd

A large venue featuring big-name musical acts from the UK and around the globe.

phone: +44 191 277-8030

address: Northumberland Road

A venue right in the heart of the city hosting concerts, comedy acts and musicals.
Northumbria and Newcastle University have large venues in their unions' for mainstream and indie acts alike and attract some of the biggest names from across the UK and abroad.
For smaller, indie gigs check out Head of Steam, The Cluny and Tyne Bar
Festivals
address: Town Moor

The largest travelling fair in Europe, taking place most years in late June, but check before travelling.
The annual MELA held every August bank holiday weekend is a celebration of Indian, Pakistani and Bangladeshi cuisine, music and art.
The city hosts popular Chinese New Year celebrations every year.
At Christmas the city centre has decorations, the large department store Fenwick hosts a famous window display and there is a Continental Christmas Market.
The city hosts a summer gay pride event called Northern Pride.
Sport
Watch football (i.e. soccer): Newcastle United play at , half a mile north of the railway station. They play in the Premier League, the top tier of English football.
Watch Rugby Union (15-a-side) at Newcastle Falcons. They were relegated in 2019 so they now play in the Championship, the second tier of English rugby union. Their home ground is in the north of the city.
Watch Rugby League (13-a-side) at Newcastle Thunder, who also play at Kingston Park. They're in League One, the third tier of UK rugby league.
Watch basketball at Newcastle Eagles who play at Northumbria University's "Sport Central".
Go to the races at in the north of the city at High Gosforth Park NE3 5HP. It's an artificial Tapeta surface, with flat-racing held year-round and jumps races Oct-March. It's a mile north of South Gosforth metro station.
Watch motorcycle speedway at Newcastle Diamonds. Their home track is in Byker in the city's east end.
Go to the dog track, also at Brough Park - the dogs chase round the outer track, the bikes race within.
Watch athletics at , just across the river from Newcastle. The multi-use stadium hosts many international league rugby matches. Many of the world's top athletes compete at Gateshead, which hosts the British Grand Prix. In 2006, Asafa Powell equalled the then world record of 9.77 seconds here.
Watch cricket at in Chester-le-Street, 10 miles south. This is home to Durham County Cricket Club, one of the 18 "First Class Counties", the top tier of English cricket. County matches normally last 3-4 days. The stadium also hosts international or "Test Matches", lasting up to five days. The stadium is 200 yards from the railway station, frequent trains take ten minutes from Newcastle.
Cinema
Hadrian's Wall
Daytrip to Hadrian's Wall: Take bus AD122 from Central Station at 9:30AM to Chester Roman Fort (£4.50). Visit the Roman fort and museum (Entrance fee adults £5.00/concession £4.50), then hike on the Hadrian's Wall Trail to Housesteads. Visit the Housesteads Roman Fort and museum (Entrance fee adults £5.00/concession £4.50). Walk to the road (entrance to parking lot) and flag down the bus AD122, which passes here at 17:34 back to Newcastle (£5.50, attention, this is the only one direct to Newcastle).
Learn
There are two universities and a college in Newcastle:
phone: +44 191 222-6000

One of the most important and respected universities in the UK and Europe, near the city centre. An easy walk from the Haymarket metro station, their small Museum of Antiquities is open to the public.

phone: +44 191 232-6002

The Poly; with more of a focus on vocational courses such as fashion, design and IT, also near the city centre. It also incorporates Newcastle Business School. The Northumbria University Student Union is a popular venue for visiting bands.

phone: +44 191 200-4000

A large campus on Rye Hill in the Elswick area west of the city centre. It features purpose built facilities for engineering, sport, performing arts, food and leisure, science as well as various A level courses.
Work
As with the rest of the UK, European Union nationals have the right to work without a UK work permit, but most other nationalities require one. There are a lot of call centres in and around Newcastle which provide an easy supply of short term work. You may find employment in Newcastle's many pubs, clubs and bars.

Buy
Newcastle is the top shopping destination in the North East with a multitude of shops ranging from high-street department stores to designer boutiques.
Northumberland StreetNewcastle's main shopping street (pedestrian zone) is known as the "Oxford Street of the North." Shops include Next, HMV, Marks and Spencer and the flagship Fenwick department store, the most successful independent department store outside London. Outside of the capital, the area is the most expensive place to own a shop.

Old George Yard

phone: +44 191 281-0609

Features design stores and vintage clothing shops.

Ophelia Boutique

phone: +44 191 281-0609

address: 3a Clayton Road, Jesmond

A boutique that offers fine cashmere clothing and luxury lingerie.

Grainger MarketA restored indoor market dating from 1835. It is a lively working market that includes the Victorian Marks & Spencer.

Eldon SquareShopping centre is in the centre of Newcastle, boasting a wide array of shops and is undergoing major expansion. Home to John Lewis and a flagship Debenhams department store.

Metro CentreA 15-minute bus or train ride from the city centre to Gateshead. Constructed in the 1980s and expanded in the early 1990s and again in 2005, this is Europe's largest shopping centre and leisure complex. Flagship stores include Marks and Spencer, Debenhams and House of Fraser. Parking here is plentiful and free, but traffic can be heavy, so make use of the frequent public transport links. Despite its name, the Metro Centre is not served by the Tyne and Wear Metro, only by national rail.

Royal QuaysAn outdoor complex consisting of outlet stores in nearby North Shields with a range of shops. It is accessible by walking from the Meadow Well Metro station, but has good bus services and is next to the Ferry Terminal.

Farmer's MarketAn outdoor food market with local products that are raised, grown or produced within 50 miles of the location of the market.

There are five department stores: Fenwick (one of the largest department stores outside of London), John Lewis (still popularly referred to as Bainbridge's), Debenhams, Marks & Spencer and TJ Hughes.
Eat
Newcastle is home to a thriving and creative dining scene that has something to offer to just about any budget.
Budget
Newcastle has plenty of restaurants to suit those with a tighter budget. Look in the Quayside or near Central Station for a good deal. There are also many takeaways in Newcastle upon
Tyne
which will offer a meal for even less money, usually of the same quality standards. Expect to pay £8-15.
Francesca's

phone: +44 191 281-6586

address: 134-136 Manor House Road

Fantastic and cheap Italian in Jesmond.

phone: +44 191 232-4366

address: 61-65 High Bridge

Another great Italian joint on High Bridge that offers free Italian lessons.

Uno's Restaurant

phone: +44 191 261-5264

address: 18 Sandhill

Yet another Italian offering, this one in Quayside.

phone: +44 191 261-0555

address: 21 Leazes Park Rd

Spanish restaurant serving up tapas, paellas, vinos and of course, sangria. Sometimes features flamenco nights; check website for scheduled events.

phone: +44 191 232-5379

address: 26 Cloth Market

Old-fashioned Indian curry house with specials that include a starter, curry, rice and a cup of coffee for under £10.

phone: +44 191 261-8868

address: 92-98 Newgate Street,

Chinese all-you-can-eat buffet, offering a choice of over 60 dishes.
Stowell Street — In the city centre you can find Newcastle's Chinatown which contains many Chinese, Korean and Japanese restaurants.
There are lots of cheap and cheerful restaurants around the
Bigg Market
, most doing happy hours for around £6.50 for a three course meal. Mostly Italian and Indian cuisine, but also Greek, Vietnamese and Lebanese options available.
Mamma Mia, Pudding Chare, Bigg Market +44 191 232-7193 offers cheap and cheerful cuisine. Happy hours every week night and weekend lunchtimes, great pizzas and pasta
Al Basha, Bigg Market +44 191 222-1303 Good Lebanese food including great kebabs. All you can eat buffet available if you have a bottomless pit of a stomach. No booze though!

Hollie's Deli

address: 69-71 Adelaide Terrace, Newcastle upon Tyne NE4 8BN

A very authentically local deli where you can have breakfast and get sandwiches for a very modest price. Very friendly staff and owners. A good tip if you happen to be in Benwell anyway.

Fanciulli's Deli

address: 179 - 181 Westgate Road, Newcastle upon Tyne, NE4 6AA

One of the few places in Newcastle where you can get Italian pasta at snack bar rates.

phone: +44 191 261-7769

address: 28 Ridley Place, NE1 8JW

Absolutely fantastic Mexican food place, serving everything from churros, quesadilla and of course, burritos. Sit in or take away. Burritos roughly £5 each, well worth the money as they come packed full of meat and veg. Veggie options include halloumi and squash fillings.
Mid-range
phone: +44 191 221-0120

address: 10 Dean St

For well-priced, freshly prepared pizza and a simple Italian menu and wine list.

Cafe Royal

phone: +44 191 232-0664

address: 8 Nelson St

A casual yet elegant eatery that serves up European fare with an emphasis on organic and seasonal ingredients. While the food lives up to the name of the cafe, the prices are actually lower than one might expect.

Zizzi

phone: +44 191 261-8360

address: 42-50 Grey St

Italian food served in a charming environment.

phone: +44 191 260-3533

address: 42 Grey St

Tapas and other Spanish cuisine in an informal setting.

phone: +44 191 232-5533

address: 33 Dean St

The Italian food at this eclectically decorate and very popular restaurant often commands a line out the door. Book in advance.

phone: +44 191 221-1240

address: 1 Market Ln

Imaginative Mediterranean cuisine.
Splurge
Drink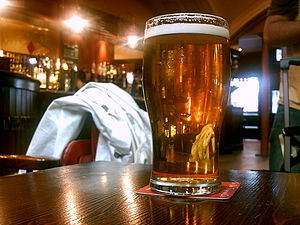 Newcastle is (in)famous for its culture of social drinking, and is a popular destination for hen and stag parties, hence all the friendly-mad people dressed-up in fancy dress in the middle of Winter. No trip to
Nukie
would be complete with a night out on
the Toon
.
The
Bigg Market
, the
Quayside
and the
Central Station
area with its "Diamond Strip" of new upmarket bars, are the centres of nocturnal activity in Newcastle, though you'll find a wealth of bars and pubs all around the city. Popular clubs include
Digital
in Times Square,
Liquid/Envy
near Northumberland Street and
Tiger Tiger
in
The Gate
leisure complex.
Newcastle is home to rather commercialised
Newcastle Brown Ale
, called by the locals
Broon
,
Nukie
or '
Dog'
. There are a significant number of less well-known breweries producing real ale that is widely available and of good quality. Local bewers to look out for include Mordue, Wylam and Big Lamp.
Bigg Market
A no-holds-barred area where you won't find much in the way of culture, but you will find a lot in the way of drink. A selection of bars are as follows:
Central Station
Central Station is the central stop to start out a night of drinking.
Quayside
A pub crawl favourite among young revellers, Quayside is packed full of bars, including:
Ouseburn
A few laid-back alternative bars are based here:
Jesmond
A trendy area, with many bars connected to hotels and what tends to be a more upmarket local clientele.
Centre for Life/Pink Triangle
Newcastle has a thriving gay scene around the Centre for Life and the Metro Radio Arena. The pubs and clubs in this area are generally lively, colourful and friendly to all persuasions.
Other assorted bars
Beyond the main pub crawl destinations, there are plenty of bars and pubs all over Newcastle, including:
Sleep
Budget
Mid-range
phone: +44 871 222 0028

address: Ponteland, Woolsington

A business hotel equipped with wireless internet and a 400-person conference hall.

The Imperial Hotel

phone: +44 191 281-5511

address: Jesmond Rd, NE2 1PR

phone: +44 191 224-685

address: Waterloo Square St. James Blvd, Newcastle, NE1 4DN

Hotel Novotel Newcastle Airport

phone: +44 191 214-0303

address: Ponteland Road Kenton, NE3 3HZ

Rooms start at about £80

Newcastle Marriott Hotel MetroCentre

phone: +44 191 493-2233

address: Gateshead, NE11 9XF

Overall, the hotel delivers the comfort and convenience one can expect from a large chain hotel at the price.

phone: +44 191 281-3363

address: 2 Rosebery Crescent, Jesmond, Newcastle Upon Tyne, NE2 1ET

Boutique hotel in Jesmond, 20 minutes' walk from city centre

phone: +44 191 232-0781

address: Neville St, NE1 5DH

The Royal Station hotel was opened by Prince Albert and Queen Victoria in 1858. Victorian architecture on the outside, the interior of the hotel has been refurbished and caters to those on business and pleasure travels.

phone: +44 870 333 9142

address: Thistle Newcastle, Neville Street, Newcastle, NE1 5DF

phone: +44 871 984 6164

address: Forster Street, Quayside, Newcastle, NE1 2NH

The listed location is closest to the city centre. If full, check the additional 3 locations dotted about the Newcastle/Gateshead area.

phone: +44 191 233-1010

address: Castle Garth, NE1 1RQ
Splurge
Connect
Telephone
Newcastle's local telephone code is 0191, the telephone code for the UK is +44.
Internet
If you don't have a smartphone or tablet, internet access is not easy to come by. At the central library, they will create a guest account for you so you can go online, Another possibility would be
Castle Computer Repairs
in Benwell (133 Adelaide Terrace, Benwell, Newcastle, NE4 9JP), who offer internet access at about ₤2 an hour. (They do not advertise this service.)
Stay safe
Newcastle is generally quite a safe city to stay in. As with all other cities around the world, one needs only to use one's common sense and to keep a low profile. Beware of the usual nuisance of petty theft in crowded places. The whole city can get rowdy on Fridays and Saturdays but is still quite safe. Take care after a big football match; though there has been no significant violence for some years, emotions tend to run high amongst supporters. It is a good idea not to wear the colours of
Sunderland
football club when in central Newcastle, and vice-versa so as not to attract any unwanted attention. Also, confusing a Geordie and a Mackem (a Sunderlander) could potentially lead to some abuse and is easily done.
Still, the crime in this city is generally lower than other cities the same size in Britain, but some inner-city areas in the west and east ends are best avoided at night, but those areas are far from any tourist attractions.
Cope
Newcastle folk are generally very friendly and safe. In fact, Newcastle is renowned throughout Great Britain for its 'family-like atmosphere' and can totally shatter the classic stereotype of 'reserved English' . A peculiarity among Geordies is that they can be found to wear t-shirts and mini-skirts in the middle of freezing winter, so just go with the flow - tourists are spotted by how much clothing they wear but will probably be most welcomed with a big smile or a kiss.

Go next
Newcastle is in the heart of the North East region, renowned for its natural beauty and historical monuments. Popular tourist destination outside the city include: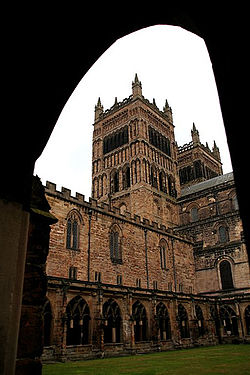 Alnmouth and Alnwick — The historic town of Alnwick is about a one hour drive north of Newcastle. Alnwick Castle, used in numerous films, notably the Harry Potter films and Robin Hood with Kevin Costner, is worth a visit. The castle is also home to the Alnwick Gardens. Bus services to Alnwick depart from Haymarket and are operated by Arriva. The train can also be used from Newcastle central station, but only as far as Alnmouth station, where a connecting shuttle bus is provided to Alnwick town centre. The shuttle departs shortly after a train arrives, but if you've time to spare, you could take a look at the picturesque village of Alnmouth, which is home to several traditional British pubs and small arts and gift shops.
Durham — The cathedral city of Durham is a roughly 15 minute train ride from Newcastle Central Station. Durham Castle and Durham Cathedral are the main attractions, and together are one of the UK's World Heritage Sites. Durham University, on whose grounds the Castle sits, is also worth a visit.
Beamish Open Air Museum — About 25 minutes by car, or 50 minutes by bus, is the Beamish museum. Beamish tries to show what life was like in a typical northern town in the early 20th century — much of the restoration and interpretation is specific to 1913. Aside from the main town however there is also the manor house and the railway which are based on 1825. Tram and bus services operate around the museum, and there are a number of interactive displays and tours such as a dentist surgery and coal mine.
Rothbury and Cragside — The attractive village of Rothbury and the historic house and grounds at Cragside are also worth a visit. Cragside was the first house in the world to be powered completely by electricity. A special bus service operates from Newcastle city centre during the summer, details are normally posted on the Northumberland County Council website. Otherwise, either can be reached in about 40 minutes from Newcastle by car.
Hadrian's Wall — There are many sites along Hadrian's Wall which are easily accessible from Newcastle. A special bus (number AD122) runs from Newcastle along the length of the Wall's path. The bus service runs year-round, with a tour guide on Sundays and Public Holidays during summer months. A reduced service operates during the winter, check with the operator, Nexus, before travelling.
Hexham and Corbridge — The historic town of Hexham is about 30 minutes by car or train, and 40 minutes by bus. The smaller village of Corbridge is slightly closer, but can be used an intermediate stop on the way to Hadrian's Wall sites such as Vindolanda and Housteads. Both Hexham and Corbridge sit on a section of the River Tyne.
Kielder Water — Sitting within the Northumberland National Park, about 1 hour 45 minutes drive from Newcastle is Kielder reservoir and forest. A number of activities are possible here such as abseiling, canoeing, hiking and mountain biking. A special bus service operates from Newcastle city centre during the summer, details are normally posted on the Northumberland County Council website.
Northumberland Coast — There are several beautiful villages and coastlines along the Northumberland coast which are well worth a visit. Warkworth and Bamburgh are particular noteworthy for their castles and tea rooms. Both are easily accessible by car, or by bus from Newcastle Haymarket. Druridge Bay country park offers one of the most outstanding beaches in the country, and includes a lake, which is often used for watersports. The holy island of Lindisfarne is easily accessible from Bamburgh.
Tynemouth — East of Newcastle, set along the mouth of the river Tyne, Tynemouth is easily accessible by Metro, and boasts an impressive Priory, some nice shops, tea houses and beautiful beaches, as well as a variety of bars, cafes and restaurants, ranging from traditional pubs to upmarket restaurants and trendy wine bars. Tynemouth long sands even has a cafe on the beach! Perfect for a warming hot chocolate in the winter, or summer ice creams!
Wet-n-Wild Water Park — in nearby North Shields, near the International Ferry Terminal, is the UK's largest water park, Wet-n-Wild. The park is indoors so there's no need to worry about bad weather!