Newfoundland and Labrador
Newfoundland and Labrador
is one of the
Atlantic Provinces
of
Canada
.
Newfoundland
is an island;
Labrador
is an adjoining mainland coastal region which abuts
Quebec
. Newfoundland is fairly lightly populated, but Labrador is extremely sparsely populated. Both Newfoundland and Labrador are famous for their rugged scenery, cool wet maritime climate, and long history separate from Canada.
Regions
from northwest to southeast
Towns and cities
- the provincial capital and largest city in Newfoundland. The city is known as the one of the oldest in North America and has one of the most lively City Councils in the world. The city is notable for the natural harbour which has provided shelter from the North Atlantic for more than five hundred years.
- C.B.S., the largest town in Newfoundland, on the shore of beautiful Conception Bay.
- the pulp and paper centre of Newfoundland and a major transportation hub for the region.
- this town grew up around Gander International Airport which developed into one of the most import airfields in the world during the Second World War.
- home of the Salmon Festival, Grand Falls-Windsor is Central Newfoundland's largest town.
- One of the remaining few military bases in the province. Established in the World War II era (Goose and Gander were refuelling stops for warplanes en route to Europe from Canada and the US), it had a little-known population of 10,000 U.S. citizens at the height of the Cold War and was home to large numbers of aerial refuelling tankers of the United States Air Force. International NATO training activity at Goose Bay ended by 2006, but a hundred troops remain stationed here.
- home to the largest open pit iron ore mine in Canada. Vast wilderness surround this modern, booming town. Together with its twin town Wabush, makes up the Labrador West region of the province.
- the second largest city in Newfoundland which has grown up on the western edge of St John;s.
- two islands that make up a scenic fishing town in Notre Dame Bay north of Lewisporte and Gander.
Understand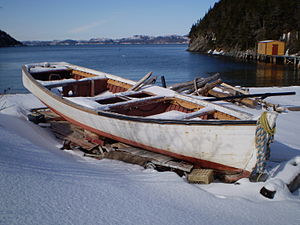 There are many extraordinary things about Newfoundland: the rugged natural beauty of the place, the extraordinary friendliness and humour of the local people, the traditional culture, and the unique dialect.
Newfoundland was the home of the now-extinct Beothuk indigenous people, while Labrador is still home to the forest-dwelling Innu and the barren-dwelling Inuit, who are not related. Newfoundland was first discovered by Europeans in about 1000AD by the Vikings, who settled briefly but soon moved on. In 1497 Italian explorer John Cabot may have discovered Newfoundland, and claimed it for England. Both Newfoundland and Labrador soon became popular places for European fishermen and whalers exploiting the Atlantic coast to come ashore for supply and rest. Newfoundland was the first overseas outpost of the British Empire: Sir Humphrey Gilbert landed in St John's in August 1583, and took possession of the island for the British, who were slow to populate the island, however. The small French presence on the island was mostly eliminated by 1760. During the 19th century, Newfoundland received an influx of Irish settlers, adding another layer to the present-day character of the island in terms of its unique regional accents and musical traditions. Newfoundland chose not to join the Canadian Confederation in 1867, and became a self-governing colony, and by 1907 a Dominion, legally equivalent to Canada, Australia, and New Zealand.
Newfoundland was devastated by huge losses of young men during the First World War and an economic crisis during the Great Depression, and voluntarily gave up its independence to Britain in 1934 in exchange for a debt bailout. This situation ended in 1949 when Newfoundlanders and Labradorians narrowly voted in a referendum to join Canada as the tenth province. Newfoundland experienced another economic crisis in the later twentieth century. Stocks of the all-important cod fish collapsed and the Canadian government declared a moratorium on fishing for that species in 1992, ending the province's largest and oldest industry overnight. Likewise the seal hunt, another major industry, has been under threat due to anti-fur boycotts in Europe and elsewhere. Newfoundlanders have been emigrating to mainland Canada in large numbers for generations. But offshore oil and gas drilling, inland mining and hydroelectricity, and tourism have recently taken on a greater role in the economy, making Newfoundland and Labrador a net payer into the Canadian interprovincial transfer system for the first time ever in 2008.
The beauty of Newfoundland can be found on the rocky coasts of the island and the relatively new, and stunningly beautiful East Coast Trail, but this is a truly coast-to-coast kind of place. There's much to see in the Tundra of Labrador (often called "the Big Land"), the "mini-Rockies" of the West Coast's Long Range Mountains and Lewis Hills, the historic Avalon Peninsula, home to the capital of
St. John's
. Also don't underestimate the power of the largely uninhabited Newfoundland interior. There is a raw, untouched quality to the entire place, especially where water meets rocks. Adventure racer Mats Andersson has described it as a mix of "Patagonia,
Sweden
,
New Zealand
and other countries from all around the world."
As for the people, everyone talks to everyone; indeed, everyone helps everyone, and everyone knows everyone (people often can tell what part of the island someone is from by their last name).
Newfoundlanders are known for their distinctive manner of speech. Believe it or not, they speak dialects (that's right, not accents) that are sometimes unintelligible to "mainland" Canadians - especially in outports such as
Burgeo
. Its roots (while still North American English) are mainly Irish, English and French, and the language has evolved and developed in semi-isolation for about 500 years. The Dictionary of Newfoundland English is about the size of a standard English dictionary. It is immediately noticeable to most visitors, or "Come-From-Aways" as they are occasionally called, that the syntax and grammar varies slightly. As for the accent, it varies from district to district in the province. As Canadian author Douglas Coupland puts it in Souvenir of Canada, Newfoundlanders "speak in a dialect that can rival Navajo for indecipherability - that is, when they really ham it up...."
Newfoundlanders pronounce Newfoundland to rhyme with 'understand,' placing emphasis on -LAND, not New or found-. It sounds something like "newfin-LAND." Canadians outside of the Atlantic provinces (therefore, not including Prince Edward Island, New Brunswick and Nova Scotia as well as Newfoundland) and tourists are noted for their pronunciation of Newfoundland as "new-FOUND-lind", "NEW-fin-lind" or "NEW-found-lind."
Two "traditions" persist with a visit to Newfoundland—kissing the cod and the "screech-in." (Both were actually enacted by Ben Mulroney in the
Canadian Idol
television show while he visited Newfoundland, demonstrating how widespread these activities are thought to be.) These "traditions" are little more than tourist activities invented by locals for a laugh. The tourists found them enjoyable, and now they are becoming extremely common. Commercial tours will often include these activities, concluding them with a certificate proclaiming the participant an honorary Newfoundlander.
the "Screech-in"- The most famous of newcomer traditions, mainlanders and visitors to the isle must drink a shot or glass of Screech (a brand of Jamaican Rum famous to Newfoundland). Take this all in good humour, but don't be surprised if you don't like the taste; the name has good meaning.
Kissing the Cod- As well as being "Screeched in", occasionally visitors will be coaxed into "Kissing the Cod". The visitor must kiss a codfish, emblem of the historic fishing industry, after arrival. While this does happen occasionally, it is usually a humorous part of a guided tour or similar event. The use of an actual fish is rare, though, especially since the introduction of the cod moratorium. Kissing a real codfish is discouraged by many, not to mention possibly unhygienic, so an imitation cod, made of wood, plastic, or rubber is used.
Genuine traditions practised in Newfoundland include celebrations of: "Bonfire Night", with roots in the English "Guy Fawkes Night"; and "Old Christmas Day" which is the twelfth night of the Christmas season. The latter of these is also associated with the tradition of "Mummering" or "Janneying" which is still practiced in several other parts of the world as well.
Get in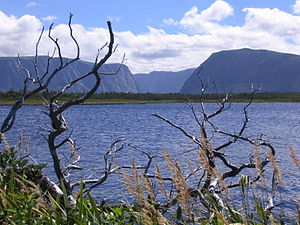 By plane
Flights from major centres in
Ontario
,
Quebec
and the other
Atlantic Provinces
arrive at
St. John's airport
several times per day.
Flights to
Stephenville
from Toronto are available during the summer months and allow easy travel to the nearby city of
Corner Brook
. Stephenville also has daily service within the province.
Flights to
Deer Lake
from mainland Canada allow easy access to Corner Brook. From Deer Lake, you will need to rent a car, or catch the bus or taxi to reach
Corner Brook
.
Daily flights to
Wabush
and
Goose Bay
(Labrador) and to
Gander
are also available.
In the summer season, there are daily flights between St. John's and London Heathrow on Air Canada, and to Dublin on WestJet, probably the shortest Trans-Atlantic regular flights available.
Air St-Pierre
connects St John's to the nearby islands of St-Pierre and Miquelon. Canadian citizens may enter with photo ID and proof of citizenship. US and EU citizens will require passports. Americans require their passports to enter France and Europeans require theirs to pass through Canada.
By car
The only outside road to reach the province overland runs from Quebec into Labrador; north of
Baie-Comeau
and Manicougan's "Manic 5" hydroelectric development a long, isolated gravel road (
Quebec Route 389
) leads northeast to
Labrador City
and the
Trans-Labrador Highway
. The road from Labrador City through
Churchill Falls
to
Goose Bay
was completely paved by 2015. Gravel highway onward to Cartwright and
Port Hope Simpson
opened in 2009; there are no services (or fuel) for more than 400km on this road. One may continue to drive all the way to Blanc Sablon, Quebec and take the 2-hour ferry crossing to the island.
If the island is your destination, you must take a ferry. From
Port aux Basques
to
Corner Brook
, it's just over 200 km of driving, while the drive to
St. John's
is a trek of over 900 km. In the summer, a drive from
Argentia
to
St. John's
will take you through about 130 km of the province.
It is not possible to reach
Blanc Sablon
, Quebec (the border town near Forteau, Labrador) on any direct overland path from Sept-Îles as the roads simply do not exist in that section of the province. There is a coastal boat from Rimouski-Sept-Îles-Anticosti but its route stops in every outport and takes half a week.
By bus
Interprovincial bus passengers must transfer from bus to ferry at
North Sydney NS
. On arrival to the island, one may board DRL Coachlines Ltd, which runs daily scheduled passenger coach services from
Port Aux Basques
to
St. John's
. DRL's head office is in
Dartmouth
,
Nova Scotia
(toll-free at +1-888-738-8091); there's also an office in
St. John's
. Another bus service from
Port Aux Basques
to
St. John's
is Newhook's Transportation at +1 709 726-4876.
By train
A train on the Quebec, North Shore and Labrador line (
Sept-Îles
-
Schefferville
,
Quebec
) makes one stop in Emeril, Labrador. This isolated line is not connected to the main North American rail network.
Elsewhere, train is no longer an option. The sarcastically-named "Newfie Bullet", a narrow-gauge line across the island, ended its long career in 1988 with the rails removed and the right of way converted into the T'Railway Provincial Park, part of the
Trans Canada Trail
. Its route was largely paralleled by the later
Trans-Canada Highway
.
By boat
Marine Atlantic ferry service runs from
North Sydney
to
Port aux Basques
(on the west coast of the island) throughout the year, and to
Argentia
(about 90km from
St. John's
) during the summer. The duration of the ride depends on the weather and water conditions, so patience is of the essence. It is advisable to call Marine Atlantic ahead of time to make a reservation (call +1-800-341-7981). If you are bringing a U-haul or something other than a passenger vehicle, you will likely be considered a Commercial Vehicle. Commercial Vehicles can only make reservations by doubling the usual fare. It is cheaper to simply take your number, wait in line and hope for the best.
In general, Marine Atlantic Ferries cater to your every whim, carrying food, alcohol, gift shops, cinemas and sleeping accommodations. There will be lots for you to do.
A ferry links St. Barbe (on Newfoundland's
Great Northern Peninsula
) and
Blanc Sablon
(on
Quebec
's border with Labrador) (call +1-866-535-2567). In winter, the southern terminus of this ferry is
Corner Brook
.
A
passenger ferry
links
Fortune
, Newfoundland & Labrador to
Saint Pierre and Miquelon
(
France
). It is no longer possible to bring a vehicle to the French islands, as the car ferry formerly at spmexpress.net (+1 709 832-0429) is no longer running.
Get around
By car
If you have access to a car, rental or otherwise, this is often the best way to travel the province. Public transportation options are usually limited, especially away from the larger centres, and having a personal vehicle will allow you to reach the nooks and crannies that really make the Newfoundland & Labrador experience an amazing one. Except for the
Trans-Canada Highway
(Port Aux Basques–St. John's), roads in Newfoundland & Labrador are among the worst in
Canada
, so watch out for potholes and heaved pavement.
If
Labrador
is your destination, bring an extra can of fuel, a survival kit, food and supplies. The
Trans-Labrador Highway
is the most challenging stretch of road in the province, and you will need to rely on your own ingenuity if you run into trouble hundreds of kilometres from the nearest settlement, with no
mobile telephone
coverage anywhere outside Labrador City, Churchill Falls and Goose Bay. Ensure that your vehicle is in tip-top shape and be prepared to wait several hours in sub-Arctic conditions for assistance in an emergency.
With the exception of the northern territories, fuel in rural Labrador is the most expensive in Canada.
By boat
Newfoundland historically was established as a series of outports - coastal subsistence fishery villages reachable primarily by sea. Many are now accessible from the
Trans-Canada Highway
or
Trans-Labrador Highway
. Hundreds more were abandoned in the post-WWII era or became
ghost towns
, but some remain viable and reachable only by ferry. Many are islands or are in remote locations where the cost of road-building is prohibitive.
Access from Newfoundland to
Labrador
is primarily by a ferry which runs between Newfoundland's
Great Northern Peninsula
and
Blanc Sablon
,
Quebec
. There's also a Labrador coastal ferry which runs seasonally from
Lewisporte
to a long string of tiny communities as far north as
Nunatsiavut
:
The following is a list of all other ferry services available in Newfoundland and Labrador:
By bus
By plane
If you wish to move about the province by plane, you can usually do so with a few different companies. Try
Air Canada
,
Provincial Airlines
and
Air Labrador
.
See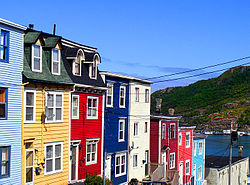 Visit Gander and its International Airport, once the refueling stop for nearly all international flights from Europe to North America
Historic Signal Hill fort and walking trail (watch the sun come up over the ocean) in St. John's
Whale watching boat tours
Iceberg boat tours at Twillingate, northwest of Gander. Much better viewing than from Avalon Peninsula
The Battery - the oldest part of St. John's
Cape Spear (the most easterly point of North America and very windy too!)
The East Coast Trail (stunningly beautiful rugged hiking trail - hike and camp for days along cliffs and through forests)
Bell Island
the downtown row houses and natural harbour of St. John's
Puffins, whales, caribou, moose, eagles, otter, and other wildlife all over the province
the many small communities along the Labrador coast
Fishing stages, wharves, and the remnants of the province's long history of fishing
Visit St. Lawrence and see the site of the shipwrecked USS Truxtun and USS Pollux
Go 'Around the Bay', a term Newfoundlanders use to talk about travelling around the numerous outport communities. Often this is limited to those on the Avalon Peninsula in the area between Conception Bay and St. John's. Points of interest, historical and aesthetic, along the way: Bay Bulls, Roaches Line, Brigus, Cupids, Bay Roberts, Harbour Grace (the original capitol of the island), Carbonear, Victoria - Note: the new highway now runs around the townships, making access to Bay Roberts and even as far as Carbonear faster and easier, but you will miss out on some interesting scenery and historical places by taking the highway.
After you go 'Around the Bay', and end up in Carbonear or Victoria, spend the night at a local inn. Get up the next day go "Around the Belt", a term Newfoundlanders use to describe travelling down the shore, up north around the tip of the peninsula, down the other side, and across the Heart's Content Barrens. Points of interest along the way: Spout Cove, Bradley's Cove, Western Bay, Northern Bay, Flambro Head, Lower Island Cove, Caplin Cove, Bay de Verde, Grate's Cove, Daniel's Cove, Winterton, Heart's Content
Visit L'anse aux Meadows National Historic Site of Canada on the tip of the Great Northern Peninsula on the island, site of the only confirmed Viking settlement in North America and believed to be the landfall site of Leif Eriksson as related in the Vinland sagas. It is one of three UNESCO World Heritage sites in Newfoundland and Labrador; the others are Gros Morne and the Basque Whaling Station in Red Bay.
Visit the Basque Whaling Site in Red Bay, Labrador.
Visit Battle Harbour National Historic Site on an island near Mary's Harbour, Labrador; a restored ghost town, this was the historical hub of the Labrador salt fish industry.

Wooden Boat Museum of Newfoundland and Labrador

address: Winterton

Archives, conserves, and exhibits local wooden boat history and its contribution to the province's economy and way of life.
Do
Hike in Gros Morne National Park or enjoy Terra Nova National Park
Visit Western Brook Pond, a land locked fjord
Hike the Trans Canada Trail in Newfoundland, following the former CN "Newfie Bullet" narrow-gauge line across the island
Downhill ski at Marble Mountain or cross-country ski at Blow-Me-Down
Visit , the most easterly point in North America.
Get a photo underneath the sign marking entry to the outport town of Dildo.
Take a driving tour of the other colourfully-named outports like Joe Batt's Arm, Leading Tickles, Little Burnt Bay, and others.
Take a ferry to visit the Southern Communities of the province not accessible by road
Snowmobile in Stephenville, Newfoundland's main hub for this activity
Go to Sunday brunch at the Battery Hotel in St. John's, then walk off the calories with a walking hike around the Signal Hill trail, a rugged, terraced path that leads through the old Battery village and around Signal Hill, up to Cabot tower and back to the Battery Hotel, giving a panoramic view of both the Atlantic Ocean, St. John's harbour, and the city itself.
Bike the Viking Trail: A place of austere, unspoiled beauty in the far east of the western world.
Hike the East Coast Trail. Lots of opportunity for day hikes and backpacking.
Events
July 1 is the nation's birthday for Canadians (from the British North America Act of July 1, 1867) and moving day in Quebec; in Newfoundland it's not quite so simple. Newfoundland suffered crippling military losses at the Battle of Mount Hamel (part of the Battle of the Somme in the Great War) on July 1, 1916 so this day remains a war memorial. Paradoxically, solemn war remembrance and national birthday celebration take place simultaneously, same day.
If visiting in mid-July, don't forget to party in Grand Falls - Windsor at the Exploits Valley Salmon Festival, an annual festival including a salmon dinner, a Newfie Night dance, and the Splash Concert.
If visiting in August, go to the Royal St. John's Regatta at Quidi Vidi Lake in the city, the oldest sporting event in North America (160 years and counting). It is traditionally held on the first Wednesday in August or the first good weather day after. On this day, most of St. John's shuts down, and an average crowd of 50,000 people go to see the races and partake of the many concession stands.
Eat
Rural Newfoundland is known for its seafood and its working-class roots. Rural restaurants offer an over-abundance of "golden foods" (deep fried) and classically simple fare. Vegetarians will be hard pressed to find anything without meat in it, and vegans might want to pack a lunch. But if you're a fish and chips lover, you'll "fill your boots". Mainly you will see battered cod, "chips dressing and gravy", dressing being a savory-laced stuffing mixture, fish-and-brewis (pronounced "fish and brews", salt cod mashed up with a boiled rock-hard sailor's bread, pork scrunchions, and traditionally drizzled with blackstrap molasses), jigg's dinner (also known as corned beef and cabbage, a traditional one pot meal consisting of salt beef,root vegetables such as carrot, turnip, parsnip and potato,and cabbage. Also thrown in the pot is a muslin bag of yellow split peas, known as pease pudding), burgers and fries, and seafood chowder.
But if you're nice, and lucky, someone might invite you in to their home for a homemade moose stew, rabbit pie, seal flipper, caribou sausage, partridgeberry pie or a cuppa tea with home-baked bread and homemade bakeapple jam. All of these are very interesting and delicious. A big traditional meal is often referred to as "a scoff", and as Newfoundlanders also love to dance and party, an expression for a dance and a feed is a "scoff and scuff", which might be accompanied by accordion, guitar, fiddle, a singalong, and a kitchen party. Kitchen socials are so much a part of Newfoundland culture that even today, many houses are better equipped to receive visitors through the back door (leading to the kitchen) than through the front.
Fish has always been at the heart of Newfoundland culture and even with the collapse of the commercial fisheries, you will find seafood dishes almost everywhere. Cod, halibut, flounder, crab, lobster, squid, mussels, and capelin (a small fish similar to smelt or grunion) are all well represented. So too are other animals supported by the ocean system - seal, turr (murre) and the like.
A lot of Newfoundlanders habitually drink tea with evaporated or "canned" milk (a popular brand being Nestle Carnation milk). If you prefer "regular" milk, you usually ask for "tea with fresh milk" and this is, in fact, a good way to spot a Newfoundlander (or at least an Atlantic Province native) in other parts of the country. An easy excuse to have a friendly chat is to invite someone in for a "cuppa tea".
In "town", i.e.
St. John's
(and the other city centres of Newfoundland), there are many good restaurants for the picking, and several vegetarian and vegan friendly spots.
While in Newfoundland, particularly St. John's, do try to sample some of the candy and sweets from Purity Factories, an island fixture for many years and makers of several traditional-style confections. For many Newfoundlanders, Christmas would not be the same without a bottle of Purity Syrup, and breakfast without some of their partridgeberry and bakeapple jam wouldn't be right. (Note: bakeapples and partridgeberries are referred to elsewhere as "cloudberries" and "lingonberries", respectively.)
Eat a meal of fish n' chips at any Ches's location in the greater St. John's area.
Have dinner at the Irving Station diner at Clarenville. It's actually some of the best family dining in the province and the view of the ocean from the windows in the dining area is spectacular.
Drink

You will be in for a "time" (a social gathering) with lots of cheer. This is a province that consumes per capita more alcohol than any other in Canada. The legal drinking age in the province is 19. You will find nearly all the alcohol you desire in a Newfoundland bar. George Street in St. John's, Newfoundland has a reputation for having the most bars per capita in North America. Its largest celebration, George Street Festival, starts in early August and finishes on the Tuesday before Regatta Day.
Newfoundland & Labrador has a wonderful set of regional beers that you cannot find outside of the province. While a number of these are now brewed by the large macrobreweries (Labatt and Molson), some of them are not. Depending on where you are, you will be able to locate brews with names like Kyle, Killick, Rasberry Wheat Ale, Hemp Ale, India, Black Horse, Jockey Club, Dominion Ale, Quidi Vidi 1892, and Blue Star. Something you may notice while drinking beer in the province is the tendency for the breweries to advertise that their beers are union-made "right here" in Newfoundland. Beer is commonly found in convenience stores with a liquor licence and from the Newfoundland Liquor Corporation (NLC). The NLC is a government-owned monopoly and, much like most of Canada, there is a better selection of local and foreign beers than there are provincial beers. Inter-province trade in beer tends to be limited to the major brands, with no attention paid to the many excellent craft breweries in other regions.
While in Newfoundland, you will also encounter Screech. Screech, a Jamaican-style dark rum, is historically a result of trade between Newfoundland and Jamaica. Jamaica got the salt cod, Newfoundland got the rum. In all honesty, the rum has been tamed to conform with contemporary liquor laws, especially compared to its much more potent ancestor. Hard liquor is usually found only at the Newfoundland Liquor Corporation in urban areas; local businesses (such as convenience stores) will be designated as "agency" locations to sell spirits (as a sideline) in small rural villages.
Newfoundland has a quiet but strong tradition of berry wines. Blueberry wine, for those in the know, is as closely associated with Newfoundland tastes as Screech, and for many, may be a far more palatable first experience. Also be sure to look for partridgeberry, blackberry, cloudberry, and rhubarb wines. All of these can often be found in NLC outlets. The NLC retains the distinction of being the only liquor control board in Canada which still directly manufactures and bottles several of its hard liquor products (Screech, notably, but also gin, brandy and two vodkas), to retain the strong provincial association.

Connect
Stay safe
The only dangers of which tourists should be mindful are related to nature and not to crime. Newfoundland is one of the safest parts of Canada and locals are very helpful to lost or confused tourists.
One must be especially cautious of moose on any highway in Newfoundland. There is a significant moose population and no fencing or barricades to keep them off the road. Be especially cautious on rural highways off of the Trans-Canada Highway, which may have thick brush or trees right on the side of the road. Care should be taken when driving at night on all highways.
Fog can move in on highways in coastal areas very quickly and produce an almost whiteout effect. Drive according to weather conditions!
Do not pass beyond marked barricades at tourist destinations on the coast. Tourists have fallen to their deaths (particularly at Cape Spear and Twillingate isle) by going too close to the edge of the rocky cliffs.
Newfoundland is known for its severe snowfalls in wintertime. The western coast (facing the wide-open Gulf of St. Lawrence) and sub-Arctic Labrador are particularly vulnerable. Some sections of Trans-Labrador Highway may be closed for up to a week in adverse weather, with portions which closely skirt the Atlantic coastline being most exposed. Pack for an extended stay if arriving in winter.
Respect
The "Newfie" (also "Newf") stereotype: in Canada, this figure is similar to the Hillbilly stereotype or the rural Hick stereotype. As with both of those cases, it is rooted in discrimination. While some Newfoundlanders may call themselves "Newfies", it may be wise to refrain from calling the province's residents as such yourself, as many see this as a slur or putdown when it comes from a non-native. Like "Canuck", which began as a slur against Canadians, the word "Newfie" is acceptable to some, but err on the side of caution and use Newfoundlander instead.
Don't say you're in Canada when visiting Newfoundland. While there are no independence movements like in Quebec, the relationship between the island and the rest of the country can be controversial. Newfoundland is part of Canada, but referring to Newfoundlanders as Canadians will cause annoyance and people may think you want to start an argument. Criticism or jokes about the culture of Newfoundland or mispronouncing the island's name could give you icy responses.
Go next