Ngapali
Ngapali Beach
(Burmese ငပလီ) is in Rakhine State,
Western Myanmar
.
Understand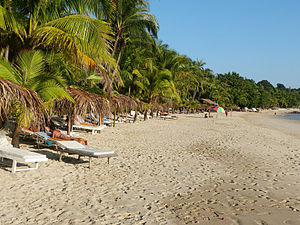 Ngapali Beach is a beach 7 km from the town of Thandwe in Rakhine State. It is the most famous beach in Myanmar and is a popular tourist destination. However, as a result, there are almost no budget accommodations available and most hotels cater to tourists for whom money is no object. Several resorts and hotels are located in Ngapali, usually of the high end such as Bayview Ngapali, Amata Resort, Amazing Ngapali and the government-owned Anawa. The southern stretch is more recommended, due to the range of dining, sleeping and other options there.
Ngapali used to have private bungalows, but these were pulled down in the late 1990s to make way for the development of hotels. The hotels and small tourism industry help to provide income for the villages around Ngapali and also Thandwe. There is also a golf course nearby. Myanmar's political climate means that Ngapali is not as well-publicized as other good beaches of Southeast Asia.
Ngapali caters mostly to rich foreigners. Expensive, high-class resorts cover parts of the main beachfronts, with most locals living in shacks and making in a month what a tourist spends in a few beach bar cocktails. A dozen or so cheaper guesthouses can be found along the beach road, although on the opposite side of the road.
It is quite questionable if this kind of development is helping the locals. Youth unemployment is extremely high, most jobs are seasonal, and most tourists opt to eat, drink and stay in the resorts. Seeing people living in extreme poverty next to a large resort is a common view in Ngapali.
Thandwe
is the nearby town at the highway.
Get in
Thandwe
is the transport hub for Ngapali (Beach). Most options to get in can be found
there
—by bus, by boat or by plane.
From there you can easily get onward transport for the last 6-12 km to Ngapali, depending on where you want to go along the stretched beach. Local pickups or shared vans are 500 kyat from/to Thandwe. There is no tourist accommodation available in Thandwe itself. Tickets for the ferry in
Thandwe
are sold at the Bayview Beach Resort.
(
SNW
) is actually just 5 km north of Ngapali Beach

By taxi
A trip by taxi can be a little less time consuming and convenient alternative, especially if shared between 3 or 4 people.

Get around
Ngapali Beach stretches along 12 km of coast line.

On foot
In case you stay close to the or at the southern stretch of Ngapali, most places and restaurants, north even the airport, can be reach by foot.

By (moto) taxi
For a taxi or motorbike expect to pay 2,000 kyat to either end of the beach.

By rental
You might be able to rent a motorbike, but there are rumours regarding the legality of this. However, there are not really many sights, like for example in Hpa-an, for which you would need a motorbike. E-bikes can be rented for 15,000 kyat per day (low season 2017).

By pickup
Local pickups or shared vans are between 300 and 500 kyat along the beach or to Thandwe.

By boat
You might even try water transport via long-tail boat, but bargain hard.

See
For the ones not already satisfied with the beautiful beaches, a few sights are available.
Pearl IslandMost hotels organise snorkeling trips to the island. But you can also ask restaurants and other shops, which will probably give you a decent bargain. Trips can include snorkeling and fishing. There is even a restaurant on the island, Lobster Bar, the only one, which serves drinks and food.

Black Sand IslandAnother interesting place to enjoy a picnic and the sunset, or take photos of the picturesque surroundings. This island climbs up to about 40 m and can be reached by bicycle.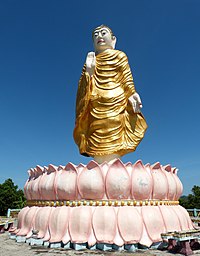 Amata MountainStart early to Jate Taw/Gyeiktaw Village in the south. In the morning you can watch the local fishermen unload their catch from the night before. Afterwards, from the village walk up the mountain. There you will find a standing Buddha (21 m) and a meditation centre to relax and spend some time. Afterwards go on to Abe Village, famous for the mangrove forest and authentic people.
Also, checkout the sights, dos and buys in and near
Thandwe
.
Do
This is one of the most beautiful beaches in Myanmar. You can see and do various things in Ngapali, but you might want to pick only the most interesting ones: there are far more exciting things waiting in the rest of Myanmar. So relax and enjoy the calm and leisure.
Andrew BayRent a bicycle and explore the area by yourself, especially Andrew Bay in the south. Have a tea and watch the busy locals. Ask a local fishermen to take you for a tour onto and even across the bay. The way back, in case you decide not to take the boat, along the road north passing by Thandwe is 41 km, so either have a good bicycle or take a local pickup.

Ngapali Golf CourseCan be under water. Go early to avoid the heat and spend 2 hr or so. The old building is the so-called clubhouse. No golf shoes required.

KayakingIdeal to explore the numerous bays and mangrove forests around Ngapali. Ask at your hotel or the village for renting the kayak, or try Bayview Beach Resort or Art of Sand Beach Bar.

BallooningExplore the area around Ngapali and Thandwe. Could make more sense to save the ballooning money for Bagan if you go there.
Several options exist to rent a boat
Buy
There are a collection of shops near the main junction and along the southern stretch. Local people specialise in coconut handicrafts.

Eat
Ngapali is famous for its seafood. There are many options, especially along the southern stretch of the main road. Otherwise, many of the hotels and resorts also cater for non-guests, but you might want to try the cheaper but not less delicious restaurant that can always be found opposite or just outside of the resorts.
Besides coconut handicraft, Ngapali also provides the traveler with delicious fresh coconuts for around 1,000 kyat. You will find piles of the leftovers everywhere, which is the downside of this treat.
Two Brothers RestaurantServes delicious barracuda, snapper and white tuna.

Min Thu Seafood RestaurantSeafood is the point about this restaurant. If you definitely aim for fresh fish, go here. Family run and around for a while now.

Ngapali Kitchen

phone: +95 9421730349

Locally run and authentic.

Sea Queen

phone: +95 1 221943

In case Min Thu is too far away, try this highly recommended restaurant. You will choose your fresh fish outside, which is then prepared in the kitchen inside.
Drink
Beach bars are popping up all over. After having explored the area by bicycle or taxi, you will know where to find them, mostly at the southern stretch or near the main junction. Happys hour during dusk are common. Most hotels and resorts charge western prices.
Green Umbrella

phone: +95 9421753814

Lovely restaurant right next to the street. Some people complain about the drinks, so probably go for a beer. Otherwise, delicious seafood and Burmese food, as well as friendly staff.

Sunset Bar

phone: +95 43 42299

address: 205 Hgnet Pyaw Khaung Kwin

Seafood, Burmese, Thai and western food. Highly recommended. Good for a relaxing drink in the evening, but you can also enjoy the food.
Sleep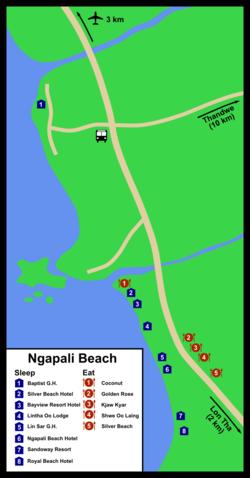 Budget options in Ngapali are rare. There is no tourist accommodation available in Thandwe at the highway. Only
Taungup
, another 85 km north from Thandwe, has some guesthouses.
Go next
Many people will fly in and out of Ngapali directly from Yangon, Mandalay or Bagan. Other options exist, and road transport will become more and more popular in the coming years as road conditions are improving. Another rare option is the boat to Sittwe.