Ngwe Saung
Ngwe Saung
(Burmese ငွေဆောင်) is the location of several beach resorts and a small village in the
Irrawaddy
region of
Myanmar
.
Understand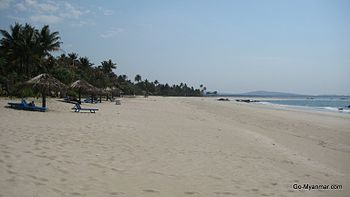 Ngwe Saung is an aggregation of resort and other hotels stretched along 9 km of beach with a small village at the northern stretch. In addition, the beach is spoiled a little by the local motorbike and sometimes quad-taxi drivers going along the beach and offering tours and transport to tourists. Nevertheless, the beach is nice, and in case you are the beach resort type or want to take a timeout from the busy rest of Myanmar, this would be the ideal and, compared to
Ngapali
, inexpensive place to do so.
Get in
Buses stop and start at the right before the village.
Yangon – There are many buses to Ngwe Saung per day, many in the morning, with prices ranging from 7,000 to 12,000 kyat, depending on the company you go with and the location that you start from, e.g. Dagon Ayar Highway Bus Station or the city centre. Dragon Asia bus line, which can be booked in Yangon near Parkroyal Hotel (not inside the hotel), costs 25,000 kyat for a return ticket. Or try Shwe Pyi Lwin Travel Co (09-43040480, -4200319755, -8550147, 042-42202) for 10,000 kyat one-way, 06:30 and 07:30. from Dagon Ayar Highway Bus Station. The roads are not that good but have improved in the last years, so for the 222 km from Yangon it will take about 5-6 hours including lunch break and bus breakdown. In high season there are also night buses (Asia Dragon, Golden Star) at 21:00. They start in the city center and arrive Ngwe Saung in the middle of the night at about 03:00. So it would be better to make a hotel-reservation for the same night to be sure to get a bed and good sleep for the rest of the night. Buses are generally air-conditioned. The last 1.5 hr of the journey is made over a series of steep and winding hills, which can cause motion sickness. If you are susceptible to motion sickness prepare ahead of time with some medication.
Pathein – Some buses and smaller pickups/vans, 1.5 hr to Ngwe Saung for 4,000 kyat. Try the city bus station near Shwemokehtaw Pagoda – there is a green Toyota with the words 'Beach Express' leaving around 09:00 & 13:00; or hail for passing by vehicles at the northern end of Min Gyi Road, which leads to Ngwe Saung. There are also private taxis for around 30,000 kyat available. If you are not traveling with a lot of luggage, it's also possible to do this trip via a motorbike for around 10,000 kyat per person. Pathein can be a hub for trips from Yangon but also cities like Pyay or Ngapali.
Chaung Tha via coast and motorbike taxi for about 8-13,000 kyat one-way. This includes at least two river crossings. Reported durations vary widely between 45 min and 4 hr, so clarify beforehand.
As the roads have improved, there is no longer a ferry service to Pathein – from where you would then take a pickup – from Yangon, but double check in case you long for a boat trip.
Get around
You may rent a bicycle or take a motorbike taxis. However, renting motorbikes is probably not a good idea, otherwise the unspoiled place will soon become like an overcrowded Thai beach resort. Walking along the beach can be an option, but can take time. Otherwise, opt for the local motor- or quad-bike taxis, 1000 kyat within the village and 1,500 kyat to either end of Ngwe Saung beach.

See
Lover's IslandWalk across a sandbar at low tide to reach Lover's Island. This island is small and consists of a concrete statue of a Mermaid, a small religious site at the base of the island, and steps leading up to a small circuit of trails. Bring shoes due to the rocky underground. If you can get snorkeling gear, you can try it here instead of hiring a boat to Bird Island.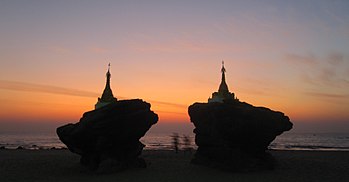 Beach PagodasIn Myanmar pagodas can be found in even the remotes places, since every person with a little bit of money wants to erect and distributes its own one. Hence, find another two on top of two rocks right here at the beach.

Bird IslandThis island is located hours from shore and is nothing more than a rocky outcropping in the sea used by local fishermen to dry fish. The rocks are extremely sharp and there is not much to see. Reputed to be the worst island in Myanmar. However, since there is not much to do in Ngwe Saung, it is popular for excursions and bird watching. You can also organise a snorkeling, e.g. trip with "Mr Win", a local boat owner. Bring a life vest as currents are very strong.

Elephant campThis is also a school for children, and has 32 pupils aged between 5 & 14 years. Get your ticket at the just after All Seasons Hotel on the other side of the road.
Do
There is not much to do in Ngwe Saung, that's the idea. Just relax and enjoy the quiet time.

Buy
Bring enough cash because there are not many options to obtain money: there is one ATM at Ngwe Saung Yacht Resort, one at Yamonnar Oo Resort Hotel and another one at Emerald Sea Resort. Sometimes all three of them are out of service. Having said that, resorts usually accept all major credit cards. Also KBZ bank opened an office in late 2016.
Painted umbrellas made in town or in Pathein.
Fresh coconuts sold on the beach
Grass sun hats: You will see locals walking along the beach with stacks of these bright green hats. Buy one for 500 kyat and you will have sun protection for a few days (they're not meant to last).
Eat
There are some roadside restaurants across from Yazuna Resort and Pearl Hotel and generally along the road parallel to the beach for US$2-4 per dish. In addition, many resorts (e.g. Sunny Paradise, Bay of Bengal, Emerald Sea Resort) have their own restaurant open to non-guests, with slightly inflated prices which however is compensated by the pleasant setting. Finally yet importantly, numerous restaurants are available in the village itself.
Golden Myanmar RestaurantSeafood shack with local specialties.

Jasmine RestaurantThey have BBQ seafood and meat including delicious side dishes. Good value for money.

Royal Flower RestaurantLive music & cocktails.

Soe KoKo Beach House & Restaurant

phone: +95 9 5001025, +95 9 5132440

address: 2. Quarter, Myo Pat Road

The restaurant serves a delicious variety of Myanmar, Thai and Chinese dishes as well as fresh seafood in a relaxing atmosphere, indoors and open air. Breakfast, lunch and dinner. Tea, coffee, beer.

Silver Blue SeaThis is a very pleasant and well located restaurant with a vast menu including vegetarian options.

UME Japanese Restaurant & CaféNightly fire shows. Japanese and western menu. Beer and Music.

See Sar
Drink
There is no club, however the very modern and stylish Bay of Bengal Hotel (see below) has disco-like events. Otherwise, try one of the many restaurants and teashops in the village, which serve beer, coffee and tea throughout the day.

Sleep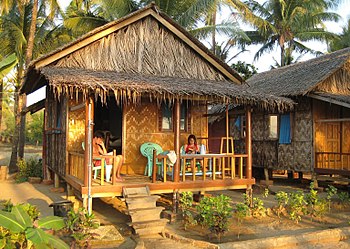 Not many budget options exist in Ngwe Saung. Your best bet would be Pearl Ngwe Saung Resort Hotel or the guesthouses near the main junction where the bus stops for about 20,000 kyat.
New Shine Guest HouseShared bathroom but central location.

Min Chan Myae II Guest House

Pearl Ngwe Saung HotelPrices are highly negotiable and quality varies widely. Having said this, there is an option for everyone, from cheap & dirty to pricey & beach view.

Soe KoKo Beach House & Restaurant

phone: +95 9 5001025, +95 9 5132440

address: 2. Quarter, Myo Pat Road

24-hour electricity! The rooms are all newly constructed in a classic wooden bamboo style architecture holding seven rooms: 4 Twin Rooms in double bungalows, 3 Double Rooms in private bungalows, For low budget guests they have 3 Economy Rooms above their restaurant. Includes breakfast and 10% tax. Room occupancy is assumed for 2 adults.

Shwe Hin Tha Hotel

phone: +95 42 40 340

Bamboo huts and stone bungalows. Nice location but there are complaints about the cleanliness of the bamboo huts.

Silver Coast Beach Hotel

phone: +95 42 40 324, +95 42 40 325

They offer a wide range of quality and prices. The cheap options are not pleasant but they can offer a cheap way to stay in Ngwe Saung. Waterfront & non-waterfront. Breakfast, WiFi, hot and cold water, Sat TV, Hair dryer, air-con, coffee and tea making facilities (suite & grand suite) , 24 h.

All Seasons Hotel

phone: +95 1-538451, +95 9-31 333 555, +95 9-2502 88855

address: 3. Quarter, Myo Pat Road

5-storey hotel with 41 spotless and decent rooms. No direct beach access. Coffee bar, 24-hr service, WiFi. Good value for money.

phone: +95 1 549600, +95 1 543367, +95 1 581100-03

40 rooms classified into 2 categories: budget and luxury. Each of the 40 suites and deluxe rooms have a sea-facing balcony in addition to all necessary facilities. Guests have complaint about the lack of cleanliness of the beds and floor.

phone: +95 9 492 06600

address: No (7), Myo Ma St

No beach access. Air-con & WiFi. The rooms are poorly soundproofed, a bungalow at the beach can therefore be a better option.

phone: +95 42 40247, +95 42 40394, +95 42 40395

Emerald Sea Resort was opened in 2003, and offers restaurant and spa. Also try reservation@emeraldseahotel.com .

Yamonnar Oo Resort Hotel

phone: +95 9 798 451724, +95 1 530 722

The resort has several bungalows at the beach front with views of the ocean.

phone: +95 42 40 340, +95 42 40227

address: Myo Ma St

Has good in-house restaurant. Also try service@tmw.com.mm .

phone: +95 1 667024, +95 1 661577, +95 1 664463, +95 1 650021, +95 1 651990

address: No 1 Qtr, Zee Maw village Track

Offers a wide range of activities, like every other resort. Also try reservation@bobresort.com and sales@bobresort.com .

phone: +95 1 503831, +95 1 3993347

Also try reservation.online@myanmartreasureresorts.com .

Ngwe Saung Yacht Club & Marina

phone: +95 1 539 587, +95 9 4958 7341, +95 9 7325 3967

If money is no object, this is the place where you will want to stay. They offer luxurious accommodation with an extensive range of activities and services.
All star Lovely guest house with modern rooms with air condition, close to the beach in the main road. Rooms rates start from US$25. Contact number +09422506097
Go next
Chaung Tha – Like Ngwe Saung, famous for its beautiful beaches. It can be reached via Pathein by bus, 7-8,000 kyat, 3-4 hr. Or you can hire a direct motorbike taxi along the coast for 8-13,000 kyat, which is much more exciting, picturesque and probably better for your stomach. The latter includes at least two river crossings. Reported durations vary widely between 45 min and 4 hr, so clarify beforehand.
Pathein – Famous for its handcrafted umbrellas. Pickups and buses take 1.5 hr and cost about 3,500 kyat. Private taxis are around 30,000 kyat. You will most likely get dropped of at the city bus station in the center. Take a motorbike taxi to the highway bus station or start from there, depending on where you want to go. Possible onward destinations from Pathein include Ngapali and Pyay, but also Yangon.
Yangon – Buses start at 06:30, 07:00, 08:00 and 10:00. 8-12,000 kyat. For tickets ask around the guesthouses or in the village.