Nordland
Nordland
is a county in
Northern Norway
.
Cities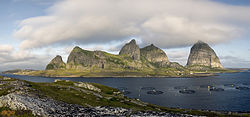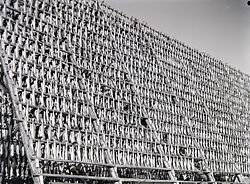 pop 42,000
pop 6,000. Features Torghatten, a mountain that has a large hole that goes all the way through it.
pop 7,000
pop 3,000
pop 20,000
pop 15,000
, pop 3,400
pop 5,000
pop 1,600
Other destinations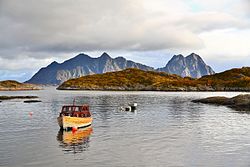 , postcard looking small fishing villages nestled in fjords, dotting a very rugged coast with abrupt peaks rising directly from the ocean – one of the most scenic parts of Norway.
, village and former mining town in the fells, trailhead for hiking, skiing and glacier treks.
, coastal village with hiking trails in beautiful mountains.
village and archipelago, UNESCO World Heritage Site as a cultural landscape area, realm of the eider.
, archipelago north of Lofoten, with much wilderness to explore. The small town Stokmarknes hosts the headquarters of the Hurtigruten and the Coastal Express Museum.
Understand
Nordland occupies the relatively narrow strip of land between the border with
Sweden
and the Atlantic Ocean, in addition to a myriad of islands. At the most narrow point there is only a few kilometers of Norwegian land from the sea to the border. At the same time the county is 700 km from south to north, like London to Glasgow. Nordland mainland has a coastline of about 5,000 km - more than most countries in Europe. If islands are included, Nordland's coastline is longer than the USA or China coastline.
Get in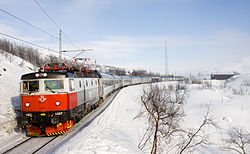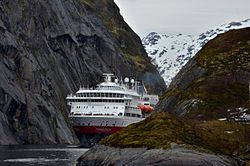 By boat
Hurtigruten
connects Nordland to
Tromsø
and
Finnmark
in the north, and
Bergen
,
Trondheim
and
Ålesund
in the south.
By plane
The main airports are in Bodø (
BOO
) and Evenes (EVE)(near Narvik/Harstad), both providing several daily direct flights to Oslo Airport. They are operated by SAS and Norwegian. Except some charter flights there are no international connections (as of 2017).
There are numerous smaller airports in Nordland. In Southern Nordland they are located in Brønnøysund, Mosjøen, Mo i Rana and Sandnessjøen, and have flights from Trondheim and Bodø. In Northern Nordland there are airports at Leknes, Røst, Stokmarknes (SKN) and Svolvær, with flights from Bodø. All these are operated by Widerøe. Furthermore there is a helicopter from Bodø to Værøy, operated by Lufttransport.
Narvik city airport was closed in 2017.

By rail
The Nordland railway (Nordlandsbanen) has NSB from Trondheim to Fauske and Bodø.
There is also a railway from Kiruna in Sweden to Narvik (Ofotbanen or Iron Ore Railway), with SJ trains from Stockholm. This rail was built primarily to transport Iron Ore from the mining towns in Northern Sweden to the port of Narvik. Part of the line runs through the very steep and inhospitable Narvik mountains, the construction was an engineering achievement.
By bus
Express buses, often the cheapest alternative, go further north to Narvik and Lofoten from Fauske and Bodø.

By car
The E6 road is the main road, running along the entire county. From Oslo to the southern border of Nordland it is around 800 kilometers (10 hours plus stops), and from Copenhagen around 1400 kilometers (16 hours plus stops). E6 through Nordland is 650 km.

Get around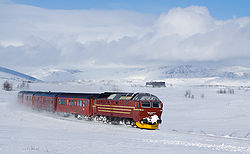 By train
Nordlandsbanen runs between Southern Nordland and Fauske/Bodø north of Saltfjellet. Diesel powered locomotives.
Ofotbanen (Iron Ore Railway) connects Narvik port to the Swedish border in the Narvik mountains. Electric.
By plane
Time can be saved by air travel inside Nordland. See the Get in section for more.
By bus or boat
The easiest way to get around is by bus or boat if you don't have a car. Search on
Rutebok
.
By car
The E6 is the backbone road of the county. Still the distances are long, 650 km including one ferry crossing between the northern and southern county borders (takes around 10 hours excl. stops).
The road 17 is a partly spectacular tourist road, connecting the coastal settlements. It is much more time consuming than E6 and has several ferry crossings.
See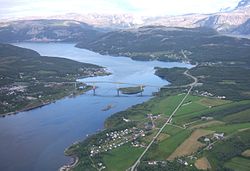 Old fishing cabins in Lofoten.
Strong tide current in Saltstraumen by Bodø
A spectacular hole in a mountain called Torghatten, at Brønnøysund.
Do
In Lofoten, and along the entire county, you can go fishing, diving and mountain climbing.
A whale (orca) safari with snorkeling is also an option in the Tysfjord area. Whale watching tours to the nearby continental shelf, where sightings of sperm whales are common, are arranged from Andenes and also Nyksund in Vesterålen.
Near Halsa south of Bodø you can attend guided glacier climbing and glacier walks.
Stay safe
If you stay on land you ought to be safe for most of the time. If you go out on the sea for fishing or diving, check the local weather forecasts as rapid weather changes can occur, as if you go trekking. If you go in the winter or up in the mountains, you should have some knowledge about when you need special skills.

Go next