Norrland
Norrland is one of three lands of
Sweden
, besides
Svealand
and
Götaland
. Norrland encompasses two thirds of the country's surface, but no more than 12 per cent of its population; about 1.18 million in 2016. The region is characterized by forests, mountains, rivers and elongated lakes, a harsh winter climate, long distances, as well as university towns with young populations.
Regions
As the rest of Sweden, Norrland is divided into traditional provinces (
landskap
), as well as counties (
län
); the current political entities. As some provinces have very small population, counties are used as the basic regions of Norrland.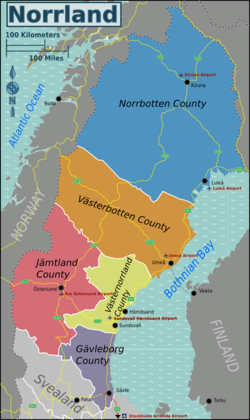 Cities
, a port city famous for ice hockey, coffee, and a straw goat targeted by arsonists.
, a 17th-century city with a cathedral.
, Sweden's northernmost city, known for the Sami Parliament, the mine, and space flight.
, a port with a steel mill, and a technical university.
, Norrland's largest inland city, at Storsjön, Norrland's largest lake.
, a quaint industrial town.
, known for ice hockey, mining, and Västerbotten Cheese.
, known for wood industry, and Norrland's only casino.
, this university city, famous for its bridges, is the largest city in Norrland.
Other destinations
- a national park.
(High Coast) is on the UNESCO World Heritage list. This coast line on the Gulf of Bothnia still rises at the rate of about one centimetre per year, still being affected by the last ice age.
- a village famous for the Ice Hotel.
- Sweden's highest mountain surrounded by vast wilderness areas and a popular trail to Abisko National Park.
- a marked well-known hiking trail that runs through Norrland.
- four national parks, together forming Europe's largest wilderness.
- home to three out of seven UNESCO World Heritage site "Decorated Farmhouses of Hälsingland".
- a ski resort.
- Sweden's busiest ski resort.
Understand
The
Sami people
have lived in inland Norrland since time immemorial. The first Swedish settlers arrived in the Middle Ages, but the land remained sparsely populated until the late 19th century, where a new wave of pioneers came for work in forestry, mining, metalworking, railroad, and military service. During the late 20th century, many small towns have been depopulated, with the coastal cities rising as local metropolises.
Talk
As elsewhere in Sweden,
Swedish
is the official language. Old people in rural areas speak very distinct local dialects (
bondska
), but practically everyone speaks Standard Swedish.
Northern Norrland is the homeland of two official minority languages, both from the Finno-Ugric family. The
Sami people
, who speak
Sami
, populate most of the inland, and in Norrbotten near the Finnish border,
meänkieli
("our language"), a dialect of
Finnish
, is spoken.
Most people, except the oldest, speak English.
Get in
Get around
Except the coastal areas, settlements in Norrland tend to be tens of kilometres between. While some sceneries are majestic, roads through forested areas can also be monotonous, challenging drivers' ability to stay awake. See
Driving in Sweden
,
E4 through Sweden
, and
E45 through Europe
.
By public transport
Regional rail service is provided by
Norrtåg
, with lines connecting
Trondheim
,
Sundsvall
,
Umeå
,
Lycksele
,
Luleå
and
Narvik
.
By car
See
While the mountains and the coast to the Baltic Sea are famously scenic, most of the forests in inland Norrland are rather monotonous.
Itineraries
Do
Outdoor life
is the main attraction of Norrland, with activities such as
hiking
,
mountaineering
,
camping
,
fishing
, and
foraging
. See
Hiking in the Nordic countries
and
Winter in the Nordic countries
.
Doing or watching
sport
, especially
winter sport
, is a pastime for the locals. Many towns, though some of them rather small, boast at least one team in the national elite; mostly ice hockey, bandy or skiing.
Esrange is a rocket launch facility near
Kiruna
. Guided tours.
Eat
Classical foodstuffs are reindeer meat, game, berries and fish. An almond-shaped potato cultivar called
mandelpotatis
is considered a delicacy. Bread is usually based on rye;
tunnbröd
is thin bread which can be either soft or hard.
Västerbottensost
is a hard cheese, iconic for
Västerbotten
.
Probably the world's stinkiest fish dish is
surströmming
; see
Nordic cuisine
for details.
While the major cities, especially Umeå, are known for their
vegetarian and vegan community
, there is little understanding for not eating meat in the countryside, where fishing and hunting are many people's pastime.
Sleep
Except regular hotels and novelty accommodation such as the
Jukkasjärvi
Ice Hotel, ski resorts have a variety of lodging options, including cabins and campsites. Outside high season (well into May for those far north), these are relatively cheap and easy to book.
Stay safe
Respect
Most people in Norrland are patriotic for their own province, and might frown on the "southern" description of Norrland as a homogenous region. They would be happy if you recognize the name of the province you are in. The same goes for the Sami and Meänkeli people, who have national identities on their own.

Go next