North Africa
North Africa
is the northern part of the
African continent
.
Countries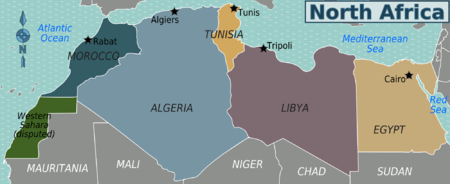 Other territories
Cities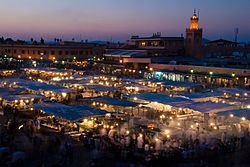 — Egypt's major Mediterranean city is a pale shadow of its former glorious self but remains a major tourism site
— the capital of Algeria with a notable medieval casbah
— the largest city in Africa with major monuments of Ancient Egypt nearby
— the largest city in Morocco is of sparse interest to the traveller, but is a major transit point
— the capital city of the disputed territory of Western Sahara
— this historic Moroccan city close to the foothills of the Atlas Mountains is an extraordinary meeting of the ancient and modern
— Libya's capital was long off-limits to most travellers but is experiencing a real resurgence of interest
Other destinations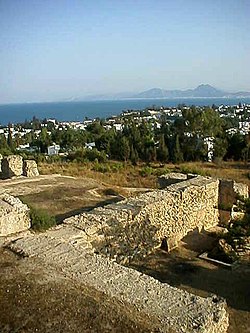 — a very remote area in far south Egypt, with some beautiful ancient temples
— Phoenician colony in Tunisia and the biggest trade metropolis of the antique world; famously razed by the Romans and the remnants are now encased in a museum
— in Algeria with its domed architecture & nearby Grand Erg Oriental — the Sahara's second largest dune field
- an ancient settlement in southwest Libya with prehistoric rock paintings and very challenging desert trekking
— hiking, skiing and Berber culture amongst these peaks and valleys in Morocco.
— extensive Roman ruins in Libya
— desert village in Tunisia of cave abodes, where Star Wars's Tatooine was filmed
and M'Hamid — from either of these two settlements in Morocco at the edge of the Sahara, ride a camel or 4x4 into the desert for a night (or a week) among the dunes and under the stars
— the great site of Ancient Egypt
Understand

North Africa, as a region is very different from the countries to the South. The people and culture are Arabic, the food is different, and Islam is the dominant religion. Many organizations now group North Africa and the Middle East together as MENA (Middle East North Africa) because North Africa has much more in common with countries like Syria or Jordan than countries like Mali or Ivory Coast.

History
Talk
Arabic
is without a doubt the dominant language, and is the official language in every North African country. However Arabic dialects are mutually unintelligible, so there's no way a tourist speaking standard Arabic could understand a Moroccan speaking their dialect. However,
standard Arabic is always the official language, and with the exception of Western Sahara, almost all urban people are able to speak it.
French
is the most widely known second language in Tunisia, Algeria and Morocco, due to much of the area's history as a French colony. In Libya and Egypt, English is the dominant second language (except among older Libyans, where
Italian
is more prevalent)
Many people in North Africa, especially in Algeria and Morocco, speak Berber as their first language.
Get in
See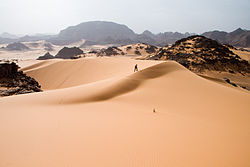 Eat
Stay safe
Avoid drinking untreated ground water. Avoid Libya, southern Algeria, the Sahrawi areas of Western Sahara, and southern Tunisia due to the risk of armed conflict or insurgent violence.