North Jutland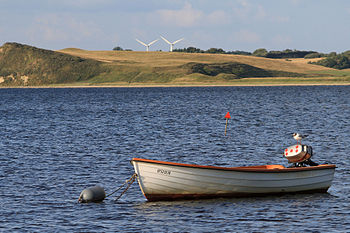 North Jutland
, also called the
North Denmark Region
, is the northern part of
Jutland
in
Denmark
.
Regions

While the North Jutlandic Island (Nørrejyske Ø) is actually an island, it is usually described as part of Jutland (together with Mors and other islands in Limfjorden). It is divided between the traditional provinces of Thy, Han Herred and Vendsyssel.
In terms of municipalities, the region consists of Brønderslev, Frederikshavn, Hjørring, Jammerbugt, Læsø, Mariagerfjord, Morsø, Rebild, Thisted, Vesthimmerlands and Aalborg.

Cities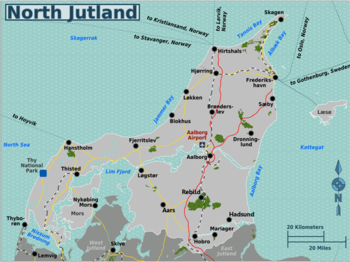 — inland harbour on the Limfjorden, a waterway connecting Kattegat Sea (east) and North Sea (Vesterhavet)
— one of Denmark's most popular beaches
— town in Vendsyssel
— small village in the central of Han Herred, the land between the North Sea and Limfjorden, building a bridge between Thy and Vendsyssel
— important ferry harbour with services to Norway.
— inland town in Vendsyssel area
— the west
— the east
— Jutlands picturesque northern peninsular
— coastal town on Kattegat Sea
— town at the western end of Limfjorden
Other destinations
— remote and unique off the beaten path island half way to Sweden
— the first national part to be established in Denmark
are a group of 10 islands, mostly nature reserves
Understand
The geography of North Jutland can be confusing. Limfjorden is, by geographic terms, a strait, not a fjord. While the North Jutlandic Island is a natural island separated from the mainland by Limfjorden, it is traditionally described as part of Jutland, described as three districts.

Get in
By ferry
There are ferries from Sweden and Norway to
Hirtshals
and
Frederikshavn
in North Jutland.
By plane
There are planes from Copenhagen, Oslo, London, Málaga, Tórshavn and Reykjavik to Aalborg Airport.
By train
There are trains from Copenhagen, Aarhus, Randers, Odense, Esbjerg and other cities to Northern Jutland.
By car
By bus
From Copenhagen or Aarhus: Take the 888 bus to Aalborg, and from there take another bus to your destination
See
Eat
Skawbo rødspætte (plaice with cranberries served with berry porridge of cranberries, lingonberry or gooseberry.
Rulleål (filleted eel rolled around onion and parsley, and cooked in salty water)
Krystekål
Drink
Jomfru Ane Gade: A bar street in Aalborg.