Northeast Ohio
Northeast Ohio
("NEO") is usually defined as a 13-county region, with a population of more than 4 million (as of the 2000 US Census), surrounding the
Cleveland
Area and the mid-sized cities of
Akron
,
Canton
and
Youngstown
. The Combined Statistical Area of Cleveland-Akron-Elyria, with a population of 3 million, is the 14th largest Combined Metropolitan Area in the
United States
. The metropolitan hub of the region,
Greater Cleveland
, is the five-county Cleveland-Elyria-Mentor MSA accounting for nearly 50% of the NEO population.
Counties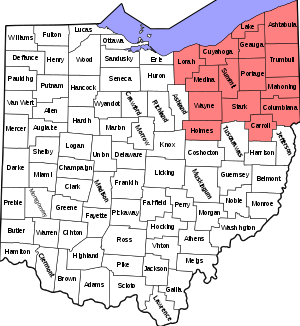 Northeast Ohio is defined within the region as including 18 counties including:
Ashland County, Ashtabula County, Columbiana County, Cuyahoga County, Erie County, Geauga County, Holmes County, Huron County, Lake County, Lorain County, Mahoning County, Medina County, Portage County, Richland County, Stark County, Summit County, Trumbull County, Tuscarawas County, Wayne County
Regions
Cities
, the County Seat of Summit County, was formerly known as the Rubber Capital, and has successfully made the transition from the world's tire manufacturing hub to its high-tech Polymers Research Center, now referred to as the Polymer Capital. It is also the home of the All-American Soap Box Derby.
, the County Seat of Stark County, is the "Birthplace of Professional American Football".
, the County Seat of Cuyahoga County, is the "Rock and Roll Capital of the World" and home to one of the five richest collections of arts and culture institutions in the US.
, the County Seat of Mahoning County, birthplace of the football penalty flag. Home of The Butler Institute of American Art, the worlds largest collection of American art. Also contains the Mill Creek Metro Park.
Other destinations
State Parks and Resort Lodges
For camping and getaway rental reservations on any of Ohio's Parks tel. 1-866-644-6727.
Note
The mailing address and actual location of these parks may be two different locations: For more detailed information on these and other Ohio State Parks, contact the
Ohio Department of Natural Resources - Division of Parks and Recreation
.
Understand
When visiting
or even thinking of
Cleveland, the integration of the economies, communities, media coverage, culture and arts is extraordinarily interwoven with all of NEO (as can be proven by analyzing commute patterns among the counties). Unlike the vast majority of large US cities that have grown through annexation of outlying areas in their central counties and beyond (e.g., Chicago or Columbus), the City of Cleveland proper only encompasses 1/3 of
Cuyahoga County
, which has nearly 60 municipalities. It would be a mistake, frequently made, to consider the City of Cleveland as a point of direct comparison with other major US Cities. NEO simply isn't structured like most US metropolitan regions, in part, because of its rich history of individual centers of industry in the 1800s merging together into one super-metropolis throughout the 1900s.
Although Cleveland is the largest city in the region, the other large cities in Northeast Ohio like Akron, Youngstown, Canton, and Warren, all have their own distinct identities. It might not go over well, for example, to tell someone in Akron that their city is "part of the Cleveland area", even if it is shown that way in some official tourism campaigns or Census and demographic maps.
Northeast Ohio has been hit hard by the recent economic crisis, and locals may complain about the area among themselves. However, they usually don't take kindly to outsiders trash-talking Ohio. Northeast Ohioans tend to be stubbornly proud of their little corner of the world, as evidenced by the cultlike following of the Browns through losing season after losing season. People in Northeast Ohio would want outsiders to see the better parts of living here, such as the booming food and restaurant scene in Cleveland, beautiful Lake Erie shorelines, parks and outdoor activities, among other things.
Get in
By plane
Cleveland Hopkins International Airport, CLE. A focus city for United Airlines.
Akron-Canton Regional Airport, CAK.
Youngstown-Warren Regional Airport, YNG.
By car
Northeast Ohio is served by the following interstate highways:
I-71 connects Cleveland to Medina and then runs southwest toward Columbus.
I-76 serving Akron and Youngstown and connecting to beyond Pennsylvania to the east.
I-77 starts in Cleveland and runs south through Akron, Canton, New Philadelphia and beyond.
I-80 is the Ohio Turnpike (a toll road) that runs across the northern part of the state, serving Cleveland, Akron and Youngstown (where I-80 and I-76 criss cross).
I-90 also serves the far northern part of the state, including Cleveland, Lorain, Elyria, Mentor, Painesville and Ashtabula.
By train
Cleveland and Elyria are served by
Amtrak
, although the only trains that serve the two pass through in the middle of the night. Direct service is available to Chicago, New York, and Washington DC, with connections to other destinations. There is also an Amtrak station in
Alliance
in Stark County
By boat
The
American Canadian Caribbean Line
and the
Great Lakes Cruising Company
provide cruises that include Cleveland on the itinery.
Get around
Most points within NEO are easily accessible by auto with longer distances less than 1.5 hours in driving time. Most of NEO's counties are served by public transit systems that have cooperative linkage points among them (in order from largest system to smallest):
See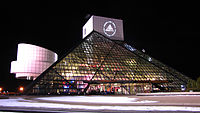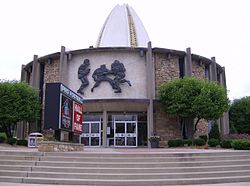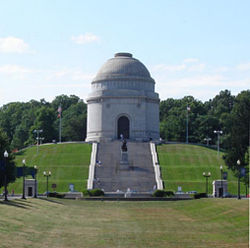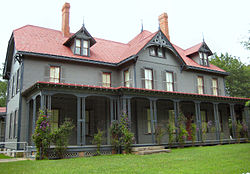 Northeast Ohio is home to
Amish communities
and visitors can travel through rural land and small towns taking great care for the horses and buggies along the way. Find food and crafts for which the Amish community is famous, primarily centered in Geauga County (east of Cleveland) and
Holmes County
(southwest of Canton) which is the center of the largest Amish settlement in the world, known as Ohio's Amish Country.
The
Hall of Fame Cycle
is a route through the region that visits several Halls of Fame and museums. The
Rock and Roll Hall of Fame and Museum
is in Cleveland, while the
Pro Football Hall of Fame
is in Canton. Museums can be found throughout the region, with a particularly high concentration in Cleveland. Visitors who enjoy animals have two
zoos
to choose from: the
Akron Zoo
, and the
Cleveland Metropark Zoo
.
The
U.S. Presidential Libraries and Monuments
of two US Presidents are found in Northeast Ohio. The
James Garfield Cabin
is in Moreland Hills (formerly part of Orange Township), and the
Garfield Home
is in Mentor.
Garfield Memorial
can be seen in the Lakeview Cemetery in Cleveland. The
William McKinley Presidential Library and Memorial
is in Canton. Additionally, visitors can pay homage to the Presidents' wives at the
First Ladies National Historic Site
in Canton; the site is the Victorian family home of US Presidential First Lady Ida Saxton McKinley and now serves as an educational center on the subject of contributions by the wives of US Presidents and other women with significant roles in historical US politics.
Do
Sports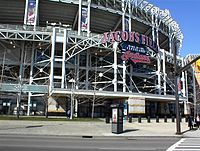 Outdoors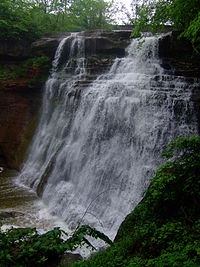 Outdoor destinations include the
Cuyahoga Valley National Park
, which is Ohio's only National Park. It stretches across (north-south) the middle of Northeast Ohio. The
North Coast Beaches
are a large number of public beaches located along the southern shore of Lake Erie. The
Metropark Systems
include the
Cleveland Metroparks
, the
Lake County Metroparks
, the
Lorain County Metroparks
, the
Mill Creek MetroParks
(Youngstown & Mahoning County) and the
Summit County MetroParks
.
The
Ohio & Erie Canal Byway
offers paths to follow alongside or near the Ohio and Erie Canal throughout NEO.
Learn
Northeast Ohio's network of 55 colleges and universities comprises
the second largest concentration of educational institutions in the nation
(after New York City). Outstanding university and vocational training programs, coupled with exceptional liberal arts colleges, provide abundant educational opportunities.
Northeast Ohio offers a variety of educational institutions. Among the area's colleges and universities are:
Cuyahoga County
Baldwin-Wallace College, Berea
Capital University, Cleveland Center
Case Western Reserve University, Cleveland
Cleveland College of Jewish Studies, Beachwood
Cleveland Institute of Art
Cleveland State University
Cuyahoga Community College
David N. Myers College, Cleveland
John Carroll University, University Heights
Notre Dame College of Ohio, South Euclid
Ohio College of Podiatric Medicine, Cleveland
Ursuline College, Pepper Pike
Summit County
University of Akron
University of Akron Community Technical College
Portage County
Kent State University, Kent
Hiram College, Hiram
Northeastern Ohio Universities College of Medicine, Rootstown
Lake County
Lake Erie College, Painesville
Lakeland Community College, Willoughby
Lorain County
Oberlin College, Oberlin
Lorain County Community College, Elyria
Stark County
Malone College, Canton
Mount Union College, Alliance
Kent State University Stark Campus
Stark State College of Technology, Canton
Walsh University, North Canton
Mahoning County
Youngstown State University
YSU College of Health Human Services
Columbiana County
Allegheny Wesleyan College, Salem
Kent State University East Liverpool Campus
Kent State University Salem Campus
Trumbull County
Kent State University Trumbull Campus, Warren
Wayne County
The College of Wooster
Ohio State University's Ohio Agricultural Research and Development Center and the Agricultural Technical Institute
Work
Enjoy your visit, but you'll probably want to stay.
Northeast Ohio is a global corporate center where national and international corporations grow and develop from the area's strong, diversified economy. Poised as the leading center of commerce between New York City and Chicago, NEO has been ranked by
Fortune
magazine as
the sixth best location in North America to conduct business
. Five major industries have evolved to become the economic strength of the region: Health & Medicine, Science & Engineering, Biotechnology & Biomedical, Manufacturing and Education.
Twenty-four companies headquartered in Northeast Ohio are on the 2008 list of
Fortune 1000
U.S. corporations. More than 37% of the Fortune 500 companies are present in Northeast Ohio through corporate headquarters, major divisions, subsidiaries and sales offices. In addition, more than 150 international companies have a presence there.
Northeast Ohio has a diverse mix of business activity, including the following
Fortune 1000
Company Headquarters (according to the 2008 list):
119 Goodyear Tire and Rubber, Akron - Rubber
175 Progressive Corporation, Mayfield Heights - Insurance
207 Eaton Corporation, Cleveland - Motor Vehicle/Parts
209 FirstEnergy, Akron - Utilities
226 National City Corporation, Cleveland - Banking
247 Parker-Hannifin Corporation, Cleveland - Aerospace
316 Sherwin Williams Company, Cleveland - Paint and Coatings
321 KeyCorp, Cleveland - Banking
376 Aleris International, Beachwood - Metals
395 TravelCenters of America, Westlake - Highway Retail
457 Timken Company, Canton - Bearings and Specialty Steel
505 Lubrizol Corporation, Wickliffe - Lubricants and Chemicals
591 Nacco Industries, Cleveland - Industrial Equipment
619 RPM International, Medina - Chemicals
743 PolyOne, Avon Lake - Chemicals
807 Medical Mutual of Ohio, Cleveland - Health Insurance
820 Lincoln Electric, Cleveland - Arc Welding Equipment
822 Cleveland-Cliffs, Cleveland - Mining & Crude Oil
836 Ferro, Cleveland - Chemicals
852 JM Smucker, Orrville - Food Consumer Products
895 Applied Industrial Technologies, Cleveland - Bearings
922 Jo Ann Stores, Hudson - Specialty Retailer
944 A. Shulman, Akron - Chemicals
957 American Greetings, Cleveland - Greeting Cards
Eat
Not only are there great places to dine and things to eat in Northeast Ohio, but these cuisines, several of which define
American Food
, were born here:
Ballpark/Stadium Mustard the popular brown mustard comes from Cleveland.
Hamburgers invented by the Menches brothers of Akron.
Hot Dogs, while obviously descending from the global sausage family and much debate exists about naming the American treat, the first frankfurter wrapped in a bun (a "Hot Dog") was invented by Harry M. Stevens of Niles in 1904.
Ice Cream Cones the cornucopia ice cream cone was also invented by the Menches.
Lifesavers Candies invented in 1912 by Clarence Crane of Cleveland (also the father of famous American poet Hart Crane).
Maple Syrup go to Geauga County in Northeast Ohio, the Village of Burton is the heart of maple country. Pancake Breakfasts offered in Geauga County and other places on Sundays in March are a great way to warm up from the dismal, rainy early-spring weather.
Candy Buckeyes where else would you go for this delicious snack but the Buckeye State? A candy composed of a peanut-butter center partially covered in chocolate to resemble its poisonous namesake.
Salisbury Steak created by and named for Clevelander Dr. James H. Salisbury who desired to perfect the meat curing process (you can pay homage to him at Lakeview Cemetery near University Circle.) Just ask the Menches brothers who must claim, "It's just a fancy hamburger covered in gravy."
Chef Boyardee, also known as Hector Boiardi, first canned his pasta and sauce in Cleveland.
Jo-Jo potatoes are breaded, fried potato wedges often served with fried chicken.
Drink

Northeast Ohio is home to numerous wineries and breweries.

Go next
Lake Erie Islands. Located west of Cleveland, a group of picturesque and festive islands in Lake Erie are accessible via ferry. In addition to several Ohio State Parks located on the islands, there is plenty to do including wineries, restaurants, bars, marinas and beaches.
Nearby cities (less than 3 hour drive) include: Detroit, Toledo, Columbus, Pittsburgh, Buffalo.