Northern Norway
Northern Norway
(
Nord-Norge
) is Europe's northernmost region mostly north of the Arctic Circle. Northern Norway has an endless and very rugged coastline, yet landscape varies from incredible jagged island mountains to endless open plateaus. Summers have non-stop daylight (and sun at midnight) while during the darker season there is frequent display of northern lights (aurora borealis). Northern Norway covers 50 % of Norway's area but is generally sparsely populated with only 1/10 of Norway's population.
Together with the corresponding areas in northern Sweden (Norrbotten), Finland (Lappland) and Russia (Murmansk oblast), the entire region is also referred to as
Cap of the North
. Cap of the North roughly corresponds to the traditional area of the Sami people.
Regions
The largest and the northernmost continental Norwegian region lies entirely above the Arctic Circle. The main attractions include the North Cape, the petrogliphs in Alta, and the Sami municipalities of Karasjok and Kautokeino. There are no trees on the coast of the northernmost fjords, and the landscape are sometimes like on the Moon.
Troms county includes Tromsø, the main city of Northern Norway, as well as four hardly accessible national parks. Wild alpine mountains around fjords and along coast, as well as big valleys in the interior.
The main attractions here are
Lofoten
and
Vesterålen
, the Svartisen glacier, the Helgeland coast, more great fjords, as well as multiple national parks along the Swedish border.
Other destinations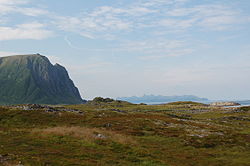 Understand
With a low population density, Northern Norway is dominated by nature. Northern Norway is more than half of Norway's length, but only 10 % of the population. The area is about the size of Greece or South-Korea, but with a population of only ½ million.
Road E6, Norway's main road
, runs 1,700 km (1,000 miles) south-north through Northern Norway.
Since the ice age ended 12,000 years ago, the coast has remained ice free in winter. The coast is protected by islands in most areas (except east of North Cape), and until modern technology helped build good roads, travel by sea was always more practical than across the rugged land. The sea has a rich life, and fishing provided food year round. Fishing in combination with small scale agriculturee as far north as Troms was for centuries the dominant way of life. Today, North Norway has good communications and a more varied economy than ever before. Nature, however, is still dominant in most areas outside the towns, although you might notice small farms along the fjords and on the coastal lowlands.
Northern Norway includes some of the driest and coldest areas in Europe. Because of the mostly low or modest temperatures these places not however turn into desert. The interior of Finnmark (Finnmarksvidda), inner parts of Troms and Saltdal area in Nordland only gets about 300 mm precipitation per year compared for instance to Athens (the driest major city in Europe) that gets 400 mm and parts of western Norway that get 3000 mm per year.
History and culture
In the middle ages Northern Norway was known as
Hålogaland
from
Trøndelag
until somewhere around Lofoten or Tromsø. The land further north was the land of the Sami people, called Finnmark in Norway (the Sami people were called "Finn" by the old Norse people) and Lapland in Sweden/Finland. Finnmark means the land of
finns
or the borderland of Finns. The Finnish, Kven and Sami languages are of the same language family but completely unrelated to Scandinavian languages (modern Norwegian, Danish and Swedish). Borders were not fixed in the open range of the north and the definition of "Finnmark" was very flexible and variable. In one viking saga Finnmark was described as "enormous" completely surrounded by the endless ocean west and north, covering the entire land north of Trøndelag, Halsingland and Karelia (that is most of northern Norway, Sweden and Finland as well as Russia's Kola Penninsula) - this largely corresponds to
Sápmi
the traditional area of the Sami people. The southernmost Sami language was spoken in the border region east of Trondheim. It is not clear how much of the north was ruled by Scandinavian kings or if the northernmost areas were largely land without state. Norwegian settlement in Finnmark began around 1300 and coastal villages came under Norwegain/Danish rule. The interior was open range without fixed borders between states until around 1800. The very northern regions of Norway, Sweden, Finland and Russia was largely a common area. The border with Russia was fixed in 1826 and Kirkenes became part of Norway. Kautokeino and Karasjok became part of Norway (itself under Danish rule at that time) when the border with Sweden/Finland was set in 1760.
Northern Sami spoken in Finnmark and Troms is the most common of the Sami languages. Lulesami is spoken largely along the Lule river, Southern Sami is spoken further south in Nordland and Trøndelag, to mention two more. Today only a few thousand people speak the rarer Sami languages.
Talk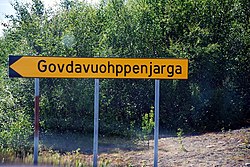 Norwegian
is the official language of Norway and it is the most commonly spoken language in Northern Norway. Norwegian is mutually intelligible with Danish and Swedish.
Sami
is official in seven municipalities and Kven (close to
Finnish
) is official in one municipality. Sami names of towns and places are often displayed on road signs together with Norwegian names. In some cases there are only spelling differences for instance when the name has a Sami or Kven/Finish origin for instance Kautokeino (Norwegian), Guovdageaidnu (Sami) and Koutokeino (Kven/Finish). In other cases names are completely different. In the core Sami areas signs for places may be in Sami only.
Russian
is a common language in
Kirkenes
due to immigration, but it is not an official language.
Most Norwegians speak English well. In theory, all Norwegians are also able to speak a third language, usually German or French (but also Spanish, Italian or Russian), as learning a third language is mandatory in the Norwegian school. However, most people's knowledge of their third "school language" is basic at best.
Get in
The easiest way to travel to Northern Norway is by air. It is also possible to drive or to travel by boat. Some parts of Northern Norway can be reached by train.
By plane
From Southern Norway
The following cities/airports have non-stop flights to Southern Norway
Flights from Oslo depart from Oslo Gardermoen Airport (OSL).
Domestic flights are operated by SAS, Norwegian and Widerøe
International
To Tromsø:
London Gatwick, United Kingdom, operated by Norwegian
Stockholm, Sweden (summer only, Mondays and Fridays, operated by SAS
Murmansk/Arkhangelsk, Russia, operated by Nordavia
Several tourist cities in Southern Europe, both charter and regular.
The international flights do not go every day. See also
Tromsø Airport
on Wikipedia, where there is a better updated list.
By car
E6
is the main route to Northern Norway when driving from the southern parts of the country (Oslo, Trondheim). Oslo about 800 km from the southernmost part of Northern Norway. The rest of E6 through Northern Norway is about 1600 km. The distance from Trondheim to Mo i Rana is about 450 km, to Narvik 920 km and to Tromsø is about 1,160 km.
When going from southern Norway to Finnmark, driving through Sweden and Finland may save time and kilometres.
E45
has connections via Finland to western Finnmark, deviating from it at Arvidsjaur one can drive to Haparanda and by E75 in Finland towards eastern Finnmark.
The main connections from abroad are E8 (via Finland to Tromsø), which joins E6 at
Skibotn
, E75 (via Finland to Vardø), which joins E6 in
Tana
and E105 (via Russia to Kirkenes) to the end of E6.
Norway has one overland border crossing with Russia 15 km from Kirkenes. This is a Schengen border so passport and visa need. The border with Russia can only be crossed in vehicles not on foot (as of 2015).
If you arrive during winter, be aware that winter tires are necessary and required by law. Do not try to drive without, even if you don't expect snow or ice. Some roads may be closed in wintertime, after first heavy snow. See
Driving in Norway
and
Winter driving
.
By bus
From Southern Norway:
There is no bus connection between Northern and Southern Norway, except for a few local routes in the border area.
From Sweden:
Skellefteå–Bodø (a.k.a. Silverexpressen). Operated by Skelleftebuss between Skellefteå-Jäckvik and Nordlandsbuss between Jäckvik-Bodø.
Kiruna–Narvik. Operated by Ofotens Bilruter.
Timetables
From Finland:
Eskelisen Lapin Linjat
operates buses to Tromsø, Alta, Nordkapp/Lakselv, Vadsø and Kirkenes from Rovaniemi/Oulu. Summer only.
By train
Trains to Northern Norway depart from
Trondheim
. There is usually two trains per day, one leaves in the morning and the other leaves in the late evening. The train stops at
Mosjøen
,
Mo i Rana
and
Fauske
(and other smaller places) before it reaches its end destination
Bodø
just above the Arctic circle. The journey to Bodø takes about 9 hours and 30 minutes. Prices may vary, lowest possible price as of January 2008 is 199 kr (one way, limited number of seats, look/ask for "minipris"). Trains are operated by
NSB
.
Narvik
is part of the Swedish rail network with connections to south Norway and mainland Europe. Trains are operated by
SJ
and go from Stockholm. Finland has a wider gauge and is not directly connected to the Swedish network, transfer needed.
There is no railway in the two northernmost counties, Troms and Finnmark.
By boat
The
Hurtigruten
(Coastal Express) sails along the coast of Norway, from Bergen in the south to Kirkenes close to the Russian border. It calls at 25 ports in Northern Norway and 9 ports in Southern Norway. Each port is visited twice a day, once by the southbound boat, and once by the northbound boat.
Get around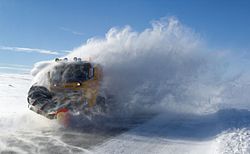 Northern Norway has less than 10 % of Norway's population but covers almost 2000 km by land. Landscape is very fragmented. Long distance sea or land transport is time consuming, although the most rewarding for sightseeing. Air transport is usually the most convenient for short visits to distance corners of Northern Norway.
;By plane
The distances are long, and air planes are important to get around for longer distances in Northern Norway. Flights inside Northern Norway generally start at one of the regional hubs: Bodø, Tromsø or Kirkenes. Bardufoss and Alta airports take larger aircrafts and Alta is the busiest in Finnmark. There are at least a dozen small airports. Most flights serving them are operated by
Widerøe
and are usually fairly expensive. Smaller airports have short runways and are served by small propeller aircrafts such as Dash 8.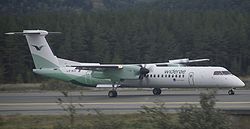 ;By train
Train can be used as far north as Fauske and Bodø, and from Sweden to Narvik.
;By boat
Hurtigruten
follows the entire coast and calls at all major ports, except Mosjøen, Mo i Rana, Narvik and Alta (which are all situated in the innermost parts of long fjords. which would be too long detour). There are also local express boats. An express boat connects Tromsø and Harstad in less than three hours.
;By car
Travel by own car or rental car is the most practical, as there are road connection to virtually every small village, and buses are not frequent outside cities. Note that the distances are very long, and driving takes time. Also do fill the tank in time. Driving in winter is not for beginners - there is little or no daylight, and weather is often rough on the coast and on the mountain passes, while in the interior often bitterly cold. During winter roads are usually covered in ice, snow or slush.
The distance from Mo i Rana to Tromsø is 680 km, needing around 10 hours plus stops. From Narvik to Alta it is 510 km, needing around 7 hours plus stops. The entire road E6 through Northern Norway is some 1700 km, or more than 24 hours non-stop drive at 60 km/h average. The E6 has one ferry crossing.
;By bus
Without a car, travel by scheduled bus routes is the most economical. They have sparse schedules. Important bus connections are the routes from Bodø/Fauske (end of railway) to Narvik and Harstad, from Narvik to Tromsø and Tromsø to Alta (there are many other routes). Search at
Rutebok
See
The best views are seen from a little altitude, where amazing views over mountains, fjords and sea can be seen. To reach these, hiking is usually the preferred way.
In Tromsø and Narvik there are aerial lifts, which easily take you up in the mountains.

Spildra, a unique remote island in the northA small cabin is for rent on this paradise of the north. Fishing, hunting and picking eggs are some of the included activities, along with amazing views of the midnight sun in the summer, and the northern lights in the winter! www.banja.no
Itineraries
Six days hiking on Moskenesøy
Do
Be well dressed, because this is far north and temperatures can be low also in summer.
There's a plethora of activities:
Experience the amazing northern lights or the midnight sun, depending on the time of year
Whale watching (in the country which also harvests in these animals)
Fishing in some of the world's richest fishing waters, such as Lofoten
Dogsledding
Reindeer sledding
Snowmobiling
Explore the indigenous Sami people and their lifestyles and culture
Mountain climbing
Mountain hiking
Diving
Boating
Canoeing
Kayaking
Sailing
Rafting
Cycling
Skiing
Swimming in not well tempered waters (or indoors)
Hiking
Golf
Strolling small towns and villages
Eat
Norwegian cuisine is known for eclectic food with a good supply of many local ingredients.
Northern Norway is particularly famous for
seafood
, lamb, reindeer, and wild berries such as cloudberry.
Drink
Local Norwegian beer, aquavit and cider. Or simply clean and fresh tap water.
==Stay safe==
If you venture outdoors, know what to do! Limited daylight during winter months makes all outdoor activities more challenging. Weather can be rough on the coast and bitterly cold in the interior. Long distances and sparse population mean that one must be able to manage.
There is little crime in the region, but you may end up in trouble if you try really hard.

Go next