Northern Ontario
Northern Ontario
covers 90% of the area of
Ontario
, but has only 6% of its population—about 730,000 people.
Sparse and natural, the area is known for its outdoors activities and rugged inhabitants. Distances are large in Northern Ontario – it's 1600 km (1000 miles) from
North Bay
to the
Manitoba
border.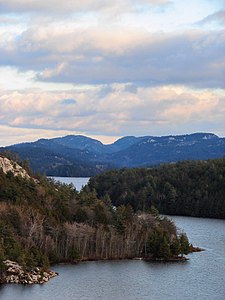 Cities, towns and districts
Northern Ontario has nine cities (
Greater Sudbury
,
Thunder Bay
,
Sault Ste. Marie
,
North Bay
,
Timmins
,
Kenora
,
Elliot Lake
,
Temiskaming Shores
,
Dryden
) and many small towns.
With the exception of the
Greater Sudbury
municipality, all of northern Ontario's land is divided into districts. These districts include vast tracts of sparsely-populated territory where public services are provided by the government of Ontario.
Rainy River
In the far west of the province, Ontario's Rainy River District is part of the so-called M.O.M. region, where
Manitoba
borders Ontario and
Minnesota
. This area is in the Central time zone.
Kenora
Sparsely-populated Kenora District covers 407,213 km² (almost 38 percent of the province's land area), extending north to Hudson's Bay and including most of the Ontario-Manitoba border. This area is in the Central time zone.
Thunder Bay
This district covers most of northwestern Lake Superior, the westernmost Canadian territory in the
Great Lakes
region.
, home of Ouimet Canyon
Greenstone: and (located on both the Trans-Canada Highway and The Canadian rail line)
, the northernmost point on Lake Superior, near the main exposure of the Gunflint chert
Cochrane
was founded 1913 as a rail town, 208 km west of Cochrane
is the railhead of the Ontario Northland Railway on Hudson's Bay
Timiskaming
This is mining country, near the Ontario-
Quebec
border.
Algoma
Algoma District is at the eastern end of Lake Superior, where it borders
Michigan
at Sault Ste. Marie.
, on the north channel of Lake Huron
- The Agawa Pictographs
is the birthplace of Winnie the Pooh in literary tourism
Sudbury
is the seat of Sudbury District.
is the largest city in the district.
Nipissing
Parry Sound District
Manitoulin District
is the world's largest freshwater island.
Understand
Ontario is Canada's most populous province, with nearly 40 percent of the country's population, but most of Ontario's thirteen and a half million people live in southern, beaten-path communities along the
Windsor-Quebec corridor
.
This leaves the rest of the province very sparsely populated, with Northern Ontario's few people spread across a vast area which spans two time zones. Don't expect to drive across all of Northern Ontario in a day; it's of
Trans-Canada Highway
from
North Bay
to the
Manitoba
border and a few communities (mostly on native lands around Hudson Bay) have no intercity road access at all.
Talk
There are several small francophone communities in Northern Ontario, but English speaking travellers shouldn't encounter any issues with language since most of those living in these communities are bilingual (English-French). There are also many communities that speak mainly Cree, though there are usually English speakers there as well.
Get in
By plane
Air Canada Express
provides daily service from
Toronto Pearson International Airport
(
YYZ
) to North Bay, Sudbury, Sault Ste. Marie, Timmins and Thunder Bay from Toronto (Thunder Bay also served from Winnipeg, Manitoba). Westjet flies to Thunder Bay from Toronto. Bearskin Airlines (based in Thunder Bay) provides services to various smaller communities in Northern Ontario, including Red Lake, Dryden, Sioux Lookout and Kenora from Winnipeg, Manitoba. Porter Airlines flies to Thunder Bay, Sudbury and Sault Ste. Marie from Toronto City Island Airport (YTZ).

By car

The 2 main routes through Northern Ontario are Highways #11 and #17. They diverge at North Bay with Hwy. 11 going north and Hwy. 17 going west to Sault Ste. Marie then north from there. Both highways continue westward toward Manitoba, with a few points where there is only one road. The Trans-Canada Highway distance from North Bay to the Manitoba border is approximately 1650km (1050mi).

By rail

ViaRail provides service from Toronto to Sudbury and continues through Northern Ontario to Winnipeg, Manitoba and westward. Sudbury is the only major city in Northern Ontario ViaRail operates to. While the former Ontario Northland passenger rail service from Toronto to North Bay and Cochrane, Ontario has been replaced by a bus, there is passenger rail service from Cochrane to Moosonee on the Polar Bear Express. Algoma Central Railway operates from Sault Ste. Marie to Hearst on alternate days.

By bus

Ontario Northland coach service includes the following routes:
Toronto-North Bay
Toronto-Sudbury
Sudbury-Ottawa
Sudbury-White River
North Bay-Timmins-Hearst
Timmins-Sudbury
Hearst-White River
Sudbury-Manitoulin Island

Kasper Bus serves western areas, including:
Thunder Bay-Longlac
Thunder Bay-Sioux Lookout-Winnipeg
Thunder Bay-Fort Frances
Thunder Bay-White River
Sioux Lookout-Red Lake
Get around
By car
Car rental services are available in most of the larger centres, including Kenora, Red Lake, Thunder Bay, Nipigon, Terrace Bay, Marathon, Sault Ste. Marie, Sudbury, Timmins, and North Bay.
By train
Ontario Northland operates the
Polar Bear Express
railway between Cochrane and Moosonee, on the Hudson Bay shore, hauling mostly locals (the railway is the only method of overland access for many isolated Northern communities) and freight, plus some tourists. This train is one of the few remaining in North America that lets you flag it down to get picked up. Northbound trains leave Cochrane at 9AM five days a week, arriving in Moosonee at 2:20PM. Going the other way, trains depart Moosonee at 5PM and return to Cochrane at 11:30PM.
See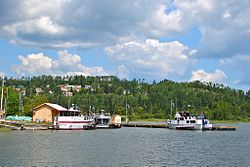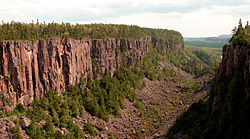 Ouimet Canyon, Dorion, Ontario
Do
Stay safe
Summer
Black flies and mosquitoes are abundant throughout Northern Ontario. To protect yourself when camping or hiking, wear long sleeve shirts (white or brightly colored), thick socks, and long pants (tuck the pants into the socks) and apply insect repellent containing DEET. A mosquito net can be nicer than applying repellent to your face. Also some type of bug netting in your tent is advised. Flies are most active at dawn and dusk between mid June and late July.
Winter
Winter driving
in the North can be treacherous, given the inclement winters here. Be prepared to adjust or cancel travel plans should the weather conditions require it.
Go next