Novi Sad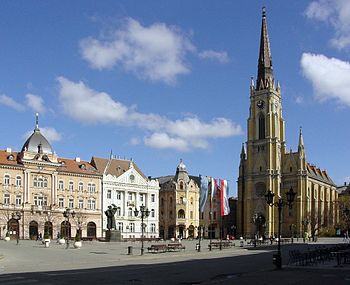 Novi Sad
(
Serbian
: Нови Сад/Novi Sad) is the capital of
Vojvodina
, the northern Autonomous Province of
Serbia
, and the second largest city in Serbia. Situated on the
Danube
River between
Budapest
and
Belgrade
, it is a treasured regional and cultural centre. Novi Sad has a population of around 300,000 people.
Understand
Novi Sad is the second largest city in Serbia. It is architecturally (and, to an extent, culturally) different from other larger cities in central and south Serbia such as Belgrade and Niš, since it was not under the Ottoman influence but instead, that of the Austro-Hungarian Empire. The buildings in the city centre resemble the ones in Vienna and Budapest.
Novi Sad is a university town, with more than 40,000 students attending the University of Novi Sad, which is on a beautiful green campus near the Danube. Because of the abundance of young people, Novi Sad has many bars, "hipstery" places, and is generally more open-minded than the rest of Serbia.
The people of Novi Sad are known to be relaxed and easy going, sometimes a bit too slow-paced for the other Serbians from the central and south of Serbia (their accent is one example of this).
Novi Sad is very flat (which makes it suitable for biking), with wide streets and lots of trees. For those who love hiking, there is a mountain, Fruška Gora, less than 15 km away, which is a national park featuring beautiful nature and many old monasteries.
Tourists that come to Novi Sad are usually impressed the most by Serbian cuisine, very low prices by Western standards, and by the hospitality of Serbian people. Many tourists come to Novi Sad for Exit Festival which takes place on the Petrovaradin fortress in early July.
History
The area of Novi Sad was inhabited since the distant past - the found remains of old settlements date back to the Neolithic period (5000 BCE). Before the middle ages, the region was inhabited by different tribes, including Celts, Romans, and Huns. Slavic tribes (including Serbs) settled the region around Novi Sad mainly in the 6th and 7th century. The region was under the medieval Kingdom of Hungary in the 11th and 12th century and afterwards under the Ottomans from 1526 until 1687, when Habsburg Monarchy took over the control.
The settlement was declared a "free royal city" by the Habsburg empress Maria Theresa in 1748, and it gained its present names Novi Sad, Újvidék, and Neoplanta, meaning "new plantation" in Serbian, Hungarian, and Latin, respectively. For much of the 18th and 19th centuries, this was the largest Serb-inhabited city in the world, part of the
Austro-Hungarian Empire
until the end of World War I in 1918, when it became part of Kingdom of Serbia. During World War II, it was under Hungarian occupation.
After the World War II, the city went through rapid industrialization and its population more than doubled in the period between World War II and the breakup of Yugoslavia after the fall of the Soviet Union. Devastated by NATO bombardment that lasted 78 days during the Kosovo War of 1999, Novi Sad was left without any of its three Danube bridges, and with significant damage to its infrastructure including communications, water, and electricity. Residential areas were cluster-bombed several times while its oil refinery was bombarded daily.
Novi Sad has mostly recovered from the 1990s and it has grown strongly since 2001, shifting its economy from industry-driven to the tertiary sector. It is home of the national headquarters of numerous banks, third largest insurance company in Serbia, and major energy companies. Novi Sad is also a growing information technology center in Serbia.
Climate
Novi Sad has a continental climate, with four distinct seasons. The best weather is generally between April and September.
Winters
are cold, with temperatures being below zero for a couple of weeks per year, often accompanied with snow (which stays for a couple of days or more at a time). The first snow usually falls in late November/early December.
Springs
are short and rainy. On the first warm and sunny day after the winter, usually in March, the people of Novi Sad come out to the city centre to have a drink in a cafe in Zmaj Jovina street, or take a walk on the promenade next to the Danube.
Summers
often arrive abruptly, with temperatures above 25°C being very common, starting as early as May. If the weather becomes too hot, you can have a swim at Štrand, a well-maintained public beach on the river Danube, popular with the locals. If you want to have a proper swim, the outdoor pool at Spens is an option. Go early in the morning to avoid the crowds. Short heavy rains occur from time to time in the summer, cooling the air for a couple of hours. The weather remains warm until the middle of September or later.
Autumns
arrive usually by the beginning of October, and are not too cold, with the temperatures between 10 and 20°C. Rain is not uncommon in this period, however there are many sunny days too. The leaves changing colours and falling from the trees make Novi Sad quite beautiful, especially in the parks and on the promenade next to the Danube.
Get in
By plane
The nearest airport is
Belgrade
70 km southeast, less than an hour ride from Novi Sad. Some taxi companies run regular cars between Belgrade Airport and Novi Sad, e.g.
Autoturist
tel. +381 63 504 587,
Belgrade Airport Transfer
, inexpensive for foreign standards. Belgrade airport is the most convenient for coming into Novi Sad (and Serbia) not only because it is the closest, but also because the transport from other airports includes land border crossings, which can sometimes take hours to cross (the busiest are the ones coming from/to Hungary).
Other airports with low-cost flights are
Budapest
250 km north, and
Timisoara
130 km northeast. There are also taxi companies offering regular cars from these airports, e.g.
Autoturist
.
By train
Novi Sad is on the railway line between
Budapest
(6 hours),
Subotica
and
Belgrade
(2 hours). This line is greatly disrupted by engineering works throughout 2019.
The is 2 km north of the centre, at Bulevar Jaše Tomića 4. It's a boxy functional affair with a cafe, an exchange office and waiting area.
By bus
Novi Sad has buses to all the other major cities in Serbia. Buses for
Belgrade
run every 15 minutes; the quickest zip along the motorway in 90 mins but others take roundabout routes, so the next departure might not be your quickest option.
There are buses to
Sofia
in Bulgaria,
Budapest
in Hungary,
Zagreb
,
Vukovar
, and
Osijek
in Croatia,
Sarajevo
and
Banja Luka
in Bosnia and Herzegovina, and
Budva
,
Tivat
,
Podgorica
,
Herceg Novi
in Montenegro. Connections from elsewhere across Europe usually mean changing in Budapest.
For local and long-distance bus timetables in Serbian and English, visit the web site of
JGSP Novi Sad
, the city public transport company.
The
bus station
is on Bulevar Jaše Tomića 6, next to the railway station. There's ticket kiosks and a cafe, plus adjacent "Mekdonalds".
By car
E-75 between Belgrade and Budapest skirts Novi Sad 5 km north. The toll for a standard car from Belgrade is RSD 240.
For Zagreb and Ljubljana, get onto E-70 highway some 40 km southwest of Novi Sad.
By bike
The cycling route
EuroVelo 6
connects Novi Sad to Hungary and to Belgrade along the Danube. Novi Sad has dedicated cycle-paths along most of its avenues.
Get around
On foot
The city centre is quite small and most of the interesting sights, bars and hotels are all within easy walking distance. There are plenty of street maps, especially in the centre, so you can find your way easily.
By taxi
Taxis are not overly expensive (by Western standards), the minimum fare varies between RSD 80 and 100, with a cross-city trip typically costing RSD 150-200. It helps to have the address written out although many taxi drivers speak fair, sometimes even excellent, English. However, be careful of taxis unaffiliated with one of the major firms (especially at the train station), or you may pay up to four times more than your fare should be. Some good taxi companies: Pan, Vojvodjani, SOS, Delta, Novus, Naš, Lav.
By bus
Novi Sad has an excellent
bus service
. A single ride (no transfers) is RSD 65. Tickets can only be purchased from the driver, using cash. Most of the bus lines operate only during the day, from around 5am until midnight. Since the bus network plan is not incorporated into Google Maps, it is best to ask a local how to get from point A to B, they would be happy to help out.
One should also keep in mind that the timetable shown on the bus stops is the timetable for the bus leaving from the starting bus stop of that route, not the current bus stop. However, the timetable can give an idea on how frequent are the buses around a certain part of the day (it varies from every 10 minutes or less during the middle of the day, to every half an hour late in the evenings).
See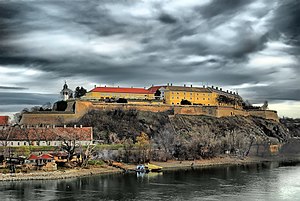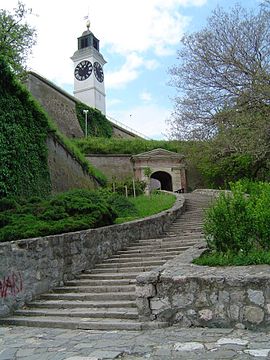 Novi Sad has a relatively small city centre, with some charming old architecture within the pedestrian area in the centre. The main pedestrian streets are Dunavska street and Zmaj Jovina street, the latter includes the main square (Trg slobode). There are also nice green areas and parks around Novi Sad, such as Dunavski park, Limanski park, and the campus around the University of Novi Sad. The promenade next to the Danube river stretches over around 5 km and is also nice to walk along. Around the middle of the promenade (the part closest to the city centre) there is a square dedicated to the victims of the raid during the World War II (Trg zrtava racije). It offers a place to sit and enjoy the view over the Petrovaradin Fortress, which is across the river. On the other hand, Petrovaradin Fortress provides a beautiful view over the city, especially around the sunset. You can end your sightseeing day by enjoying some food with a view from one of the restaurants at the top of the fortress.
Petrovaradin FortressA fortress that no enemy has ever taken, it now hosts the annual Exit Festival within its trenches and walls. The fortress offers the best view over Novi Sad, which is especially beautiful during the sunsets. The clock tower on the fortress is a symbol of Novi Sad, specific for its hands being reversed (the large hand showing hours and small one showing minutes). This dates back to the times when people didn't have their own clocks, and were relying on public ones. The hands were reversed so that the one showing hours (therefore being more important) was easier to see. There is also a museum on the fortress, "Muzej Grada Novog Sada", some restaurants with a great view, and even night clubs.

Town Hall

address: Trg Slobode

The town hall is located on the main square in Novi Sad, which is the default meeting place for the locals. The main square features several interesting sight and is a must see.

Name of Mary Church

address: Trg Slobode

Catholic church built in the period 1892-1894, Novi Sad's largest Gothic Revival church and also the tallest in the Bačka region. It is also located on the main square, on the opposite side of the Town Hall. The locals refer to it as "the cathedral".

Statue of Svetozar Miletić

address: Trg slobode

Svetozar Miletić (1826-1901) was the most prominent political leader of the Serbian people during the Habsburg Monarchy. He was a lawyer, journalist, author, politician, mayor of Novi Sad. One interpretation of the statue is that Miletić is threatening to the Catholic Church, since he is facing the Name of Mary Church that is next to the monument, with his arm up in a menacing fashion. However, most likely he is just presented going out of the Town Hall where he served as a mayor.

Monument to the Victims of Fascism in Novi Sad

address: Kej žrtava racije

This monument stands on a small square next to the Danube river, along the promenade. It offers a great view over the Petrovaradin Fortress. During the warm summer evenings, many young people gather on this square. The monument itself was erected to commemorate the victims of the raid during the World War II. Between 21–23 January 1942, Hungarian police killed 1,246 citizens, among them more than 800 Jews, and threw their corpses into the icy waters of the Danube.

Church of the Great Martyr St. George

address: Nikole Pašića 4

Orthodox church, it is the seat of the Serbian Orthodox Eparchy of Bačka. Orthodox Christianity is the predominant religion in Serbia.

Gimnasium Jovan Jovanović Zmaj

address: Trg Republike

The oldest gimnasium (general-knowledge high school) in Novi Sad. It stands next to the Church of the Great Martyr St. George. This school is named after a poet from Novi Sad, and is situated at one end of the pedestrian area, on the Republic Sqaure (Trg Republike), very close to the Fish Market.

Fish Market

address: Trg Republike

Great place to buy very cheap, fresh fruit and vegetables, homemade cheese, and many other things! Highly recommended for anyone who is looking for a true Serbian market experience. It is open every day, an it's best to come in the mornings, since the vendors start going home in the early afternoon.

The Government of Vojvodina building

address: Bulevar Mihajla Pupina 16

Novi Sad is the capital of the Autonomous Province of Vojvodina, and the government is situated in this building, which is designed to look like a ship.

Novi Sad Synagogue

address: Jevrejska street

The only synagogue in Novi Sad, it is protected by Republic of Serbia as a historic landmark. Because of its great acoustics, it is used for many concerts and events.
Green areas
Danube's ParkA beautiful park near the city centre. It is home to a family of swans, with the parent swans know among the locals to be named Isa and Bisa.
University of Novi Sad campusThe university campus is quite large and features many trees and places to rest, sit and enjoy a sunny day.
Limanski ParkA large park near the public beach Štrand and close to the university campus.
Museums
Foreign Art Collection

address: 29 Dunavska

This is the largest museum collection of foreign art in Serbia. In 1966, Doctor Branko Ilić donated his art collection of 136 paintings of foreign artists, 279 pieces and sculptures, period furniture and other items of applied arts to the town of Novi Sad and the Province. The legacy consists of the works of Western European schools from the 16th century until the end of the 19th century, mostly from the area of Central Europe (France, Germany, Italy and Austria).

phone: +381 420-566,+381 526-555

address: 36-37 Dunavska St

Entry price for foreigners RSD 100, or RSD 200 with an English speaking guide. Vojvodina from Paleolithic up to the 20th century. Also, there's Dinaric Ethnic house "Brvnara" in Bački Jarak (15 km north from Novi Sad).

Do
EXIT FestivalThis festival, founded in 2000 as an onset to the democratic revolution in the country, attracts more and more visitors every year. It has a wider variety of music genres such as Rock, Dance, Reggae, Hip-Hop, Folk, and Techno. Many world famous bands played on the festival (Slayer, Moloko, Iggy Pop, Snoop Dogg, Wu-Tang-Clan, Public Enemy, Billy Idol, Pet Shop Boys, The Cult, HIM and many DJs from around Europe and Asia) and in 2004 it was listed as the biggest cultural event of South-Central/Eastern Europe.

A stroll around the city's imposing boulevards and along the Danube river, for example the route Kralja Aleksandra - Trg Slobode - Zmaj Jovina - Dunavska - Beogradski Kej - Kej Žrtava Racije
If the weather is nice, sit down at one of the cafés around Spens and enjoy
The Mountaineering club Naftaš usually organizes a hike on Saturday or Sunday on Fruska Mountain and in the Novi Sad vicinity. mailto:prilozi@pdnaftas.org.rs GPS tracks of regular hiking paths is available on PD Naftaš website
The Železnicar Association of mountaineers and skiers organizes a hiking trip every Sunday on Fruska Mountain and in the Novi Sad vicinity. Trg Galerija 4, 529 978 mailto:zeleznicar.nsad@neobee.net
Must visit in summer - "Strand" - means beach, the most beautiful sand beach on the Danube river! It is open usually 15 May-15 Sep.
Buy
Coats good quality (particularly for the harsh winter) and very cheap.
Leather goods at the Manual Company, a modern franchise based on high quality luxury leather, handmade at affordable prices. Various shops, one at Zmaj Jovina 18
Quality goods, especially sportswear, can be found at Spens
Mercator (shopping mall)
Merkur

address: Bulevar Mihajla Pupina, 1

Shopping mall at the city center
NewNork (renovated shopping mall at the city center across the street from the Opera House)
Futoška pijaca and Riblja pijaca are two open-air markets in the city center where you can buy cheap clothes, local fresh produce and some groceries imported from Hungary.
Eat
After a hearty breakfast with meat, Serbians traditionally work eight hours straight before having their "lunch" between 15:00-18:00. This is by far the biggest meal of the day, with huge quantities of soup, roasted meat and potatoes, and a pickle salad as a side dish. Restaurants are typically open until 22:00.
Sandwiches & pancakes
Frustuk bar

address: Novi Sad, 021/522 777

Excellent vegetarian and non-vegetarian sandwiches!
Maja - Here you can buy Novi Sad's trademark sandwich "Index". In a place next to it, you can eat good gyros. Situated close to Novosadski Sajam (Novi Sad Fair).
Disney - Pancakes.

phone: +381 64 077-4458

address: Jevrejska 42

Pancakes for take away!
Snacks
Sultans of Istanbul - Baklava Carstvo - Maksima Gorkog 1a, Lokal II - Best Baklavas in town, eat in or take away.
Pizzeria Adrijana - Zmaj Jovina 1
Pizza & Gyros "Stomi" - Braće Popović 8 (Novi Sad Fair) - Delicious gyros and pizza.
Good Food - cheap burgers, sandwiches and gyros, Jevrejska 3 in the city center
Obelix - Futoški put 59 - All kinds of Grill, burgers, ćevap (kebab). Very popular place.
Dottore per la pizza - Maksima Gorkog 10 - Best pizza in town, also hot-dogs and crepes.
Jefta - one of the most popular places to eat a hamburger.
Bubi - one of the most popular places to eat a hamburger. Often is very crowded. Situated close to Novosadski Sajam (Novi Sad Fair) or at the Vojvodina fotball stadium
Pekara "Djani" - Bakery (you can buy burek here). Rase Radujkova 10, Novo Naselje
Cezar pizza - Modene 2
Amigos Chicken - Amigos Wings - Chicken wings are spoken of highly. Stevana Sremca br.1
Caribic Pizza - CARIBIC pizzeria, is a restaurant with a tradition dating from 1992. The restaurant offers a wide range of pizzas. Within a restaurant there is a well known pizza cut service that is preparing fresh pizza cuts and is open 24/7. Locations in Novi Sad: Trg Slobode 4, Trg Carice Milice 4, Jevrejska 35, Stražilovska 35.
Budget
Stevča soul food

address: Grckoskolska 7

Mali Niš

phone: +381 21 459521

address: Fruškogorska 16

Niš, Jovana Popovića 27, 504 650
Marina, Trg Mladenaca 4, 424-353. very nice restaurant just few minutes from the centre of Novi Sad. Pleasant, with terrace and good food.
Bor (The Pine), Temerinski put 57a, 412-424.
Jet Set, Temerinski put 41, 414-511.
Doria, Sutjeska 2. Cafe/pizzeria. Good pizzas and pastas, RSD 350-500. Near the sports stadium.
Alaska koliba Kamenička ada 1,365-683.
Dunav, Kamenička ada bb, 365-683.
Lipa, Svetozara Miletića 7-9 (Under the lime-tree), 615-259.
Chicken Tikka, on the Vojvodiina stadium, near building SPENS. Nice and pleasant.
Staro zdanje, Trg Marije Trandafil 1, 527 040

McDonald's

address: Trg Slobode 3, 021/423 938

Kentucky Fried Chicken, BIG shopping mall
Konoba - delicious fast-food experts. Awesome staff, very tasty food.
Leskovacki Rostilj, Bulevar Oslobodjenja. Serbian version of a hamburger. Cheap, tasty and filling.

Mediteraneo Trattoria8, Rezervacije 021/526-322 Dostava 021/6612-621. Sweet Italian restaurant in center of Novi Sad.Ise Bajica

Burek+

phone: +381 21 512525

address: Rumenačka 106

Tasty traiditional burek.
Mid-range
Secuan First Chinese restaurant in Novi Sad. Expensive for local standards, Dunavska 16 Novi Sad 529-693
Ribarsko ostrvo (Fisherman's Island) Kamenička ada bb Novi Sad 365-683
Čerčil Natoševićeva 1 Novi Sad 525 132
Derbi Sutjeska 2 Novi Sad 611-347
2 Štapića - Chinese take-out. Situated near SPENS on corner of Cara Lazara and Fruškogorska streets.
Surabaja Indonesian restaurant, behind the church. Primorska 26 Novi Sad 413-400
Fontana Excellent traditional meat restaurant. RSD 90 for great bowl of soup, RSD 290 for traditional Bosnian Cevapcici (ground meat skewers) and RSD 390 for a huge mixed grill. Staff very friendly, nice terrace with fountain in the summer. Also hotel. Nikole Pašića 17 Novi Sad 621-779
A'dam Excellent new place, very tasty food. Laze Teleckog 28 Novi Sad 472-7704
Splurge
DukatĐorđa Rajkovića 12 Novi Sad 525-190

Jatak Danila Kisa 13, one of the finest restaurants in the region. Prices range from €10-20 per main course
Zeppelin - Kej Zrtava Racije bb, Lovely restaurant and Cafe on a ship on the Danube with a great look at Petrovaradin fortress and with quality cuisine offering wide variety of meals.
Salas 84 - excellent, about 30 km from Novi Sad to the north-east. It's worth to see it!

phone: +381 21400934

address: Somborska 189

An authentic Serbian restaurant with pre-1930s atmosphere. The food is a mixture of traditional and modern Serbian cuisine.
Sweets
Poslastičarnica Figaro, Mite Ružića Street, behind church in parallel street to Zmaj Jovina. 30 RSD for nice piece of pastry and 50 RSD for Espresso.
Cafe Poslastičarnica Twin, Zmaj Jovina 8. Excellent cakes and coffee!
Mozart Cafe - Cakes, ice cream and sweets. Bulevar Oslobođenja 46.
Europa - Ice cream and sweets. Situated in city center.
Vremeplov - meaning "Time machine", Bulevar Oslobodjenja (next to EPS building), Wonderful 1920s looking place, but with high prices for local standard, not followed by high quality of food.
Vegetarian
Green House

phone: +381 21 654 1305

Vegetarian snacks, sandwiches, muffins, cakes. Vojvode Knicánina 1.
Drink
As a university town, Novi Sad is known for a lively bar scene. There are lots of nice bars in the small streets to the west of Zmaj Jovina, around Njegoševa and Grčkoškolska streets.
Outdoor drinking (in summer): at Zmaj Jovina/Dunavska (slightly more relaxed) and at the sports stadium (locally referred to as
Silicon Valley
because of the alleged preponderance of breast implants)
address: Ulica Svetozara Miletića 17

Beautiful bar/pub with supreme selection of international beer and wine with food to pair with.

Martha's Pub

address: Ulice Laze Teleckog

The best honey rakija in town and one of the most popular pubs with an upstairs bar and patio and downstairs bar. A "must go" to try the honey rakija.

Bar Kaž'te

address: Kečigina 1, Ribarsko ostrvo

phone: +381 60 6852186

address: Laze Telečkog 13

Trafika Lively young atmosphere. Ulica Laze Telečkog.
"RST" Cafe Club regularly changing programs, from open jam sessions over romantic evenings to domestic rock and pop bands
Trema (Stage fright) Probably the largest bar in Novi Sad, musical events, mixed audience. In the Serbian national theatre. Behind the entrance, take the stairs to the left. Pozorišni trg 1 Novi Sad 451-232
Bistro Ulica Modene, extremely dark bar next to Cezar Pizza but fairly relaxed atmosphere inside. Youngish, slightly alternative crowd.
Sistem I dance/pick up bar, expensive and posh dress. Ulica Modene.
Adresa cocktail bar, stylish crowd. Ulica Modene.

Cafe "The Sting"Vojvodina Stadium 458-155

Foxtrot Futoška 23, 622-904
Pipping Cafe Club in the Cultural Center of Novi Sad. Katolička porta 5
NS Time Bul. Despota Stefana bb
Absolut Zmaj Jovina 12
Pivnica Gusan Zmaj Jovina 12 - one of the best pubs

phone: +381 21 427136

address: Zmaj Jovina 28

An Irish pub
Big mama Zmaj Jovina 2, 613-442
Sterija Pozorišni trg 1
Models Ilije Ognjanovića 24, 612-058
Cafe Club Bar Ego 622-029

address: Zmaj Jovina 26

529-438

Club Soul

address: Svetozara Miletica 40

only electronic music, after parties & free entrance

Cafe Porta

phone: +381 646140454

address: Katolicka porta 6

Nice and quiet place in the center of Novi Sad
Sleep
Budget
Bela Lada, , street Kisačka 21. Phone: +381 21 6616-594 or +381 62 418-681, fax: +381 21 47 25 120, . From €12 per person/per night private single room. 5 minutes' walk from the Exit Festival or the Danube promenade, the Dunavska street and Petrovaradinska tvrdjava. Address: Restaurant - Kisačka street 21, Rooms - Zlatne Grede street 15. Bela Lada is also an international restaurant with Gypsy music, where you can try all kinds of wine. On the wall of the restaurant are 2000 different bottles of wine from all over the world. Contact and reservation information Phone: +381 21 66 16 594, +381 21 422 552, +381 21 500 190, Mobile: +381 62 418-681, +381 63 680-822, Fax and email as shown above.

phone: +381 641920342

address: Njegoseva 2

Very central hostel close to many bars and restaurants.

phone: +381 21 551 991

address: Djordja Rajkovica 28

Located less than 10 minutes walk from City Centre. Internet and WiFi.

phone: +381 21 527 556

address: Ilije Ognjanovica 26

Near the main city square, friendly service, clean.

phone: +381 216337085

address: Bulevar Oslobodjenja 48

in the vicinity of the Main Train and Bus station.
Hotel Boem Branka Radičevića 5 21205 Sremski Karlovci (7 km from Novi Sad). Phone: 881-038 881-892, . From €17.
Mid-range
address: Nikole Pašića 24

Novi Sad 021-4723840. Comfortable apartments, free wi-fi. From €30.

Fontana

phone: +381 21 6621-779

address: Nikole Pašića 17

Average rooms above the restaurant, also a huge apartment. Very friendly staff though limited English.

phone: +381 442-511

Bulevar Jase Tomića.

phone: +381 21 474-83-80

address: Branka Ćopića 122

Nice and modern rooms from €25.
Splurge
Hotel Prezident"5 star, part of the Best Western hotels, Futoska 109

Hotel Park 35 Novosadskog sajma, just opened. €50-400/bed, breakfast, swimming pool, sauna, without a residence tax.

phone: +381 21 6621 444

address: Zmaj Jovina 8

From €50. Well air-conditioned rooms, rich and multifarious buffet. Rooms are always clean and spotless. Hospitable and very polite staff. If you book in advance you can even reserve a parking space for your vehicle.
Hotel Leopold I On the famous Petrovaradin fortress, spectacular views to the Novi Sad, 58 twin or double rooms and apartments, satellite TV, internet, car park.

Hotel MediteraneaoVery close to Zenit, new and modern

phone: +381 21467710

address: Teodora Pavlovica 28

B&B Hotel with the largest fitness centre in the city. All guests enjoy complimentary use of gym and sauna.

phone: +381 21 4 801 800

address: 1A Futoska Street

Located in the business part of the city offering all possible amenities to businessmen and other demanding travelers. Employees speak English, Dutch, and Italian.
Go next
If you have enjoyed Novi Sad, you should also consider visiting: