Nusa Lembongan
Nusa Lembongan
is a small island off the southeast coast of the main island of
Bali
. Fast becoming one of Bali's most popular attractions, this island is a world away from the hassle and hectic pace of
South Bali
. Neither hawkers nor traffic mar the magnificent scenery; this is a fine place to just put your feet up and relax. Main activities include surfing, diving and snorkeling. The water is some of the clearest you will find anywhere, and a vivid aqua blue in colour.
Understand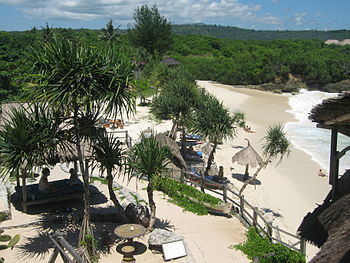 Nusa Lembongan is approximately 8 km² in size, and is one of
three neighbouring islands
, the others being much larger
Nusa Penida
and tiny
Nusa Ceningan
(also covered by this article). The three islands are separated from Bali by the Badung Strait. Some visitors may find Nusa Lembongan a little slow after the pace of South Bali.
Many areas around the island are good for diving and snorkeling, with abundant marine life and healthy coral. Surfing can get a bit crowded, but the waves are good. There are several white sand beaches away from the main centres which are virtually never crowded. There is a flourishing and well established seaweed farming industry here, and many visitors find it interesting to learn about this.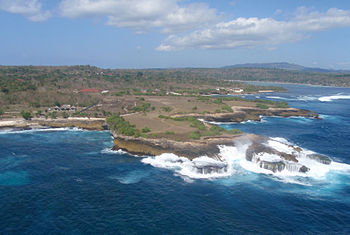 Orientation
Two main beach areas have traditionally attracted visitors.
Jungut Batu
in the northwest is the bigger of the two, and has myriad hotels and cheap eateries. This is the area which traditionally attracted backpackers and surfers to the island. The white sand beach here is pleasant enough but nothing to get too excited about, and it is a little narrow in places. In more recent times, the hillside to the south of Jungut Batu known as the Bukit (
the hill
) has been developed and has attracted some higher level hotels and private villas. The views from the Bukit are perhaps second to none on Nusa Lembongan. Sunsets are best viewed along the main Jungut Batu beachfront.
Mushroom Bay
to the southwest of Jungut Batu is a quaint, attractive and sheltered bay. It is an especially nice spot after 15:00 when the day trippers have returned to Bali, and it has a great white sandy beach, along with some cozy little water-side restaurants.
Further south, the lesser known beaches either side of the Devil's Tear outcrop, known as
Dream Beach
and
Sunset Beach (or Sandy Bay)
, are increasingly drawing more visitors. The coastal landscape in this part of the island is mostly low-lying limestone cliffs, and there are some dramatic cave formations.
The north end of the island is fringed by an important mangrove forest, and the eastern side of the island is separated from neighbouring Nusa Ceningan by a shallow estuarine channel.
The main population centre of the island is
Lembongan Village
in the southern interior, and it is here that you will find the homes of many traditional island families.
Climate
The climate of Nusa Lembongan is similar to neighbouring 'mainland'
Bali
, but it is noticeably drier here, particularly in the period of May to September. If there is a time to avoid, it would be the height of the rainy season in January and February.
Culture
The local Lembonganese are Hindu and visitors will notice little or no difference from the prevailing
culture
on the Bali mainland.
Talk
Balinese
is the most common language of communication between local residents, with
Bahasa Indonesia
a distant second. The Balinese spoken here is a distinct dialect, and sharp-eared linguists would certainly notice this. English is widely understood and spoken, often with an Australian accent!
Get in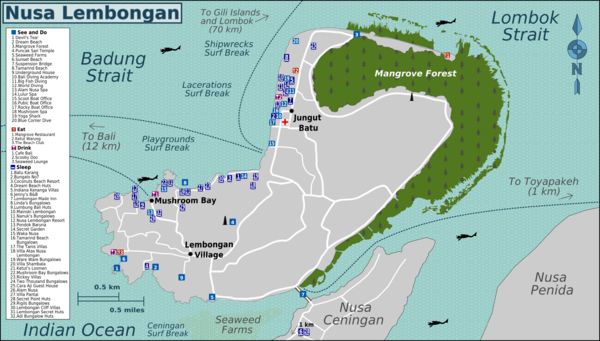 The only realistic way (although you can charter a
helicopter
) to reach Nusa Lembongan from Bali is by boat. There are several options according to budget and speed. Most of the scheduled fast boat services leave from
Sanur Beach
at the end of Jalan Hangtuah, and usually involve getting your feet wet at boarding. The exact departure and arrival point on this beach depends on the tide. Other services run from Benoa Harbour, and there are local public boat services to and from
Padang Bai
and Kusamba in
East Bali
, but these are not recommended for reasons of safety and comfort. You can go directly to the fast boat office of your choice (usually near the departure point) to book. The only places to check live seat availability and get immediate confirmed e-tickets online are Gilibookings.com or the cheaper Gilitickets.com. Otherwise you can go direct to one of the fast boat company websites to make reservation inquiries which usually takes 24 hr to get confirmation. On Bali, there are also plenty of local agents selling tickets that you can purchase when there, or you may be able to book with staff from your hotel.
From Sanur Beach
phone: +62 361-281974,

address: Tickets can be purchased at Jl Hangtuah 78, Sanur in front of Ayu Salon (Mushroom Beach Bungalow office)

Crossing takes 25-30 minutes. Departs daily from Sanur beach at 08:00, 09:30, 11:30, 14:30, 16:30. Departs daily from Lembongan at 08:00, 15:30, 16:30.

phone: +62-813-5330-4990

address: Perum Bukit Pratama, Jl. Gong Kebyar No. 22 Jimbaran, Kab. Badung, Kuta Selatan, Bali. Indonesia.

At Gilitransfers, we keep working to make tourists easier to book what they need when they plan to visit miraculous islands of Bali, Nusa Lembongan, Nusa Ceningan, Nusa Penida, Gili Air, Gili Meno, Gili Trawangan and Lombok

phone: +62 85935149208 or +62 878 76593513

address: Mushroom Bay to Sanur

New speed boat with safety equipment, and big boat with three engines, the trip is Lembongan - Sanur transfers. Crossing takes 25-30 min.

phone: +62 361 750808

A local transfers-only operator for the budget traveller. Boat departures daily at 10:30 from Sanur, and 08:30 from Lembongan. The ride across is approximately 90 min, and there is no same day return option. The Sanur office of Perama can be found at Warung Pojok in Jalan Hangtuah. Daily Perama buses depart from here to Ubud, Kuta, the airport, Padang Bai (for Lombok) and Amed. Price is 200.000 IDR one way.

address: Jl. Hang Tuah No.27, Sanur, Denpasar Selatan, Sanur Kaja, Denpasar, Kota Denpasar, Bali 80239

Scoot Fast Cruise provides fast boat transfers among Sanur - Nusa Lembongan - Gili Island - Lombok.

address: Jl. Hang Tuah No.27, Sanur Kaja, Denpasar Sel., Kota Denpasar, Bali 80227

D'camel Fast Ferry is a fast boat that depart directly from Sanur to Nusa Lembongan. The total crossing time of D'camel fast boat is about 20-30 minutes with three daily transfers from Nusa Lembongan and Sanur Beach. D'camel Fast Ferry also provide free hotels pickup/dropoff in Ubud Central, Sanur, Kuta, Jimbaran, Nusa Dua and Legian.

Public Boat (slow)Departs daily from Sanur beach at 08:00 and 10:30 in front of the Ananda Hotel or near the Grand Inna Bali Beach Hotel (depending on tide). These boats can be a bit sketchy at times, and are usually very crowded. No same day return facility. The ride across is approximately 90 min. Rp 80,000 per person.

Public Speed Boat

phone: +62 361 743 2344

address: Sanur Beach

Departs daily from Sanur beach to Jungutbatu Bay at 09:00, 12:30, 15:30 and returning at 08:00 10:30 and 15:00. To Mushroom Bay leaves Sanur at 09:30, 11:30, 14:30 and 16:30, and leaves Lembongan at 09:00, 13:00 and 15:30. Book in advance as seats may be limited. Hotel transfers from Sanur, Kuta, Nusa Dua, Seminyak, Legian, and jimbaran are included when bookings are for a minimum of 2 persons. Other areas have an extra charge. Crossing time is 30 min. Private charters are available and rates are subject to negotiation.

phone: +62 361 8012324

Reliable and very fast boat from Sanur Beach to Jungut Batu. Tickets can be purchased at the office in Jl Hangtuah, Sanur, on Sanur beach where the boat departs, and in Jungut Batu on Nusa Lembongan. Crossing takes 25-35 min, depending on sea conditions. Departs Sanur 10:00, 12:00, 14:00 and 16:30. Departs Nusa Lembongan 09:00, 11:00, 13:00 and 15:30. They do hotel (limited area) & airport pickup/drop offs if you send them a message regarding your personal trip details.

phone: +62 361 285522

Fast boats from Sanur Beach which take you to Jungut Batu. Hotel transfers are included. Tickets can be bought from the Scoot office next to Dunkin' Donuts in Jalan Hangtuah opposite the Sanur Paradise Plaza Hotel, online, or on the beach near the departure point. Crossing takes 30-40 min. Departs Sanur 09:30, 13:30 and 16:00. Departs Nusa Lembongan 8:30, 11:30 and 15:00.

phone: +62 361 7432344

Scheduled speed boat service to Jungut Batu and Mushroom Bay taking 25-30 min. Departs from Sanur Beach near the Grand Bali Beach Hotel at 11:30. 15:30 departure from Mushroom Bay on Nusa Lembongan at 09:00 and 15:30. Rp 150,000/person excluding transfers. Charters can be arranged from Sanur and Padang Bay.

phone: +62 361 281974

address: Jl Hangtuah 78, Sanur

Daily fast boat transfer, Crossing takes 25-30 min depending on sea conditions. Private charters are available and rates are subject to negotiation. Departure from Sanur Beach to Mushroom Bay at 08:00, 09:30 and 16:30. Departure from Mushroom Bay to Sanur at 08:00, 15:30, 16:30. Tickets can be purchased at Jl Hangtuah 78, Sanur in front of Ayu Salon (Mushroom Beach Bungalow office). Price for return (round-trip) ticket includes dropoff and pickup in Nusa Lembogan.
From Serangan Harbour
address: Jalan Setia Budi No.18, Kuta, Kabupaten Badung, Bali 80361

Bali Eka Jaya have many years experienced in providing fast boat transfers among Bali (Serangan and Padangbai ports), Nusa Lembongan, Lombok (Bangsal port), Gili Air, Gili Meno and Gili Trawangan. Their main office is in Kuta Bali. Bali Eka Jaya has new aluminum vessels with a powerful engine and air-conditioned cabin to provide customer satisfactory.

phone: +62 361 729 818

address: Jl. Suwung Batan KEndal No. 8C, Denpasar - Bali

Fast boats from Serangan Harbour which take you to Jungut Batu. Hotel transfers are included. Tickets can be bought from Marina Srikandi Official website. Crossing takes 45 min. Departs from Serangan to Nusa Lembongan at 08:30. Departs from Nusa Lembongan to Serangan 15:30. One way fare Rp 250,000 and return Rp 450,000, including hotel pick up.

address: Jl.Silayukti, Central Parkir Silayukti, Padang Bai, Padangbai, Karangasem, Bali 80801

Bluewater Express fast boat is a british owned fast boat transfer company based in Bali. Bluewater Express located main base at Serangan harbor. Bluewater Express cruises from Bali to Lombok and from Bali to Gili Trawangan with departure point at Serangan harbor and Padangbai harbor. The harbor is featured with complete facilites including comfort waiting area with restaurant and clean toilets and shower.
From Benoa Harbour
phone: +62 361 443765

A standard transfer is available using a high speed catamaran service. The (standard transfer) service departs daily from Benoa Harbour at 09:00 and from Nusa Lembongan at 15:15. If you have limited time for a visit to the island, an option is to take a one day cruise to the Nusa Lembongan Bounty pontoon. On a twin-hull boat under sail you will reach the island within 90 min. Drinks and snacks are available on board. The trip includes water activities on and near the pontoon; such as banana boat, water slide, kayaking, snorkelling and glass bottom boat rides. You can also take part in a Nusa Lembongan Village tour, visit a seaweed plantation and the 'Underground House'.

phone: +62 361 728 088

A standard transfer is available by fast boat or by fast catamaran. An alternative is a day cruise by a leisurely sailing yacht or by fast catamaran ("fun ship"). The fast boat (transfer only) departs from Benoa Harbour at 10:30, it returns from Nusa Lembongan at 12:30. The yacht (day cruise) departs from Benoa Harbour at 09:00 and will be back at about 17:00.

phone: +62 361 361 0840

The fast boat departs from Benoa Harbour at 10:30 and 15:30 departs and from Nusa Lembongan at 09:00 and 13:30.
From Nusa Penida
Neighbouring
Nusa Penida
is seldom visited, and almost always from Nusa Lembongan. It is though relatively straightforward to get between the islands.
Public boats depart daily from Toyapakeh and sometimes Buyuk Harbour, both in northern Nusa Penida. Departure times are a bit of moveable feast. Ask around at the time, but about 06:00 is a fairly reliable slot. They run to either Jungut Batu or the estuary bank near the suspension bridge on Nusa Lembongan, depending on tide. These can be very over-crowded and a little worrying at times. As a visitor, expect to pay about Rp 50,000 each way.
Charter boats are available, departing from and arriving at the same areas as public boats. Rates vary greatly but expect to pay Rp 300,000-500,000. Please ensure that the full price is absolutely clarified with the operator prior to boarding the boat.
From the Gili Islands and Lombok
BlueWater Express

phone: +62 361 895111, +6281 338 418 988

Fast boat to Gili Trawangan Islands and Lombok with free pick up transports. BlueWater Express has 2 operated boat with 30 seats capacity each. Return price is Rp 1,380,000 for adults and Rp 1,180,000 for child under 12 years old, infants price is free. BlueWater departs from Serangan at 08:00 and 10:00, from Padang Bai at 11:15.

Ocean Star Express

phone: +62 82 34022 8744

Daily speed boat service from Sanur Harbor to Lembongan Island and directly to Gili Trawangan, Gili Meno, Gili Air and Lombok. Ocean Star Express is a 4 (outboard) engined Fastboat with a transfer time of 1½ hr or more in fair weather. Includes pickup & drop off at hotel. Rp 550,000 each adult and children under 12 Rp 398,000. Daily from Sanur 09:00 to Lembongan Island 10:30 to the Gili islands & Lombok.

Scoot Cruisesoperate a daily service from Gili Trawangan and Lombok to Nusa Lembongan. The boat leaves Gili Trawangan at 12:45, picking up at Teluk Kode on Lombok at 13:15, and arrives in Lembongan around 16:00. The service in the opposite direction departs Lembongan daily at 10:30 arriving in Gili Trawangan at 12:45 and Teluk Kode at 13:15. Fares are Rp 600,000 each way for adults and Rp 450,000 for children under 11.
Get around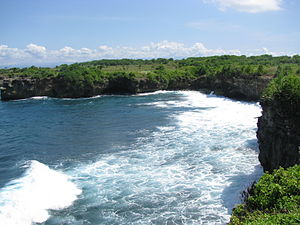 By foot
Nusa Lembongan is a nice place to walk, with coastal paths linking nearly all the guest houses, hotels and restaurants. Most walks will take less than two hours. The less developed southwestern area of the island has some spectacular coast paths which provide easy walking, great views back to Bali, and spectacular sunsets. You can cross by foot to the small neighbouring island of Nusa Ceningan via a scenic suspension bridge.
From the end of the beach at Jungut Batu it is a 35-min walk along the coast to Mushroom Bay.
By bicycle
Bicycles can be rented at some hotels and guest-houses. Some of the roads are quite well surfaced, but be prepared for some very degraded surfaces in places and there are some steep hills. A significant road resurfacing project is going on throughout the island in October 2015, which is improving matters. This is a great way to see the island at your own pace. Expect to pay about Rp 20,000-40,000 per day.
By motorbike
Motorbikes are also widely available for rent, but may be unnecessary given the short distances involved — the island is only about 4 km end-to-end. Expect to pay Rp 50,000-100,000 per day, depending on how busy it is. Local boys are more than happy to transport you on the back of their motorbike for a fee.
By truck
There are virtually no cars on Nusa Lembongan, and any business or local resident wishing to bring one to the island needs special permission from the village elders. This will only be granted in exceptional circumstances. Local 4-wheeled transport is available though in the form of basic pick-up trucks which most hotels and restaurants use. These are useful for transport to and from the boat transfer point when you are likely to have heavy bags, but are otherwise not really necessary.
By boat
Local boatmen are willing to take you by boat from Jungut Batu to Mushroom Bay. One way should cost about Rp 30,000. A return trip can be negotiated down to Rp 50,000.
See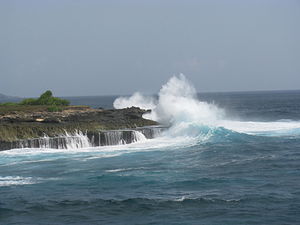 The attractions here are mostly natural. The beaches and other coastal landscapes are obviously a key draw, as are the sunsets. There are a limited number of man-made attractions, most notably temples and the rickety suspension bridge.
Beaches
Dream BeachA wonderful secluded beach with powdery, white sand, located on the south coast. From the main accommodation areas on the west coast, head southeast towards Lembongan Village where you should turn west, and then look for the signposted small track leading south to Dream Beach. There is a cafe attached to the single resort here, and this makes Dream Beach a great place to spend the whole day doing nothing. Be very careful though about entering the water here as the rips can be fierce. Only the strongest swimmers should consider this and even then, avoid the eastern end of the beach.

Sandy BayA small but spectacular beach with white sand and crashing waves, located just to the north of Dream Beach, and easiest reached via the same route. The excellent Beach Club at Sandy Bay is located here and this should encourage visitors to spend the day. At low tide a dramatic cave is exposed in the low limestone cliff at the eastern side of the bay. Approach carefully and make sure you are not cut off from the beach by a rising tide. All-in-all, this is a delightful spot which is as laid back as anywhere in the whole of Bali.

Tamarind BeachGood views back to Bali, and of Mount Agung especially.
Other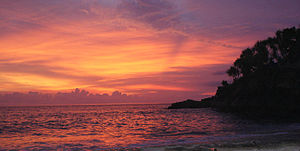 Marine Megafauna FoundationA marine research centre set up to monitor the manta ray and mola mola populations around Nusa Penida. MMF works with the Lembongan dive shops to gather information about these magnificent creatures and their critical habitats that will eventually be used to help protect them. MMF lectures are given on Tu and Th at 18:30 the Yoga Shack. You will get an in depth look at the exciting marine life around the islands.

Devil's TearA rocky outcrop on the south western coast. Spectacular crashing waves and water plumes.

Mangrove ForestNorthern Nusa Lembongan has an extensive forest of mature mangroves which can be explored in a jukung outrigger boat. Also great for families at high tide as perfect lagoon for kids swimming.

Puncak Sari Temple

address: Lembongan Village

The largest and grandest Hindu temple on the island. Good views over the straits back to Bali from this area.

Seaweed FarmsSeaweed farming takes place in many parts of the island, but the most accessible farms are on the southern side of Lembongan Village. Most of the seaweed grown here is destined for the Asian cosmetics industry.

SunsetsOne thing not to miss on Nusa Lembongan. The Sunset over Bali is awe-inspiring, and can be viewed from any west facing part of the island, but the beach at Jungut Batu is especially popular. A more rural alternative is to go over the bridge to Nusa Ceningan and view the sunset from one of the west-facing high ridges. Being just a few degrees south of the equator, sunset times do not vary much throughout the year here. Look to be in place between 17:30 and 18:00.

Suspension BridgeThis quirky yellow suspension bridge should not be missed by any visitor. You can walk or bike across the bridge to neighbouring Nusa Ceningan. The noise it makes can be quite scary, and contributes to what is an all-round Indiana Jones-type experience. Although it is definitely getting more and more rickety as the years pass, the bridge is still safe, and there are many thousands of incident-free crossings every year. There are very rare occasions when the bridge is off-bounds to motorbikes due to maintenance. At such times boats, offer transport across the channel for you and your bike.

Scoobydoo BeachA wonderful secluded beach with powdery, white sand, located on the northwest coast of Nusa Lembongan, near Jungutbatu Village.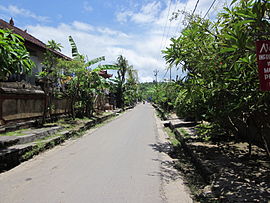 Nusa CeninganA tiny island between Nusa Lembongan and Nusa Penida, which is easily reached via the suspension bridge on foot or by bicycle/motorbike. The original bridge collapsed in October of 2016. The new bridge called the "love bridge" was opened in February 2017. There is a notable surf break off Nusa Ceningan which attracts some surfers away from the more crowded breaks on Nusa Lembongan. Otherwise the island offers some scenic roads and paths, and the westward views back over Nusa Lembongan to Bali are impressive. Viewing the sunset over Bali from the central Ceningan ridge is very much worth the effort. The estuarine channel between Lembongan and Ceningan is home to many seaweed farms. Very few visitors choose to stay on Nusa Ceningan, but there is a small bungalow complex.
Do
Activities are very much water-based, with surfing and scuba diving being especially notable.
Yoga
phone: +62 81353136861

address: Secret Garden Bungalows, Jungutbatu

Hatha, Vinyasa and Yin drop in classes. No booking required. All levels of experience. Multi-class discount cards available.
Surfing
Nusa Lembongan was first opened up as a tourist destination by surfers, and it has long been an established part of the Bali surf circuit.
There are three main breaks, all off the top half of the west coast, with another less well known just to the southwest off Nusa Ceningan.
Playgrounds
,
Lacerations
and
Shipwrecks
are all close offshore and reached via an energetic paddle from the beach, or in a more leisurely fashion, by a local boat (perahu) which can be chartered from the nearest beach.
Whilst the breaks usually suit intermediate to experienced surfers given they all break over coral reefs, the aptly named Playgrounds is a little more forgiving and can be enjoyed by beginners and experts alike. All the surf breaks become extremely crowded during the dry season
Although surfable all year round, waves are best when winds are in the southeast quarter, normally from April to September/October.
There is a thriving surf scene in Jungut Batu. When compared to its tiny population, Nusa Lembongan has produced a
remarkable
number of international competition-quality surfers. Any keen surfer will certainly not be short of company here.
phone: +62 82 146147683

address: Jungutbatu

The first surf school to open on Nusa Lembongan. Certified instructors and lifeguards. They teach in small group for beginners as well as intermediate guiding and also private lessons. Lessons include all the gears and boat to the surf spot. Surf boards and SUP for hire. Surf lessons are available in English and French

phone: +62 81 337 346 056

address: Jungut Batu

Friendly surf school that provides the whole package: surfboards, boat, photography and instructors that have been surfing for over 20 years. Professional staff speak English and provide great lessons ranging from beginner level to advanced. Lessons to small groups or one on one.
Scuba diving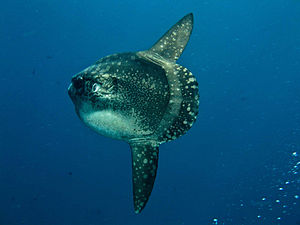 Diving is of
excellent
quality in the crystal clear waters around the island. A number of reputable dive shops are present, and this is a notable teaching destination. Many hundreds of visitors have learned to dive here.
For more experienced divers, the most interesting sites are off neighbouring
Nusa Penida
. There are some challenging drift dives here, and dive operators will visit certain sites only when the sea conditions are safe. There are plenty of options for easier flat reef and wall dives as well. Marine highlights include large manta rays all year round, spectacular, massive oceanic sunfish (
mola-mola
) in season (July–October), white-tipped reef sharks, nurse sharks and the odd hammerhead. Whale sharks are far from regular, but the odd migrant is seen. Last but certainly not least, four species of sea turtle can be found here. All operators offer scheduled trips to the prime dive sites around all three islands.
Prices vary little from shop to shop. Course fees run from about US$60 for a half-day Discover Scuba introduction, to US$395 for PADI Open Water certification. A fun dive will cost approximately US$35-45 including all equipment, with discounts offered for multiple dives. Dive shops have variable opening hours according to seasonal demand. Night dives are widely offered and offer a fantastic underwater experience.
phone: +62 366 24302

address: Jungut Batu

A PADI 5
* resort established in 1991, offering a full range of PADI courses in multiple languages, including English, French, German, Italian and Indonesian. Up to 4 departures per day to the region's best dive sites, keeps the group sizes small and all dives are guided by experienced PADI professionals. Night dives are also available. Divemaster/diver ratio 1:4.
phone: +62 813 5313 6861

address: Jungut Batu

A PADI 5
* dive resort based at the Secret Garden Bungalows offering daily diving, scuba diving courses in multiple languages and manta/mola specials. Also, daily yoga classes (Vinyasa Flow, Hatha Flow and Yin Yang classes to suit all levels of experience, 08:00 and 16:00, drop-in classes) at the Yoga Shack and home to MMF, Lembongan's dedicated marine research center.
Snorkelling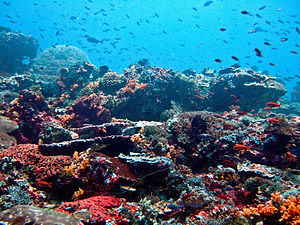 Non-divers should not feel left out, as good snorkelling is available close inshore at various spots around the island. Perhaps the two best areas are Mushroom Bay on the west coast, and the mangroves on the northern tip. Equipment can be hired from your hotel or on the beach, and depending on the quality of the gear, you should expect to pay Rp 20,000-50,000 for renting a mask, snorkel and set of fins.
If you fancy getting further offshore, dive shops may sell you a snorkeling space on a scheduled dive boat, subject to availability.
Also, local boatmen are willing to take you by boat to various snorkeling spots. Depending on the number of snorkeling spots you want to visit, a boat trip can be arranged for about Rp 200,000-300,000 (including snorkeling gear). An enjoyable snorkelling spot reached by boat only is the west coast of neighbouring
Nusa Penida
, with Crystal Bay being especially rewarding. There is a strong current along this coast. The boatman will drop you off at the beginning of the current, and you can drift while snorkeling along the drop off wall with beautiful coral and loads of fish. The boatmen will follow you and pick you up at the end of the drift.
phone: +62 8155773999

address: end of the mangrove beach

Located end of the Mangrove beach, this place offers snorkelling day trips, scuba diving, stand-up paddling and kayak trips.

phone: +62 81 999 237390

Boat Captain Diasa is locally famous for his snorkelling trips. PADI dive master, he is very good guide and takes pride in his safety and environmentally awareness. He swims with his clients, especially beneficial when trying to spot manta rays. Based in Jungutbatuat at D&B Warung and Bungalows.
Other water sports
Families with children will not be short of options. The full gamut of typical resort-type, mechanised water sports are available, including wake-boarding and banana boats. Those who care a little about the environment may be keener to patronise the sea kayaking option. Your hotel will be able to assist with booking any of these activities. Alternatively, just head down to the beach at either Mushroom Bay or Jungut Batu, and figure it out for yourself. Costs start at about Rp 150,000 for a single banana boat ride.
One Breath

phone: +62 821 46147683

address: Jungutbatu

AIDA freediving courses for beginners and advanced. Surfers will grow in confidence and handle wipeouts in big waves while divers will be pleased to reduce their air consumption and try a different approach.
Walking
This is an excellent island for walking and keen visitors should not hesitate to just head off and explore the myriad tracks that criss-cross the island.
Walking itinerary
The low cliffs in the south offer some splendid coastal walking routes. Perhaps the best of them starts at
Dream Beach
, from where you should take the obvious footpath north over the Devil's Tear outcrop, pausing to see some of the most dramatic wave formations anywhere around the island. The crashing plumes are sometimes huge here, so be prepared to get wet! Continue northwards to
Sunset Beach
and explore the cove. If you time your arrival for low tide, the cave at the eastern end of the beach may be accessible.
At the opposite end of the beach you will find the Beach Club. From here follow the footpath leading northwest up the hill always keeping the private villas to your left, until you again hit the cliff line. From here you will see right across the Badung Strait to Bali. Follow the cliff path northwards and then around to the east, all the time pausing to appreciate the dramatic coastal formations. Birdwatchers should lookout for flashes of turquoise and white, as spectacular sacred kingfishers are common in this area, and offshore it is worth keeping an eye out for huge frigatebirds. Keep following this path eastwards, and you will drop down into Mushroom Bay where the suggested walk ends and refreshments are available.
Spa facilities
Lulur Spa

phone: +62 3662 4880

address: Jungut Batu

Complete spa with rooms for facials, massages, pedicure, manicure and hair treatments. Local products are used as well as some imported from Australia. Each room is set with ambient music and A/C. Changing rooms with clean treated hot water and a relaxation room are provided.

Mushroom Spa

phone: +62 366 24515

address: Tanjung Sanghyang Bay

Relaxing massage, body scrub, pedicure or manicure overlooking the clear waters of Sanghyang Bay.
Buy
Some hotels and scuba shops will accept credit cards, although many of them charge a fee of 3-5% for charges to a credit card.
There is now one MasterCard ATM here but it doesn't always have cash so visitors should bring enough cash with them. Money changing facilities are available at hotels, but the rate given is always unfavourable, so don't bring just cash, but rupiah. If you do run out of cash, a same day return ATM run to
Sanur
is possible. Alternatively, some hotels will do a cash advance on your credit card for a fee of 8%-10%.
Small shops are widespread, and they are geared towards basic visitor requirements, stocking sun-block, cheap knock-off boardshorts and hats, as well as the usual range of snacks, beer, soft drinks and cigarettes. Do not though expect anything too sophisticated. There is little in the way of souvenir type shopping on the island, and there is nothing of this nature which would not be better purchased on the Bali mainland.
ATM - Bank BRIThis is only ATM on the island, but it is often out of service, so don't rely on it.
Eat
Virtually any place you stay on Nusa Lembongan will have a cafe or restaurant attached to it, and the majority of these encourage non-staying guests to eat with them. These can be of
hugely
variable quality and any casual visitor could be forgiven for thinking the food on this island is terrible! Some of the better budget options can be found at Linda's Bungalows, Mainski, and Dream Beach Huts.
There are a few good local warungs to choose from, but by-and-large there have not been many decent independent restaurants on Nusa Lembongan. That is now changing at a pace though and the more notable exceptions to the old rule are listed below. Fish is naturally a great option.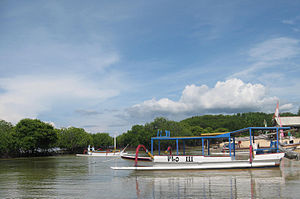 Warung 99 Meals House

address: Jungut Batu village

Tasty local style warung with all the usual Indonesian favourites. Cheap and cheery. The owner might sit and have a chat with you.

Green Garden Warung Coffee Juice and Food

phone: +62 813-3741-9282

address: Jungut Batu village

Offers cheap and tasty Indonesian and Western food. The owner Dodi is extremely kind and some of the menu items are grown in his garden. The Warung is around 75 m off the main road (about half way down and turn to the right) but there is a large sign and getting there is pretty easy if you pay attention. Nice ambiance. Free wifi.

Acha Surf Warung

phone: +62 821 47147396

address: Jungut batu beach

Surf & sea view restaurant with western and Indonesian food.

phone: +62 828 9700 5656

address: Sunset Beach

A large open bar and restaurant area with a beach-front pool abutting a white sandy beach. Daily BBQ with seafood and steaks, extensive range of cocktails, the beer is very cold and they have a wine cellar. Breakfast, lunch and dinner. The quality of food here is extremely high for Nusa Lembongan and would not be out of place in top restaurants in mainland Bali. Free WiFi.

phone: +62 821 44682551

address: Mushroom Beach

Mexican traditional dishes such as quesadillas and nachos to fajitas with a range of lovely fillings. Cocktails such as mojitos and fresh or frozen margaritas.

Juice Bar & Coffee Corner

address: Jungut Batu

Breakfast foods and snacks during the day. All you can eat buffets and enjoy traditional Indonesian foods with some western favorites. Everything is made fresh on site and sourced locally in Indonesia.

Ketut Warung

address: Jungut Batu

Great atmosphere, huge plates, good Indonesian and Thai food at really cheap prices. The owners, the Ketut Malom family, are friendly hosts.

Maria's Boemboe Bali Warung

address: At the north end of the island, on the beach, close to the mainroad

Fresh, delicious local food, fish and seafood; also has western dishes like pasta, burgers and pizza. Possibly the best value eatery on the island. Best time to go is probably around sunset until closing. Try the rosella tea, calamary fritty, tuna bamboe bali combo Rp40k, small Bintang beer Rp22.

Mangrove RestaurantAt the eastern end of the only spit of land that runs through the northern mangrove forest. From Jungut Batu, take the beach road north and turn into the mangroves (possible by motorcycle or of course on foot). Just keep going for about 1½ km and you will find the restaurant. Alternatively, arrive by boat - any boat captain will know the way. Indonesian meals and some European options.

Nyoman's WarungNyoman's Warung is on the north beach of the island with sweeping views of Mount Agung. The traditional Lembongan menu changes daily to reflect the catch of the day.

Pisang-Pisang

phone: +62 812 38441996

address: Jungutbatu

A very chill hang out place. Delicious smoothies, fresh juices, and healthy meals all day. Friendly staff, fast service. Free Wi-Fi.

Nano Nano restaurantNicely located almost at the end of the mangrove road. This place is located directly opposite the best sporkelling spot on the island, which is accessible for only about an hour before and after high tide. Otherwise you will be walking on coral. If you want to snorkel, then it's probably best to book a half day snorkeling trip visiting 3 or 4 of the best snorkelling spots in the area and perhaps get to see a manta ray. Walking in is likely to result in damaging coral and mangrove. They sell reasonably priced food and drink in a pleasant spot alongside the mangrove beach. They also rent snorkelling gear. Sunrises can be viewed from here.

The Deck cafe and barLocated along the boardwalk waterfront with lovely views. They serve gourmet baguettes, paninis, freshly baked pies, pizzas, home baked cakes, gelato ice cream, fresh juices, smoothies and real coffee.

phone: +62 8214 5393 419

A restaurant with views over the sea

Ohana's beach lounge & boutique resort

phone: +6281139600787

address: On the beach front in Jungut Batu village

Ohana's is on the beach in the front of Shipwrecks surf break in Jungut Batu. The venue looks out over the beach and ocean – it faces west for watching Lembongan's incredible sunsets. It features sun lounges, day-beds, bean bags and offers casual dining under cover and under the stars. There is a swimming pool for guests. Bookings are strongly recommended for day beds or dining.
Drink
As with restaurants, there are few independent drinking establishments. Most cafes and restaurants attached to hotels also double as bars. Nusa Lembongan is known as being very quiet for nightlife. A few beach parties are advertised around the island during high season, and there is sometimes a small monthly full moon party.
address: JL Raya Jungut Batu

A cozy place on the main road, behind the busy Jungut Batu beach. One of the few places on the island serving real espresso & mixes (cappuccino, latte, mocha), chillers, iced teas & coffees, slow juiced fruits and twice daily baked treats such as cookies, muffins, brownies & Belgian waffles. Open from early morning to mid-afternoon. Eat-in & take-away. Everything is home made using ingredients sourced from organic & fair-trade farms across Indonesia. Free mineral water refills & free WIFI for customers.

Barbarella'sMushroom Beach. The new bar on the island. Open noon till late. Serving tapas, cold beer and cocktails, including the best margaritas on the island. Wifi available. Good music, too.

Blue Corner Bar

address: On the beach north of Jungut Batu

Bar and restaurant located on the beachfront by Blue Corner Dive Resort. Bean-bag chairs with umbrellas on the beach, WiFi, and free use of swimming pool. Sunset beach volleyball every day, Wednesday night pub trivia quiz. On Friday nights expats, the dive community and tourists party here with a beach fire and drinks until very late.

Cafe Bali

address: Mushroom Bay

A great place to have a beer and watch the view back to Bali. Restaurant serving pasta and other options.

Scooby Doo Beach Bar

address: Jungut Batu

Beachside bar which is especially popular with the Australian surfing crowd. Expect cold beers, lots of chat about waves and sport on the television.

WBM Coffee Shop and Grill Ribs

phone: +6285238347999

address: Jalan Raya Lembongan Jungut Batu

They have all homemade recipes and fresh ingredients. They make great coffee, freshly brewed every day. They have many combinations of espresso served hot or cold. Their specialty food is American style pork ribs.

Mickey Sports Bar and Grill

address: Jungut Batu

Maybe the only sports bar on the island.

Two Towers coffee shopCoffee shop on the hill. Not much of a view from there.
Sleep
There is a broad range of accommodation, with options to suit almost any budget. Most budget accommodations can be found at Jungut Batu, while more up market accommodation is further south, around Mushroom Bay, the Bukit and Dream Beach. Traditionally, budget guest houses aimed at young surfers and back-packers dominated, but that changed in recent years as more and more well-heeled visitors discovered the island. Some of the older budget options are very tired indeed, and visitors should bear that in mind when assessing where to stay.
Check-in and check-out times are something of a movable feast at most hotels. It is safe to assume a time of about 1PM for check-in and about 11:00 for checkout, unless specifically stated otherwise.
There are no formal campsites on the island but travellers do sometimes pitch tents. A small donation to the local community is recommended.
Budget
There are myriad small, cheap back-packer places in the small lanes leading off the main road in Jungut Batu.
phone: +62 813-3710-0219

address: Jungut Batu

New, traditional-style, wooden bungalows with thatched roofs. 2 stories, private bathroom with cold-water showers, and a deck with chairs and a table. On the beach with a view of the ocean, overlooking Shipwrecks surf break. Clean, fan-cooled rooms with double beds. Family-owned, helpful and friendly. Father cooks most meals and was trained as a chef in Bali. Price includes breakfast.

Bungalow No7

address: Jungut Batu

Clean fan-cooled rooms around a garden right on the beach. WiFi available, if you pay.

Cara Aji Guest House

address: Jungut Batu

Simple and clean with 3 elegant bungalows with shared bathroom, landscaped gardens and plunge pool. Good option on a beer budget.

phone: +62 813 3784 6555

address: Jungut Batu

A family-run complex of 12 bungalows with a small swimming pool overlooking the beach. All bungalows have fan, double bed, writing desk and ensuite bathroom with hot shower. The better bungalows are a little bit further from the beach.

phone: +62 812 360 0867

address: Jungut Batu

Two-level bungalows. Rooms have views of Shipwrecks surf break. Cold saltwater showers, deck chairs and balcony seating. Towels provided. Restaurant serves pure beef burgers, daily specials, big pancakes and an 'American' breakfast. The place is a little tired, and the Australian owners may be less than friendly.

Lembongan Made Inn

phone: +62 813 38726730

address: Jungut Batu

4 bungalow rooms, two upstairs, two down. Good option for those on a tight budget, and popular with the younger dive and surf crowd.

phone: +62 878 82205207

address: 40m in front of Surf Break

Tropical garden and room with A/C and ceiling fan. Stay more than 3 nights and get a free fish dinner. Rooms have twin beds, double and single beds with bath tub, shower, sink and mirror, cupboard, reading lamp, and balcony with table and chairs. Provides motorbike and bicycle rental, surf lessons, and can pick up and drop off guests.

phone: +62 812 37584385

address: Jungut Batu

5 rooms with double bed. 2 rooms with A/C, 3 with fan. Low season from Rp 100,000 (fan room) to Rp 250,000 (A/C+hot water). One of the rooms has got a great ocean view. Serve breakfast, lunch and dinner. Free WiFi, sea view terrace.

phone: +62 812 3605886

address: Jungut Batu

A bright and airy bungalow complex in the centre of Jungut Batu. Rooms are clean and comfortable. Has a decent cafe attached.

phone: +62 813 5313 6861

address: Jungut Batu

Budget accommodation in a tropical garden, 50 m from the beach. 9 fan-cooled double/twin rooms, clean and spacious with semi-outdoor bathrooms. Swimming pool, Wi-Fi, book exchange, tourist info, hammocks and a sofa area for relaxation. Big Fish Diving, Yoga Shack Lembongan and Marine Megafauna Foundation research team all based on site.

phone: +62 817 9729380

address: Jungut Batu

Clean, fan, free Wi-Fi.

Two Thousand Bungalow

phone: +62 812 381 2775

address: Jungut Batu

Two storey bungalows, spacious rooms, cold and hot showers, fan or A/C. Room rate does not include breakfast. The restaurant is right on the sand.

Bunda 7 Bungalow

phone: +62 366 5596413

address: Jungut Batu

Clean rooms with fan or A/C around a garden right on the beach. Swimming pool. WiFi available if you pay.

Wahyu Home stay

phone: +62 813 38249410

address: Jungut Batu

Clean, fans and A/C, swimming pool. Free WiFi, 50 m from beach. Cheaper-than-average restaurant.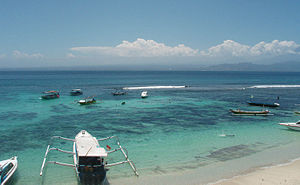 phone: +62 8124621805

address: Jungut Batu

D'Mel Sari Garden View has 8 rooms including: 4 superior kingsize rooms with air conditioning; 1 standard kingsize room with air conditioning; 1 standard twin room with air conditioning; 1 standard kingsize room with fan; 1 standard twin room with fan. Each room comes with a spacious en suite bathroom with a hot water shower, free Wifi, TV with cable channels, mini bar, wardrobe and desk. Each room also has a private seating area on a small terrace in front of the room. D'Mel Sari is located down a side street almost opposite Bali Eco Deli on Jalan Jungut Batu. There is a sign directing you away from the main road, after a hundred metres take the first left along a sandy tree lined lane and you will soon find yourself at D'Mel Sari Garden View.
Mid-range
phone: +62 812 3844 1996

address: Jungutbatu

7 large separate rooms with King & Queen size beds have garden views. Each room has air-con, cold/hot water & Wi-Fi. Large private bathroom with semi open air concept. Restaurant and lounge area open 07:00-21:00 daily serving juice, smoothies,and healthy vegan delight dishes. The perfect place to eat/stay/surf/freedive. Laundry, surfboard & SUP, motorbike & bicycle rentals, boat transfer available.

Adi Bungalow Huts

address: Mushroom Bay

Balinese style huts with traditional alang-alang thatched roof and modern style bathroom, built in April 2011. A/C, fans, double beds with mosquito nets and mini bar.

Alam Nusa Bungalow & Spa

phone: +62 813 3837 7482

address: Mushroom Bay

Traditional Balinese house with garden, bar and restaurant. Packages for couples with honeymoon available at budget prices. Balinese massage and other treatments available. Provide speedboat for a 25-30 min transfer to/from Bali at Rp 450,000 per person return. Charters also available.

Bali Lumbung Huts

address: Mushroom Bay

Mushroom Bay beachfront location with traditional Balinese style grass-roofed huts with ocean and sunset views. All room rates include daily breakfast and snorkelling gear, boat, and guide. Stays of more than 3 nights include free sea kayak activities.

Coconuts Beach Resort

address: Jungut Batu

A/C or fan-cooled cottages by the beach each with en-suite bathrooms and hot water. 2 pools, restaurant, bar, internet and satTV. All cottages have views of the surf breaks and Mount Agung on Bali.

phone: +62 361 743 2344 or +62 813 3873 7344

A secluded bungalow complex right on the beach-front at Dream Beach. The thatched roof huts have mosquito nets provided, open air private bathrooms, king size beds and balconies with sunset and ocean views. Swimming pool with Balinese umbrellas, long chairs near the beach, laundry service, pool table, cafe, bar and restaurant, mini library. Balinese massage and extra pillows on request. Tired and has seen far better days, but still popular with those wanted to get right away from it.

Paradiso Island

phone: +62 878 76593513

address: f

Quite place with traditional style huts. Jurassic Cafe and Bar has a sunset view in the forest.

phone: +62 878 60277658

address: Sunset Beach

5 rooms and 4 chalets with garden views. Large rooms, swimming pool, bar, restaurant, BBQ dinners, free continental breakfast. A/C and fan-cooled rooms. Free WiFi, free pick-ups and drop-offs around Nusa Lembongan.

address: Selambung Beach (Coconuts Beach)

Close to Puncak Sari Hindu temple and some of the island's surf breaks. Large rooms, swimming pool, bar, restaurant, BBQ dinners, free breakfast available. A/C and fan-cooled rooms with ocean and garden views.

phone: +62 878 76593513

address: Secret Beach

Private traditional huts with own bathroom, A/C, balcony, garden surrounds of bungalow, bar and restaurant. Fan huts Rp 500,000 & with A/C Rp 700,000). Upon request they provide their own speedboat for a 25-30 min transfer. Rp 450,000/person (return transfer) at 08:30, 13:00, and 15:30. Charters also available from Lembongan. Free pick up from anywhere on Nusa Lembongan.

phone: +62 361 9237322 or +62 815 5828 9123

address: Jungut Batu Beach

Infinity edge swimming pool right on the beach, poolside sun lounges, beachfront bar and restaurant, games area with pool table and table tennis. High speed internet and WiFi. Restaurant has an Australian cook and offers an international a-la-carte menu. A BBQ with steaks and seafood is available every night.

Molamola House

phone: +62 818 05659124

address: Mushroom Bay

Traditional Balinese huts on the beachfront. Ocean views, bar and restaurant with acoustic guitar music at dinner time. The price includes breakfast, snorkelling gear and a surfing trip. Stays of more than 4 nights include free use of a scooter during the stay.

phone: +62 361 281974, +62 366 5596386, +62 8123956317

address: Mushroom Bay

There are bungalows, villas and a spa.

phone: +62 366 5596406

address: Mushroom Bay

1 bedroom villa with A/C.

phone: +62 813-5332-0568, +62 366 24524

address: Jungut Batu

Fan-cooled rooms to private self-contained villas with A/C. Views over the bay.

Rigils Lembongan Bungalows & SpaStandard and large family room. Bar, restaurant and swimming pool with spa. Rooms are furnished with antique wooden beds, mosquito nets. Private terrace or balcony looks into the bungalows garden. The bathrooms have a cold shower. They provide speedboat for a 25-30 min transfer upon request. Rp 450,000/person (return transfer) at 08:30, 13:00, and 15:30. Charters also available from Lembongan for Rp 2,000,000.

Rickey Lembongan Beach Huts

address: Tamarind Beach

Small beach-side hotel nearby to local surf breaks, playgrounds and shipwrecks. Cottages provided with ceiling fans with either a large 1 bedroom or a 2 bedroom family option. All bathrooms have hot water. A bar and restaurant is provided and umbrellas are available for use on the beach. Ocean views across the strait to Mount Agung. Free pick-up from the boat docking point.

Song Lambung Beach & Cliff Huts

phone: +62 361 8361717, +62 81337536464

address: Song Lambung Beach

Balinese style bungalows with ocean & mountain view, double bed, AC & ceiling fan, mosquito nets, towels, private bath room, toilet, Hot & cold water shower. Bar and restaurant serving breakfast, lunch and dinner. Free WiFi, continental breakfast is included.

Tamarind Beach Bungalows

phone: +62 361 857 2572

address: Tamarind Beach

Balinese style bungalows with double bed, ceiling fan, mosquito nets, towels, private bath room, toilet, cold water shower and bath tub. Facilities include a children's and adult swimming pool, mini library and BBQ on request. Bar and restaurant serving breakfast, lunch and dinner. A continental breakfast is included in the price.

phone: +62-81-239-39-3737, +62-81-337-58-5555

address: Mushroom Bay

Cottages overlooking Mushroom Bay with open air cold/hot showers and mosquito nets. A/C and fan-cooled rooms available. Twin swimming pool in front of lobby and restaurant with sun lounges, massage room, TV with international channels at the lobby and free 24 h WiFi. BBQ dinners on the wooden deck near the beach and a free daily breakfast are available.

Villa Mimpi Manis

phone: +61 478 258346 (Aust)

address: Jungut Batu

Balinese style two level villa located on the hill above Jungut Batu. Views towards Bali over the surf and reef. Two king size beds, two bathrooms with hot water, plunge pool, kitchenette, home theatre, room safe, two fridges, serviced daily. Linen and drinking water supplied.

phone: +62 361 807 0181

address: Jungut Batu

Eight standard rooms and one family room. Bathroom with cold shower. Private terrace or balcony, furnished with antique wooden beds and mosquito nets, continental or Indonesian breakfast included.

Oka7 Bungalows

phone: +62 81237661111

address: Jungut Batu

5 deluxe rooms and two Lumbung rooms. Bathroom with hot&cold shower. Private terrace or balcony, furnished with antique wooden beds and mosquito nets, continental or Indonesian breakfast included.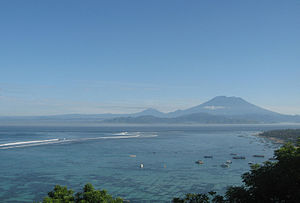 Puri Kirana

phone: +6281 353 136 861

address: Jungutbatu Village

Brand new wooden bungalows with AC and HW all set around a beautiful tropical garden. Large swimming pool and restaurant on site.
Splurge
Batu Karang Lembongan Resort and Day Spa

phone: +62 366 24880

address: Jungut Batu

Includes Muntigs restaurant and bar, a day spa, 3 swimming pools (a 25 m lap pool, a 9x9 m pool with swim up pool bar and a 9x9 m infinity edge pool), steam room, gymnasium, day lounge, wedding pavilion and conference facility. All rooms have A/C, internet, safety box, 220 thread cotton sheets, king size double beds and a mini bar. The outdoor bathrooms have views over the surf breaks and across to Mt Agung in Bali. Has its own water and sewage treatment plants, so the water you use is fresh and clean.

phone: +62 366 5596371, +62 366 24471

address: Jungut Batu

A French-owned and run suite/villa resort. Offers 6 one-bedroom suites and 2 two-bedroom villas.

phone: +62 361 484 085

address: Mushroom Bay

A small resort from the boutique hotel group Waka, located right on the beach at Mushroom Bay. The resort consists of 10 grass-roofed bungalows, restaurant and a pool. Good A/C. No TV or telephones in the rooms. Free (slow) WiFi in the public area. Well-designed, breezy individual cottages.
Private villas
The following are all stand-alone, self-contained villas with private swimming pools.
Lembongan Beach Club and Resort

phone: +62 361 737 282

address: Jalan Jungut Batu Beach

Villas feature a private swimming pool, terrace and garden. Complimentary breakfast, AC, Wi-Fi, minibar and a living area with a flat-screen satellite TV are among the in-villa facilities. En suite bathrooms come equipped with bathrobes and free toiletries.

Villa Atas Nusa Lembongan

address: Tamarind Beach

Fully self-contained single villa. Ground level has an A/C king size bedroom, and a large open indoor/outdoor lounge area that borders the plunge pool. Outdoor dining area steps down to a garden. Solar hot water system and CD player on both levels. Overlooks all three main surf breaks. Upstairs sleeps two in a king size bedroom, downstairs sleeps 2 in a kingsize bedroom plus 2 on daybeds in the open style living area.

phone: +62 813-3867-5133

address: Celagi Bay

Has seven bedrooms sleeping up to 18 guests, a 10-m swimming pool, fully equipped gym and spa, and comes fully staffed.
Nusa Ceningan
phone: +62 813 39754364, +62 821-4401-7222, +62 812 3627 7650

address: Nusa Ceningan

Bungalows at the remote southwestern tip of Nusa Ceningan. Clean rooms and breakfast is served right at the beach. Motorbike rental available. Friendly American manager and local guidance. They can arrange pick up from Jungut Batu on Nusa Lembongan.

phone: +62 859-5412-4593

address: Nusa Ceningan

Close to the Secret Point surf break. A/C, fan, towels and private bathroom. All huts have ocean views, and direct access to the beach.
Stay safe
This is a safe island and reports of crime, major or minor, are rare. Most common is the theft of items left in unlocked rooms, so as you would anywhere in the world, just be sensible.
Drugs
are not especially widespread here, but you may be offered marijuana or mushrooms, and more rarely, harder drugs. Be aware that the former is highly illegal in Indonesia and penalties are
harsh
. The Indonesian legal position on mushrooms is unclear but to be totally safe, visitors should steer clear.
The biggest dangers to visitors are related to the
sea
. Swimming is not be taken lightly in any waters around Bali, and Nusa Lembongan is no exception. Mushroom Bay and the area around the mangroves in the north are largely safe for swimming, but still take care. Swimming at Dream Beach and Sunset Beach (in particular) should be avoided by all but the very strongest of swimmers, and even then with great caution. Surfing at all four breaks is challenging for beginners.
Stay healthy
There is a small medical clinic in Jungut Batu with an attendant doctor. This is a perfectly good facility for treating minor ailments, but visitors with anything approaching a serious problem should get back to Bali as quickly as possible. Opening hours are erratic and unpredictable. Ask at your hotel.
Like all of Bali, Nusa Lembongan is officially a
malaria
-free zone.
Dengue fever
is a potential problem. Unlike in mainland Bali, there are no recent cases of rabies.
Connect
Telephone
It is possible to make phone calls from Nusa Lembongan. Although a little pricey, public telephone offices (
wartels
) can be found at the Scoot boat office and at Bungalow No7.
International phone operators: 101.
International Direct Dialing prefix: 001, 007, or 008.
The area code for Nusa Lembongan is officially 0366, although 0361 is also widely used.
Landlines are not that common, and even many well-established businesses operate with mobile telephones only. All of the major Indonesian mobile networks have coverage of the island.
For directory inquiries, dial 108 from a landline or 0361-108 from a mobile phone.
Nusa Lembongan receives good 3G coverage by all the major Indonesian networks.
Internet
Most places to stay and some restaurants now have wireless internet capability for guests but it's often very slow.
There are a couple of basic, well signed public internet cafes at the southern end of the main coast road in Jungut Batu. Look for the signs and expect to pay about Rp 30,000 per hour. Service is sometimes very slow. Most of the internet cafes also have a download limit in addition to charging for time, so save your media streaming activities for Bali.
The national phone company, Telkomsel, provides a decent 3G connection, however it may default to GPRS.
Go next
The vast majority of visitors leave the way they came in, i.e. back to Sanur and then on to elsewhere in Bali.
For the adventurous, a side trip to Nusa Penida island will get you well off the beaten path.
There is a daily direct boat service to mainland Lombok and Gili Trawangan.