O'Hare International Airport
O'Hare International Airport
(
ORD
) is one of the biggest and busiest airports in the world. It serves the city of Chicago and the rest of the Chicagoland area, with connecting flights to smaller cities throughout the Midwest.

Understand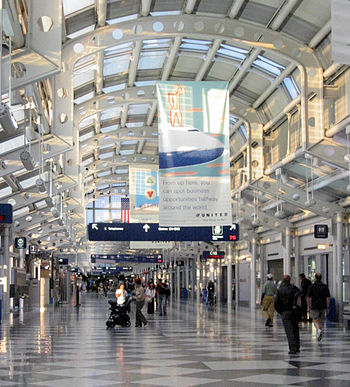 This is no
Changi
, no
Kansai
; in other words, it's nobody's favorite airport. O'Hare is huge, but it's from an era before airports had much in the way of amenities, and it's been stretched beyond capacity for a while now. Although safety has never been a concern, O'Hare has one of the worst on-time records of any major airport. However, most of the world's airlines fly through O'Hare, so international travellers and those making transfers aren't likely to have much of a choice. Those travelling to the area can use Chicago's
Midway
or
Milwaukee
's General Mitchell International (connected to the
Loop
via the
Amtrak Hiawatha
train service). Alternatively, travellers may consider the
Airport Express
operated by Coach USA/Wisconsin Coach Lines, connecting General Mitchell International, the Milwaukee Intermodal Station and points in-between.
Flights
O'Hare has four passenger terminals.
Terminals 1-3
handle domestic traffic (and some international departures);
Terminal 5
handles all international arrivals and international departures that are not covered by Terminals 1-3. (Terminal 4 is something of a fnord, its temporary space since re-appropriated as the shuttle bus depot; the name has been set aside for potential future expansion). The O'Hare 21 plan is already changing this, however - more details below..
United Airlines
has a significant presence at O'Hare, since its corporate offices are located in downtown Chicago. O'Hare is also a major hub for
American Airlines.
As such, a rule of thumb is that Terminals 1 and 2 are dominated by United and its alliance partners; Terminal 3 is given over to American and its partners, and only Concourse L of Terminal 3 and several gates in Concourse E of Terminal 2 are for everybody else.
Here is a detailed list of terminals and airlines. The terminal color is the same here as it is on signage and maps at the airport.
A full list of airline info can be found
here.
With the exception of some flights from airports with US border preclearance, such as those from major Canadian airports, all international arrivals are processed at Terminal 5 regardless of the departure terminal of the airline.
Arrive
For passengers arriving on international flights, Immigration and
Customs
formalities typically take 15-30 minutes, but can take over 2 hours at peak times. The busiest times are in the afternoon, and the full statistics can be seen
here
.
Transfer
Passengers transferring between international flights should note that there are no special transit facilities, which means that even if you have an immediate connecting flight, you have to pass through Customs and Immigration. For details of entry and visa requirements see
get in section of United States page
.
Passengers arriving on international flights and transferring to another international or domestic flight will have to go through security again.
For passengers transferring between from domestic flights (or from international flights from airports with US border preclearance), Terminals 1-3 are connected to each other both landside and airside, so if your luggage is checked through, you do not need to clear security again. Terminal 5 is in a completely separate area and not physically connected to Terminals 1-3, so you will have to exit the restricted area and go through security again after transferring using the AirTrain.
O'Hare 21
This major renovation plan, named due to its planned full completion in 2021, is already making an impact in the airport. For example, the first new gates in two decades (the L Stinger concourse for American Eagle regional jets), the temporary closure of the ATS for renovation and extension, the new Multi-Modal facility, and the move of all Frontier flights - even domestic ones - to Terminal 5 have already happened.
The long term plan is that the Terminals 1-3 complex will become a unified Global Terminal with customs implementation as well as TSA and landside amenity improvements. This Global Terminal will make O'Hare the first North American airport to be built around the airport alliances as United and Star Alliance carriers as well as American and Oneworld airlines will move there while Delta and their SkyTeam partners will move to the current Terminal 5, which will be extended to meet the demand.
Ground transportation
By train
The CTA
Blue Line
terminates at the space-age station for O'Hare, designed by the firm of architect Helmut Jahn. Trains run 24 hours a day, as frequently as every six minutes during peak periods and as infrequently as every half-hour overnight. The trip to the
Loop
should take about 48 minutes, but never cut things close with the CTA. The station is located beneath the Bus/Shuttle Center, closest to Terminal 2 but easily accessible by underground passages, with moving walkways, from Terminals 1 and 3. Those arriving at or departing from Terminal 5 (international) must take the automated Airport Transit System between Terminals 2 and 5. Keep in mind that the cost of the train from O'Hare is $5 instead of the regular $2.50 anywhere else in the city. When taking the CTA to O'Hare, it's recommended to board the train at the front in the O'Hare direction, as the entrance is located at the front of the train (back of the train in the Forest Park direction). You do not need to pay the extra fare upon exiting the station.
Metra
North Central Service trains stop at the "O'Hare transfer" station, located adjacent to parking lot F (with shuttle bus service connecting to the ATS at the Remote Parking stop). The train reaches Chicago's Union Station in approximately 30 minutes, but service is infrequent, operates only on weekdays and is concentrated in the peak commute direction. In the future, Metra-ATS transfers will be direct at a new consolidated rental center.
By bus
Pace
routes
250
(Dempster Street for
Evanston
and
Skokie
) and
330
(Mannheim/La Grange) stop at the terminus of the Airport Transit System in parking lot E.
Several bus companies run scheduled and charter services to other communities; these usually drop passengers off at the departure-level curb and pick passengers up at the Bus/Shuttle Center.
By taxi
Chicago taxis
charge a metered rate based on time and distance. Expect to pay around $45 (plus tip) from O'Hare to the
Loop
. It is illegal for Chicago taxis to charge a non-metered flat rate except for special shared-ride services. Taxi drivers rarely participate in shared-ride services.
Except for a few suburbs immediately adjacent to the airport, Chicago taxis charge one and a half times the meter rate for non-Chicago destinations. Most suburban taxi companies have flat-rate taxi service to their respective suburbs. It is illegal for a suburban taxi to take you from O'Hare to a point within the City of Chicago.
American Taxi
,
Universal Taxi
and
303 Taxi
are three large suburban taxi associations that have taxis stationed near the airport. But the suburban taxis cannot come to the airport unless you call them after you arrive.
Of the many shuttle/limo services,
Go Airport Express
vans are the most commonly seen doing the rounds of downtown hotel pick-ups. Fares to the downtown business district are $32/46/54 (plus tip) for a party of one/two/three persons, with a discount for a return ticket if bought in advance and lower fares for children under 14.
Ride app pick-up zones
are on the upper level (the departure level) in Terminals 1–3 for domestic arrivals, and on the lower level of Terminal 5 for international arrivals.
By plane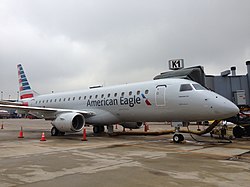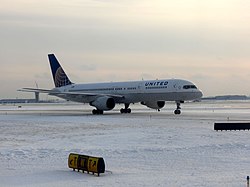 The
Coach USA
provides transfer service to
Midway Airport
for $25 (plus tip), with almost hourly departures from all the terminals. Service is offered daily 4:50AM-8:50PM. Chicago taxis' metered rates for the Midway/O'Hare trip are in the vicinity of $65.
If time is not of the essence, the O'Hare to Midway trip can be made via
CTA 'L'
lines for $5 (and only $2.25 from Midway to O'Hare). Take the CTA Blue Line from the lower level of the domestic terminals to the Clark/Lake stop and follow the signs on the platform to go upstairs to the CTA Orange Line which goes to Midway. There is no charge for changing trains at Clark/Lake. The typical time is about an hour and a half, although extra time should be allowed for delays.
By car
Access to O'Hare's terminals is via
I-190
, which originates near the interchange between
I-294
(the
Tri-State Tollway
) and
I-90
(the
Northwest Tollway
to the northwest and the
Kennedy Expressway
to the east). From downtown Chicago, follow
I-90/94
northwest, continue on I-90 when I-94 splits off, then follow I-190 into the airport, which splits eventually into arrival (lower-level) and departure (upper-level) roadways serving Terminals 1, 2, and 3 in turn. For Terminal 5, exit on Bessie Coleman Drive. This exit also serves numerous rental car companies and the economy parking lots. To drop off a passenger without the harrowing experience of navigating the departures roadway, try
Kiss n'Fly
: follow signs for remote
lot E
where you can leave your friend at the terminus of the
Airport Transit System,
just a short ride away from the terminals.
Most major car rental companies have gigantic lots at O'Hare and offer complimentary shuttle buses to and from the passenger terminals.
Parking
O'Hare runs a parking hotline (+1-773-686-7530) and broadcasts parking information on 800 AM radio within two and a half miles of the airport. Needless to say, then, parking at O'Hare is no simple affair. If you're the sort of person who likes to meet friends at baggage claim with a cordial "Come on, run with those bags!" you'll be glad to know that parking in the main garage is
free
for stays of under 10 minutes. For the rest of us...
Short-term
Level one of the main garage (lot A) is designated for short-term parking, charging $2 for the first hour, and $4 for stays of up to three hours. But keep an eye on the clock, as a fourth hour sees the rate jump to $21, and it doesn't take long to reach the $50/day maximum. Other lots (under long-term, below) also charge $2 for the first hour, but rates increase faster, and as they are further away from the terminals, this option really only benefits you if the hourly parking area is full.
Lot D, adjacent to Terminal 5, also offers short-term parking: $2 for an hour, $6 for two hours.
A portion of remote lot F is now the cell phone lot where you can park for free and wait in your car for an arriving passenger to call your cell phone, at which point you can pick up your friend curbside without circling endlessly. Shuttle buses run from lot F to E.
Long-term
If leaving a vehicle at the airport during a trip, numerous options are available.
The upper levels of the main garage (lot A) and the adjacent surface lots (lots B and C) charge $40/day.
International Lot D charges $74/day.
Remote economy lots E and H charge $17/day, remote lot G charges $10/day. A shuttle takes you between lots G, H, and the ATS terminus in lot E.
And if money is no object, valet parking is available at $26 for up to 9 hours and $61 for the day.
Visitors are advised to notify the parking hotline if they plan to park for longer than thirty days.
Get around
On foot
Passengers may walk between Terminals 1, 2, and 3 both land-side (prior to clearing security) and air-side. The distance can be considerable; make sure to allow adequate time for layovers between different terminals.
Airside shuttle buses
United Airlines runs an air-side shuttle bus between Gate E2A in Terminal 2 and Gate C9 in Terminal 1 (convenient for people going from a United Express flight to a Star Allaince flight). There is also a bus stopping at gates G17, K20 and L24 in Terminal 3 before going to Terminal 5, allowing you to bypass the security checkpoint there. Due to immigration and customs procressing, you
can't take the bus back
.
Airport Transit System
O'Hare has an automated, land-side, transit system cleverly called
Airport Transit System
or
ATS.
Stops are made at all four terminals as well as at remote parking
lot E
. This is the only way to reach the three domestic terminals and the Blue Line station from the international terminal, which means that passengers connecting to or from a Terminal 5 flight should allow abundant time for border formalities, inter-terminal transit, and a second security screening. There is no charge for the use of the ATS.
Wait
O'Hare doesn't have much in the way of amenities, but there are at least a few distractions:
O'Hare in the movies
Scenic beauty it ain't, but O'Hare does have a cinematic legacy. For example, in the first two "Home Alone" movies, the McAllister family departed for Paris and Miami in American Airlines' Terminal 3. If you feel like playing with a TalkBoy, chasing a man in a Burberry coat, or running on to the jetway of your flight moments before you leave, here's the place.
Brachiosaurus skeletonAirports are big affairs with large budgets, but only a few can boast a complete dinosaur skeleton. And not just any skeleton, but that of one of the largest animals ever to walk the earth. The Brachiosaurus cast skeleton is in Terminal 1's Concourse B indefinitely as part of a promotional agreement between the airport and the Field Museum in Near South. It originally stood in Stanley Field Hall at the museum and its construction was financed in large part by the contributions of over 6,000 individuals, schools and companies. It's certainly worth a look if you are in the terminal, and don't worry — you can't miss it.

Butch O'Hare's fighter planeA replica of the F4F-3 fighter plane flown by the airport's namesake hangs in the main hall of Terminal 2.

Kids Play interactive exhibits are located in Terminal 2 ("Kids on the Fly"), operated by the Chicago Children's Museum from Navy Pier. They're open during airport hours.
Aeroponic GardenIn Terminal 3 and want a respite from the airport chaos? In the mezzanine level of the Terminal 3 rotunda, in between the G and H gates, lies the O'Hare urban garden, an aeroponic oasis where vegetables and herbs are grown and then used in a few of the terminal's restaurants. There are a few small tables and it is considerably quieter than the rest of the airport. If you need further R&R, there is a yoga room on the same level.
Lounges
Terminals 1-3
United Club

United Polaris Club

address: Terminal 1 - Gate C18

American Admiral's Club

American Flagship Lounge

Delta Sky Club

address: Terminal 2 - Gate E6
Terminal 5
British Airways First Lounge

British Airways Terraces Lounge

SAS Lounge

Swiss International / Austrian Lounge

Swissport Lounge
Eat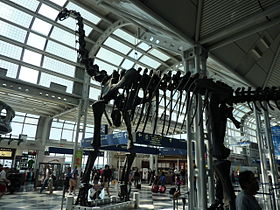 O'Hare has plenty of
places to eat
, most of which won't provide you with an experience beyond keeping you alive through your upcoming flight. You'll pay more than you should for meals you won't remember anything about, save for the grease. There are a few, though, that stand out enough to be worth hunting down, namely The Berghoff and Tortas Frontera, which are good enough to make a delayed flight seem like a good opportunity.
Budget
address: Terminal 1 B and Terminal 3 H

Oprah's taste in popcorn perhaps exceeds even her taste in books, and her favorite Chicago popcorn shop has two locations in the airport. Drench those little guys in caramel, cheese, etc., and toss in some macadamias, cashews, and almonds, and you have yourself a meal.
Gold Coast Dogs, 6AM-8PM, serves airport versions of Chicago-style hot dogs in Terminal 3. It would be a crime against taste if this was your only encounter with a Chicago-style hot dog, with Superdawg only a short distance away on the Far Northwest Side!
McDonald's, 5AM-11PM, has its greasy claws in all four terminals and is notable mainly for being open later than anyone else.

Nuts on Clark6AM-10PM in Terminals 1, 2, and 3, has tasty popcorn & nuts for a takeaway salty fix.

Sky Bridge, 5AM-9PM daily, is run by Greeks and serves gyros, kebabs, and some other Greek fare along with the basic burger and dog. A step up for the usual fast food joint, most meats here aren't cooked until you order. The omelets are good, the hash browns greasy. Terminal 2, near F7.
Mid-range
Berghoff CaféLives on in Terminal 1 C26, outlasting the original nineteenth century location in the Loop. Bratwurst loyalists will have to take the classic German food wherever they can get it! Of course, you'd miss this, thinking it was just another shoddy airport sandwich shop, but for the lines. The Berghoffés beer or root beer goes just right with a signature Berghoff reuben.

Billy Goat Tavern & Grill, 6AM-9:30PM, serves beer, steaks, and cheeseburgers in Terminal 1. For the sake of any locals who might be around, travelers should take it as a given that everyone has already heard their John Belushi impression, thanks.
Chili's, 5:30AM-9PM, serves a limited version of their burgers-and-pasta menu in Terminals 1, 2, and 3.
Johnny Rockets, 6AM-9:30PM, airport version of the retro-diner/soda fountain hamburger chain in Terminal 2. Mixed reviews compared to a real standalone JR, but it's a change of pace from a fast-food burger.
Pizzeria UNO, 5:15AM-9:30PM, slums it in Terminals 1, 2, and 5, pushing watery versions of Chicago's hallmark deep dish pizza, while Reggio's does the same in Terminals 1 and 3.

Tortas FronteraRick Bayless of the very highly acclaimed Frontera Grill & Topolobampo downtown has just recently opened what is almost certainly the only airport sandwich shop that lists the local farms from which it gets its produce and meat! The tortas (Mexican sandwiches) are of a high enough quality to land this place in top ten lists of the best airport restaurants worldwide, and it's just a sandwich shop! The Bloody Marys are there waiting for you in the morning after an overnight.
Tortas Frontera T1

address: Terminal 1, B11

Only location with online ordering.

Tortas Frontera T3

address: Terminal 3, K4

Tortas Frontera T5

address: Terminal 5, M12

No allergen info for this location.
Burrito Beach

address: Terminal 2

Mexican food, a Chipotle imitator. The food is just okay, but for vegan travelers it's one of the few places in O'Hare where you can find a meal that will actually fill you up (and for less than $10).
Splurge
Romano's Macaroni Grill, 8AM-8PM, Terminal 3 gate K3, has entrées priced mostly in the $10-$16 range, topping out at $28 for high-end steak meals. Food is of good quality, comparable to the standalone Macaroni Grill restaurants, though is a little more oily than standard Italian fare.
Wolfgang Puck, 5AM-10PM, in Terminals 1 and 3 has an extremely limited menu to compensate for demand and limited preparation space. It's overpriced and not tasty enough to justify the price, but if you're on an expense account, go for it.
Drink
There are a few options for booze in O'Hare. Some restaurants, including
Billy Goat
and
The Berghoff
, also have liquor licenses. As with food, options are more limited in the international terminal.
Goose Island Brewing CompanyA bar with beer from a local Chicago brewery. Paninis, salads and sandwiches available.

Praire Tap

phone: +1-773-686-6180

A cocktail lounge and bar.
Buy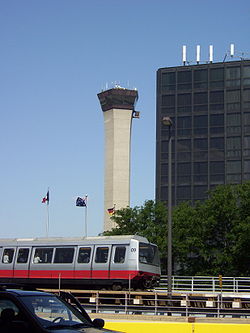 Duty free
For passengers departing on international flights there are some somewhat limited
duty free shopping
possibilities:
Liberty Duty Free

address: Terminal 1 Gate B9; Terminal 1 Gate C17; Terminal 2 Gate F1; Terminal 3 Gate K5

Four shops selling alcohol, perfume and tobacco.

Dufry

phone: +1-773-686-0726

address: Terminal 5, Concourse M

Three kiosks, by gates M8, M10 and M14.
Connect
Wi-Fi is available throughout O'Hare Airport from Boingo. After a 30-minute free trial period, day passes cost $6.95, while monthly rates are $4.98 for the first three months and $21.95 thereafter.
Cope
There are three family/companion restrooms in Terminal 2, and one in Terminal 3. There is a mother's room in Terminal 3 on the mezzanine level of the rotunda, in between G and H gates.

phone: +1-773-686-2636

address: Terminal 2

If flight delays are making you question your faith, then head right over. There are chaplains for Catholics, Protestants, and Muslims during office hours, M-F 8AM-2:30PM.

phone: +1-773-894-2427

address: Terminal 2, upper level

Provides information, directions, and assistance for travelers. There are also information booths in all three terminals staffed from 10am - 7pm Mon-Fri and Sun 3-7Pm.

phone: +1-773-894-5100

address: Terminal 2

Operated by the University of Illinois at Chicago. They can provide emergency treatment/urgent care, X-rays, immunizations, and other services.
If you just can't wait, there are HeartSave defibrillators (+1-773-462-7283) in all four terminals, intended to be within a minute's reach from any point in the airport.
The U.S.O. has a center in front of security for active, reserve, and retired military personnel in Terminal 2, above the Delta Ticket Counter, on the Mezzanine level (Open 24 hours) For more information call +1-773-686-7396. Navy recruits reporting to Recruit Training Command go here.
Sleep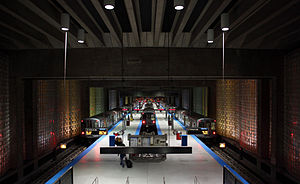 Many hotels serving O'Hare are actually located in the nearby suburbs of
Schiller Park
,
Elk Grove Village
,
Mount Prospect
,
Des Plaines
, and most of all in
Rosemont
. Amenities are fairly standard, with an eye toward business travelers. The area's upscale hotels are all located in Rosemont, with the lone exception of the Hilton at the airport itself:
phone: +1-773-686-8000

More than 850 rooms and sound-resistant windows.
All hotels run shuttles to and from the airport. Some run on a schedule and do regular pick-ups, while others have to be called from the airport concierge. Shuttle stops are clearly sign-posted. Make sure the shuttle is going to your specific hotel — Marriott, for example, runs separate shuttles for each of its brands. A taxi should cost $10-15 at the most.
O'Hare is well known for weather issues that cause flights to be canceled, particularly in the winter and summer months. If you get stuck at O'Hare and need a hotel room for the night there is a service, Airport Accommodations, that provides discounted rates at full service hotels in the airport area that provide free shuttle service. Call their 24/7 customer service center at and they will help you find a room in the airport area. They do not charge for their services.
If you're driving to a hotel, get on
I-190
, the small expressway that operates to/from the airport. Most hotels are clustered on Mannheim Road or River Road, which have exits from the expressway, or off roads that connect with Mannheim going north (Higgins, Touhy) or south (Irving Park). I-190 merges with I-90/94, which heads to the center of Chicago.
Budget
Cheap hotels near O'Hare tend to be cheap for a reason — don't be shy about asking to see the room first.
Comfort Inn O'Hare (Des Plaines)

phone: +1-847-635-1300

address: 2175 E Touhy Ave, Des Plaines

About two miles from the airport.

Country Inn and Suites Chicago O'Hare NW (Mount Prospect)

phone: +1-847-290-0909

address: 2200 S Elmhurst Rd, Mount Prospect

About 6 miles from the airport.

phone: +1-847-678-0670

address: 3801 N Mannheim Rd, Schiller Park

About two miles from the airport. This building used to be a Holiday Inn, and it was here that Murph and the Magic Tones played in the movie The Blues Brothers.
Mid-range
Splurge
If you're going to spend a lot of money on a hotel and you plan to be in town for more than one night, you'll have a much better time in
downtown Chicago
. That said, these hotels are
big
and do a lot of business.
Nearby