Oak Park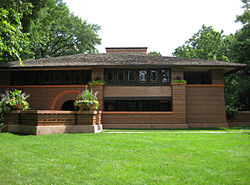 Oak Park
is a city in the
Chicagoland
area. It's essentially an outdoor museum dedicated to notable architect
Frank Lloyd Wright
.
Get in
Only about 10 miles west of downtown, Oak Park is easily accessible by the CTA Blue Line, Green Line or Metra Train.
Metra or the Green Line are most convenient for getting to the more scenic parts of Oak Park. Metra's service is limited outside of rush hour. Take the Union Pacific West line out of Ogilvie Transportation Center (
schedule
). The Green Line runs regularly every day and is accessible from the Loop; exit at the Austin, Ridgeland, Oak Park or Harlem stop.
Taxis will go to Oak Park, but Chicago taxi drivers are unlikely to know the streets in this suburban destination.
Oak Park is conveniently located to both of Chicago's major airports. Taxi fare to either O'Hare or Midway is around $30.
Get around
Oak Park is very pedestrian- and bicycle-friendly. A self-guided walking tour starting and ending on the Green Line would allow you to see most destinations within a few hours.
Oak Park does not follow Chicago's street numbering system. East-west streets start at 0 at Austin Boulevard and increment as they head west, reaching 1200 at Harlem. North-south streets include a north-south designation in their addresses. The zero line is the elevated freight/Metra/Green Line track running through the center of the town. Visitors from Chicago are sometimes confused that Madison Street, the north-south zero line in Chicago, is 500 south in Oak Park.
Two local taxi companies serve the Oak Park area:
Red Cab
and
Blue Cab
. Both companies congregate near the Metra/Harlem Green Line stop. Their dispatch services are professional and fast.
See
Frank Lloyd Wright
Oak Park has the world's largest concentration of Wright's Prairie School works, including his workplace home.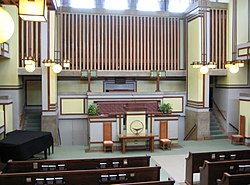 Frank Lloyd Wright Home and Studio

phone: +1 312 994-4000

address: 951 Chicago Ave

This amazing house is not very large and admission is strictly limited. You may be able to turn up on a wet February day and gain immediate entrance but for most of the year you will have to book in advance. Walking tours to other Frank Lloyd Wright houses in the Oak Park area are also organized.

phone: +1 708 383-8873

address: 875 Lake St

A National Historic Landmark. The small temple, which celebrated its Centennial in 2009, is a fascinating piece of architecture. One of eight buildings by Wright to be listed as a world heritage site.
Other sites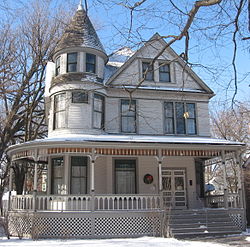 Ernest Hemingway Birthplace Home

address: 339 N Oak Park Avenue

Where Hemingway spent his first six years and (200 N Oak Park Avenue).

address: 129 Lake Street

small museum in a historic 1898 firehouse.

address: 217 Home Avenue

A 30 room prairie style house designed in 1897 by George W. Maher.
Do
Oak Park Festival Theatre

address: Austin Gardens, Forest Avenue & Lake Street, downtown Oak Park

The Midwest's oldest outdoor theatre. Performances run Jun-Aug.
Buy
Oak Park offers a variety of independent boutique shops. The most active cluster of these shops is called Downtown Oak Park, on Lake Street from Harlem east to Oak Park Avenue. This stretch includes the historic Unity Temple and post office. Don't miss the recently-rebuilt stretch of shops on Marion Street south of Lake. Continuing from this stretch, more shops and restaurants can be found on Oak Park Avenue, from Lake Street south to Pleasant Street.
phone: +1 708 445-9906

address: 730 Lake St
Eat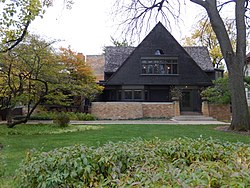 A variety of restaurants representing numerous cultures are intermingled with the shops mentioned above.
Drink
Until the 1970s, Oak Park was a dry town. Alcohol restrictions have been lifted, though as a relic of this law, there are still no free-standing liquor stores in the city, and some grocery stores do not sell alcohol.
Owing to Oak Park's past prohibition, bars emerged on the borders of the city. The largest quantity of bars can be found on Madison Street in Forest Park, just west of Harlem Avenue. Roughly 16 bars exist on this stretch of about five blocks. All Forest Park bars are casual, focused on beer, and offer basic pub fare.
Poor Phil'sin the Carleton Hotel specializes in seafood and has a large, rotating selection of beers on tap, including real ale. Though it exists in a hotel, it is not owned by the hotel. Its atmosphere is casual and its prices are reasonable.

Avenue Ale House

address: 825 S. Oak Park Avenue

offers quality bar food.

address: 6615 W Roosevelt Rd, Berwyn

A popular spot for live music, just across the street from Oak Park. Their bar has a friendly pub feel, and their nightclub next door offers a variety of reasonably-priced entertainment most nights of the week.
Sleep
Oak Park contains no major chain hotels, but it does have several independent hotels and B&Bs for visitors.
address: 1110 Pleasant Ave

A small hotel/motel with several banquet halls and restaurants.

address: 211 N Oak Park Ave

A small hotel across the street from the Ernest Hemingway Museum.
Stay safe
Oak Park borders Austin, a rough neighborhood on Chicago's
Far West Side
. The Oak Park police are active, but this nearby influence cannot be completely removed from Oak Park. Behave as you would in any urban environment. That warning aside, most destinations in Oak Park are removed from the Chicago border and are not risky to visit.
Go next