Orléans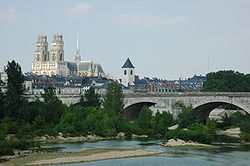 Orleans
(
French
:
Orléans
) is the capital of the
Centre-Val de Loire
region of north-central
France
, located some 120 km (75 miles) south-west of the French capital,
Paris
.
Get in
By plane
The best way to get to Orleans by plane is to fly into either one of the two Paris Airports.
Most international carriers will service
Charles De Gaulle Airport
(
CDG
), but most low-cost carriers will service Orly. Orly Airport (ORY) is slightly closer to Orleans if you are driving, but neither airport provides direct services to Orleans and one will most likely have to transfer in Paris.

By train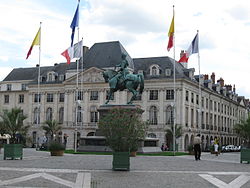 Many trains serve the sizeable railway station near Place Jean d'Arc, from Paris, which takes about 1 hour.
From Paris take a SNCF train from Paris's Gare d'Austerlitz to the Gare d'Orleans. These trains run frequently during the day.
There is a tram which runs from the train station to the centre of the town.

By car
Take the A10 motorway south-west from Paris. The trip will be slightly one hour and a half.
You can also drive along the N20, which is a toll free road, and goes straight from Paris to Orleans. The route can is a bit longer than the highway as the road takes you through a number of villages.

By bus
By boat

Loire river is the main river in the city. It used to be navigable at the beginning of the 20th century.

Get around
The best way to travel is by foot or bike. The city is not large so by foot is the best way. Many bike rental stations allow you to use a bike from point A to B for a small fee.
By tram
Semtao Tramline and buses run throughout the city of Orleans and the town of Fleury-lès-Aubrais.
Within Orleans the tram runs from the city center down main street to the outlying small towns and suburbs. This does not provide much help to tourists, but
can be useful getting to and from the train station.
See
address: http://www.orleans.catholique.fr/

A Catholic cathedral and impressive example of Gothic architecture. With a similar design to Notre Dame in Paris, a visit to Orleans would not be complete without a stop. The Cathedral can been seen above the buildings from most of the town.

La Maison de Jeanne d'ArcMost of Orleans in devoted to Jeanne d'Arc as she liberated the town in medieval times. It's hard to walk through the town without seeing Jeanne d'Arc-related stuff quite frequently. The house is definitely worth seeing.

Martroi plaza and Joan of Arc statue

Hotel de VilleWhere everyone in the city is required to get married, the Hotel de Ville has breathtaking rooms filled with royal curtains and gold leaf.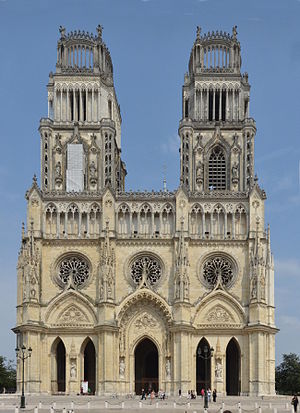 Le Loiretthe border of the Loiret, small river going from La Source to the Loire river. Nice walk along the water with good spots for pic nic or playing outside.
Do
Walk around the center of town, or along the banks of the river Loire. Visit some of the city's great boulangeries.
The city celebrates Joan of Arc during the first week of May with parades, demonstrations, a "medieval market" and sound and light shows.
L'Astrolabe, 1 Rue Alexandre Avisse, a concert hall dedicated to Modern Music, Reggae, Percus, Techno, French Song, also includes an Ice-skating ring and Dojo.
Billiards (pool) can be a fun way to unwind from a busy day. Orleans has many pool salons and even the bowling alley has a billiards section. Billiards is popular among teenagers on Fridays after school, but finding an open table should not be a problem.

Learn
The université d'Orléans (10 miles south of downtown- well served by the tram line) has partnerships with many foreign universities. French classes for foreigners are available during a semester, year, or summer program. Information at www.univ-orleans.fr.

Work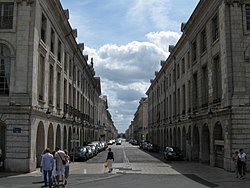 Buy
Most stores do accept credit cards. The local chocolate factory, Chocolaterie Royale, makes many interesting and delicious souvenirs. Even if you aren't in the mood to buy chocolate, stopping by their store near the town square will amaze you at the way they can mold chocolate.
Many large French and international stores fill Orleans including H&M and Les Galeries Lafayette.

Eat
Pizzeria Capri

address: 103bis, Rue du Faubourg Madeleine, 45000 Orléans

Excellent pizza and pasta.

Tokyo

address: 14, Place du Chatelet, 45000 Orléans

Good Sushi.

phone: +33 2-38-77-16-99

address: 34 rue Notre Dame de Recouvrance

Spanish food and wines. Also sell Spanish products (spices, sweets, ham...).

La Tavola

address: Les Halles

An Italian restaurant in Orleans. You enter by the kitchen. Pizza and Pasta at good price made by original Italian.
Drink
The Rue de Bourgogne is home to the majority of bars, pubs and nightlife of Orleans. Le bord de la Loire (the Loir river bank) is popular among young highschool students as a place for weekend drinking. There are also several concerts held along the Loire River during the summer.
Le Petit Barcelone

address: 218, Rue de Bourgogne

Relaxed atmosphere, plenty of tables for sitting around with friends and having drinks.

Havana Cafe

address: 28, Place du Chatelet

Indoor and outdoor seating, good place to have drinks with friends.

Le Paxton's Head

address: Rue de Bourgogne

Karaoke. If you come after 2am, be aware that people are likely to smoke, although it is illegal.

address: 105 bis, Rue de Faubourg Madeleine

Night club playing African Zouk, Reggae and Hip Hop music.

Antidote

address: 32 Rue de l'Empereur 45000 Orleans

Nice bar, Cosmopolite with all ages and types of people to have a drink (beer, sangria & nice collection of wines) or a French snack (cheese or charcuterie). Good place for people who like rock music
Sleep
Budget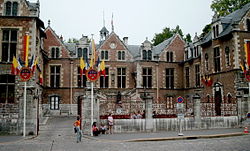 Around 40 km south of Orleans on the way to Bourges is the Parc des Alicourts 4-star campsite and spa, a holiday centre with a fishing lake, an aqua park with 4 pools, a plush health spa with hydrotherapy centre, camping pitches, chalets, cottages and a villa for rent. Special offers on family holidays, camping weekends and spa breaks.
New for 2009: Stay in a treehouse
The Parc des Alicourts has several new treehouses for 2009, some suitable for family holidays, some for cozy couple weekends.
Mid-range
Splurge
Go next
Visiting the castles and houses along the Loire river is a great day trip from Orleans. A must see is Chambord, near Blois.
Germigny-des-Prés, where you can see a Carolingian church with Byzantine mosaics, is also an excellent day trip or stopover on the way to seeing castles.