Osaka
Ōsaka
(大阪) is the third largest city in
Japan
, with a population of over 17 million people in its greater metropolitan area. It is the central metropolis of the
Kansai
region and the largest of the Osaka-
Kobe
-
Kyoto
trio.
Districts
"Osaka" can mean either the larger
Osaka prefecture
(大阪府
Ōsaka-fu
), covered in a separate guide, or central Osaka city (大阪市
Ōsaka-shi
), the topic of this guide. The city is administratively divided into 24 wards (区
ku
), but in common usage the following divisions are more useful: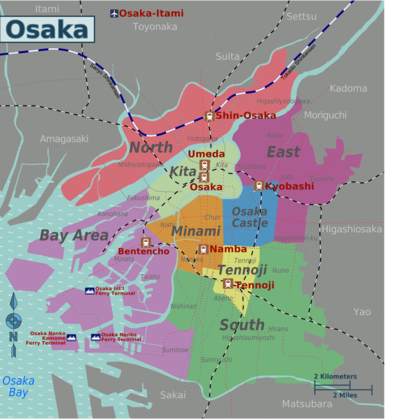 Understand
Osaka and the "808 Bridges" (八百八橋)
Many districts in Osaka derive their names from the Tokugawa-era bridges that were built during the city's reign as transportation hub for the country. Today, Yodoyabashi (淀屋橋) and Kyobashi (京橋) still retain their crossings, while the bridges in Yotsubashi (四ツ橋), Nagahoribashi (長堀橋)and Shinsaibashi (心斎橋) are long gone.
橋 (
hashi
, often pronounced
-bashi
, when affixed to a preceding name) is the kanji character meaning 'bridge'.
If
Tokyo
is Japan's capital, one might call Osaka its anti-capital. Whatever you call it, though, there are many opportunities for you to discover its true anti-character.
Osaka dates back to the
Asuka
and
Nara
period. Under the name
Naniwa
(難波), it was the capital of Japan from 683 to 745, long before the upstarts at
Kyoto
took over. Even after the capital was moved elsewhere, Osaka continued to play an important role as a hub for land, sea and river-canal transportation. (See "808 Bridges" infobox.) During the Tokugawa era, while Edo (now Tokyo) served as the austere seat of military power and Kyoto was the home of the Imperial court and its effete courtiers, Osaka served as "the Nation's Kitchen" (「天下の台所」
tenka-no-daidokoro
), the collection and distribution point for rice, the most important measure of wealth. Hence it was also the city where merchants made and lost fortunes and cheerfully ignored repeated warnings from the shogunate to reduce their conspicuous consumption.
During Meiji era, Osaka's fearless entrepreneurs took the lead in industrial development, making it the equivalent of
Manchester
in the U.K. A thorough drubbing in World War II left little evidence of this glorious past — even the castle is a ferroconcrete reconstruction — but to this day, while unappealing and gruff on the surface, Osaka remains
Japan's best place to eat, drink and party
, and in legend (if not in practice) Osakans still greet each other with
mōkarimakka?
, "are you making money?".
Get in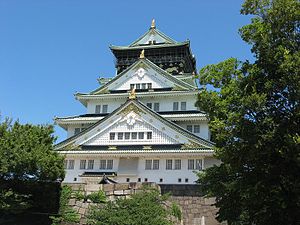 By plane
The main international gateway to Osaka (
Metropolitan area airport codes
:
OSA
) is Kansai International Airport, (KIX). The airport has two railway connections to the city: JR West's Kansai Airport Line and the private Nankai Electric Railway.
Several ticket offers from Kansai Airport are available, which may appeal to foreign visitors:
Japan Railway (JR) offers the ICOCA & HARUKA ticket package for foreign tourists only. For ¥3030 one-way or ¥4060 round-trip you get an unreserved trip on the Haruka limited express, and can continue on to any JR station in Osaka within a designated area. You also receive a ¥2000 ICOCA fare card to use on transit in the Kansai region (¥1500 + ¥500 deposit). You may also buy a one-way JR ticket from the ticket machines; ¥1190 to Osaka Station. Some international cards may not work in the ticketing machines and cash will be necessary.
Nankai Railways offers a Kanku Chikatoku Ticket for ¥1000 each way, cash only at the Nankai railway ticket desk (look for the red signs) (Mar 2019). With this you can travel on the Nankai Railway's commuter service to Namba, and then travel to any station in the entire Osaka Subway system. The train ride from Kansai Airport to Namba Station takes approximately 45 minutes.

Osaka International AirportMost domestic flights arrive at Itami. It is connected to the Osaka Monorail, but the monorail is expensive and traces an arc around the northern suburbs, so to get to the centre of the city you will need to transfer to a suburban Hankyu railway line. A more convenient option for most are the Airport Limousine Buses, which run frequently from Itami to various locations within Osaka and elsewhere in the region (including Kansai Airport), with fares starting around ¥500-600. Taxi from Itami airport to Osaka castle area costs ¥4000 plus ¥700 for toll road.
By train
Tokaido and Sanyo Shinkansen (新幹線) trains arrive at Shin-Osaka station, to the north of the city center. From Shin-Osaka, you can connect to the city center by using the Midosuji subway line, or connect to the local JR network for other destinations.

From Tokyo, Nozomi (のぞみ) trains cover the one way ride in about 2 hr 15 min (¥14,050); Hikari (ひかり) trains take 3 hours and all-stopping Kodama (こだま) trains take 4 hours (both ¥13750). With the Japan Rail Pass, there is no charge to take the Shinkansen if you use the Hikari or Kodama service.
From points west of Osaka, Nozomi trains run from Okayama (¥6060, 45 min), Hiroshima (¥10,150, 80 min) and Hakata station in Fukuoka (¥14,890, 2 2 hr 15 min). Japan Rail Pass holders can use the Sakura (さくら) or Hikari service instead, which runs at a comparable speed to the Nozomi and makes a few more stops, but its trains are shorter (8-car trains, compared to 16 cars on the Nozomi). Slower Kodama trains connect the rest of the stations on the route.

Discounted tickets can be purchased in advance through Japan Railways' official SmartEX App, available in English and other languages - look for Hayatoku fares.
If travelling from the east without a rail pass, you can take advantage of the Puratto (Platt) Kodama Ticket, which offers a discount for Kodama services if you purchase at least one day in advance. You get a reserved seat and a coupon for a free drink (including beer) which can be redeemed at a "Kiosk" convenience counter inside the station. With this ticket a trip from Tokyo to Shin-Osaka costs ¥10,300 - a savings of almost ¥4000. There is only one Kodama service per hour from Tokyo, and a few early-morning Kodama trains cannot be used with this ticket. Travel from Nagoya with this ticket costs ¥4300.
During travel periods when the Seishun 18 Ticket is valid, you can go from Tokyo to Osaka during the day in about nine hours using all-local trains. Travelling in a group, however, discounts the cost significantly from the standard ¥8500 fare: a party of three costs ¥3800 per person, and a group of five traveling together brings the cost down to ¥2300 per person. See the Seishun 18 Ticket article for more information.
Those travelling from the Hokuriku region can use Thunderbird (サンダーバード) limited express trains from Kanazawa (2 hr 45 min, ¥7650). Kanazawa is the present terminal of the Hokuriku Shinkansen, connecting to Toyama, Nagano and Tokyo.
There are many regional railway lines connecting Osaka to nearby cities:

Stations with the same name but belonging to different railway companies are sometimes in different locations. For example, the Nakatsu stations on the Hankyu and subway networks are about a 10-minute walk from each other. Allow up to half an hour for walking between the various Umeda stations and about the same for the various Namba stations, especially if you are a first time visitor.
In Kobe the Sannomiya stations belonging to JR and Hankyu are connected but Hanshin Sannomiya is across a street.

Hokuriku Arch Pass
The Hokuriku Arch Pass allows unlimited travel between Tokyo and the Kansai area via the Hokuriku region, using the Hokuriku Shinkansen from Tokyo to Kanazawa and the Thunderbird from Kanazawa to Kyoto and Osaka. At a cost of ¥24000 for seven consecutive days of travel (¥25000 if purchased inside Japan), the Arch Pass is ¥5000 cheaper than the national Japan Rail Pass. On the other hand, a trip from Tokyo to Osaka is twice as long via Kanazawa compared to the more popular Tokaido Shinkansen.

Overnight travel
Overnight trains used to be one of the prides of the national railway network, but aging rail equipment combined with competition between buses and the shinkansen has resulted in the elimination of almost all services to/from Osaka.
Only one daily train remains: The Sunrise Izumo/Sunrise Seto, which passes through Osaka en route to the Chugoku and Shikoku regions. Unfortunately, it may only be useful as a means to travel to and from Tokyo. The daily eastbound service picks up passengers in Osaka at 00:34, arriving in Yokohama at 06:44 and Tokyo at 07:08. The daily westbound service from Tokyo (22:00) and Yokohama (22:23), on the other hand, don't stop in Osaka at all - the first morning stop is in Himeji at 05:25. From Himeji, you will have to backtrack to Osaka on a commuter service or the shinkansen on a separate ticket.
If you have a Japan Rail Pass, you can book a carpeted floor space on the above service at no charge. Otherwise you can travel in a compartment or room by paying the applicable room fee and surcharges. From Himeji you'll be able to backtrack to Osaka in a commuter train, or in a non-reserved seat on the first Kodama shinkansen service of the day, simply by showing your pass.
During the peak travel seasons, JR runs an overnight service called the Moonlight Nagara between Tokyo and Ōgaki in Gifu Prefecture, from which you must continue on to Osaka by regular trains. The Nagara can be used by holders of the Seishun 18 Ticket, and as a result, is in very high demand when it runs; seat reservations are compulsory.
During University holidays there are some additional overnight services to Matsuyama, Kochi and Fukuoka. As these are considered rapid services they can be very economical if you use a Seishun 18 Ticket.
Failing all these, overnight travel can be done with a stopover in another city along the way, which is easy to do with a Japan Rail Pass or a basic long-distance ticket that is valid over a period of several days.

By bus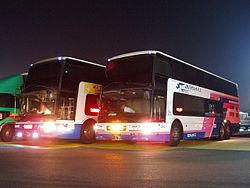 As Osaka is a major city, there are many day and overnight buses which run between Osaka and other locations throughout Japan, which can be a cheaper alternative than shinkansen fares.
Buses in Osaka drop off and pick up at one or more different locations spread throughout the city, so be sure to check the details before booking a trip. Some of the main stops where buses congregate include the JR Highway Bus Terminal in Osaka Station for JR buses, the Willer Bus Terminal at the Umeda Sky Building, and the Osaka City Air Terminal (OCAT) at Namba Station. Some also serve Shin-Osaka Station for the bullet trains, and Universal Studios Japan.

From Tokyo
The run between Tokyo and the Kansai region is the busiest in Japan. Buses use the Tomei or Chuo Expressway from Tokyo to Nagoya, then the Meishin Expressway to Osaka. Trips take between 8 and 9 hours depending on the route and stops.
Fierce competition between operators has led to buses offering better amenities and lower prices. Part of this strategy is the adoption of dynamic pricing on many bus routes. This generally means that daytime trips, weekday trips, tickets bought in advance and buses carrying more passengers are cheaper, while night trips, weekend/holiday trips, walk-up fares and buses with fewer (and more comfortable) seats will be more expensive.
As a rule of thumb, fares for a weekday trip between Tokyo and Osaka go for around ¥4000-6000 per person during the daytime, and around ¥5000-8000 per person for overnight trips. Children usually pay half the adult fare.
Two of the major bus operators between Tokyo and Osaka are Willer Express and JR Bus. Tickets for all carriers can generally be purchased at major departure points, and can also be purchased (with some Japanese language help) at kiosks inside convenience stores.
Willer Express runs daytime and overnight trips with a variety of seating options ranging from standard seats to luxurious shell seats. Bus journeys can be booked online in English, and Willer's Japan Bus Pass is valid on all of their routes with some exceptions. Willer's buses in Tokyo leave from the Shinjuku Highway Bus Terminal (Busta Shinjuku), above the JR tracks at Shinjuku Station, which is served by many of Japan's highway bus operators. Willer also sells tickets for other bus operators on their website, but these trips are not valid with Willer's Japan Bus Pass.
JR Bus reservations can be made in English through their Kousoku Bus Net web site. You can also make reservations in train stations at the same "Midori-no-Madoguchi" ticket windows used to reserve seats on trains. Buses depart from Tokyo Station - Yaesu Exit (八重洲口) and from Busta Shinjuku.
At a much higher price point, Kanto Bus and Ryobi Bus operate the Dream Sleeper. The bus carries only 11 passengers, each assigned to a reclining seat in individual cabins with sliding privacy doors. Fares start at ¥18000 each way and tickets can be booked online in English. Advance purchase fares of ¥15000 are offered, but those can only be purchased online in Japanese. In Osaka, the bus stops at both OCAT in Namba and Osaka Station (in front of ALBi Osaka). In Tokyo, it stops at Ikebukuro Station West Exit and Shinjuku Station West Exit (not at Busta Shinjuku).

From Yamaguchi Prefecture
Bocho bus offers a nighttime bus from the cities of Hagi, Yamaguchi, Hofu, Tokuyama, and Iwakuni to Kobe and Osaka.
It costs between ¥6300 and ¥9480 for a one-way ticket, depending on where you get on and where you get off. The bus departs Hagi Bus Center at 19:55 nightly, and arrives at Osaka station at 07:15 daily. The bus makes a return trip from Osaka station at 22:05 nightly, and arrives at Hagi bus center at 09:25 daily. Full details including round trip fares are on their website. It is a good deal if you have time to spare.

From elsewhere
There are a variety of nightbus options from Yamagata, Sendai, Koriyama, Fukushima, Maebashi, Mito, Iwaki, Ashikaga, Saitama (Omiya), Tokyo, Kawasaki, Yokohama, Kofu, Karuizawa, Yamanouchi (Yamanaka), Niigata, Shizuoka, Mishima, Kurashiki, Hiroshima, Kurayoshi, Yonago, Izumo, Tsuwano, Imabari, Matsuyama, Kochi, Sukumo, Susaki, Fukuoka, Kurume, Oita, Kumamoto, Miyazaki (Miyako City), and Kagoshima.
Same-day arrivals depart from Tokyo, Kawasaki, Kofu, Nagano, Matsumoto, Minowa, Toyama, Kanazawa, Fukui, Obama, Hamamatsu, Nagoya, Takayama, Yokkaichi, Maizuru, Fukuchiyama, Kyoto, Shirahama (Adventure World), Shinonsen, Kinosaki Onsen, Arima Onsen, Okayama, Kurashiki, Tsuyama, Maniwa, Niimi, Shobara, Miyoshi, Hiroshima, Tottori, Kurayoshi, Yonago, Izumo, Tokushima, Naruto, Takamatsu, Marugame, Imabari, Matsuyama, Kochi, Muroto, and Susaki.

By boat

Osaka International Ferry Terminal is in Nankō (南港) in the Osaka Bay Area. There are no banks, post office, shops, or restaurants in the terminal. The nearest subway station is Cosmosquare Station (C11), which is about a 15-minute walk from the terminal. A free shuttle bus is available at the station. Taxis are also available at the station.

Getting to the Ferry Terminal
From Suminoe-koen Station

From JR Shin-Osaka Station (Shinkansen Line)

From Namba

From Tennoji

By taxi

By car
Osaka-Busan
The PanStar Line operates a ferry between Osaka and Busan. The ferry leaves Monday, Wednesday, and Thursday, at 15:10 from both Osaka and Busan and arrives the following day at 10:00. In Busan, the luggage check-in time is prior to the passenger check-in time: for the Busan-Osaka run, luggage check in is 12:40-14:00 and the passenger check in time is 14:15–14:45; for the Osaka-Busan run, luggage check in is 13:00-14:00 and the passenger check in time is 13:00-14:30.
Many different room options are available, including family rooms. Fares start at ¥17,000 and range through seven different room/suite classes culminating in a Presidential Suite, which is ¥250,000 per night. Tickets can be purchased online, but much of the website content is only available in Japanese and Korean, and may be difficult to navigate for English speakers. Tickets are easily obtainable through agents specializing in Korean or Japanese travel. The ferry holds live musical performances, magic shows, and other entertainment on the run. Schedule varies.
You can take your car on the ferry, but there are documentation requirements. The cost for a single basic room and a car is ₩690,000. Room upgrades are available. Temporary insurance must be purchased at the port upon arrival in Osaka.

Osaka-Shanghai
Get around
Kansai Travel Pass: Exploring Osaka & Kansai Region:
If you are planning to travel beyond city limits you might consider using the tickets from
Surutto Kansai
. For use in Osaka and other cities in the west of Japan, there are some other useful tickets.
By subway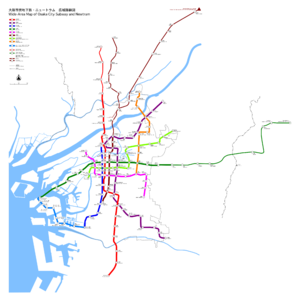 The
Osaka Subway
is Japan's second-most extensive subway network after
Tokyo
, which makes the underground the natural way to get around. The
Midosuji Line
is Osaka's main artery, linking up the massive train stations and shopping complexes of
Shin-Osaka
,
Umeda
,
Shinsaibashi
,
Namba
and
Tennoji
.
The signage, ticketing and operation of the Osaka subway is identical to its larger counterpart in Tokyo. Fares ¥200-350, depending on distance. Station arrivals are displayed and announced in Japanese and English. Keep your ticket when you enter the train — it is required when you exit.
By train
True to its name, the
JR Osaka Loop Line
(環状線
Kanjō-sen
) runs in a loop around Osaka. It's not quite as convenient or heavily-used as Tokyo's Yamanote Line, but it stops in Umeda and Tennoji, and by Osaka Castle. Namba and Universal Studios Japan are connected to the Loop Line by short spurs. Fares ¥120-250, depending on distance.
By bicycle
Many residents get around by bicycle, as the city is mostly flat and easily navigable by bike. Riding on the sidewalks is permitted and some sidewalks even have bike lanes marked. If nothing is marked, try to stay to the left where possible (but often you simply need to find the best path through the pedestrians).
Rental bikes are available, but if you are staying longer than a few weeks, purchasing a used bike can be a good deal. Finding a used bike can be a bit tricky, however, particularly if you don't speak Japanese. Craigslist and websites such as Gaijinpot.com have classified listings, and there are a few used bike shops around.
Renge
, near Osaka Castle, sells a range of used bikes starting at around ¥5500.
You are required to register your bicycle with the police. Bikes registered under a name other than the rider may be considered stolen, and bicycle theft is not uncommon. Bike shops can help with the simple registration process.
By car
It is generally a bad idea to use an automobile to visit Osaka. Many streets do not have names, signs are usually only in Japanese, and parking fees are astronomical. In addition, an international driver's license is required.
Talk

Osaka has a distinctive dialect of Japanese, which is favoured by many comedians in Japanese popular culture. The Osaka dialect is traditionally associated with the merchant class, and as such is regarded by many Japanese as rather rough-sounding compared to standard Japanese. While generally not a problem for advanced Japanese speakers, it may be difficult to understand if you have just started learning Japanese. All non-elderly locals are able to speak and understand standard Japanese though, so if you don't understand, politely ask them to repeat themselves in standard Japanese (hyōjungo 標準語) and they will usually oblige.
As with most other major Japanese cities, English is spoken in major tourist attractions and large international hotels, but is otherwise not widely spoken.

See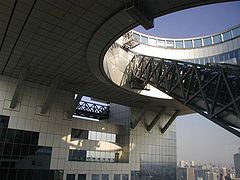 Osaka's best known sight is the Osaka castle. While it is a reconstruction, it is pretty and has a nice castle park. To learn more about the history of Osaka, you can head to the nearby Osaka Museum of History.
The Osaka Science Museum on Nakanoshima is an interactive activity center with planetarium and cinema.
Umeda Sky Building is a weirdly shaped building with an observation deck and a escalator suspended between two buildings mid-air. It is near the Osaka station.
The Sumiyoshi Shrine is south of the city center. It is one of Japan's oldest Shinto shrines and has a very unusual architecture. It is also famous for a bridge arching over a pond.
The Japan mint is in Osaka and is especially famous for the nearby cherry blossom tunnel road, a prime spot to see the annual cherry blossom.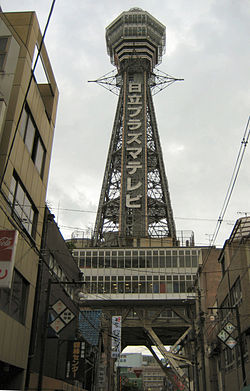 Do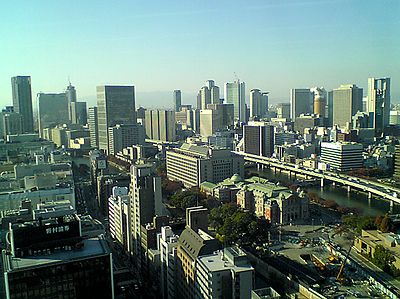 KaiyukanThis is one of the world's largest aquariums, with 11,000 tons of water and plenty of sharks (including a whale shark), dolphins, otters, seals, and other sea creatures. The largest tank, representing the Pacific Ocean with 5,400 tons is nothing but overwhelming. On the weekend, musicians and street performers offer additional entertainment to people outside the aquarium.

Tenpozan Ferris WheelThere is also the Suntory Museum, a mall and a port for sightseeing boats. The mall has a wide variety of shops that cater to fashionistas, otaku, tourists, or dog lovers, variably. The mall doubles as a kind of amusement park, with a Ferris wheel, and the best deal is to catch the ferry from there to Universal Studios across the water.

Sumo Spring Grand TournamentThe Osaka Tournament of Japan's national sport, sumo wrestling, is usually held mid-March annually at Osaka Prefectural Gymnasium. Check for schedules and ticket availabilities at the official Nihon Sumo Kyokai homepage.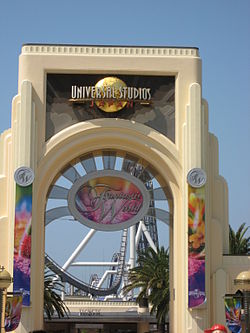 Universal Studios JapanJapan's second-largest theme park. Expect much Japanese dubbing over your favorite characters and movies. (If you are coming here on a side trip from Tokyo Disney Resort, see that article's Get out section for information on how to get here and return to Tokyo that same day.)

Umeda Joypolis SegaOccupies the 8th and 9th floors of the Hep Five building with arcades and a Ferris wheel at the top. Local laws prohibit kids being here after dark even in the company of their parents, so if you want to take the kids along, plan on going early. The HEP5 Ferris is okay though.

Spa WorldGender-separated European and Asian-themed spas and saunas as well as a pool for the family with slides and fun (don't forget your swimming trunks). Open 24 hr so it is handy if you're stuck for accommodation or locked out of your hotel after a night on the town, just pay up, change into their cotton overalls and pass out on one of their comfy leather recliners with as many blankets as you like. Try the outdoor onsen (try not to get burnt in the sun) or watch their huge TV in their bar with a cold beer. Gym also available to you as part of the entry fee. "Rollover" for day passes is at 9AM on the dot. Watch out for the special ¥1000 deals offered from time to time, often in March. Well worth spending an afternoon chilling out here. People with tattoos, permanent or temporary, are barred from using the facilities.

National Bunraku TheaterOne of the last places in the world where bunraku, a form of intricate puppet theater from the Edo period, can be seen live. The large puppets, which require three operators each, are accompanied by traditional music and narration, and act out great Japanese plays of the 1600s and 1700s. Transcripts in Japanese and synopses in English are provided.

Osaka Shiki Musical TheaterHome of the Shiki Theatre Company, proposing plays and musicals.

Zepp NambaA pop club.

Billboard Live OsakaA jazz club, formerly "Blue Note Osaka".

phone: +81 6 6612-1234

address: Hyatt Regency Osaka Hotel, 1-13-11 Nanko-Kita, Suminoe-Ku

A spa.
The festival hall in Nakanoshima, near Umeda, and the symphony hall in Umeda host modern and classical recitals, while Umeda Koma in Umeda, and Shin-Kabukiza in Uehommachi host Enka performances. For more independent or underground music, try Banana Hall in Umeda or Big Cat in Amerika-mura.

phone: +81 80-4451-5539

English-language stand-up comedy playhouse.
Work
The occupation of most resident Americans, Europeans and Australians is
teaching English
(as is the case in most of Japan). There are also many international students and staff at various universities in Osaka. The economy in the Osaka region has been relatively stagnant compared to Tokyo's: although there are jobs in law, finance, accounting, engineering and other professional fields in Osaka, demand for foreign professionals tends to be higher in Tokyo (as is pay). Osaka does have several educational publishers that employ foreign workers, but these jobs require fluent Japanese language ability. Temporary work in a variety of industries is available.
Buy
Osaka's most famous shopping district is Shinsaibashi (心斎橋), which offers a mix of huge department stores, high-end Western designer stores, and independent boutiques ranging from very cheap to very expensive. Within Shinsaibashi, the Amerika-mura (アメリカ村, often shortened to "Amemura") or "American Village" area is particularly popular among young people, and is often said to be the source of most youth fashion trends in Japan. Just west of Amerika-mura, Horie (堀江) is a shopping area with fashionable Japanese boutiques, centered around Tachibana-dori (which is often translated as Orange Street).
The many shops in Umeda are also popular among trendy locals, particularly in the Hep Five and Hep Navio buildings adjacent to Hankyu Umeda Station, although these shops tend to be too expensive to captivate most tourists' interest. For example, the "E-ma" buildings next to Hanshin department store, and "Nu-Chayamachi" (Nu 茶屋町) near Hankyu Umeda station.
For electronics, the Nipponbashi (日本橋) area southeast of Namba, and particularly the "Den-Den Town" shopping street , was once regarded as the Akihabara of western Japan; nowadays, more people would rather shop at the new, enormous Yodobashi Camera (ヨドバシカメラ) in Umeda or BicCamera (ビックカメラ) and LABI1 in Namba, although Nippombashi still offers good deals on many gadgets, PC components and used/new industrial electronics.
For Japanese and foreign books, try Kinokuniya in Hankyu Umeda Station, or Junkudo south of Osaka Station.

The Official Hanshin Tigers (baseball team) Shop is on the 8th floor of Hanshin Department Store at Umeda.
Tenjinbashi-suji Shopping Street (天神橋筋商店街 Tenjinbashi-suji Shōtengai) is said to be the longest straight and covered shopping arcade in Japan at approx. 2.6 km length. The arcade is running north-south along Tenjinbashi-suji street, and is accessible from multiple subway and/or JR stations, e.g. Tenma, Minami-Morimachi, and Tenjinbashi-suji 6-chome. Nothing meant for sightseeing, the arcade is a live exhibition of Osaka's daily life, open since Edo period.
Eat
Okonomiyaki - The DIY Food
Okonomiyaki Osaka style is usually do-it-yourself food at smaller, independent specialized restaurants. Tables are equipped with embedded hot plates and you'll receive a bowl of ingredients, which you are expected to cook on your own. However, in larger franchised chains the staff can often cook for you — and even in smaller places staff will usually gladly help if asked.
Should you decide to try your luck on your own, you might want to dress for the occasion: pork slices, the most common topping, are usually very fatty and tend to splatter grease all over the place. Try Modernyaki which is an Okonomiyaki with Soba on top, or go fried egg on top of the pancake.
The widest selection of restaurants is in Osaka's main entertainment districts, with the highest concentration of all in the
Umeda
and
Dotombori
areas.
Even in a nation of obsessive gourmands Osaka is known as an excellent place to eat, exemplified by the Osakan maxim
kuidaore
, "eat yourself into ruin". The best place for trying out
kuidaore
is probably
Dōtonbori
(道頓堀) and neighboring
Hōzenji-yokochō
(法善寺横町) or
Soemon-cho
(宗右衛門町), the whole area containing nearly nothing but one restaurant after another.
Some typically Osakan foods worth trying include:
Battera (バッテラ), is a block type sushi, with mackerel put on rice and squeezed very hard in a wooden box, cut into pieces when served. Battera sushi is a variant and direct descendant of primitive sushi, this one from Osaka is unique for its squarelike shape. Available not only in sushi restaurants but also as take-away in department stores and train stations.
Okonomiyaki (お好み焼き), fried cabbage cakes that resemble a cross between a pancake, pizza, and omelette.
Takoyaki (たこ焼き), bits of octopus inside fried dumplings.
Kushikatsu (串かつ), skewers with various sorts of food (meat, vegetables, cheese, etc.) deep-fried in dough and served with a black sauce.
Okonomiyaki is best eaten in hole-in-the-wall restaurants, while takoyaki is best eaten from street vendors' carts, which can be found all over the major districts around nightfall. The best place to find kushkatsu(串カツ) is in
Shinsekai
, between Dobutsuen-mae and Ebisucho stations on the Sakaisuji subway line.
Drink
There are many nightlife districts in Osaka. Nightlife in Osaka is very popular.
This area, south of JR Osaka station, is the most famous nightclub and entertainment district of contemporary Osaka. It's just like Tokyo's Ginza, filled with many hundreds of high-class bars, clubs and small restaurants where Japanese businessmen entertain their clients.
This area is the centre of nightlife.
Sleep
Osaka has a vast range of accommodation, including some of the best hotels in the world. Most of the city's moderate and expensive hotels can be found in Umeda, Namba, Shin-Osaka and Kyobashi, though they also have their share of budget options.
Backpackers have begun to use budget hotels around the JR
Shin-Imamiya
(新今宮) and subway Midosuji Line
Dōbutsuen-mae
(動物園前) stations, in
Tennoji
area. Room quality varies widely and prices vary from ¥800-3000, but there are many options. The area is rather poor and there are many homeless that wander about during the day, but generally they are harmless and safety is not an issue. One benefit of the district being so poor is that prices at the supermarkets and such are generally very low. However, as always use common sense when traveling in unfamiliar areas.
Connect
Opti Café is a surprisingly cheap internet café in Umeda. ¥100/30min. Yodobashi Camera department store's groundfloor, next to Excelsior Café. You are requested to register for membership but it doesn't cost anything.
Y-net Cafe, Labi 1 Namba GF, Nambanaka 2-11-35, Naniwa-ku. First hour of use is free and no registration needed.
Cope
address: See the website http://miyoshi-clinic.com/ for the address and Google map.
Dr Miyoshi speaks good English and is a general doctor and a specialist in gynecology.
Consulates
Australia

address: MID Tower Twin 21 29F, 2-1-61, Shiromi, Chuo-ku

China

address: 3-9-2, Utsubohommachi, Nishi-ku

address: Crystal Tower 10F, 1-2-27, Shiromi, Chuo-ku

address: Umeda Sky Bldg, Tower East, 35F, 1-1-88-3501, Oyodonaka, Kita-ku

address: Nakanoshima Intes Building 22 F, 6-2-40 Nakanoshima, Kita-ku

phone: +81 66-211-4092

address: Korean Center Bldg, 2-3-4, Nishi Shinsaibashi, Chuo-ku

address: Twin 21 MID Tower 33F, 2-1-61, Shiromi, Chuo-ku

address: 101 Uchiawajicho Advan City, 2-3-7, Uchiawaji-cho, Chuo-ku

Russia

address: 1-2-2, Nishimidorigaoka, Toyonaka City

address: Osaka Kokusai Bldg 14F, 2-3-13, Azuchi-machi, Chuo-ku

address: Konoike East Bldg 4F, 3-6-9, Kitakyuhoji-machi, Chuo-ku

address: Seiko Osaka Bldg 19F, 3-5-1, Bakuromachi, Chuo-ku

phone: +81 66-315-5900, +81 3-3224-5000 (After hours emergency)

address: 2-11-5, Nishitemma, Kita-ku
Stay safe
Osaka has a dangerous reputation (by Japanese standards), but is still
remarkably safe
for a city of its size, and the overall level of crime is as low as in
Tokyo
or other Japanese cities. However, some areas, particularly Shinsekai and Tobita, may be a little dodgy at night and the Airin/Kamagasaki area — Japan's largest slum, home to a lot of jobless and/or homeless people — south of Shin-Imamiya is best avoided at most times, especially after dark.
Incidentally, despite the movie stereotype of gangsters speaking in Osakan dialect, the actual base of Japan's biggest
yakuza
families is neighboring
Kobe
— and the most gang violence occurs in
Tokyo
. Unless you're dealing drugs, you're unlikely to get involved with the local mafia.
Go next
Its location makes Osaka a perfect base for doing one-day trips to nearby cities like Kyoto (30 minutes), Kobe (20 minutes), Nara (40 minutes) or Himeji (1 hour). (Typical times shown on JR Trains available without extra express charges starting from Osaka Station.)
The Expo Park in Suita, the huge commemorial park of the Japan World Expo '70, with its interesting Japanese Garden and Museum of National Ethnology. It's a very large park, and a good place for a picnic.
Hirakata - Home to the child-friendly Hirakata Park and Kansai Gaidai University.
Church of Light (茨木春日丘教会 Ibaraki Kasuga-oka Kyoukai)(Ibaraki), one of the masterpiece architecture by Tadao Ando.
Minō, a popular maple watching spot in autumn and nature escape all year round. From Hankyu Umeda station take the train to Minō station. It is a pleasant walk to the waterfall (~30 minutes one way) through shady forest, with wild monkeys and deer . Try the local Minoh beer or maple leaves in sweet tempura batter.
The temples and lush greenery of Mount Koya, 90 minutes away by train, are an entirely different world and the perfect getaway when all the concrete starts to get to you.
Akashi Kaikyo Bridge, the world's longest single-span suspension bridge is near Kobe, about 40 minutes away by train.
Tokimeki Beach is a good get away if you want to spend the day at the seaside. Take the Nankai line from Namba station to Tannowa Station. The trip costs around ¥720 and takes about 45 minutes. The bag and shower service closes at 5PM.