Osaka/Bay Area
The
Bay Area
is the eastern most district of
Osaka
city. It has large-scale facilities for shopping and entertainment, and has become popular among young people in particular.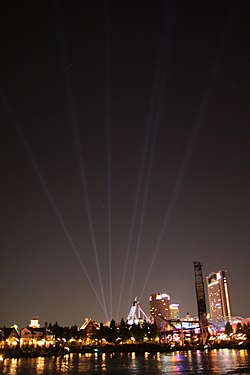 See
phone: +81 6-6576-5501

address: 1-1-10 Kaigan-dori Minato-ku

This is one of the world's largest aquariums, with 11,000 tons of water and plenty of sharks (including a whale shark), dolphins, otters, seals, and other sea creatures. The largest tank, representing the Pacific Ocean with 5,400 tons is nothing but overwhelming. On the weekend, musicians and street performers offer additional entertainment to people outside the aquarium.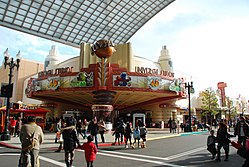 Universal Studios JapanJapan's second-largest theme park. Expect much Japanese dubbing over your favorite characters and movies. (If you are coming here on a side trip from Tokyo Disney Resort, see that article's Get out section for information on how to get here and return to Tokyo that same day.)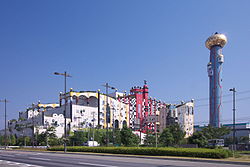 Maishima Sludge Center and Maishima Incineration Plant

address: 2 Chome-2-7 Hokukoshiratsu, Konohana Ward

Without a doubt, the best sludge center you've ever seen. The incineration plant makes other waste facilities look like dumps. These two buildings were designed by eccentric Austrian architect Friedensreich Hundertwasser. They are fantastical works that have to be seen to be believed. There are display panels in the lobby of the sludge centre. Tours are available if you contact the facilities in advance, but Hundertwasser's work is on the outside: inside, these are functioning waste treatment facilities. When you arrive, make sure to check the bus schedule to find out when you can leave.
Do
Maishima Pottery Village

address: 2-2-98 Hokuko-Ryokuchi Konohana-ku

Maishima Pottery Village opened in Osaka's manmade island in 1998 for the education and promotion of naniwazuyaki, made from the vast amounts of unwanted marine clay which resulted from the construction of Kansai International Airport. The main building has studios with electric and momentum potter's wheels, rooms for preparing clay and glazes, a gallery, a noborigama climbing kiln and an anagama tunnel kiln. There are also studios for visitors to experience hand-building and painting.

Boat Race Suminoe

address: 1-1-71 Izumi, Suminoe-ku

There's no "bettor" place to see one of Japan's unique gambling sports, hydroplane boat racing, than the race course that typically helps crown the sport's champion every December. If you're interested in placing a bet, you might want to do some research, as there is practically no English guidance available once you arrive.
Eat
address: 6-2-61 Shimaya Konohana-ku

Visitors can sample fare from five leading takoyaki shops that Osakans, famously particular about their takoyaki, unreservedly recommend.
If you are visiting Boat Race Suminoe for the boat races, you will find several cheap eats available throughout the facility.
Sleep
Mid-range
address: 1-1-111 Sakurajima Konohana-ku

Cosmosquare Hotel and Congress

address: 1-7-50 Nankou Kita Suminoe-ku

address: 1-2-1 Shinkitajima Suminoe-ku

Hotel Keihan Universal Tower

Hotel Keihan Universal City

phone: +81-6-6577-1111

address: 1-2-1 Benten, Minato-ku
Splurge
phone: +81 6-6612-1234

address: 1-13-11 Nanko-Kita, Suminoe-Ku

A hotel opposite the World Trade Center and one of the higher end hotels in the area. This hotel is an official hotel for the Universal Studios Japan and one of the most expensive hotels in the city. A bit far away from the city center with no direct subway line. Houses a chapel on its grounds too. Some airline crews use this one.
Go next