Osaka/Kita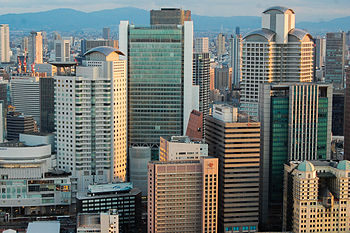 The
Kita
() is the newest centre of
Osaka
city. The area around Umeda station, where major terminals for the Osaka subway, Japan Rail (JR), Hankyu and Hanshin railways can be found, boasts department stores, buildings full of fashionable shops and various attractions. The southern edge of the ward is Nakanoshima, a sandbank in the middle of the river which is home to cultural institutions and government offices.
Get in
By train
There are two main train stations in this area, namely Umeda Station, and Osaka Station. Both are very close.
Tokaido and Sanyo Shinkansen (新幹線 trains arrive at
Shin-Osaka
station, to the north of the city center. From Shin-Osaka, you can connect to Umeda Station by using the Midosuji subway line, or connect to the local JR network for other destinations.
The best trains between Kansai International Airport and Osaka station are "Kansai airport rapid service" which operates by JR-West. The journey takes approximately 65 minutes at a cost of ¥1160.
JR Limited express train
"Haruka"
stop at
Tennoji
Station and
Shin-Osaka
Station. But
Haruka doesn't stop at Osaka Station
. The train passes through Umeda Freight Line, which bypasses Osaka Station.
Umeda Station
Kobe Line - Offers services to the following cities: Nishinomiya and Sannomiya(Kobe).
Kyoto Line - Offers services to the following cities: Takatsuki, Settsu, Ibaraki, and Kyoto.
Takarazuka Line - Offers services to the following cities: Toyonaka, Ikeda and Takarazuka.
Main Line - Offers services to the following cities: Amagasaki, Nishinomiya and Sannomiya(Kobe).
Osaka Station
Osaka Loop Line - Offers services to the following cities: Universal City, Tennoji, Kansai International Airport, Wakayama, and Nara.
JR Kyoto Line - Offers services to the following cities: Shin-Osaka, Suita, Takatsuki, Settsu, Ibaraki, and Kyoto.
JR Kobe Line - Offers services to the following cities: Amagasaki, Nishinomiya and Kobe.
The JR Kyoto Line is the common name of a portion of the Tōkaidō Main Line, between Kyoto Station and Osaka Station.
By bus
There are several bus terminals around Osaka railway station. Airport Limousine bus runs from Kansai International Airport to Hotel New Hankyu bus station, ¥1500 one way.
Hotel New Hankyu Bus Station (Next to Hankyu Umeda Station)
Hankyu Sanban-Gai Bus Terminal (Hankyu Umeda Station Terminal Building North 1st Floor)
Hankyu Bus
(Japanese Website)
Herbis Osaka Bus Terminal (5 minutes walk from JR Osaka station Central Gate, Herbis Plaza ent B1 Floor)'
Osaka Airport Tansport, Hanshin Bus
Hanshin Bus (Japanese website) -
Osaka station - JR Express Bus Terminal (JR Osaka station North Gate Building 1st Floor)
West JR Bus(Japanese website) +81 (0)6-6371-0111 - 09:00-19:00
Willer Bus Terminal Osaka-Umeda (12 minutes walk from JR Osaka station North Central Gate, Umeda Sky Building Tower East 1st Floor)
Willer Bus +81 (0)50-5805-0383 - English/Korean M-F 10:00-14:00
See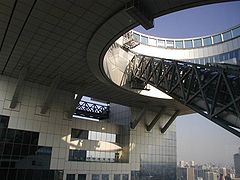 Do
Osaka Siki Musical TheaterHome of the Shiki Theatre Company.

The festival hall in Nakanoshima, near Umeda, and the symphony hall in Umeda host modern and classical recitals, while Umeda Koma in Umeda, and Shin-Kabukiza in Uehommachi host Enka performances. For more independent or underground music, try Banana Hall in Umeda or Big Cat in Amerika-mura.
Buy
Daimaru UmedaOne of the largest department stores in Osaka.

Hankyu San BangaiThe large shopping areas filled with a variety of shops from cages to brandname boutiques.

Herbis Plaza ENTBoutiques of famous brands inside and outside Japan, gourmet restaurants.

For Japanese and foreign books, try Kinokuniya in Hankyu Umeda Station, or Junkudo south of Osaka Station.
The Official Hanshin Tigers (baseball team) Shop is on 8th floor of Hanshin Department Store at Umeda.
Tenjinbashi-suji Shopping Street (天神橋筋商店街 Tenjinbashi-suji Shōtengai) is said to be the longest straight and covered shopping arcade in Japan at approx. 2.6 km length. The arcade runs north-south along Tenjinbashi-suji street, and is accessible from multiple subway and/or JR stations, eg. Tenma, Minami-Morimachi, Tenjinbashi-suji 6-chome, etc. Nothing meant for sightseeing, the arcade is a live exhibition of Osaka's daily life, open since Edo period.
Eat
Budget
Snack Park

address: Hanshin department store (Umeda), B2 Floor

Offers okonomiyaki, takoyaki and a few surprises like doteyaki (どて焼き) — stewed beef sinew.

address: Hankyu Grand Building 29F

Good okonomiyaki as well yakisoba, with extra toppings (egg, cheese, etc.). The restaurant overlooks Umeda. There's an English menu.

HanadakoStanding or to-go takoyaki, very popular with the locals.
Mid-range
address: SWING umeda 2F 2-15-20 Sonezaki

En is one of the most atmospheric and tastiest izakayas in Osaka, with branches in Umeda and Namba. The interior is beautiful and food is delicious and reasonably priced. En also has a large range of Japanese sake and has an English menu.

TorikizokuTorikizoku is the most popular :WikiPedia:yakitori chain in Kansai, and can be found near most major stations in Osaka. The food is delicious, comes in generous serves and is very cheap. It's very popular with both locals and expats, and is always busy. Try to come before 7:30PM to secure seats.

Endo Sushi

phone: +81 6-6469-7108

address: 1 Chome-1-86 Noda, Fukushima Ward

Sushi place in Osaka's fish market.
Splurge
Drink
Nightclubs
phone: +81 66-363-3367

One of Osaka's gay and lesbian bars.

ExplosionOsaka's most popular and largest (albeit still not very big) gay club. They hold special events on Fridays and Saturdays, some of which are men-only and occasionally women-only, so check their website to make sure that you will be able to enter on the day you plan to visit. Foreigners sometimes get discounts or extra free drink coupons, so bring identification (especially if you are of Asian descent).

address: 12-12 Doyama-cho

A men-only gay nightclub.

Sam and DavePopular international dance club with a meat-market vibe. Two locations in Osaka.

Sam and Dave Umeda

address: 4-15-19 1F Nishi-tenma, Kita-ku
Sleep
Budget
address: Fukushima 7-4-22

A lively backpackers hostel in the central Osaka. There are three kinds of private rooms (twin, double and triple room). All staff members speak English and can help guests making travel plans. There are also staff who speak French and German. Free WiFi with your laptop or ¥100 per 30 min. for hostel computers. Rental bikes (¥500 per day), with no curfew or lockout and held-luggage services.
Capsule hotels
address: 9-5 Doyamamachi, Kita-ku

This is Japan's first capsule hotel, designed by noted architect Kisho Kurokawa and opened in 1979. Still open for business, happy to accommodate male foreigners with some semblance of a clue and a steal of a price. No women allowed.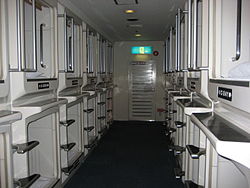 Daitoyo

address: 2-1-9 Nakazaki-Nishi, Kita-ku

Near Umeda, with branches at Namba and Juso. It has a hot spring spa, sauna, and a floor for women.
Budget apartments
address: 16-4-4 Toyosaki Kita-ku

Website is in Japanese. The English site can be obtained through an online booking agent if you Google its full name and if vacancies are available an immediate confirmation will be given. Twins beds available. Each apartment has in-suite shower and toilet, A/C, TV, and a kitchenette complete with fridge, stove and cooking utensils.
Mid-range
Splurge
Connect
Osaka Visitors Information Center - Umeda

address: 3F JR Osaka Sta.1F North Central Gate 3-1-1 Umeda Kita-ku

Tourist information is offered in English and Japanese.
Go next