Osaka/South
South Osaka
is the outer south district of
Osaka
.
See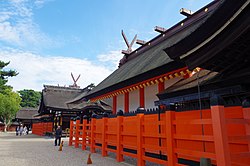 Sumiyoshi ShrineOne of Japan's oldest Shinto shrines, with a history stretching back 1800 years. Its traditional architecture is unusual among Japan's shrines, and its park-like surroundings with the sacred bridge arching over a tranquil pond make it a restful break from the busy environment of Osaka.
Do
Cerezo OsakaThe local J. League soccer team plays at Nagai Stadium (Kincho Stadium).

address: 1-1 Nagaikoen Higashi-Sumiyoshi-ku

Known as Kincho Stadium, Nagai Stadium is the home of the professional soccer team Cerezo Osaka.
Sleep
Budget
phone: +81 6 7492-8884

address: 1-4-13 Momodani Ikuno-ku

A guesthouse.

For Leaves Inn Nagai

address: 2-6-21 Nishitanabe-cho Abeno-ku

address: 4-9-7 Momodani Ikuno-ku

Hiro's Guesthouse is in the heart of Koreatown in Osaka. It is a little far from the station, but in a nice, social neighbourhood. The open first floor of the guesthouse is very social and great to hang out and make friends at. Hiro and the others go out of their way to help and ensure you have a good time - this is more than just a place to sleep at.

Osaka Municipal Nagai Youth Hostel

phone: +81 6-6699-5631

address: 1-1 Nagaikoen Higashisumiyosi-ku
Mid-range
address: 2-13-13 Nagai Sumiyoshi-ku
Splurge