Ottawa
Ottawa
is
Canada
's capital. With a million citizens, it is Canada's sixth-largest city, and Ontario's second-largest city. Across the Ottawa river is
Gatineau
,
Quebec
.
While most Ottawans are English-speaking, 15% speak French natively, making Ottawa Canada's largest Francophone city outside of
Quebec
. Visitors come to Ottawa to see Parliament Hill, as well as the national museums.
Understand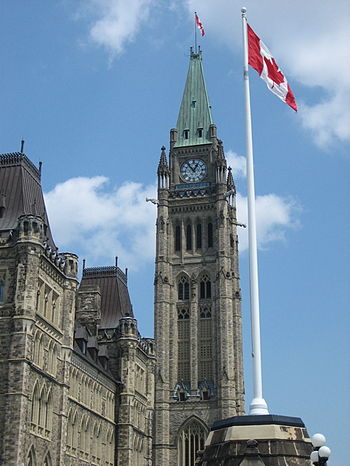 History
Ottawa started as a humble lumber town called
Bytown
; it was named after Colonel John By of the Royal Engineers who oversaw the construction of the
Rideau Canal
, now a UNESCO World Heritage site, much of which was done by hand, between 1826 and 1832. Lumber mills were built along the Ottawa River in the mid-nineteenth century and those brought employment and wealth to the growing population. The centre of action then, as now, was the Byward Market. While it is still the centre of the city's nightlife, it has changed appreciably from the rough and tumble early days of brothels and taverns.
In 1857, Queen Victoria chose Ottawa as the capital of Canada. The choice was controversial, partly because it sidestepped the rivalry between
Toronto
and
Montreal
(then, as now, Canada's largest cities), and partly because the new capital was still a tiny outpost in the middle of nothing much — an American newspaper famously commented that it was impregnable, as any invaders would get lost in the woods looking for it. Unlike Canberra in Australia or Washington, D.C. in the United States, Ottawa remains part of Ontario province instead of being a special federal district.
During the latter half of the nineteenth century, the telephone was demonstrated to the Canadian public for the first time here and the city was electrified. The first electric streetcar service was started in 1891. A menu from 1892 states that, "the first instance in the entire world of an entire meal being cooked by Electricity" was in Ottawa.
Today, the major economic sectors are the public service, travel and tourism and the rapidly growing high-tech industry, which has earned the city the name "Silicon Valley North". Ottawa has remained a green city and is situated at the confluence of three rivers (Ottawa, Rideau and Gatineau) and of the Rideau Canal. Many residents make regular use of Ottawa's parks and green spaces, bikeways and cross country ski trails. Many national attractions are located in Ottawa: Parliament Hill, the National Library and Archives, the National Gallery, and the Museums of History, Contemporary Photography, Nature, War, and Science & Technology.
Climate
Visitor information
In addition to the Capital Information Kiosk, the tourist office's eager helpers can be found in public places, ready to answer questions in French or English. You can identify them by their blue uniforms with white question marks ("?").
phone: +1 613-239-5000

address: 90 Wellington Street

Excellent first stop for all kinds of tourist information, in friendly and fluent English and French. This is the office which issues free tickets for tours of the Parliament buildings.
Get in
By plane
Macdonald-Cartier International Airportis Ottawa's main airport with regular arrivals and departures from most major Canadian and many American cities. Services outside North America, however, are limited to a daily flight to London Heathrow and a daily flight to Frankfurt with Air Canada, plus seasonal service to London Gatwick. Air France, KLM, and Swiss International Airlines provide shuttle bus services between Ottawa and Montreal that facilitate connections with their flights operated from Trudeau International Airport. This trip takes about two hours. Via Rail operates a shuttle bus from the Dorval train station to nearby Trudeau International Airport. This free shuttle service allows one to travel from Ottawa to Dorval (a suburb of Montreal) by rail, and then transfer directly to the airport on a dedicated on-demand bus.
Macdonald-Cartier is easily reached by public transit or taxi and most of the major car rental agencies have a presence at the airport terminal in the parking garage. A taxi to downtown hotels should cost between $25 and $35, while a taxi to nearby hotels should not cost more than $10.
To reach downtown via public transit, take
bus 97
(the only bus at the airport, outside at arrivals at pole #12) to Hurdman Station, and transfer to the O-Train Confederation Line (direction: Turnney's Pasture) to downtown stations: Lyon, Parliament or Rideau. (Effective October 6, 2019, bus 97 no longer goes downtown.) To get to the train station, take bus 97 to Hurdman Station and transfer to the O-Train Confederation Line (direction Blair) to Tremblay Station, the next O-Train stop, which is next door to the train station. The bus fare is $3.50 which gives you 1½ hours of unlimited bus travel or $10.50 for an all-day pass. If you don't have a
Presto card
, exact change is required; remember to ask the bus driver for a transfer to use as proof of payment for fare inspectors.
By bus
There is a Voyageur/Greyhound terminal in Ottawa with regular service to
Montreal
(departure on the hour from 6AM to midnight),
Toronto
and other cities in North America. The bus terminal is downtown on the corner of Catherine Street and Kent Street, between Bronson Avenue and Bank Street. Though the bus terminal is downtown, a 15-20 minute walk will get you to most hotels and downtown attractions. Alternatively, a 5-10 minute local bus ride will do the same. (Bus
#6
or
#7
from a stop on Bank Street at Catherine Street, one block east of the terminal, will take you to Parliament and Rideau O-Train stations in downtown Ottawa.)
Greyhound Canada
buses coming from Montreal also usually make an intermediary "University of Ottawa" stop (actually at Laurier Station near the corner of Laurier Avenue East and Waller Street) before going to the Catherine Street terminal. This stop is closer walking distance to the Byward Market, the Rideau Canal, and Parliament Hill, and is a more central city transit hub. It may be necessary to request the stop with the driver.
In 2014, a coach from Toronto cost between $34 and $73 ($48 with a Hostelling International discount) and took 5 to 6 hours. There were 8 coaches a day.
A taxi to most downtown hotels should cost between $8 and $15.
OC-Transpo buses
are much cheaper but payable in cash (change not available) or Presto fare card. A daily bus pass is also available for purchase on the bus.
By train
Passenger train service is run by
Via Rail
in Canada and the main train station in Ottawa, (
XDS
), is less than ten minutes from downtown by car, taxi or O-Train. There are six trains daily leaving for Montreal and intermediate points, with five trains daily to Toronto and points in between. Service is reduced on Saturday, Sundays and holidays. Tremblay O-Train Station is next door to Ottawa Station allowing train passengers to conveniently continue downtown via the O-Train Confederation Line. Tremblay Station has O-Train ticket vending machines.
Ottawa has two train stations, the Ottawa Station near downtown, and a secondary station, , in the western suburb of Barrhaven, convenient for Nepean and Kanata points. All trains to Toronto stop at Fallowfield; two of the six weekday trains to Montreal originate or terminate at Fallowfield.
It is possible to get downtown from the main train station on foot, although it requires a bit of navigation. This path should not be taken alone after dark and may be flooded after periods of intense rain or snow melting. Have a street map with you so you can locate yourself once you have reached Strathcona Park. The station to Strathcona Park takes about half an hour (2½ km). Another half hour from the park to downtown. A map is available online.
#On exiting the station, walk along the west (left-hand) arm of the vehicle loop and across the Transitway bridge.
#Before reaching Tremblay Road, take the bike path to your left going west.
#The path will take you along the bus lanes and will pass over Riverside Drive.
#You will merge with a path coming up from Riverside Drive; continue walking west, away from the street.
#Shortly after that, you will come to a fork; go right (north) and continue until you see a pedestrian bridge on your left.
#Take the pedestrian bridge over the Rideau River.
#Immediately after the pedestrian bridge, turn right towards the north.
#Take the paved bike path, go under the highway bridge and keep following the Rideau River northward for about 1 km.
#Once you reach the end of the path, you are in Strathcona Park.
#Use a street map or an on-line map service to find your way from Strathcona Park to your downtown destination; at the north end of the park is Laurier Avenue, a major east-west street; parallel to it and several blocks north is Rideau Street.

By boat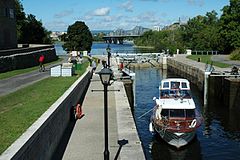 The Ottawa River is navigable from Ottawa to Montréal, but is blocked to the west by rapids within Ottawa-Hull.
The city is also accessible via the Rideau Canal, a UNESCO World Heritage Site, which runs from the St. Lawrence River at Kingston to the Ottawa River at Ottawa where it empties via a series of locks. It is possible to dock at Dow's Lake Pavilion and at points along the Rideau Canal and Ottawa River near downtown.

By car
By car, Ottawa is about a 4½-hour trip from Toronto via the 401 and 416 highways. Highway 7 is shorter ( vs. ) but this more scenic route through Peterborough is two lanes almost all the way, saving you no time.
Montreal is 2-3 hours away via Highway 417, the Trans-Canada Highway. The American border at Prescott-Ogdensburg is forty-five minutes from Ottawa's western suburbs (at the opposite end of Highway 416) with Interstate 81 60km (40 miles) further upriver in the Thousand Islands.

Get around
Public transit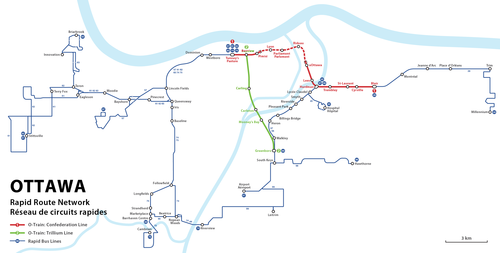 The city's public transit, run by
OC Transpo
, includes the bus service and the O-Train, a light rail system consisting of two lines. The recently completed Confederation Line (Line 1, red in maps) runs west-east with an underground segment through the city center, and is intended to be the main corridor through downtown. The Trillium Line (Line 2, often green in color) runs from the south. Both lines meet at Bayview station. In addition, there is a bus rapid transit system called the
Transitway
with service as frequent as 1 to 2 minutes at rush hour.
As of October 1, 2019, the cash
fare
for regular routes is $3.60 for adults and youth (13-64), $2.70 for seniors (65+), $1.85 for children (6-12). (Fares are 5 cents cheaper if paying by Presto card.)
Seniors
can ride the OC Transpo system free on Wednesdays and Sundays (except Para Transpo), but require a Presto card set for senior fares to go through fare gates at O-Train stations. Children 5 and under always ride for free. Payment is by exact change or the Presto card. If you pay cash, make sure that you are given a "transfer" to act as proof of payment for fare inspection. Your fare allows you to ride any buses and the O-Train for roughly 1½ hours, longer at night. Stop-overs and return trips are permitted, unlike in Toronto.
A day pass can be purchased for $10.50 and is good for buses and the O-Train. On Sundays and statutory holidays, up to two adults and four children, age 11 and under can share a day pass. Buy the pass from the bus driver using exact cash or Presto card. (If using the card to pay for a day pass, you must ask the driver before tapping the card to the reader, or it will deduct a normal fare instead.) Day passes are also available from ticket vending machines at O-Train stations and at customer service centres.
O-Train stations (except Bayview station) have ticket vending machines that issue a single-ride ticket. The O-Train ticket acts as a transfer which expires 90 minutes after purchase.
You can buy a
Presto card
for $6 (non-refundable) plus a minimum $10 balance at a Customer Service Centre, at selected Loblaws grocery stores or Shoppers Drug Mart pharmacies, by phone (+1-877-378-6123) or
online
. (Phone and online orders are available for delivery in Canada only.) Have a Customer Service Centre add the birth date to a Presto card for a senior or a child; this ensures that a senior or child gets the appropriate fare discounts. The Presto card is also valid in the Greater Toronto Area and Hamilton, which is useful if you are visiting two or all three of Toronto, Hamilton, and Ottawa.
Presto card readers are available on buses at the front door (and also at the rear door of long, articulated buses) and on O-Train platforms. Paying the fare by tapping the Presto card on the reader will also record a 1½ hour transfer period on the card. Tap your Presto card every time you board a vehicle. Upon the first tap, the Presto machine will momentarily display the fare deducted and the Presto balance remaining. When you subsequently tap within the transfer period, the Presto machine will display the minutes left in the transfer period.
OC Transpo has a Customer Service Centre in the Rideau Centre, 3rd floor, above the corner of Rideau Street and Colonel By Drive in downtown Ottawa. There are others at major bus stations - Lincoln Fields in the west end, Place d'Orleans and St. Laurent in the east - but for most travellers the downtown one will be more convenient.
Although the downtown is very walkable, there is the O-Train Confederation Line running east-west under the downtown area served by Lyon, Parliament, Rideau and uOttawa O-Train stations. If you are going to the Byward Market, get off at Rideau O-Train Station. To go north-south, take bus route 6 or 7 along Bank Street from either Parliament or Rideau O-Train stations.
The city's two main universities are accessible from this system: University of Ottawa at uOttawa O-Train station on the Confederation Line, and Carleton University at Carleton Station on the O-Train Trillium Line or bus routes 10 and 7. The smaller St. Paul University is on route 5. Algonquin College is next to Baseline Station which is on the transitway and has many routes; route 88 goes there and has a few other stops on the Algonquin campus.
On weekdays (excluding holidays), OC Transpo bus 15 connects Lyon O-Train Station to
Gatineau
, Quebec terminating in front of the Canadian Museum of History (stop: Laurier / Élisabeth-Bruyère); it uses OC Transpo fare media, including Presto, even when boarding in Gatineau.
OC Transpo has a
webpage
to look up schedules and maps for all the O-Train and bus routes mentioned above.
Many
Gatineau
buses (marked "STO" -
Société de transport de l'Outaouais
) come into Ottawa, run along Wellington Street and pass by the Byward Market. They can be caught near Lyon, Parliament and Rideau O-Train stations. The colour schemes for the two transit systems are different, red and white for OC Transpo but blue and white for STO. OC Transpo and STO accept each other's
transfers
including O-Train tickets. STO accepts an OC Transpo transfer recorded on a Presto card; however, STO will not accept Presto to pay the fare on its own buses. STO accepts the OC Transpo day pass but not as a group pass.
By taxi
Taxis are easy to find downtown; elsewhere, phone for a cab. All taxis should have a meter and the base charge is $2.45, and overall rates are quite high compared to most other North American cities. A ride from downtown to the airport will be costly, running between $25 and $35 for a trip that will take less than a half-hour outside of peak traffic periods. Cabs will not take credit cards for fares below $10. Most cab drivers know Ottawa well, but have clear instructions if you're going anywhere in the suburbs as many developments in the outskirts are relatively new. Ottawa cabs aren't supposed to pick up customers off the street on the Quebec side; the converse applies to Quebec cabs in Ottawa. You may phone a Quebec cab if you are in Ottawa and vice versa.
Uber is available in Ottawa.
By car
Parking at most attractions is convenient, though on-street parking in downtown areas is at a premium (more expensive than most other cities in North America). If you are driving to downtown on the weekend, parking is free in the garage at the World Exchange Plaza. There are entrances to the garage on Metcalfe Street and on Queen Street. A map is useful if you are going to be driving around downtown as many of the streets are one-way and more than one visitor has complained about navigating the downtown core. Drivers in Ottawa are rated as some of the worst in Canada, often failing to signal for lane changes or making "illegal" turns into far lanes rather than the ideal/closest lane.
Most major car rental companies have several offices in Ottawa with all of them represented downtown and at the airport.
Driving while talking on your cell phone is illegal in Ontario unless you use a hands-free system.
On foot
Ottawa is a great city to explore on foot, though in winter you need good clothes and warm boots to consider it. With pedestrian-friendly streets and the density of attractions, a car is expensive and unnecessary for the most part. An excellent place to start any tour of Ottawa is the Capital Information Kiosk, at 90 Wellington Street, directly across from the Parliament buildings. They have maps and brochures for most tourist attractions in Ottawa, many of which are within walking distance.
Popular pedestrian areas, especially during spring and summer months, are the various streets in the Byward Market. Sparks Street, running through downtown parallel to the Parliament Buildings, is a popular pedestrian area during the day and night, particularly in the spring and summer months.
Guided walking tours are available with
Ottawa Walking Tours
, which include some history and other tidbits of trivia not commonly known. Especially popular is the
Haunted Walk of Ottawa
that provides a variety of walking tours focusing on the city's darker and more offbeat past.
Ottawa is a city with a truly continental climate. In winter, exposed skin can freeze in minutes or less, so layer up on the clothing and protect yourself by wearing a hat (toque or hunters cap), gloves and boots. Despite being closer to the North Pole than the equator, summer temperature and humidity can be oppressively high, so bring water if you're doing any amount of walking or cycling. If you are on the public pathways near the canal or the river, there are drinking fountains to refill your bottles. Also, don't forget the mosquito repellent.
If you happen to be in Ottawa around early June, make sure you check the website of
Jane's Walk Ottawa
, an annual festival of free neighbourhood walking tours organised by volunteers. Jane's Walk is a pedestrian-focused event that improves urban literacy by offering insights into local history, planning, design, and civic engagement through the simple act of walking and observing. They are a lot of fun and you will hear stories that you won't find in any guide book.
By bicycle
Bicycling is one of the best ways to see Ottawa up close. You can cover a lot of ground, stop anywhere to sight-see, and enjoy the ambiance of the city. The downtown is very well-served by protected cycling infrastructure, and paths run along the canal and the rivers, including into Gatineau on the Quebec side. In the summer, the downtown bike corridor on Laurier Ave counts 70,000 bike rides a month. The bike routes along the canal see around 350,000 bike rides a year. Again, you may want to start immediately opposite Parliament Hill to pick up a map of the area (in the World Exchange Plaza's NCC booth in the main hallway) or find a bicycle rental. Cycling to the attractions around downtown Ottawa is a great way to get around, but don't ignore the Gatineau side of the river. The city has several attractions along the river including the Museum of History and if you want to really stretch your legs, Gatineau Park has many great cycling paths; the Champlain Look Out has a wonderful view over the Ottawa Valley.
There are usually a few options for renting bicycles downtown, including
Bike Dump
,
Right Bike
and of course you can always bring your own. You can also get a bicycle for shorter time periods via
VeloGo
bike sharing system. About 20 bike stations are to be found mainly in downtown Ottawa and a bit further south along te canal and Dow's Lake. and across the Ottawa River in Gatineau. Velogo is designed for short trips; find pricing on their website.
Rentabike
is a well-equipped bike rental across from the hotel Château Laurier, underneath the intersection. From this central location, pathways along the Rideau Canal are suitable for cycling south or north.
The city is criss-crossed by over 170 km of multi-use bike paths, shared with pedestrians and in-line skaters. Dogs on leash are allowed along many of the paths, but only if the owner is on foot. Many paths are unlit at night, so careful that you don't ride into a leash between the dog and its owner. The maximum speed on the pathways is 20 km/h (13 mph).
The
National Capital Commission
closes 50 km of roadways to cars every Sunday during the summer from Victoria Day (late May) to Labour Day (early September) allowing for cycling, in-line skating and walking on these roadways. For route suggestions, check local bloggers websites:
http://gobiking.ca/
https://ottawavelooutaouais.com/
OC Transpo has bicycle racks on the front of many buses (seasonally). You can load your bike on the rack and then ride the bus for the normal passenger fare. The O-Train will take bikes as well.
The City of Ottawa has bike repair stations in public spaces along paths and across from City Hall, at libraries and community centres. The stations consist of a pump and the most important tools, connected to a base with steel cables.
Long time advocacy group
Bike Ottawa
(since 1984) maintains an extensive website with
a set of interactive bicycle route maps
that rate all bicycle routes through Ottawa and
Gatineau
on a 1-4 scale, with 1 being child-friendly and 4 being very stressful. They also make available information on infrastructure progress.
Contact them
also with questions about routes, concerns and popular destinations. Although it is a volunteer-run organisation, they are usually fairly fast in responding.
#ottbike
is the commonly used hashtag on social media.
See
Parliament Hill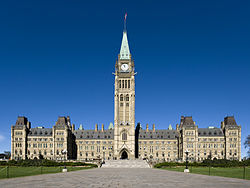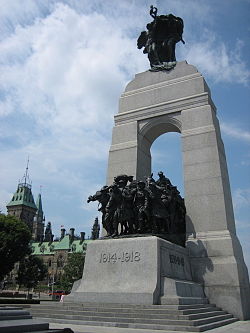 The primary attraction for most visitors is
The Changing of the Guard takes place daily on the lawns of Parliament at 9AM. The Governor General's Foot Guards can also be seen at the Tomb of the Unknown Soldier and at Rideau Hall.
Tours of the building are available daily with multiple tours (in English and French) available at staggered times throughout the day. If you have a group of greater than 10 people, you must make a reservation in advance by calling the reservations office at +1 613-996-0896. The admission is free, but you need tickets (one for the Centre Block, one for the East Block) which you get at the office. The office opens at 9am, but because of the interest in the summer, you should stand in line at least at 8.30am or even earlier. It can take an hour or more until you reach the desk and get your tickets.
The Centre Block closed for renovation in early 2019, and is expected to remain closed for a decade.
From July 2 to Labour Day (early September), tours of the East Block are available; tour guides take you through the restored offices of some of the Fathers of Confederation (Sir John A. Macdonald, Sir George-Etienne Cartier, Governor General Lord Dufferin and the original Privy Council Office) explaining the beginnings of the Dominion of Canada while historical characters let you in on the daily lives of Canada's past politicians. Tours last about an hour and free same-day tickets can be picked up at the Info-tent on the Hill by West Block.
If there are no more tickets available, or you have to wait for your time, a fine self-guided walking tour around the grounds of Parliament Hill will keep you busy. Free booklets are available at the visitors' centre.
One of the nicer, unexpected views, looking from the bottom up, can be accessed at the back of the Parliament Buildings—that vantage point also provides a river view of the Canadian Museum of History, across the river in downtown Gatineau (a sector that was formerly the city of Hull).
Behind the Parliament Buildings at sunset is a sight to remember. You can walk by the Rideau Canal locks (at the east corner) and visit the Bytown Museum at the level of the canal.
The locks separate Parliament Hill from the Chateau Laurier, a former railway hotel (see below).

Mosaika Parliament Hill Sound & Light ShowDeveloped by the National Capital Commission, the Sound & Light Show is a 30-minute film about Canada projected on the Centre Block of the Parliament Buildings. Bleacher seating is available and no reservations or tickets are required. There is one show nightly until September at 21:30.
Museums
There are many national museums and galleries in Ottawa and neighbouring
Gatineau
. All museums in Ottawa have free admission on Canada Day, July 1, although they are generally very crowded then.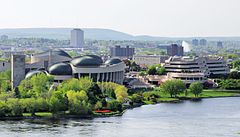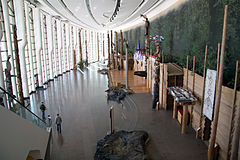 phone: +1 819-776-7000

address: 100 Laurier Street,

Hull

This museum presents the story of Canada's population. You can spend here nearly a whole day. For more information, see the museum's entry on the Gatineau page.

phone: +1 613-566-4700

address: 240 McLeod St. Ottawa, ON. K2P2R1

Galleries of fossils, mammals, birds and geology among others. Free admission Thursdays after 5PM and all day Canada Day (July 1st)

phone: +1 819-776-7000

address: 1 Vimy Place

The museum presents Canada's involvement in armed conflict beginning with battles between the French and British, through to the World Wars, Korea, and the country's current involvement in NATO and UN operations.

Carleton University Art Gallery

phone: +1 613-520-5611

address: St. Patrick's Building, 1125 Colonel By Drive

Diefenbunker - Canada's Cold War Museum

address: 3911 Carp Rd, Carp

Built to protect the government from nuclear attack, this once-secret bunker is now a museum and National Historic Site of Canada. "Diefenbunker" is a play on "Diefenbaker", the Canadian prime minister in the 1950s who authorized the construction of the facility. In addition to preserving and promoting Canada's Cold War history, the museum offers a variety of visitor programs and services. You can learn, play or shop as you discover the bunker's secrets and relive the experience of the Cold War. Guided tours by reservation only. If you do not have access to a vehicle and are willing to do a 50 minute bus ride plus pay a $30 taxi, you can # take the OcTranpo #95 or #97; # Transfer to the #93 at Lincoln Fields; # Get off at the Legget / Ad. 515 stop; # Walk 3 minutes to Brookstreet Hotel; # Take a taxi to the Diefenbunker.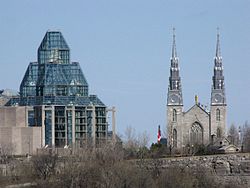 Laurier House National Historic Site

phone: +1 613-992-8142

address: 335 Laurier Ave.

1878 house that is the former residence of two Canadian prime ministers: Sir Wilfrid Laurier (for whom the house is named) and William Lyon Mackenzie King.

phone: +1 613-990-1985

address: 380 Sussex Dr

Photography, traditional and modern art from Canadian and international artists. Housed inside a glass building with a giant spider structure on the outside.
Science and Technology MuseumSeveral displays are popular with children, including massive locomotives inside the building and electricity demonstrations. Re-opened on November 17, 2017, after years of renovations because of a mould problem, this museum is even more family-friendly than it was before its forced closure.
Professional sports
Parks
Ottawa has dozens of neighbourhood parks and other parcels of green space in the urban core.
address: Alexandra Bridge

A quiet place to watch the sun set, or to take photos of Parliament Hill, the National Gallery, the Museum of History, and the Royal Canadian Mint from angles that don't usually end up in the tourist brochures. Nepean Point is also home to a statue of Samuel de Champlain, and the Astrolabe Theatre (one of the better places to watch the fireworks from on July 1). However, the point is not accessible if you're in a wheelchair.

Strathcona Park

address: 25 Range Rd

Strathcona Park is at the eastern end of the Sandy Hill neighbourhood, and is the centerpiece of "Embassy Row". Be sure to see the Lord Strathcona Fountain at the park's north end, and Stephen Brathwaite's play structure (which looks like a ruined building in miniature) in the middle of the park.

Commissioners ParkLocated adjacent to Dows Lake, where you can rent boats, it features the Festival of Tulips in May. In summer, there are a number of flower beds with flowers arranged by colour in attractive patterns.

Hartwell's LockstationPictoresque lock station within a park along the Rideau Canal. One could walk across the locks and continue north to Dows Lake near Carling O-Train station, or northwest to the Canada Agriculture Museum.
Other attractions
phone: +1 613-991-4422

address: 1 Sussex Dr

The official residence of Her Majesty Queen Elizabeth II and her representative the Governor General of Canada. The grounds and the residence are open to the public for tours. Reservations are recommended during low season (September 1 - April 30).

phone: +1 613-993-8990

address: 320 Sussex Drive

Canada's commemorative and collectable coinage is minted here (circulation coinage is minted in Winnipeg), as were the medals for the 2010 Olympics. Tours are available, and there is no charge if you only want to visit the boutique.

Supreme Court of CanadaCanada's highest court and the best example in Ottawa of Art Deco architecture. Its marble Grand Entrance Hall is particularly impressive. The visit includes a tour in the Federal Court of Appeal and the Supreme Court of Canada hearing room. The visits last about 30 minutes and are provided by law students hired at the Court. The Court is a 5-minute walk from Parliament. Tours are offered in French on the half hour and in English on the hour. No reservations are needed between May 1 and August 30. Visitor reservations are required between September 1 to April 30.

24 Sussex

address: 24 Sussex Drive

The official residence of the Prime Minister of Canada. While you cannot enter the building, you can look through the fence from the outside.
Do
There are walking tours to introduce you to the capital area.
Ottawa Walking Tours offers historical guided walks of Ottawa's downtown core with special stops at areas of historical significance. Tours acquaint guests with the history of the city and allow visitors to learn more about Ottawa's history, architecture and colourful political characters. Tours are offered year-round and reservations are required. For more information, call +1 613-799-1774.
The Haunted Walk of Ottawa offers tours focusing on Ottawa's infamous haunts and darker history. Hear tales of hauntings at some of Ottawa's most well known locations, including the Fairmont Chateau Laurier, Bytown Museum and the Ottawa Jail Hostel. Cloaked guides lead guests through the city streets by lantern light-the perfect atmosphere for a good ghost story. Tours run year-round, rain or shine. Reservations are strongly recommended. For more information, call +1 613-232-0344.
If you enjoy the outdoors, especially if you are a cyclist, you should definitely visit
Gatineau Park
just across the river from Ottawa. Bicycles can be rented during the summer months at
Rentabike
, 2 Rideau St (under Rideau St on the east side of the canal). Ottawa and the surrounding area boasts over 170 km of public paved trails on which you can
run
, bike, walk or rollerblade. If you are looking for a place to start, head to the nearest waterway: paved trails line both sides of the Ottawa River, the Rideau Canal, and the Rideau River. The
Trans Canada Trail
enters Ottawa through the outskirt communities of Carleton Place and Stittsville, then joins up with the Ottawa River at Brittania Bay (near Carling Avenue at Bayshore Drive). It follows the river 13 km east to Parliament Hill, then crosses over to the Quebec side, extending into and beyond Gatineau Park.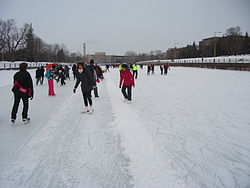 Rideau SkatewayIn winter, go skating on the largest outdoor skating rink in the world, the Rideau canal. Skates can be rented, and refreshments purchased, from vendors right on the ice. This is also a great place to enjoy a "beaver tail" (a sweet pastry).

SkiingThe city's trail system serves as an excellent cross-country ski trail system, as do the nearly 200 km of groomed ski trails in Gatineau Park. Downhill skiing is available across the river in three near-by sites: Camp Fortune (180 m vertical), Edelweiss (200 m vertical) and Mont Cascades (165 m vertical).

Yoga on the HillDuring the summer months, a free weekly yoga class is offered on Parliament Hill most Wednesdays beginning at noon. The class is very popular—sometimes attracting more than a thousand people—so it's recommended to arrive a bit early to claim a spot on the grass. Yoga mat recommended but optional.

Maple SyrupIn early spring (typically March), when the daytime temperatures are above freezing and night temperatures are below freezing, consider visiting a sugarbush for fresh maple syrup. There are many to choose from in the region if you have a car to drive out of the city.
phone: +1 613-842-9871

address: 200- 300, avenue des Pères Blancs, Vanier

The Vanier Museopark's "Sugar Shack" offers the sugarbush experience without needing to leave the city. Reservations can be made at the website.
Doors Open OttawaDoors Open Ottawa, the second-largest Doors Open architectural event in North America, takes place during the first weekend in June. Over 100 buildings (many of which are normally closed to the public, such as embassies, official residences, museum storage buildings, and city infrastructure facilities) open their doors to the public, offering free admission to part or all of the premises. Most participating buildings also allow photography. While the event takes place Saturday and Sunday from 10AM to 4PM, not all buildings are open both days.
Day trips to Québec
Since Ottawa is located on the provincial border, daytrips to neighbouring Québec can be made easily.
Gatineau - Right across the Ottawa River. The Canadian Museum of History is worth a visit. The nightlife in the Old Hull neighbourhood is often considered superior to Ottawa's, with a handful of loud clubs but also a decent offering of artistic cafés with good local live music.
Gatineau Park is directly north from Hull; the Camp Fortune and Edelweiss ski areas are also north of the city, near Chelsea and Wakefield respectively. Wakefield is a picturesque artist town on the side of the Gatineau River. Rich with cultural offerings and beautiful natural surroundings (especially in autumn).
Buckingham is downriver from Gatineau in the east, as one of the more accessible venues for rural maple sugar shack camps.

Aventure LaflècheA superb destination for outdoor activities in the Gatineau Hills year-round. A community-owned non-profit company that offers beautiful nature trails, tours of the historical Laflèche caves, and the province's largest aerial park for the adventurous (includes several ziplines). Calling ahead for reservations is strongly recommended.

Eco-OdysséeAnother great option for nature lovers close to Wakefield. A water maze that's great for learning about the local marsh environments.

Great Canadian BungeeFor the adventure-inclined.
Shows
Ottawa has many movie theatres to choose from, but there are also a few that specialize in "foreign" films (i.e., not American), early releases, old returning films and specialty films. The
Bytowne Cinema
is on Rideau Street near King Edward. The
Mayfair Theatre
is at 1074 Bank St. near Sunnyside. In addition, the
Canadian Film Institute
screens films at several venues for the specialist film crowd.
Ottawa has lots of
live theatre entertainment
. That includes the National Arts Centre in
English
and
French
, the
Great Canadian Theatre Company
and the
Ottawa Little Theatre
.
phone: +1 613-947-7000

address: 1 Elgin St

Also provides a major venue for dance and orchestral performance.

The Great Canadian Theatre Company

phone: +1 613-236-5196

address: 1233 Wellington St W

phone: +1 613-233-8948

address: 400 King Edward Ave
Jazz and blues
lovers can find what they are looking for in these Ottawa music calendars:
jazz shows
and
blues-jazz calendar
. Venues include Vineyards in the Byward Market, GigSpace near Little Italy, and the Options Jazz Lounge in the Brookstreet Hotel (in Kanata). Many other venues offer jazz weekly or occasionally; see this
club list
. Find Blues at the Rainbow in the Byward Market and Irene's Pub in the Glebe.
For
Folk music
, see the
Ottawa Folk Music Events
listings.
Ottawa is host to over 60 festivals and events per year, including:
Learn
Work
The Federal Government is the region's largest employer with the high-tech sector firmly in second place. Unless you are a Canadian resident, you will need a work visa to work in Ottawa, and some Federal Government jobs require Canadian citizenship. Most Federal Government jobs require applicants to be bilingual in English and French.

Buy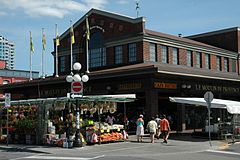 Larger
shopping malls
include the
Rideau Centre
(downtown),
St. Laurent Shopping Centre
(East Central),
Place D'Orleans
(East End), the
Bayshore Shopping Centre
and
Carlingwood Mall
(West End).
The last Saturday in May, Ottawa's Glebe neighbourhood hosts the annual
Great Glebe Garage Sale
. Hundreds of residents set up tables in their garages or on their lawns and sell used goods ranging from household knick-knacks to electronics to clothing. Businesses in the area also hold sidewalk sales, and vendors sell artwork, baking, and refreshments. Driving and parking during the sale itself is unnecessary and nearly impossible. Arrive on foot or park and walk into the neighbourhood. For parking, and for the best deals (especially on larger items like furniture), arrive early. The event is bustling by 8AM but continues well into the afternoon. Vendors are encouraged to donate a portion of their proceeds to the Ottawa Food Bank.
Eat
Ethnic foods from around the world are available at a wide variety of restaurants and street vendors throughout the city. The Byward Market area has a wide selection of different cuisines; the Chinatown area is along Somerset West (#2 bus from downtown) between Bronson Ave. and Preston St; Little Italy runs along the length of Preston Street, from Carling Avenue to Albert Street (#2 to Somerset & Preston or #3 along Preston).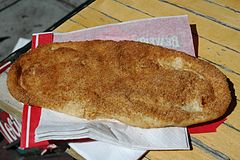 phone: +1 613-241-1230

address: 69 George Street

Try the tasty BeaverTail, a fried-dough pastry associated with Ottawa, although a number of places claim to have created it. It's available in sweet and savoury versions, topped with cinnamon, sugar, icing sugar, etc. In the winter, many places will offer it on the canal. During the summer, the only places downtown to offer it are in the Byward Market on George St., and a small counter in a corner of the Canadian Museum of History. There are a variety of toppings and the taste of the beaver tail stands out more with the classic sugar & cinnamon. However, the locals' favourite is the Killaloe Sunrise, a topping of cinnamon sugar and lemon juice.
Try a poutine from Smoke's Poutinerie, or a shawarma from one of the many around the city.
Coffee shops
are found throughout the city, and include dozens of two specialty chains
Second Cup
and
Starbucks
, in addition to the mainstream
Tim Horton's
(seemingly planted at every intersection).
Bridgehead
is a fair trade coffee house and can be found at a half dozen or so locations. Try their small double shot lattes, which are significantly better than their competitors'. There are several coffee houses in Little Italy, on Preston Street. One of the most popular,
Pasticceria Gelateria Italiana
(200 Preston Street, +1 613-594-5303), also houses an award-winning pastry shop. Bar Robo on Somerset St under the Chinatown arch offers locally-roasted coffee during the day, along with fresh croissants and donuts.
Budget
Ottawa has a lot of
shawarma
(kebab and fixings in pita bread) restaurants and most of them will serve up a great shawarma for around $5. Their busy times are typically weekdays at lunch-hour, and on weekends after the bars close. The Byward Market and Elgin St. have several restaurants to choose from. Shawarma Palace, on Rideau St and in several suburban locations, are another popular choice.
The usual range of diners, bagel shops and fast food restaurants can be found in shopping areas throughout the city. You will also find "chip wagons" or "chip trucks" parked in various locations around the city at lunch time. They serve hamburgers, hot dogs, sausage-in-a-bun, pogos (corn dogs - deep fried, breaded hot dogs on a stick), chips (French fries) and poutine (French fries covered with cheddar cheese curd and gravy - very popular in Quebec and eastern Ontario).
At lunch time, Di Rienzo and La Bottega Nicastro will sell you a good $5 sandwich; opinion is split among locals as to which is better, but they're both very good. If you're in town for a few days, try them both.
phone: +1 613-562-2081

address: 307 Dalhousie Street

A good little Mexican canteen. It serves up mains, zippy margaritas, and drinks imported from Mexico.

Bobby's Table

phone: +1 613-740-9333

address: 255 Montreal Road

Smoked meat sandwiches on rye bread and old-fashioned baked cheesecake are Bobby's specialties. The smoked meat is Montreal-style done well, and the cheesecake is worth going out of your way for (unless you have a coconut allergy). You can get a generous lunch for $20 and be served in either French or English.

La Bottega Nicastro

phone: +1 613-789-7575

address: 64 George Street

A fantastic little Italian specialty market, Nicastro's is a contender for the city's best $5 sandwiches, featuring amazing bread (esp. the focaccia) usually baked on the premises. The sit-down lunch kitchen is also well worth a visit.

phone: +1 613-729-4037

address: 111 Beech Street

This little deli tucked away in Little Italy, a secret known to many locals, is famous for the best and freshest deli sandwiches in the city for $5 (taxes included). During the week the lineup can stretch outside the packed little store, but they are arguably the fastest sandwich makers anywhere so don't worry about a long wait. There is also another newer location run by the family at Meadowlands Drive and Fisher Avenue.

phone: +1 613-237-9700

address: 374 Elgin Street

A popular 24-hour diner. One of its specialties is the ESD (Elgin Street Diner) Poutine (though true Quebecers should probably abstain). Generally, poutine is French fries, served with cheese curds and gravy on top; they have several versions including the addition of caramelized onions and bacon, Montreal smoked meat, Philly steak, a four cheese blend or Chili. The substitution of mashed potatoes fried with onions and seasoning (called their home fries), or onion rings instead of regular French fries is also an option. Expect the adventure to set you back $6–8 depending on toppings. The diner's hamburgers/cheeseburgers are significantly better than typical fast food fare, and breakfast is served 24/7 365 days a year with no exception.

phone: +1 613-680-8821

address: 114 Gloucester Street

A one-of-a-kind family-run Burmese restaurant with cheap lunch specials where you can get an appetizer, main course and a drink for about $10! Try the fish noodle soup (mohingha), chicken curry or eggplant curry. A real hidden gem.

Shanghai Restaurant

phone: +1 613-233-4001

address: 651 Somerset Street West

A local favourite since 1971, when it was the only Chinese place in the area that is now Chinatown; it is still run by the same family. It boasts drag-queen karaoke on Saturday nights, frequent vernissages for Ottawa's up-and-coming artists, and some of the best Asian cuisine in town.
Warehouse in the heart of Byward Market is popular among students. Great meals including a burger, fries and tap water, are served for just $5. Only drinks are a bit on the expensive side with around $6. Busy every day of the week, especially after 8PM when it is mostly a bar.
For the best non-traditional Canadian eats, head down Somerset street (West) near Bronson to the heart of Chinatown. Here you have a choice of places for Vietnamese, Thai, Cantonese, etc. Vietamese soup-houses, Pho Bo Ga and Pho Bo Ga La, are well-rated. The Yangtze Restaurant and Chu Shing Restaurant (across the street from it) are large box Chinese restaurants popular with Ottawa's Chinese clientele. The Jadeland Restaurant is a small popular Chinese restaurant set in a converted house and has been well reviewed for its tasty dishes and low prices. Another good source for ethnic foods is the stretch on Rideau between King Edward and the bridge to Vanier. You can find Middle Eastern, African and Asian food here.
phone: +1 613-234-7089

address: 843 Somerset Street West

Pho Bo Ga L.A.

phone: +1 613-230-2931

address: 784 Somerset Street West

phone: +1 613-236-0555

address: 700 Somerset Street West

phone: +1 613-233-8818

address: 691 Somerset Street West

phone: +1 613-233-0204

address: 625 Somerset Street West
For Indian, there is Rose's Cafe (in the Byward Market and one on Gladstone), but also try Curries (Gloucester and O'Connor, between Bank and Elgin near the business district). For a somewhat higher-end buffet experience, yet authentic, try Host India on Montreal Rd. For Indian food from Kerala state, try Coconut Lagoon on St. Laurent Blvd. (in the same price range as Host India), ranked #1 on Food Network's "10 Popular Indian Restaurants in Canada".
Rose's Café Also

phone: +1 613-241-8535

address: 349 Dalhousie Street

India Curry House

phone: +1 613-598-6970

address: 114 Gloucester Street

phone: +1 613-746-4678

address: 622 Montreal Road

phone: +1 613-742-4444

address: 853 St. Laurent Boulevard

Coconut Lagoon serves Kerala cuisine, subtly different from other South Indian styles (although people kept asking for Butter Chicken so it's on the menu as well). The restaurant's executive chef and owner Joe Thottungal took the silver medal at the Canadian Culinary Championships in 2017, and the gold medal at the Gold Medal Plates Culinary Competition 2016. There are vegan-friendly dishes on the menu.
phone: +1 613-241-2401

address: 14 Byward Market Square

The best milk-shakes are found at Zak's, a 24-hour diner in the Byward Market. They're really good, made with ice-cream, and for the $6.99 they cost you get a large glass full plus the shaker with what didn't fit in the glass. Other dishes are quite good, with a "more calories for your money" attitude (as illustrated by the massive amount of milkshake served), which is nicely honest about fast food; however it may seem a bit expensive as the burgers start at $14.49 and if you add on the paid extras you can easily get in excess of $19. Late on week-end nights (2-3AM), it's packed as people go for their after-bar poutine.
address: 384 Rideau Street

As of July 2019, the Rideau Bakery is no longer in business.
Mid-range
Major restaurant areas can be found on Elgin Street, on Bank Street in Centretown, on Bank Street in the Glebe, in Westboro and in the Byward Market, with entrees ranging from $12–25. Similar restaurants can be found in major suburban shopping areas too.
The Works - The Glebe

phone: +1 613-235-0406

address: 580 Bank Street

The Works - Manor Park

phone: +1 613-748-0406

address: 363 St Laurent Boulevard

The Works - Westboro Village

phone: +1 613-564-0406

address: 326 Richmond Road
phone: +1 613-232-1001

address: 1001 Queen Elizabeth Dr

Seating overlooking beautiful Dows Lake; lunch specials offered.
phone: +1 613-695-7373

address: 1128 Cadboro Rd

If you're looking for Mexican cuisine (not Tex-Mex or Cal-Mex) in Ottawa, they're worth the drive out of downtown. La Bonita is a small restaurant - while you don't need to make reservations, they're recommended during busy hours.
Splurge
Ottawa has excellent options for fine dining if you feel like spending a bit extra. Budget C$150 for a three course dinner for two, including wine and gratuity.
Vegetarian and vegan
Drink
The most popular bar areas are in the Byward Market, along Wellington Street in Westboro, along both Elgin Street and Bank Street between Somerset and Gladstone in the Centretown area, and further south on Bank. There are pubs and bars scattered throughout the city as well.
You can also take a small trip over the Ottawa river to
Gatineau
. Bars on Ottawa side close at 2AM, though the province of Quebec has a last call of 3AM, an exception is made in Gatineau where bars also close at 2AM. Quebec has a lower minimum age to purchase alcohol (18, vs. 19 in Ontario) and sells beer in corner stores. Ottawa police often set up checkpoints near the bridges to catch drunk drivers returning from Quebec after closing time.
Smoking (both traditional and e-cigarettes, also called "vaping") of tobacco or cannabis is not permitted in Ontario or Quebec restaurants and bars, or on the patios of bars in Ottawa.
Bars and nightclubs
Barrymores Music Hall

phone: +1 613-695-8488

address: 323 Bank Street

An old converted movie theatre, their 80s night is the place to be in Ottawa on Sundays. They also have a 90s night on Thursdays and live concerts on most other nights

Club 292

address: 292 Elgin St

phone: +1 613-241-7706

address: 33 York Street

Simple beers and some pool: picture your friend's basement apartment, even serving 40s of beer.

E18hteen

address: 18 York St

See their listing in the "Eat" section.
Foundation York St. in the alley behind E18hteen. Restaurant during the week that is open for lunch and dinner. Excellent food and one of the only restaurants in Ottawa to serve fondue. On Friday and Saturday nights it transforms into an upperclass nightclub. Dress to impress, no logos or running shoes, and be prepared to spend a few bucks on drinks.

phone: +1 613-789-1624

address: 41 York Street

They have a very popular "bois night" on Thursday that attracts lots of people. Friday and Saturday are mostly lesbian nights.

phone: +1 613-789-5324

address: 56 Byward Market Square

An awesome bar that changes its themes nightly ranging from African beats to hip-hop to house (depending on the night). Spread out over 3 (relatively small) floors, this bar offers different DJs and atmospheres throughout. Hump Night is one of the best gay nights in the city and occurs on Wednesday (4$ cover).

Options Jazz Lounge at Brookstreet

phone: +1 613-271-1800

address: 525 Legget Drive

Located off the main lobby of the Brookstreet Hotel. A relaxing and sophisticated lounge.

phone: +1 613-232-6274

address: 360 Elgin St

A restaurant during the day, pumping club/lounge at night. The Standard is popular Thursday, Friday and Saturday nights with a different style of music each night. Friday is excellent old-school and modern hip-hop/R&B while Saturday is a little of everything. Excellent beer tap selection and daily drink specials.
Pubs
Since the mid-1990s there has been an explosion in Irish-/British-style pubs across the city.
phone: +1 613-241-0712

address: 15 Clarence Street

Upscale, great food, huge patio with good views.

phone: +1 613-241-3533

address: 137 Murray St

one of the few pleasant, non-faux-Irish pubs downtown (a favourite along with the Manx). Serves good pub fare (including excellent fries), can get busy especially after work. A good selection of microbrew beers.

Clocktower BrewhouseA microbrewery with five locations throughout the city. Excellent beer at a good price with a very tasty and well priced menu.
Clocktower Byward Market

phone: +1 613-241-8783

address: 89 Clarence Street

Clocktower Elgin

phone: +1 613-724-4561

address: 200 Elgin Street

Clocktower Glebe

phone: +1 613-233-7849

address: 575 Bank Street

The original Clocktower Brewhouse, this is the location with the clock tower and the brew house.

Clocktower New Edinburgh

phone: +1 613-742-3169

address: 422 MacKay Street

Clocktower Westboro

phone: +1 613-680-5983

address: 418 Richmond Road
address: 44 Sparks Street

Beautiful architecture with impressive food selection
phone: +1 613-562-0674

address: 67 Clarence Street

Ottawa's largest pub complex, including the eponymous Irish Village (loud, lots of live music) and The Heart and Crown. The fish and chips has a generous serving of fish.
phone: +1 613-238-2949

address: 361 Elgin Street

British pub with a good variety of food selections and inexpensive draught.
The Manx

phone: +1 613-231-2070

address: 370 Elgin street

Great microbrews, wide Scotch selection, bohemian/hipster feel.
Minglewoods

address: 14 Waller Street

A great place to drink for cheap! Pitchers of domestic and premium beers are priced under $11 so if you're on a budget this is the place to go. It is close to the University of Ottawa so many students frequent Minglewoods between or after class. There is a good selection of pub fare, also for reasonable prices. On the weekend there is a packed dance floor on the second level.
Patty Boland's Irish Pub & Eatery

phone: +1 613-789-7822

address: 101 Clarence Street

Feels like an old tavern, but big. Friday and Saturday nights Patty's has live music so expect to pay cover, and mandatory coat check in the winter. During the musician breaks there is a dance floor with Top 40 music.
phone: +1 613-232-2326

address: 434 1/2 Preston Street

An Irish/Italian pub with hundreds of bottled beers listed in its "Beer Bible", especially Belgian. Decent pizza and pastas, but other places in Little Italy have better - you're going here for the beer, not the food. Intimate faux Medieval/Gothic décor; a bit strange, but the patio is very nice.
phone: +1 613-523-2200

address: 1070 Bank Street

A small but cozy sports bar and pub located next to the Mayfair Theatre. Expect good pub fare, a nice ambiance and good selection of beers.
Sleep
Budget
phone: +1 613-237-0336

address: 455 Cumberland St

A clean, modern 16-bed hostel located downtown. Female-only since September 2016. Included for use is a mini-kitchen (no stove), back patio with lounge chairs, common room with a huge HDTV, computer (with internet), free WiFi, plush bed linens, lockers and three shared bathrooms. Rates start at $30 per night per person and you can book online. The check-in desk is at The Swiss Hotel, around the corner at 89 Daly Ave. Make sure to check their website or Twitter page for promotions.

phone: +1 613-241-3402

address: 203 York Street

Part of Backpackers Hostels Canada, includes kitchen, free wireless internet and free coffee/tea. In a converted house into hostel, in the market block. The staff and the atmosphere are very friendly. Allergy warning: they have a cat

address: 75 Nicholas Street

A member of Hostelling International, this hostel is in the old Ottawa Jail; the bedrooms are actually old jail cells. Most rooms have shared washrooms. It's close to the Byward Market and downtown. Tours available. Breakfast of coffee, tea, bagels, fruit included.
Mid-range
address: 435 Albert Street

The building is nicely located downtown within easy walking distance of the main attractions, shops and restaurants. The hotel itself is a converted apartment building where you'll find large one and two bedrooms suites. Rates range from $119/night to $229/night for the one and two bedroom suites respectively.

Auberge King Edward Bed and Breakfast

address: 525 King Edward Avenue

Well-preserved Victorian architecture packed with character. Free parking and WiFi.

phone: +1 (613) 235-8461

address: 89 Goulburn Avenue

Run by an Australian expat, this 2-room B&B gets praise for fresh-cooked breakfast. Located about 1km east of Byward Market, 2 km east of Parliament Hill. Free Wifi. Limited parking available, ask.

phone: +1 613-241-6403

address: 539 Besserer St

A well-reviewed downtown Ottawa bed-and-breakfast. Turn of the century home with modern decor. A 15-minute walk to the Byward Market. Free parking and WiFi.

Best Western Victoria Park Suites

address: 377 O'Connor Street

address: 157 Clarence Street

A B&B hotel in the picturesque Byward Market with refrigerators, microwaves, private balconies.

address: 180 Cooper Street

Features unique pet friendly downtown suite lodging accommodations minutes from Parliament Hill. Discover unique studios, one or two bedrooms, and VIP suites with Jacuzzis, close to tourist attractions.

phone: +1 613-592-2200

address: 222 Hearst Way

Offers guests free breakfast, free parking, and free internet.

Courtyard by Marriott Ottawa East

phone: +1 613-741-9862

address: 200 Coventry Rd

Complimentary high speed internet access & complimentary parking. 395 guest rooms, each with wet bar. Indoor pool, whirlpool, 24-hour exercise room, 24-hour business centre and The Market is also open 24 hours. Bistro and meeting facilities on-site.

phone: +1 (613) 230-3033

address: 33 Nicholas Street

Modern hotel with an emphasis on energy conservation. Modern restaurant and banquet facilities. This location has free internet kiosks in the main lobby open to the public.

address: 150 Albert St

Sheraton Ottawa Hotel is located in the heart of downtown - steps from Parliament Hill, the National Gallery, and other major attractions. Each room features the signature Sheraton Sweet Sleeper bed, and the Link@Sheraton lobby connectivity hub offers complimentary internet and PC workstation use.

Shirley Samantha's Bed & Breakfast

address: 28 Carlotta Avenue

On a quiet residential street, within walking distance from downtown and half a block from the Rideau River cycling/walking path. Two queen-bedded rooms, one with ensuite, the other with private bath. Centrally air conditioned, complimentary parking, snacks and WiFi. Delicious breakfasts featuring home baking.

phone: +1 613-237-0335

address: 89 Daly Avenue

A charming, cozy, 22-room hotel located in the heart of Ottawa. The Inn was built in 1872 from limestone in a 19th-century Vernacular Classical Revival. Swiss Hotel offers traditional Swiss hospitality with modern comfort. Free Wi-Fi throughout the hotel, rooms are equipped with iPads. Optional healthy buffet breakfast is offered daily with Bircher-Muesli and fresh ground Swiss espresso.

address: 90 University Private

From May to August, university housing is offered as hotel-like guest rooms in one of its newer housing complexes.

phone: +1 613-237-3600

address: 101 Lyon Street North

Sleek 1967 modernist hotel tower on the quieter west side of the city centre, within walking distance of most major sites, and with good access to public transport. Rate includes wireless Internet access. Underground parking available on-site at an additional cost of $22/day.
Splurge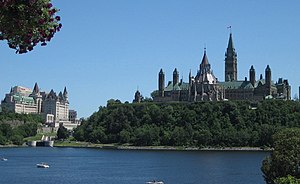 Connect
The area codes for Ottawa are 613 and the overlay code 343. Hull (819, overlaid with 873) has the full Ottawa local calling area. Ten-digit dialling (area code+local number) is required for all local calls.
Most coffee shops, hotels, and public library branches have free wi-fi Internet access, although the speeds may be slower than you're accustomed to. There are internet cafes throughout the city.

Stay safe
Ottawa is a very safe place to live and visit, so if you use common sense it is at least as safe as any other city. There are many tourists in the city, especially in summer months, and there are very few incidents of robbery or assault.
There have been incidents on buses and at transit stations of violence and swarmings/robberies, even during daytime hours. OC Transpo has hired new constables and placed plainclothes security and cameras on select buses and trains to counter the problem. Use common sense, especially when riding at night, every transit station has multiple emergency call boxes. After dark, take extra care in areas near downtown such as Lowertown East, and also Hintonburg, Vanier, Bayshore, Ledbury, Heatherington, Caldwell and South Keys. These neighbourhoods are known to have gang presence and drug problems. (Ledbury, Heatherington, and South Keys have nothing in the way of tourist draws, anyway.) The section of Rideau Street between Sussex Drive and King Edward Avenue is infamous for homeless people and panhandlers (they'll thank you and wish you a good day, even when you don't give), though this rarely causes problems for anyone. Ottawa is generally very safe, but like any other city it has bad apples.
Ottawa is the fourth coldest capital city by annual average temperature, but it has the second coldest January, only topped by Ulan Bator, Mongolia. Add to that nearly 3 m (10') of snow per average winter and throw in an ice storm from time to time, winter can be a challenge but locals do a great job of handling it particularly with recreation. Summers are (normally) short, warm and at times hot and humid. Humidity in the summer can make the heat feel unbearable, while humidity in the winter, coupled with wind chills, can make the cold feel very brutal. Dress for the weather and don't forget to cover your head and ears with a warm hat. Ottawa is not a very fashion-minded city, but in winter, everyone throws in the towel.


Cope
Embassies and High Commissions
phone: +1 613-236-3053

address: 130 Albert St, Ste 302

phone: +1 613-236-2361

address: 81 Metcalfe St

phone: +1 613-234-3710

address: 7 Delaware Ave

phone: +1 613-236-0841

address: 50 O'Connor St, Ste 710

phone: +1 613-789-1444

address: 445 Wilbrod St

phone: +1 613-288-0497

address: 275 Slater St, Ste 904

phone: +1 613-236-01318

address: Suite 1100, 350 Sparks St

phone: +1 613-233-9994

address: 130 Albert St, Ste 600

phone: +1 613-236-7267

address: 360 Albert St, Ste 820

phone: +1 613-236-5730

address: 130 Albert St

phone: +1 613-236-0028

address: 130 Albert St, Ste 805

phone: +1 613-789-3215

address: 325 Stewart St

phone: +1 613-235-4402

address: Suite 1413, 50 O'Connor St

address: 515 St. Patrick St

phone: +1 613-230-3760

address: Suite 1002, 260 Albert St

phone: +1 613-562-2855

address: Suite 701, 350 Sparks St

phone: +1 613-562-7820

address: 229 Chapel St

phone: +1 613-563-0141

address: 388 Main St

phone: +1 613-562-3875

address: 251 Cooper St

phone: +1 613-562-1811

address: 47 Clarence St

phone: +1 416 369-0403

address: Suite 301, 121 Richmond St West

phone: +1 613-563-8206

address: Suite 230, 99 Bank St

phone: +1 613-234-4931

address: 454 Laurier Avenue East, Ottawa

phone: +1 613-789-4222

address: 260 Dalhousie St, Ste 210

phone: +1 613-288-2233

address: 55 Metcalfe St, Ste 850

phone: +1 613-789-1795

address: 42 Sussex Dr

phone: +1 613-232-1101

address: 1 Waverley St

phone: +1 613-238-6271, +1 613-238-6273

address: 80 MacLaren St

phone: +1 613-235-7240, +1 613-235-7249

address: 151 Slater St, Ste 309

phone: +1 613-230-2717

address: 299 Waverley St

phone: +1 613-482-1944

address: 360 Albert St, Ste 710

phone: +1 613-744-3752

address: 10 Springfield Rd

phone: +1 613-724-1100

address: 55 Parkdale Avenue

phone: +1 613-233-6281

address: 130 Albert St, Ste 1105

phone: +1 613-232-2401

address: 275 Slater St, 21F

phone: +1 613-233-9311

address: 151 Slater St, Ste 1000

phone: +1 613-241-8541

address: 255 Sussex Dr

phone: +1 613-238-6014

address: 350 Sparks St, Ste 1200

phone: +1 613-567-5458

address: 150 Metcalfe St, Ste 1600

Mauritius

phone: +1 613-737-7322

address: 2918 Southmore Dr E

phone: +1 613-235-8988

address: Suite 1000, 45 O'Connor St

phone: +1 613-236-7391

address: 38 Range Rd

phone: +1 613-680-5513

address: 408 Queen Street

phone: +1 613-237-5030

address: 350 Albert St, Ste 2020

phone: +1 613-238-5991

address: 99 Bank St, Ste 727

phone: +1 613-236-0521, +1 613-236-0523

address: 295 Metcalfe St

phone: +1 613-234-3882

address: 130 Albert St, Ste 1006

phone: +1 613-238-6571

address: Suite 1300, 150 Metcalfe St

phone: +1 613-238-7881

address: 10 Range Rd

phone: +1 613-236-7177

address: Suite 300, 130 Albert St

phone: +1 613-557-1283

address: 161 Slater St

phone: +1 613-232-3062

address: Suite 1901, 130 Albert St

phone: +1 613-233-1121

address: 30 Murray Street

phone: +1 613-729-0883

address: 645 Island Park Dr

phone: +1 613-789-3709, +1 613-789-5345

address: 655 Rideau St

phone: +1 613-235-4341, +1 613-236-1413

address: 285 Charlotte St

phone: +1 416-203-8400

Saint Lucian consular service is provided from their office in Toronto.

phone: +1 613-744-0330

address: 15 Sussex Dr

phone: +1 613-244-5010

address: 150 Boteler St

phone: +1 613-747-2252

address: 74 Stanley Ave

phone: +1 613-233-8449

address: Suite 1204, 333 Laurier Ave

phone: +1 613-244-8200

address: 377 Dalhousie St

phone: +1 613-235-1837

address: 5 Marlborough Ave

phone: +1 613-569-5556

address: 46 Cartier St

phone: +1 613-232-2418

address: 200 First Ave

phone: +1 613-789-4044, +1 613-789-3440

address: 197 Wurtemburg St

phone: +1 613-230-2961

address: 310 Somerset St W

phone: +1 613-237-1530

address: 80 Elgin St

phone: +1 613-238-5335

address: 490 Sussex Dr

phone: +1 613-234-2727

address: Suite 901, 350 Sparks St

phone: +1 613-235-5151

address: 32 Range Rd

phone: +1 613-236-0772

address: 55 MacKay St

phone: +1 613-232-4400

address: 151 Slater St

phone: +1 613-421-2824

address: 332 Somerset St W

The Embassy of Zimbabwe in Ottawa.
Go next
Just across the river from Ottawa is the city of
Gatineau
, which has the stunning Canadian Museum of History and some mighty good restaurants too. It is the centre of the
Outaouais
region which includes the lovely village of
Wakefield
, and
Gatineau Park
with its high cliffs and deep, clear lakes. A little further west is the
Pontiac
where you will find small rural towns and rafting expeditions. There is a bus service from Ottawa and Gatineau to the Pontiac. You can cycle from Quyon to Pembroke on 72 km of railway bed turned into a bike trail. Stop by the Shawville Fair in late August/early September.
To the south and east of Ottawa is a large flat rural area consisting mostly of small commuter towns, agricultural villages, and the occasional woodland. This lowland stretches all the way to Montreal (roughly 165 km to the east) and the United States border (just shy of a hundred kilometres to the south). The
Rideau Canal
runs through it. Among the many scenic towns are
Merrickville
, which has a good claim to the name "Canada's prettiest village," and
Perth
with its mills and heritage buildings.
Going west beyond
Kanata
, the village of
Carp
(about 40 minutes away, in West Carleton) houses the surreal Cold War "Central Emergency Government Headquarters" (the Diefenbunker), now a museum. Beyond that is the
Ottawa Valley
region, towns and farms, then the Madawaska Highlands wilderness area starting about 90 km from Ottawa. In that area is
Calabogie
, a ski resort in winter and lake resort in summer. A little further on is another wilderness recreation area,
Algonquin Provincial Park
.
Beyond the Ottawa region lie other Canadian cities, such as:
Montreal, the largest city in Quebec and the largest French-speaking city outside of Europe, is 200 km east.
Toronto, Canada's largest city, is about 500 km to the southwest.
Kingston, about 200 km to the southwest, on the way to Toronto. A university town with historic limestone buildings.
If you're interested in a
very
different destination, Ottawa is one of the very few cities south of the 60th parallel that has regular scheduled air service - and the only one with direct air service - to
Iqaluit
, the capital of
Nunavut
.