Pagosa Springs
Pagosa Springs
is a town in
Southwestern Colorado
along the San Juan River. It is most famous for its natural hot springs. There are also many opportunities for recreational activities nearby, such as the Wolf Creek Ski Area.
Get in
Pagosa Springs Airport (Stevens Field) is a full service general aviation airport that accommodates charter and private aircraft. For services at Stevens Field contact FBO operator Avjet Corp. at (970)731-2127 or
StevensFieldAirport
The nearest commercial airport to Pagosa Springs is the
Durango/La Plata County Airport
near
Durango
, which offers commuter air service to the major airports at
Denver
and
Phoenix
.
Durango is about 60 miles west of Pagosa Springs on US Highway 160. From the east, US-160 connects Pagosa Springs to
Alamosa
via the
Wolf Creek Pass
. The scenery is spectacular, but take care as the road receives heavy snowfall and is often closed during the winter. To the south, US-84 crosses over the state line to
Chama, New Mexico
and beyond that
Santa Fe
.
Get around
The central part of Pagosa Springs, where the hot springs are, is small and easily walkable. However the outer parts of town are growing quickly, especially the western part where there's plenty of new residences and big box stores. For those areas, a car is needed, but locals are friendly to hitchhikers going uptown and downtown. The
Mountain Express Bus
travels all over town.
See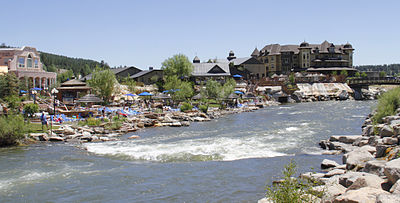 phone: +1 970 264-2284

address: 165 Hot Springs Blvd

Easily the most popular attraction in Pagosa Springs is the natural hot mineral springs, which are widely believed to have therapeutic abilities. This resort offers 18 outdoor mineral pools situated next to the San Juan River, plus an outdoor heated non-mineral pool and jacuzzi.

phone: +1 970 731-5785

address: 85 Harman Park Drive

A museum dedicated to the work of the creator of the "Red Ryder and Little Beaver" comic, a long-time resident of Pagosa Springs. A gift shop offers prints of Harman's Red Ryder work as well as of other Harman art.

Treasure Falls

address: Highway 160

A small roadside attraction on the way up Wolf Creek Pass is this scenic waterfall just off the road, visible from the parking lot. A short but fairly steep trail through a pine forest takes hikers from the parking lot to the base of the falls, close enough to feel the spray from the falls, and makes from a good chance to stretch your legs after a long drive.
Do
phone: +1 970 264-5639

address: Highway 160

A small, family-run facility, Wolf Creek has the most snow in Colorado at an average of 465 inches annually. Its seven lifts serve many trails, from groomed easy and intermediate trails to difficult runs with lots of trees. A ski school, equipment rental shop, gift shop, and food service are on the premises, but there is no lodging available at the ski area. Lift tickets: $48 adult full-day, $36 adult half-day, $26 child/senior full-day, $19 child/senior half-day (3 day passes available, equipment rentals and ski school extra).
Nordic (cross-country) skiing is also available in many locations around Pagosa Springs, taking advantage of the same profusion of snow that makes Wolf Creek attractive for downhill. The Pagosa Springs Nordic ski club grooms trails in several of these areas and keeps an on-line record of what areas have been groomed recently, along with trail maps, directions, etc. Most but not all trails are in locales freely available to the public. Note that many backcountry, off-the-beaten-path Nordic areas involve significant avalanche hazard.
phone: +1 970-264-7469

address: 418 Pagosa St

Established in 1919, the Liberty Theatre is the fourth oldest theater in Colorado and is a historic landmark.
San Juan Mountain & Golf ResortA few miles west form the center of the Town, this golf course a beautiful view and some great holes. Your stay will cost $600+ per night.
Buy
phone: +1 970-731-4951

address: 56 Talisman Drive

The Choke Cherry Tree is a great place to get delicious home-made candies and chocolates.
Eat
Sleep
phone: +1 970-731-3400

address: 519 Village Dr

phone: +1 970 731-4141

address: 3505 West Highway 160
Go next
Highway 160 North to
Alamosa, CO
and
Great Sand Dunes National Park
can be treacherous during all seasons as you drive through Wolf Creek Pass. Many people die each year when driving through the steep grades and tight switchbacks. Be especially careful when driving during the winter.
Highway 160 West towards
Durango
,
Silverton
, and
Mesa Verde National Park
is safe, but be extremely wary of wildlife at night and icy roads in winter. There is no cellular service from Aspen Springs to Bayfield (30 mi).