Pan-American Highway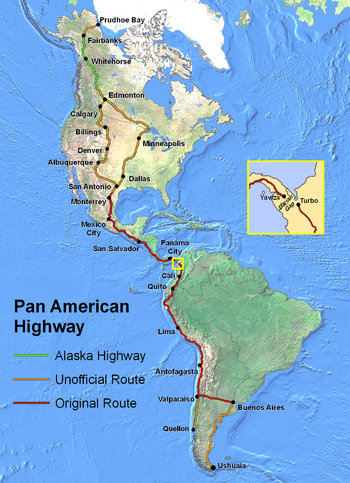 The
Pan-American Highway
is a series of routes that passes through
Mexico
,
Guatemala
,
El Salvador
,
Honduras
,
Nicaragua
,
Costa Rica
and
Panama
in North America, and
Colombia
,
Ecuador
,
Peru
,
Chile
and
Argentina
in South America. It is listed in the Guinness Book of World Records as the longest motorable road in the world. While it doesn't officially have a route through the
U.S.
and
Canada
, some people start in
Alaska
and drive/bike to
Ushuaia
,
Argentina
, the southernmost tip of
South America
. It is necessary to bypass the
Darién Gap
between Panama and Colombia by ferry, however.
Understand
The Pan-American Highway is about 15,000 miles (24,000 km) long depending on the route you take. There are many options in the
United States
,
Canada
, and
Mexico
because of the large area and number of roads.
Central America
has only a few roads going north to south, with most of them - especially the Pan-American highway running along the Western (Pacific) shore.
Prepare
The Pan-American Highway passes through many diverse climates and ecological types, from dense jungles, to arid deserts, some of which are passable only during the dry season, and in many regions driving is occasionally hazardous.

Talk
Most of the route passes through
Spanish speaking countries
and thus you should definitely make an effort to learn some Spanish. Not only will it be invaluable in case of any problems (and there
will
be problems on a long trip), but you will be much more able to get to know the locals and experience the culture of places you pass through and stay at.
Get around
There are several modes of travel that are used on the Pan-American Highway.
By bus
It is possible to use buses down all the way to
Argentina
, except for the
Darien Gap
.
By car
See
Driving in Canada
,
Driving in the United States
,
Driving in Mexico
If you drive by personal vehicle, it is important to know that your vehicle must be shipped from Central to South America (or vice versa) in order to travel around the Darien Gap. While your vehicle is shipped, you can transport yourself by plane or boat. Driving the Pan-American Highway is certainly possible, and many travelers complete the overland journey from North America to South America (or vice versa) each year.
By bike
While most of the territory the Pan-American highway passes through cannot considered "bike-friendly" by any stretch of the imagination, every year countless people do successfully travel all or part of the route by bike. Knowing how to fix minor defects is essential if you want to attempt the whole route on your own as help is often not forthcoming on rural stretches of the highway. A firm grasp of local languages (particularly Spanish) is another thing to consider.
Route
Because the route of the Pan-American Highway essentially consists of a number of other famous driving routes (such as the
Alaska Highway
and the
Inter-American Highway
) in succession, more detailed planning should be done by researching each of those sections. Furthermore there are
numerous
alternative routes possible. Here we can only give a summary with links to more details about various subsection of the route.
The Arctic
All routes converge at Watson Lake, Yukon
No Matter which route you take in the Arctic, you cannot connect to the rest of North America without passing by
Watson Lake
. At this point you need to decide which of the many routes through Canada you would like to take, since the Government of Canada has not declared any highways "official" sections of the Pan-American system. Likely options include:
Mexico
In Mexico are more varying routes. You can go via
Monterrey
and the Isthmus of Tehuantepec.
Guatemala
Huehuetenango
Chimaltenango
Guatemala City
Cuilapa
Jutiapa
El Salvador
Candelaria de la Frontera
Santa Ana
San Salvador
Cojutepeque
San Miguel
Honduras
Nicaragua
Costa Rica
Panama
This is the location of the Panama Canal and the
Darien Gap
, so there's a gap in the Pan-American highway here.
Colombia
Ecuador
Peru
There are also weird Ica, Nazca, and other drawings.
There's also varying routes around here:
Chile
Bolivia and Argentina
Variant via Bolivia
Chile
Argentina
National Route 9
National Route 7
National Route 3
Stay safe
Try to avoid areas where cartels operate. Follow the advice for the area you are at.