Pantelleria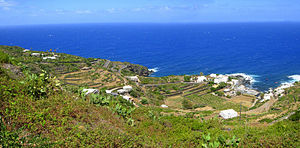 Pantelleria
is an island lying between
Sicily
,
Italy
and
Tunisia
. It is culturally Sicilian in every way. There is a great emphasis on the art of hospitality. It is becoming quite a chic destination. It is striking and hilly, with the countryside dotted with white
Dammuso
houses. There are no beaches - people swim off the black rocks.
The main centre is
Pantelleria Town
, along with the much smaller
Scauri
,
Tracino & Kamma
and
Rekale
.
Get in
By boat
Daily overnight ferries run from
Trapani
in Sicily, running more frequently alongside hydrofoils in Summer. Hydrofoil from Mazara del Vallo twice daily. See
Siremar
and
Ustica Lines
.
By plane
Direct flights from Rome and Milan
A new agreement with the hotels on Pantelleria has created a long period of direct flights to Pantelleria from Rome and Milan. These flights are on big jets (300 seats or more), only on weekends, 3 or 4 times each weekend day. Usually
Alitalia
fly from Milan Linate and Rome Fiumicino from June to September. You can book and buy tickets on alitalia's own site. Another company that offer seasonal flights is
Blu Express
It generally departs from Rome Fiumicino and Milan Malpensa. The scheduled flights are released every year in April / May. Lastly there are some charter flights, but are not very reliable as they change often their schedule and it is too risky to make a connection with them.
Get around
By bus
There is quite a good bus service around the island. See
Pantelleria Council
By moped
An excellent way to see the island is to hire a moped for a few days - it is small enough to do a circuit in 4 hours or so. Beware - there are only two petrol station on the island - both in Pantelleria Town.
See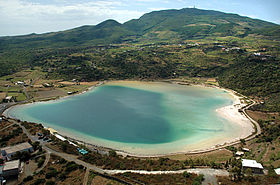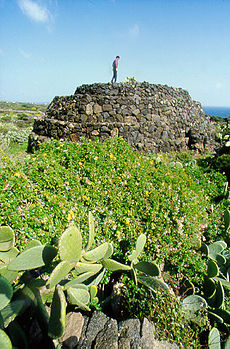 Specchio di VenereA lake inside the crater of a former volcano.

SesiBlack Neolithic funeral mounds.

GadirThe pretty seaside hamlet and its thermal pools.

Piano GhiraldiaThe pretty vineyards in the Piano Ghiraldia at the far (east) end of the island.

Arco dell'elefanteThe wonderful Arco dell'elefante.
Do
Boat tours. For a moderate fee, usually around €35 per person, you can take a slow boat tour around the island. This can be very entertaining depending on who comes along. Usually there is abundant food and wine served on board, swimming stops and a photographic adventure of a very rich volcanic island. From the sea you can see the homes of Armani and many of Italy's most famous people.
Trekking. There are many maintained trails into the complex geology of Pantelleria. Each little region is very different and unique from all the others. For a small island, there is tremendous diversity to Pantelleria.
Thermal pools and the sauna cave. There are many thermal pools on Pantelleria. One of the best places is a large natural sauna cave in the mountains near the region called Monestero. One of the most beautiful vistas on the island can be seen from here. There is also Santaria, a hot thermal pool inside a cave. This is according to legend the love nest of Calypso and Ulysses. All the thermal pools are free and maintained by the community members.

Buy
Art:
There are two famous sculptors on the island. One is a local man, a Pantesce Native (Kaku). He has a shop near the old castle in the main village, Pantelleria.
The other is a Native American who lives in Rekhale (Turtle Heart).
Ceramics of DiSimone. DiSimone is a very famous ceramics artist who atarted his career on Pantelleria. Now his work is sold in shops in many countries. He still has his "home" gallery on Pantelleria. Great objects for the household and fancy objects of ceramic art. Very colourful and vivid scenes of the traditional life of Pantelleria.

Eat
Il Cappero Via Roma. Excellent medium-priced food, very popular with the locals.
Zabib Porto di Scauri +39 0923916617 - Good restaurant, open only for dinner.
Drink
CiCCi's Bar. A favorite place in Pantelleria village, right near the central square. Generous snacks. Great atmosphere. Cicci is a force on Pantelleria and this bar has great ambience and personality. A must visit bar and cafe in the true Sicilian style.
Passito. You must drink the famous wine of Pantelleria, called Passito. Pantelleria is an island of farmers, not fishermen. The ancient wine is unique in all the world and the best Passito is generally only available locally. If you make friends with local people you can have the adventure of tasting home made Passito. Passito is a rich meditation wine, sometimes called a dessert wine. Passito and Capers are the island's two best known products.

Sleep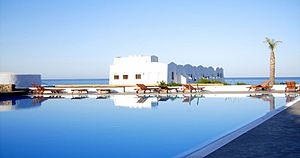 Miryam Corso Umberto 1 +39 0923 911374. Modern, but functional, overlooking the harbour. Quite cheap out of season.
Cossyra Cuddie Rosse-Mursia +39 0923911154. About 3 km (2 miles) from Pantelleria port, this 3-star hotel has pleasant grounds, a pool, tennis courts and a private beach.
Albergo Miryam Hotel
Mursia and Cossyra Hotel & Spa Loc. Mursia +39 0923911217 - 0923911154. fax +39 0923911026 About 3 km (2 miles) from Pantelleria port, this 3-star hotel has pleasant grounds, a pool, tennis courts and a private beach.

phone: +39 0923 912785

address: Don Alonso Errera street

Charming and cheap hotel in the center of Pantelleria city. They will pick you up at the airport. Nice rooms.