Patagonia (Argentina)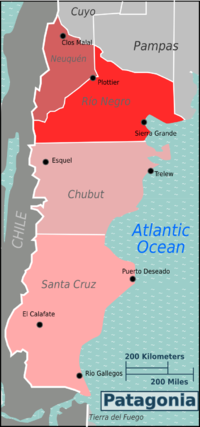 Patagonia
is a region in southern
Argentina
.
Regions
Cities
Neuquén Province
– The largest city in Patagonia and the cultural centre of the Upper Río Negro valley, a modern city with good river beaches, about 260,000 inhabitants.
– A lake side town opposite from Bariloche with access to National Park Los Arrayanes and the 12-km trail to the famous Bosque Arrayanes.
Río Negro Province
– The capital of the Río Negro Province in the east with the El Cóndor beach resort, along Ruta 3 between Bahía Blanca and Las Grutas.
– A small hippie town (founded in the 1970s) in a mountainous valley about 120 km (75 mi) south of Bariloche. There's a twice weekly outdoor flea market, and nearby are many decent hiking opportunities, like Lago Puelo.
– A port city with the popular Las Grutas beach resort town, as well as the picturesque Playa Las Conchillas and Playa Piedras Coloradas nearby.
– A busy tourist destination and ski resort with 100,000 inhabitants, located in a stunningly beautiful landscape in the Southern Andes at the shore of the Nahuel Huapi lake inside the Lake District with many popular national parks nearby.
– A picturesque village with Swiss origins near Bariloche.
– A desert town with nice beaches, about 150 km north of Puerto Madryn.
Chubut Province
– At the Atlantic coast, a busy city located between colourful hills and beaches, with about 200,000 inhabitants and Argentina's petrol industry centre.
– A tranquil city and gateway to the Valdes Peninsula nature reserve and the penguin colony Punta Tombo, with a good beach and a well known diving destination; about 100,000 inhabitants.
– In the North-West of Chubut, a ski resort with about 40,000 inhabitants and a popular steam train.
– Gateway to the region with an airport, south of Puerto Madryn and close to Valdes Peninsula.
Santa Cruz Province
– South-east before Tierra del Fuego, travelling hub to reach Ushuaia and Tierra del Fuego.
– A popular and very touristy destination with access to the famous Perito Moreno Glacier, though a little over-commercialised and not much hiking.
– Often called the capital of trekking, an impressive and inexpensive must-see town bordered by glaciers of the surrounding Parque National Los Glaciares with the popular Mount Fitz Roy and Cerro Toro, as well as the largest glacier of Argentinia, the Viedma Glacier.
– At the east coast, notable as the winter camp for Magellan's round the world expedition.
– A town along Ruta 40, that suffers from strong winds and mostly closed shops during the day. Not much to see. The detour from Ruta 40 makes sense if you want to avoid some kilometers of unpaved road and get fuel (25 and 29 are paved and there's an YPF station that accepts credit cards).
Other destinations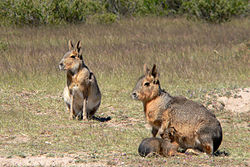 in the South-West, with the Perito Moreno Glacier near El Calafate, as well as Mount Fitz Roy, Cerro Torre and the Viedma Glacier near El Chaltén.
near Puerto Madryn, an important nature reserve at the Atlantic coast (whales, sea lions, dolphins, penguins) which was listed as a World Heritage Site by UNESCO in 1999.
The
Lake District
near
San Martin de los Andes
,
Villa la Angostura
,
San Carlos de Bariloche
,
El Bolsón
, and
Esquel
(from north to south):
Understand
The region is bordered in the north by the
Cuyo
and
Pampas
regions, by Chile's part of Patagonia in the west and by the Atlantic Ocean in the east. South of it lies the archipelago of
Tierra del Fuego
, the Land of Fire.
Geography
The enormous terrain is divided into two sub-regions. The West, with the
southern Andes
, is a green and humid area with woods, beautiful lakes and glaciers in the southern part. Here, most major tourist attractions like the Nahuel Huapí and the Los Glaciares National parks are located, and there are also South America's premier ski resorts. It is an outdoor sports paradise, with many options for walking, trekking, mountain-biking, paragliding and rafting. In the North, a transition region to the dryer Central Andes, the beautiful
Pehuén
or
Araucaria
woods can be visited. The climate of this region is relatively cool and rainy, but much sunnier than the Chilean side of the Andes. Above an altitude of 1000 m, snow is common in winter.
The East, with the
Meseta
, is a rough and windy steppe landscape that covers around 80% of the area. Its most well-known attractions are the beaches of Río Negro province, with the warmest water temperatures in Argentina, and the nature reserve on Valdés Peninsula in Chubut province. There are little known but very beautiful areas like the Chubut river valley, the colourful petrified woods and the enormous lakes around Sarmiento, the Chocón and Piedra del Águila reservoirs in Neuquén and the bays and mountains surrounding Comodoro Rivadavia. The climate is temperate, with surprisingly hot summers in the North and more temperate temperatures in Santa Cruz, cool to cold winters with almost no snowfall and many windy days, above all in spring.
Culture
Patagonia was one of the last regions of Argentina to be colonized by Europeans; though the all of the coast was visited by
Magellan's circumnavigation
already in 1520. Most cities date from the early 20th century. Mainly in the Andean region, rural indigenous people from the Mapuche nation still preserve their traditions, although their language is barely spoken today. From time to time there are conflicts between indigenous settlers and land owners, but tourists are usually not affected.
In some areas, traditions of immigrant groups had a strong influence on architecture, cuisine and festivals. Among people of European origin, besides from Italians and Spaniards making up the majority of the Argentine population, the most important groups are the Welsh in Chubut province, the English in Río Gallegos and the Germans in the area around Bariloche. Neuquén hosts a strong community of Chilean origin, and Comodoro Rivadavia is home to a large immigrant group from Bolivia.
Read
Patagonia: A Cultural History, by Chris Moss: an overview of the indigenous narratives, travel writing, literary works and films of Patagonia.
Get in
By plane
The biggest airports in the region are the
Bariloche
(
BRC
) and the Neuquén airport (NQN), with flights to several Argentine destinations. For the Atlantic region, the Trelew airport (near Puerto Madryn) and Comodoro Rivadavia offer the best connections.
El Calafate is served by Comandante Armando Tola Airport, Aerolíneas Argentinas goes here along with Aerochaco, LADE Airlines, and LAN Argentina. Also Río Gallegos has an airport, this airport is served by Aerolíneas Argentinas, Austral Líneas Aéreas, LAN Chile and LAN Argentina.

By car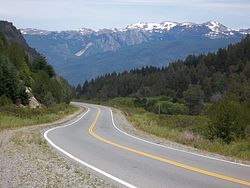 National Route 40 borders the Patagonian Andes from north to south, connects the region with Mendoza province and is a major tourist route. Chilean Route 255 (this road comes out from Route 9) crosses into Argentina becoming Route 3, the most important connection of the Atlantic coast, connecting it with Buenos Aires and other major Central Argentine cities. More routes in this region include the east-west connections Route 22, 23, 25 and 26 and Provincial Route 5 in Santa Cruz, connecting Río Gallegos and the Los Glaciares area.

By bus
In Argentina many travellers usually travel by long distance buses. These trips are much more longer than travel by plane, but can be much cheaper, too. For example travel from Buenos Aires to Neuquén takes about 16 hours, but by plane the trip takes about 2 hours. Check this the Argentinian bus company's website for example, to check prices or schedules. It is recommended to buy the ticket two or three days before the trip (at least) to get a better price for it.

Get around
By bus
The best connections are alongside Ruta Nacional 3 at the Eastern side of Patagonia. In the South Andes, there are pretty good short- and mid-distance connections, but there is no line going directly from the northern part around Bariloche to Los Glaciares.
Beware that in the summer buses are often full, you should book some days in advance (above all around Christmas, New Year, January 15 and January 31).

By train
There is a fairly well-maintained night train service connecting Viedma, San Antonio Oeste and Bariloche. All other long-distance passenger service are suspended.

By thumb
Once you are sufficiently south in Argentina and Chile it is easy and safe to hitch-hike. Save money on bus travel and hitchhike your way up and down Ruta 40 or Ruta 3. However, a tent is advisable due to the large distances, lack of budget accommodation and sometimes rare traffic. If you don't have a tent, try to start hitchhiking really early in the morning so you don't arrive after nightfall. New places seem much more interesting and welcoming in the daytime. Always have a backup plan, the weather in Patagonia can be strenuous.
Most often you will be picked up by truck drivers that are bored and are trying to stay awake; they usually want to talk. As a woman, try not to fall asleep when hitch-hiking and be careful, even if it is Patagonia.

See
The total solar eclipse of 14 Dec 2020 will be visible across part of Neuquen and Rio Negro provinces, with 70% chance of a clear sky.
Near Puerto Madryn are the penguin colonies of Punta Tombo and Camarones.

Pinguinera Cabo Dos BahiasInstead of the ridiculously overpriced Punta Tombo National Park, head here for an equally good experience and meeting with the penguins, for free.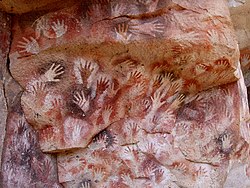 Also, along the main routes on the east and west coast the following interesting sights can be found:
Cueva de las Manos

address: West Coast

A picturesque and must-see UNESCO World Heritage Site with paintings of hand over 9,000 years old. Do not go at 11:00 or 12:00 during summer, when the first painings are exposed to the sun and barley visible.

Bosques Petrificados (de Jaramillo)

address: East Coast

A "stone forest" and impressive selection of 5-6 large lying trees with up to 2 m in diameter and lots of structures that resemble trees and branches with billions of small rocks peeling off in the local climate.
Do
View the Patagonian Ice Sheet from an airplane or nearby mountain.
Eat
In Patagonia, there are plenty of unique and delicious things to eat. As in all of Argentina, beef is important, but particular to the area is the cordero, lamb, which is of a unique flavor (supposedly because the Patagonian lamb eats a mixture of herbs found only in Patagonia) especially when grilled in the typical parrilla (grill).
Dulce de leche, similar to caramel and made by adding sugar to milk and cooking it, is used on nearly all desserts, including facturas (pastries eaten for breakfast or tea, or to accompany mate, filled with dulce de leche, dulce de membrillo, crema pastelera, roquefort, or many other things), alfajores (traditional cookies that consist of tiny biscuits stuck together), and many other Argentine desserts.

Drink
Mate (pronounced MAH-tay), a bitter tea, is drunk very frequently. Adding sugar is not rare because of its bitter taste. Other things are commonly added, including milk, sugar, lemon or orange rinds and cinnamon sticks.

Go next
Chile – Many people cross between Chile and Argentina in Patagonia, or even go forth an back depending on the sights and travel options.
Tierra del Fuego — the very south of Argentina, though if you travel overland you still need to travel through Chile.