Pathein
Pathein
or Bassein (Burmese ပုသိမ်မြို့) is a city (pop. 315,600 as of 2004) and the capital of Ayeyarwady Division in
Myanmar
.
Understand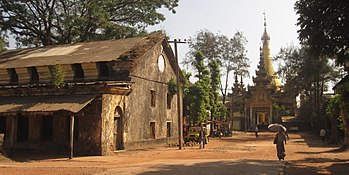 Lying at the western edge of the Ayeyarwady (Irrawaddy) River delta, on the Pathein (Ngawan) River 190 km west of
Yangon
, Pathein is accessible to large vessels and despite its distance from the ocean, it is the most important delta port outside of Yangon. It is also the terminus of a branch of the main railway line. The city is a rice milling and export centre.
The city's name may derive from Pathi (Burmese word for "Muslim"), due to the large population of Arab and Indian traders. The name was corrupted to Bassein during the British colonial period. The British built a fort and established a garrison in 1826, after the First Anglo-Burmese War.
Pathein is now a peaceful little town with a scenic waterfront, many Buddhist temples, and Pathein umbrella workshops. The colourful handmade umbrellas made in Pathein are famous in Myanmar.
Although once part of the Mon kingdom, Pathein has few ethnic Mon residents today. There are sizable minorities of Karen and Rakhine.
Get in
By plane
Pathein AirportMyanmar National Airlines from Thandwe and Yangon
By bus
Most pickups and smaller buses will drop of people at the from where it can be hard to find onward travel, e.g. north or to the beaches. If you do not want to stay in Pathein, take a motorbike (2,000 kyat) or pickup (1,000 kyat) out of the city to the bigger , from where it should be easy to catch onward travel. Equally, if you are dropped of at the latter, take a motorbike or pickup into the city.
By train
The train to Pathein starts from either (100 km from Pyay) or Hinthada. Hence, coming from
Pyay
, you first have to take a local transport or a boat to one of the two cities.
By boat
As the roads have improved, there is no longer a ferry service to Pathein from Yangon.
Get around
The town is small enough that you can see much of the town on foot. Motorbike taxis are also readily available and the standard fare for a trip is 1,000 kyat (which however seems a little excessive).
A local ferry can take you to the Karen village across the river.

See
Shwemokhtaw PagodaThe main sight of Pathein is this Buddhist temple founded (according to local legend) by King Asoka of India in 305 BCE. Bagan's King Alaungsithu raised the height of the stupa to 11 m in 1115 CE, and King Samodogossa raised it to 40 m in 1263. The stupa is now 46.6 m tall, with the topmost layer made of 6.3 kg of solid gold, the middle tier of pure silver, and the third tier of bronze, with some 829 diamonds, 843 rubies and 1,588 semi-precious stones.

St. Peters Cathedral

address: Maxwell Rd

The cathedral was built in 1872 and sits in a Catholic educational compound.

HarbourGo to the harbour and watch the hustle and bustle of stevedores loading ferries and passengers transiting from the ferry terminals. Many of the town's historic buildings are also located along the waterfront.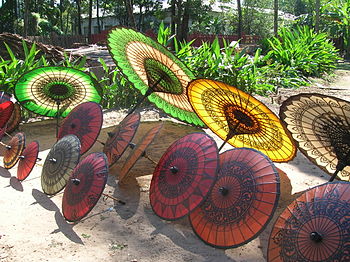 There are a number of small umbrella workshops, which have been operating for more than 200 years. The umbrellas are hand painted and are very cheap to buy (a few US dollars each). The waterproofing for the umbrellas must dry in the sun for several days, though, so there is little to see here during the rainy season, but they will show you the shop.

Cultural Museum of the Ayerwaddy Delta

address: Mahabandoola Road

The small museum houses and displays local handicrafts along with artefacts of the region.
Do
MyaungmyaA day trip is possible to Myaungmya (pronounced meouw miah), a busy, clean river town with the local pagoda overlooking the river. The town also boasts a church and mosque. You may also take a motorcycle taxi one-way for about 7,000 kyat.
Buy
CB Bank

address: Corner Merchant St / Pagoda Rd

The large CB Bank will change money from Monday to Friday, 09:00 to 15:00, and has an ATM available. Credit card service can be unavailable, so ask your hotel when is the right time to go.

Central marketA standard small-town market in Myanmar. You can buy food, fabric, baskets, etc.

Shwe Sar

address: 653 Tawyakyaung Rd

Good place to buy hand made parasols and umbrellas. Small umbrellas are priced at 8,000 kyat each, and 20,000 for medium sized umbrellas. A discount of 1,000 kyat is offered if you ask. If you are willing to walk away to another workshop a larger discount could be offered.
Eat
Hnin Wai Lwin Myanmar CuisineTry some authentic Burmese food here.

Night marketAfter sunset, the night market pops up. Grab a snack and people watch. Food stands are alongside the river, there are also street vendors/push carts with BBQ in the hotel area.

Me Mf LayProvides decent breakfast and delicious drinks.

Super Cool RestaurantFamous for serving beer and the terrace.

Beer garden with food for 2,000-4,000 kyat, overlooking the river.
Teashops are everywhere and easy to find. A cup of tea is 300 kyat, a plate of noodle salad is 800.
Drink
New City Coffee & Tea ShopThis is popular with locals and an excellent start to your morning.
Sleep
Sein Pyae Wi Yan

address: Min Gyi Rd

Free WiFi, in lobby (low signal). Basic accommodation, fan, shared toilet.

Taan Taan Ta Guesthouse

phone: +95 42 22290, +95 42 24502

address: 7 Merchant St

First two storeys not very comfortable with shared bathroom, but 3 and 4 have bigger rooms with private bathroom. The friendly and English speaking Algun will help you with your travel and in case you have questions. A good budget choice.

(New) Pammawaddy

address: No. 14/A, Min Gyi Rd

Strong Wi-Fi signal. Not the best value for money, but very good travel advice.

Paradise Hotel

phone: +95 42 25055

address: No. 14, Zay Kyaung St

Has 20 inexpensive and comfortable rooms. It is away from any main road and therefore can be expected to be more quite than Pammawaddy and Sein Pyae Wi Yan around the corner.

La Pyae Won

phone: +95 42 -25592

address: No. 30, Min Gyi Rd

Has ups and downs, but acceptable for this price. Four-storey building with AC. WiFi & BBC TV.

Htike Myat San Motel

phone: +95 42 22742

address: No. 8, Maharbandoola Road

Sometimes misspelled "Hyike". 26 very clean rooms for a good price. The owner will help organize bus tickets for you - of course he will. Including breakfast on the roof. Free WiFi. Quiet air-con. Only a few minutes to the night market. Helpful and friendly staff. Free bicycles. Hot shower.

Delta Hotel

phone: +95 42 23418, +95 9-422480780, +95 9-422450101

address: 101 Strand Rd

Includes all services needed, AC, WiFi, phone, TV, clean bathroom, minibar. The good thing is that it is in a rather quiet part of the city not (yet) along of one of the main roads. Staff is friendly and speaks English.
Go next
Bus
Most buses for distant destinations leave from the
Highway Bus Station
, otherwise try the
City Bus Station
(see
#Get in
).
Train
The is in the eastern/southeastern part of the city. There is a train to
Hinthada
at 05:30, which takes about 6 hr and costs 2,000 kyat for upper class. Also
Kyankin
, the last stop near Pyay, is served from Pathein.