Patiala
Patiala
is a city in
Punjab
,
India
.
Understand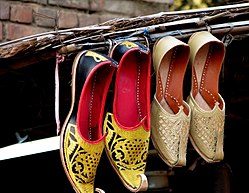 Patiala is a nice city, rich in cultural heritage. Its history dates back to the middle of the 18th century, when Baba Ala Singh established a princely state in the
Malwa
region of Punjab. In 1763 Ala Singh built the fort known as Qila Mubaraka which was his permanent seat until his death two years later. Under his successors, the kingdom expanded and the fort continued to be a residence of the royal family. During the Anglo-Sikh wars, the rulers of Patiala were an ally of the British. As a result of their "meritorious services", the British granted them the title of Maharajas. In the aftermath of the Indian Independence Act, Patiala's last ruler signed an accession to the Indian Union. The city is also called a CM City (CM means Chief Minister). Patiala was a part of PEPSU (PEPSU means Patiala and East Punjab States Union), and many govt of Punjab offices, and also head offices, are in Patiala rather than Punjab's capital Chandigarh. So, you can also say Patiala is a Mini Capital of Punjab State.
Today Patiala is a lively city known for its production of handcrafted goods. The juttis, traditional embroidered shoes for women and men alike, are exported all over the world to the Punjabi diaspora.
As elsewhere in Punjab, November marks the disappearance of the monsoon. Sunny skies prevail till mid February. Daytime temperatures are comfortable. This is undoubtedly one of the best times to visit.
Get in
By plane
The nearest Airport is Chandigarh from where you can either take bus or taxi. Taxi may charge around ₹800 to ₹1000. You have to bargain really hard to get the right price.
By train
Although there is a
railway station
at Patiala, but the city is not very well connected by rail because it doesn't fall on the main line. Delhi Bathinda intercity is the best train for Patiala.
However there is "Dadar Amritsar express" coming from Mumbai and a few intercity trains.
The nearest well connected Railway station is Ambala (UMB). There are many trains coming from all parts of India up to Ambala. From Ambala you can hire a taxi or come by bus. Distance is 60 km. The taxi driver may charge around ₹800 to ₹1000.
By car
phone: +91 92167 90013

address: Sirind Road
By bus
Bus stand
address: Sheran Wala Gate
If you are coming from Delhi it is 260 km distance, and you can find direct buses from ISBT after every hour. There are also deluxe buses available, charging ₹240 per head. The bus journey from Delhi takes 6 hrs. One can also take a taxi, but charges will be really high, to the tune of ₹3500-₹4500.
There are regular buses from
Chandigarh
every hour direct to Patiala.
See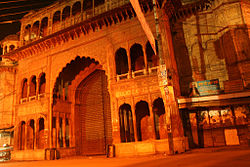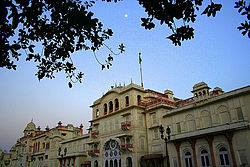 Baradari GardensThe gardens were designed in 1876 by Kaur Sahib Ranbir Singh, the younger brother of the Maharaja. They surround colonial buildings and a marble statue of Maharaja Rajindera. Today, the Baradari Palace is a heritage hotel run by Neemrana Hotels group

Gurudwara Dukhniwaran Sahib Ji

Ijlas-e Khas

Maiji Di Sarai

Mall Road

Old Moti Bagh PalaceThe Palace, built in the mid-19th century, was the seat of the Patiala royal family. With over 1,000 rooms it's one of the largest royal residences in the world. Today it houses the National Institute of Sports

Panj Bali Gurdwara

Qila Bahadurgarh

Qila Mubarak complexQila Mubarak was the official residence of the Maharaja till 1862. The complex comprises 10 courtyards and several historic built structures. Notable buildings include Qila Androon, the main entrance with an imposing gate, Sheesh Mahal (palace of mirrors) , Raan Baas with a whole set of frescoes and Durbar Hall. The latter houses a collection of arms.

Rajindera Kothi

Rang Mahal and Sheesh Mahal

Shahi Samadhan

Temple Kali Mata Ji
Do
Dhillon's Fun-World

phone: +91 98780 82821
Buy
AC Market

Bitly Bros. Gift Houselocal traditional Gift items.

Desi Juttilocal traditional Indian shoes.

Omaxe Mall

phone: +91 175 653 4811

address: Mall Road, Baradari

Parandi

Patiala salwar

Phulkari

Punjabi suits

Reshmi naale
Eat
Amritsari Naan

address: Near AC market parking

Dominos

phone: +91 175 221 2523

address: Phowara Chowk

Located near Leela Bhawan , on the best locations in Patiala. The best budget restaurant in city. The only problem is it is self-service.

McDonald'sYou can find McD in Omaxe Mall.

Mohan ContinentalProvides excellent food, but the cost is sky high.

Sadhu Ram di Kachori

address: Books Bazaar

Oldest in the town. Fresh every day. The best & pure you can get.
Sahni'sGood budget food, serious competition to Gopal Sweets. Near 22 no, flyover.

Subway
Drink
Gopal Sweets

Jaggi Sweets

Manu lassi

phone: +91 95824 00608

Sahni Sweets
Sleep
phone: +91 175 230 4433

address: Baradari Gardens

Green's Hotel

address: The Mall

phone: +91 175 505 0700

address: S.S.T Nagar, Rajpura Road

phone: +91 93162 18456

address: Near Railway Station

Hotel Garden Resorts

phone: +91 175 500 3300

address: Phatak, Rajbaha Road, Green View Colony

Hotel Grand Park

phone: +91 175 221 0725

address: Bhupendar Road, Model Town

closed?

phone: +91 175 222 7122

address: Chotti Bharadari

Hotel Prince Palace

phone: +91 175 230 0942

address: Bus Stand Road