Pecos (New Mexico)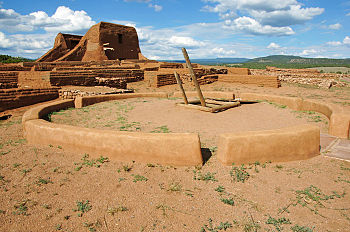 Pecos
is a small town in
North Central New Mexico
, situated on the Pecos River in the southernmost reaches of the
Sangre de Cristo Mountains
, east of
Santa Fe
.
Get in
Pecos is located just off I-25 about 20 miles east of Santa Fe. Coming from Santa Fe, exit onto NM State Road 50 (exit 299) and proceed on NM 50 for a few miles until it terminates in Pecos. Coming west, from
Northeast New Mexico
, exit onto NM 63 (exit 307) and head towards the village; NM 63 passes by Pecos National Historic Park before reaching the village proper. North of town, NM 63 continues along the Pecos River into the Sangre de Cristo Mountains and the Pecos Wilderness.
See
Pecos National Historical Park

phone: +1 505 757-7241

A unit of the national parks system that contains the ruins of Pecos Pueblo, an ancient Native American settlement that was abandoned in the 19th century, and an impressive stone church from the Spanish mission era. A short loop trail from the visitor center passes by the ruins of Pecos Pueblo and the mission church. The visitor center offers exhibits with artifacts from the site as well as a short film about the history of the area.
Glorietta Pass BattlefieldIn the Glorietta Pass west of town, this battlefield was the site of a significant battle of the American Civil War, and today is administered as part of the Pecos National Historical Park. A 2.3 mile interpretive trail leads visitors to the site, although it is located on private land behind fences. To get there, first stop by the visitor center at Pecos National Historic Park (above) and the park rangers there will provide you with directions to the trail and an access code to get through the gate. An annual commemoration takes place on the last weekend of every March and offers demonstrations by historians and a living history encampment.
Do
The Pecos Wilderness, a wild, roadless realm of the Sangre de Cristos that's popular with hikers and backpackers, is located north of town. NM 63 heads deep into the mountains alongside the Pecos River, dead-ending at Cowles near the headwaters of the Pecos and passing by several campgrounds and trailheads with ready access into the wilderness. The Santa Fe National Forest administers the wilderness and the lands surrounding Pecos and has a ranger station right in the middle of town on NM 63 just south of NM 50 (+1 505 757-6121; open M-Tu and Th-F 8-noon and 12:30-4PM), where you can purchase maps and get information on conditions in the forest.
Decent fishing can be found along the Pecos River between Pecos and Cowles, but be careful of private property restrictions.
Eat
phone: +1 505 757-6740

address: S. Main St (NM 63)

Simple, bare-bones family-owned diner serving inexpensive New Mexican food and desserts.

Frankie's at the Casanova

phone: +1 505 757-3322

address: 12 S. Main St (NM 63)

American and New Mexican food in a historic building with adobe walls, woodwork, and a fireplace among the decor.
Sleep