Peebles
Peebles
is a small town in the
Scottish Borders
. The name is Brythonic:
pebyll
meant "tents" or a temporary dwelling place. It's a market town and had a textile industry, which (as in other Borders towns) collapsed in the late 20th C. It became a byword for provincial tranquility: to say somewhere was "like Peebles on a Sunday" was not necessarily a compliment. It's nowadays a commuter town for Edinburgh. The main reason to visit is Traquair House, and to walk the nearby hills and forests.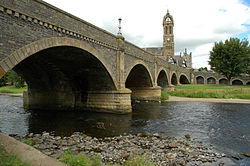 Get in
Peebles is 23 miles south of Edinburgh on A703.
Borders Bus
X62 runs every 30 min from Edinburgh bus station via Glencorse and Penicuik to Peebles, taking 70 min. It then runs east along A72, the Tweed valley, via Cardrona, Innerleithen, Galashiels Interchange and Tweedbank railway station to
Melrose
.
Borders Bus 91 runs five times M-Sa from Peebles to Stobo, Broughton and
Biggar
. Bus 93 runs four times M-Sa from Peebles to Blyth Bridge, Romano Bridge and West Linton.
Peebles main is on Eastgate next to the post office.
Get around

You need your own wheels to reach Traquair, Kailzie or Dawyck.

See
phone: +44 1896 830323

address: Innerleithen EH44 6PW

Scotland's oldest inhabited house, a fortified mansion in what might be called "very early Baronial" style. Has its own microbrewery, and is also an upscale hotel.
a mile west of Peebles is a L-plan tower house built from the 13th C. Admire the exterior, the interior can only be visited by special arrangements.

phone: +44 1721 720007

address: Kailzie EH45 9HT

Though Kailzie is open year-round, with spring displays of snowdrops and daffodils, the main draw is the 19th C walled garden open from April.

address: High St EH45 8AG

John Buchan (1875-1940) was born in Perth but spent many holidays around nearby Broughton, and practised law locally. He's best known as the author of The Thirty-Nine Steps, but he went on to be Governor-General of Canada. This museum celebrates his life and achievements.

Dawyck Botanic Garden

address: Stobo EH45 9JU

25 ha garden in the upper Tweed valley, run by the Royal Botanic Garden of Edinburgh. The cool climate suits mountain plants from Nepal, China and Chile.
Do
Eastgate Theatre & Arts Centre

phone: +44 1721 725777

address: Eastgate EH45 8HD

Regular programme of theatre, stand-up, music & film.

phone: +44 1721 724 522

address: Unit 2, Glentress Peel EH45 8NB

Helpful shop does mountain bike hire and repairs. Lots of nearby bike trails, you can hire a bike and helmet for around £25 a day.
Walk: Lots of nearby trails, including the 13-mile "John Buchan Way" from Peebles to Broughton.
St Ronan's Border Games are held late July in Innerleithen, five miles east, along with the Cleikum Ceremonies a civic flummery. The next is probably Sat 11 - Sat 18 July 2020 but tbc.
Innerleithen Music Festival is in mid-August. The next is probably 14-16 Aug 2020 but tbc.
Buy
Several gift shops on or around High Street.

phone: +44 1721 720246

address: 1 Biggiesknowe EH45 8HS

Small art gallery sells the work of local artists.
Eat
address: Port Brae EH45 8AW

Great Italian restaurant, gets booked out at weekends. Splendid pizza and pasta.

address: 84 High St EH45 8SW

For an okay-ish Indian meal.

Forsyths

phone: +44 1721 720833

address: 21-25 Eastgate EH45 8AD

Butcher and bakery, gets great reviews for its pies.
Drink
address: 35 High St EH45 8AN

Belhaven pub popular with younger drinkers, with decent food.

Bridge Inn

address: 72 Port Brae EH45 8AW

The older generation tend to head to this pub.

Neidpath Inn

address: 25 Old Town EH45 8JF

Has a good beer garden.

The Cross Keys

address: 24 Northgate EH45 8RS

JD Wetherspoons pub. Nice when it's hot as it has a good beer garden.
A variety of ales are brewed at nearby Traquair House, using original 18th-C techniques and equipment found beneath the chapel. They're cockle-warming stuff on a cold night.
Sleep
Many guest houses dotted all over the town.

phone: +44 1764 651846

address: Innerleithen Rd EH45 8LX

Vast edifice now owned by Crieff Hydro, both of which originally offered dubious "water cures". Recently refurbished yet visitors often still encounter tired, worn facilities. But lots of family activities eg kids' club, swimming, horse riding.

phone: +44 1721 725750

address: Edinburgh Rd, Redscarhead EH45 8PL

Baronial castle hotel built 1861, with acclaimed Sutherland Restaurant. Occasional lapses but generally to a high standard.

phone: +44 1721 725300

address: Stobo EH45 8NY

Luxurious spa resort set in beautiful grounds near Dawyck Gardens.

address: Cardrona EH45 8NE

"4-star" going on 3, with golf course and spa.
Go next
North to Edinburgh.
B709 is a scenic lonely road from Innerleithen north towards Dalkeith and Edinburgh, and south via Traquair towards St Mary's Loch, the Ettrick Forest and (just as you'd expect) a Buddhist monastery, thence via Longtown to Carlisle.