Philadelphia/Center City East
City Center East
is the most dense section of
Philadelphia
, home to City Hall, the Convention Center, Chinatown, Washington Square West, and Gayborhood.
Get in
By regional rail
Jefferson StationAn underground station that is on Market Street between 9th and 12th Sts. It is one of three core Center City stations on the SEPTA Regional Rail system. There are several entrances, but the main one is on 12th & Filbert Sts.
By subway
The
Market-Frankford Line
runs under Market Street with three stations serving Center City East: 8th Street (non-free connection to the Broad-Ridge Spur), 11th Street, and 13th Street (free connection to the Broad Street Line and the Subway-Surface Trolleys).
The
Broad Street Line
runs under Broad Street along the western edge of the district, with stops at Race-Vine, City Hall (free connection to the Market-Frankford Line and the Subway-Surface Trolleys), Walnut-Locust, and Lombard-South. The names of the hyphenated stations indicate the two parallel streets the station is situated between.
The
Broad-Ridge Spur
is a branch of the Broad Street Line that operates under 8th Street in Center City East. The stations serving the district are Chinatown (at 8th and Race Streets) and 8th Street (at Market Street, non-free connection to the Market-Frankford Line). The Spur operates 6AM-9PM Monday through Saturday, no Sunday service.
See
Neighborhoods
Washington Square WestA lively neighborhood, extending from 7th to Broad Street, Chestnut to South Street. It is bordered by the quieter neighborhoods of Rittenhouse Square to the west and Old City/Society Hill to the east. It is home to Antique Row and Mid-Town Village (two great shopping districts), historic cobbled streets, theaters, restaurants and more. Antique Row (Pine Street between about 13th and 9th Streets) is full of interesting shops, not all of them antiques-oriented. This neighborhood is a good place to see Philadelphia's native style of house, the "trinity" two, three, or four floors, one room per floor, connected by spiral stairs. The small streets above Pine, such as Quince Street, are lined with trinities. WalkPhiladelphia offers several interesting tours of Wash West. Washington Square itself is worth a visit to see the tomb of the unknown Revolutionary War soldier.

The GayborhoodPhiladelphia's gay-friendly area. It covers from about Broad and Walnut about 11th and Pine, and is most strongly associated with 12th and 13th streets, especially from Pine to Walnut. Gayborhood is comprised of bars, restaurants and has a bookstore with its very own history: Giovanni's Room (James Baldwin wrote a book with this title; he based it on the bookstore). Some places that attract large crowds are Woody's (Wednesday is college night), Pure and 12th Street Gym. Most straight-owned Gayborhood businesses are friendly to the LGBT community and straights alike regardless of orientation.

ChinatownExtends from approximately 8th Street to 11th Street east-west, and Vine Street to Market Street north-south. Compared to the Chinatown of other cities, Philadelphia's is fairly small. It is home to a variety of Asian ethnicities (not just Chinese) and has recently become a popular neighborhood for young people. The streets of are dominated by homes, restaurants, and boutique stores. Chinatown's symbol is its "Friendship Arch", an ornate paifang in the heart of the neighborhood, located at 10th and Arch streets. Though it is commonly found in many North American Chinatowns, the Arch Street incarnation is more elaborately rendered than most. Chinatown is filled with restaurants, bakeries and gift shops. Restaurants include Penang, Sang Kee, Banana Leaf and Tai Lake. Bakeries include Asia Bakery, Hong Kong Bakery, Mong Kok Station Bakery and KC Pastries. Popular foods include milk tea, bubble tea (also known as boba tea) egg tarts, pork buns, steamed buns, chicken buns and pineapple buns.
Landmarks
Do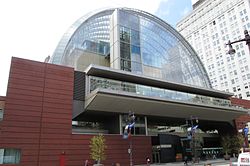 The
Avenue of the Arts
is on Broad Street containing many of the city's cultural institutions, especially the theater and arts area south of City Hall. The Avenue is a becoming more residential, but the main attractions include the Kimmel Center, Merriam Theatre, and the Academy of Music.
phone: +1 215 893-1999

address: 260 S Broad St

Showcases a variety of performing arts from chamber music, dance, drama, orchestral, jazz & pop.
The Philadelphia OrchestraFounded in 1900, the Philadelphia Orchestra is one of the most famous and widely traveled orchestras in the world. Performs in Verizon Hall at the Kimmel Center for the Performing Arts.
phone: +1 215 893-1935

address: 1420 Locust St

The Academy is the oldest grand opera house in the United States still being used for its original purpose. The Academy also provides the Philadelphia area with interesting and popular concerts, ballets, Broadway shows, and other events. Tours of the Academy, focusing on its inspiring history and current renovations, are available by contacting the manager's office.
Theater and music
There are a number of venues for theater and music not on the Avenue of the Arts.
phone: +1 215 586-3729

address: 310 S Quince St

Mask and Wig has presented comedy, music, and dancing to the University of Pennsylvania, to Philadelphia and to audiences across the country since 1889 and is a legend amongst Philadelphia theatre-goers. Each spring, Mask and Wig performs a full-length musical comedy at its historic Clubhouse.

phone: +1 215 922-6888

address: 1003 Arch St

Typically features indie/alternative acts and local acts.

phone: +1 215 574-3550

address: 825 Walnut St

America's oldest theatre celebrated its 200th anniversary season in 2009. Shows regularly sell out, and travelers are advised to buy in advance. The theater is a self-producing, non-profit regional theater.
Buy
phone: +1 215 625-4962

address: 901 Market St

Located atop a major transit hub (the Jefferson Station on the SEPTA Regional Rail system), this oh-so-dated urban shopping mall (primarily useful as an underground pedestrian pathway between the subway station at 8th Street and Market East) in was closed in late 2015 for extensive renovations expected to last into 2017.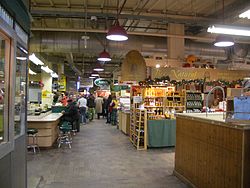 phone: +1 215 922-2317

address: 12th and Arch Sts

The Reading Terminal Market is home to many of Pennsylvania's Amish merchants who sell their goods. Here, you can find some of the best baked goods and the freshest organic produce in the region. Additionally, the market features cheesesteaks and other non-Amish restaurants and shops.
Antique Row Pine street between 9th and 13th is home to a mix of antique stores and local gift and craft boutiques. Visit the Foodery at 10th and Pine for a selection of hundreds of by-the-bottle beers from around the world, or a few blocks down, ring the bell at Halloween (1329 Pine) for an incredible jewelry store experience that can accommodate any budget.

phone: +1 215 923-2960

address: 345 S 12th St

An LGBT bookstore.
Chinatown
East of Broad St, "East meets West". Philadelphia's
Chinatown
is an ethnic section of the city that can't be missed. Why settle for Chinese buffets when you can get the authentic stuff right here? Chinatown is located north of The Gallery at Market East, close to the Reading Terminal Market.
Shanghai Bazaar

phone: +1 215 629-8398

address: 1016 Race St

Two floors of random Chinese merchandise; the upstairs has a lot of music, books, and DVDs. They also have a man in back that does Chinese massage and acupressure.
Eat
Washington Square West
phone: +1 215 592-8333

address: 1127 Pine St

Effie's is one of two well-known Greek restaurants east of Broad St., though it's more unassuming than Kanella and looks like part of an ordinary rowhouse. Inside, a bright but cozy atmosphere awaits either inside or outside on the courtyard patio in back. While the food isn't particularly inventive, it wins points for making basic Greek dishes excellent. BYOB.

El Fuego

phone: +1 215 592-1901

address: 723 Walnut St

The best advertisement for this hip burrito shop is the long line that develops inside every weekday at lunchtime.

phone: +1 215 922-1773

address: 1001 Spruce St

It's hard not to see Kanella coming a mile away, what with its bright blue exterior and white Greek lettering. Yes, the food is Cypriot-Greek, and unlike most Greek places, you can eat three meals a day there if you're so inclined. Which you may very well be after eating dinner once. Semi-casual, spare, elegant decor and friendly service. BYOB.

phone: +1 215 546-7100

address: 106 S 13th St

The sexy little Lolita has won heaps of praise since it opened, including Best Margaritas in Philadelphia, which is saying a lot for a BYOB (you bring the bottle of tequila, they do the rest). The menu is "nuevo-Mexican," which is to say, a very elegant twist on south-of-the-border fare. Prices are good for food this delicious, and everyone else in Philadelphia knows it too, so be prepared for a wait on Friday or Saturday (no reservations accepted then).

phone: +1 215 732-3478

address: 1312 Spruce St

Bon Appetit magazine has said that this small, very upscale place is "probably the best Italian restaurant in America." 'Nuff said. But in case you need to hear it from the locals, the Philadelphia Inquirer has named it one of the top 5 restaurants in the city, along with Le Bec Fin and a few others.

phone: +1 215 351-9901

address: 246 S 11th St

The word "charming" is not nearly enough to describe Zinc, which strives to recreate the kind of neighborhood eatery found in the Marais district of Paris to a T. Food is classic French, of course, as is the decor, which includes a 1919 zinc bar that chef and owner Olivier Desaintmartin had shipped from France. Drinks include many hard-to-find French wines and liqueurs, and the staff are warm and personable. In 2007, Zinc won Best Restaurant of the Year from Philadelphia Magazine.
Chinatown/Convention Center
David's Mai Lai Wah

phone: +1 215 627-2610

address: 1001 Race St

Excellent American Chinese food (with an even better non-Americanized menu for the adventurous); even the Americanized dishes are less so than you might expect, and some oddball dishes do appear on the regular menu. Open late, and a very nice staff.

address: 12th and Arch Sts

America's oldest farmer's market is a bustling indoor public market hall, with produce markets, bakeries, arts and crafts, a beer garden, and virtually every type of cuisine present. Be sure to make some time to stroll around and sample as much as you can. Despite the market's stated hours, individual vendors operate their own schedules; some restaurants will be open for dinner, and some, particular the Pennsylvania Dutch shops, are closed on Sundays.
Bassett's Ice CreamA local ice cream brand that has operated the same store at the same location in Reading Terminal Market since it opened in 1893, and has the distinction of being America's oldest ice cream company. While Bassett's is available at many other restaurants and supermarkets, this is the only retail outlet carrying the Bassett's name. The ice cream itself is rich, creamy and delicious.
Spataro's CheesesteaksOne of the best cheesesteaks at the market. Long lines, especially around lunch.
DiNic'sOne of the market's most popular restaurants, specializing in the Philadelphia roast pork sandwich (served with sharp provolone and greens); also serves roast beef sandwiches. Lines tend to be extraordinarily long, but the line moves. The staff will go down the long line to take your order to make things move efficiently, so make sure you know what you want before you get in line.

The Down Home DinerTraditional diner fare with an emphasis on Pennsylvania Dutch and some Southern-style dishes. You can find scrapple here as well as shrimp-and-grits. The diner has its own entrance outside of the Reading Terminal Market on Filbert Street across from the Field House Bar if you wish to go to the diner when the Reading Terminal Market is closed.
phone: +1 215 925-7532

address: 238 N 9th St

One of the best places to eat in Chinatown. The Peking duck is, obviously, what Sang Kee is famous for, but other delights abound, like wonton noodle soup and pork spare ribs. Unpretentious, casual surroundings and brisk service. Great for big groups.
Drink
Chinatown
phone: +1 215 923-8088

address: 211 N 11th St

A Japanese restaurant, with a karaoke bar and lounge upstairs. You can either rent private rooms, which are pricey but worth it with a large group of friends, or if you're brave enough, get your drink on and then sign up to sing publicly at the bar.
Washington Square West
phone: +1 215 732-5010

address: 347 S 13th St

One of the contenders for best dive bar in the city. Everything you could want: an eclectic, scruffy crowd both old and young, gay and straight, pinball, darts, random crap stuck up all over the bar, wisecracking bartender, cheap drinks.

phone: +1 215 735-0735

address: 1320 Chancellor St

A lesbian bar in the Gayborhood.

phone: +1 215 545-1893

address: 202 S 13th St

A gay bar with 3 different rooms to satisfy everyone.
Other
phone: +1 215 592-1897

address: 1136 Arch St

One of the two branches is located inside the Reading Terminal Market serving good coffee.
Sleep
City Hall
Washington Square West
phone: +1 215 923-3535

address: 301 S 12th St

In a bohemian section of Washington Square West.

The Independent Hotel Philadelphia

phone: +1 215 772-1440

address: 1234 Locust St
Chinatown/Convention Center
Hampton Inn - Center City Philadelphia

phone: +1 215 665-9100

address: 1301 Race St

Philadelphia Marriott Downtown

phone: +1 215 625-2900

address: 1201 Market St

Adjacent to the Pennsylvania Convention Center and 8 blocks from Independence Hall, this Center City Philadelphia hotel is located near dining, shopping, business, & cultural attractions.