Philadelphia/Center City West
Philadelphia
's
Center City West
is the downtown area west of City Hall. It contains downtown's upscale shopping district, the financial district, and the museum district along the Benjamin Franklin Parkway, culminating in the Philadelphia Art Museum and Fairmount Park. To the east is Broad Street, Philadelphia's arts corridor, and the
east side of Center City
; to the south is the quieter end of South Street and
South Philly
; and to the west, beyond the Schuylkill River, is
West Philly
and University City.
Understand

When Philadelphia was first settled, the core of the city was on the eastern part of the city, nearby the Delaware River, in what is now Old City. City founder William Penn plotted out the entire grid street structure of Center City from the Delaware to the Schuylkill Rivers so that the city would develop in an organized fashion, and over time the city did extend development westward and beyond.
Because Old City was where the business and market areas were concentrated, much of the western half of Center City became the residential neighborhood. A lot of the housing stock dates from the 1800s, when wealthy businessmen built their homes alongside communities of working-class neighborhoods. In the 1950s, Philadelphia began to expand the business district westward as well, and with the University of Pennsylvania located just across the Schuylkill River, the area has retained its desirability for many residents. In particular, Rittenhouse Square is surrounded by high-rise apartment towers housing the moneyed elite, and the neighboring blocks have long been one of the most desirable residential locations in Philadelphia. Fortunately, the park itself has retained a unique ability to exclude no one, no small feat considering Philadelphia's history of tension between different racial and social classes. On any given day, especially weekends and in the summer, the park will be populated and used by just about anyone and everyone.
Commercial businesses came westward with the planning of Penn Center, a rather unwelcoming business district west of City Hall just north of Market Street. However, this enabled other commercial development to occur in the area, and in 1985 One Liberty Place became the first building to break the unofficial height limit in Philadelphia, which was top of Penn's hat on City Hall. With a ground floor mall at the base of the building, this development helped spur retail development, which in turn contributed to the reversal of urban blight and flight in the early 1990s. Today, the three blocks north of Rittenhouse Square (Walnut, Sansom and Chestnut Streets) and eastward to Broad Street is Center City's upscale shopping district, where fashionable clothing brands have established a presence. In addition, many restaurants, bars and nightlife destinations are located in this particular area as well.
North of the business district is the spectacular Benjamin Franklin Parkway, a grand boulevard that begins at the famous LOVE Park near City Hall and continues northwest, through Logan Circle, and ends at the Philadelphia Art Museum and Fairmount Park. Designed in 1917, the Parkway is one of the city's earliest urban renewal projects and takes many of its cues from similar boulevards in France. Today, the parkway is the spine on which most of the city's museums are located.

Get in
By train
Center City is served by SEPTA trains, both the subway and regional rail. All
regional rail
lines stop in Center City West, at
Suburban Station
(
16th St and JFK Blvd
). If you are coming in from the airport, or Trenton, trains will stop here. Suburban Station only serves SEPTA trains, so if you are coming into Philadelphia on Amtrak, you will disembark at 30th Street Station, just across the Schuylkill River.
SEPTA has only two
subway
lines, both of which run through Center City. The
Market-Frankford Line
(or
the El
, because it used to be elevated) is an east-west line running underneath Market Street, connecting West Philly to Northeast Philadelphia. Unfortunately, because the subway was constructed at a time when nothing much existed between the Schuylkill River and City Hall, it does not stop in the middle of Center City West. The
Broad Street Line
is the second subway line, running north-south. However, as Center City is best explored on foot, just get off at City Hall and walk; no need to make a transfer on the subway line unless Center City is not actually your final destination.
A third train line, operated by the Delaware River Port Authority (DRPA) is called
PATCO
and comes in from
Camden
across the Delaware River. The train terminates in Center City West at 15th and Locust.
By trolley
SEPTA runs trolleys from West Philly and University City into Center City West, which stops at 22nd, 19th and 15th Streets before terminating at City Hall. If you are coming in from the west, trolleys are slower but can be more convenient depending on your final destination. In Center City, trolleys run underground.
See
phone: +1 215 299-1000

address: 1900 Benjamin Franklin Pkwy

Not just a natural history museum, this institution also has an active research arm and library. Highlights of the museum include a 2-story dinosaur exhibit, a butterfly walk-through area, and a children's nature center with live animals. It is the oldest natural science research institution and museum in the Americas.

phone: +1 215 278-7200

address: 2025 Benjamin Franklin Pkwy

One of the world's most important collections of post-impressionist and modernist art, open in this location since 2012. Advance reservations strongly recommended (weeks in advance for week-end time slots); a limited number of tickets is available for same-day visits.

The Comcast Center

address: 1701 John F Kennedy Blvd

Opened in 2008, at 975 feet tall, the Comcast Center is Philadelphia's tallest skyscraper and the headquareters of the cable provider. The building features a public plaza with a gorgeous fountain display, a dramatic eight-story "Winter Garden" and an energy-saving "glass curtain" that wraps around the Comcast Center, allowing for a 360° view of Philadelphia's urban landscape. The building has also unveiled a Sony Style Comcast Labs Store, which includes an "Interactive Technology Lab" that is open to the public. The lobby has garnered attention as a tourist attraction. At first glance, the north wall of its lobby appears to be a wood veneer wall, but actually, it's a massive 2,000 square feet high-definition LED screen that's just displaying a picture of a wood veneer wall. Wait a minute, and a dancing figure might appear on the wall, or the entire wall might fade out and be replaced with a photograph or a video show. The computer-generated images are so realistic, you'll think they're jumping out of the wall. With a resolution 500% greater than that of an HD television, the Comcast Experience is a remarkable technological and artistic achievement. The video wall, a giant HD video screen that is actually the largest four-millimeter LED screen in the world, is located right in the building's publicly accessible main lobby, so everyone can enjoy it. Visit during the holidays for special seasonal displays.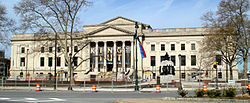 The Franklin Institute Science Museum

phone: +1 215 448-1200

address: 222 N 20th St

This museum attracts some of the top scientific exhibits in the world, including special exhibits that change every few months. Be sure to walk through the giant-sized human heart, a favorite with kids. Also features planetarium and the immense Tuttleman IMAX Theater and its four-story, domed screen with fifty-six speakers. This museum is incredibly popular as a field trip destination for local schools, so mornings and early afternoons on weekdays may be crowded with schoolchildren.

phone: +1 215 563-3737

address: 19 S 22nd St

It used to be open only to medical students, but this collection of medical oddities is quickly becoming one of the city's most popular attractions. Not for the faint of heart, this museum includes lots of items in formaldehyde, lots of skeletons, and one of the only women to ever decompose into soap.

phone: +1 215 561-3325

address: 1650 Market St

Located on the 57th floor of the One Liberty Place skyscraper at 883 feet above street level, this observation deck offers 360-degree views of the city of Philadelphia and the surrounding area. In addition to the views, the observation deck features a sculpture of Ben Franklin's head, tables, seating, vending machines, restrooms, interactive boards that zoom in on landmarks, and exhibits and facts pertaining to the city of Philadelphia. The entrance is located on the ground floor and tickets and the gift shop are on the second floor, where the elevator leads to the 57th floor. On the second floor, visitors may take a photo in front of a green screen. The elevator ride features a video about the observation deck and the city of Philadelphia.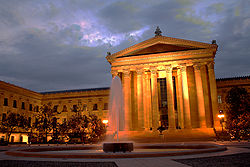 Do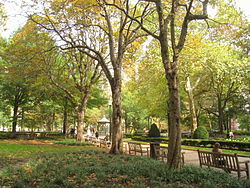 Parks
Buy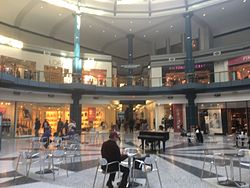 The Shops at Liberty PlaceOn 16th and Chestnut is an elegant shopping center with stores like Nine West, J.Crew, and Express. Many professionals stop by to get a bite to eat at its large food court and some quick shopping during the lunch hour.

The Shops at the BellevueLocated in the historic Bellevue at Broad and Walnut Sts., the Shops at the Bellevue offer upscale shopping and a gourmet food court. Shops include Ralph Lauren, Tiffany & Co., Williams-Sonoma, Origins, and Teuscher Chocolates of Switzerland (Oprah Winfrey loves the champagne truffles). Aside from the gourmet food court and upscale shopping, the Bellevue is also home to such upscale eateries as The Palm, Bliss, XIX and J.L. Sullivan's Speakeasy, as well as the Park Hyatt Philadelphia at the Bellevue.

Walnut Street from Rittenhouse Square eastward to Broad Street is Philadelphia's upscale shopping district where shoppers will find major chains from Apple to Zara and local favorites such as Joan Shepp and Jacques Ferber.
Eat
Rittenhouse Square
phone: +1 215 988-1799

address: 1623 Walnut St

phone: +1 215 558-2500

address: 124 S 18th St

A perfect spot for a hearty dinner in a whimsical atmosphere. The idea behind Dandelion is a British gastropub, serving not only hearty food but also hearty beer. Order either the beer-battered fish and chips or the lamb shepherd's pie. For dessert indulge in either the chocolate hot pot or the sticky toffee pudding. Dining at Dandelion is a relaxing way to end a jam-packed day.

phone: +1 215 546-4232

address: 261 S 21st St

A good neighborhood restaurant with regularly updated menu and good, reasonably priced wine list. The decor is dreamily intimate, with strings of twinkly white lights framing the room and, oddly enough, a huge aquarium that backs the bar upstairs and lights up the faces of the bar patrons with a faint glow. A great place for a romantic adventure or a date with an old friend. FriSatSun was a key contributor to Philly's 'restaurant renaissance' in the 70's, and is still going strong. Reservations recommended.

Los Catrines & Tequilas Restaurant

phone: +1 215 546-0181

address: 1602 Locust St

Featuring over 100 tequilas.

Mama Palma's Gourmet Pizza

phone: +1 215 735-7357

address: 2229 Spruce St

A cozy neighborhood gourmet pizzeria. This casual restaurant serves delicious pizza concoctions from the wood-fired brick oven.

address: 237 S 18th St

Luxury boutique steakhouse.

address: 13th and Spruce; 20th and Sansom

Artisanal gelato that reflects seasonal and local ingredients. Sample flavors: La Colombe cappuccino, Campari and grapefruit, muscat grape, hot pepper.

Scoop DeVille

address: at the corner of 18th and Chestnut

a wonderful ice cream and sweets shop.

address: 700 Chestnut Street

The retro decor and shag rugs add to the fun atmosphere. This is a great spot for families and requires casual comfy attire. Make sure to start your meal off Jones' famous monkey bread and a cup of coffee. The breakfast menu ranges from chocolate chip waffles, to eggs benedict, to huevos rancheros
Drink
Center City West has an active nightlife scene around the Rittenhouse Square area. As it's also one of the wealthiest neighborhoods, crowds here can be young, hip, and beautiful—or at least pretending to be—which leads some other people to gripe about how it's all turning too "tacky" and "Manhattan-esque." Depending on how you look at it, this is either changing Philadelphia for the worse, or this is the kind of scene Philadelphia needs to keep people from leaving for the
actual
Manhattan
. Either way, this clash of cultures results in a larger range of options this side of Broad, from the dark, blue-collar dives to the super-ritzy cocktail lounges.
If you're in Center City during the summer months, be sure to take advantage of
Center City Sips
, a downtown-wide Happy Hour every Wednesday from 5PM-7PM where many bars and restaurants all participate in drink specials: $2 beers, $3 wines and $4 cocktails, and usually some selection of food specials. As it's right after the hump of the office work week, you'll see a lot of young professionals in business casual, and some places will get really crowded, but the prices are definitely right.
Denim Lounge

phone: +1 215 735-6700

address: 1712 Walnut St

One of Center City's most popular lounges with great DJs and a hip, young and fashionable crowd. However, recent reviews of service and drink prices in particular have placed this venue on the decline over the past several years.

phone: +1 215 545-7005

address: 264 S 16th St

One of two of the best places to drink beer in Center City (the other one is Eulogy Tavern in Old City). Monk's has one of the largest beer varieties in the area, especially Belgian beer, with the right food to go with it (the burgers and mussels are standouts). Check their website to see the newest featured beer.

McGlinchy's

phone: +1 215 735-1259

address: 259 S 15th St

One of the few true dive bars in Center City. It's dirtier then you can imagine, and since the lighting is dim enough to be almost completely turned off, it's also dirtier then you can see. Right away, the staff genuinely doesn't like you. You will be a smoker as soon as you walk in, whether you smoke or not; McGlinchy's is one of the few bars that is exempt from the smoking ban and it's obvious from the door. The bathrooms are tiny and completely foul. You're better off not washing your hands, just to avoid touching as few things in there as possible. Fights are not uncommon, but the staff is always quick to pounce and drag it outside; McGlinchy's does not suffer fools. But the beer is ridiculously cheap, and the staff will warm up to you if you aren't an idiot, don't waste their time thinking about what you want to drink, and tip well. The crowd is often a mix of old barflys, blue collar after-workers and plenty of cute art school students. This is hands-down one of the best bars in Philly if you leave pretension at the door and roll with the vibe.

phone: +1 215 840-3577

address: 1718 Sansom St

A small bar just around the corner from Rittenhouse Square that's a lot of fun. Board games on the tables, affordable drinks, and a DJ mixing it up—once the night gets going, girls get on the bar itself because that's the only place left to dance! Other nights there will be live music or a live comedy show as well.

address: located within the Comcast Center at 1701 JFK Boulevard

There's an outdoor bar/lounge area with a view of the city. Table 31's outdoor lounge is a way to end off the night with a few drinks. They also offer an indoor lounge area that has a high-class look. One of the nicest ways to end the night is with a view of the city.
Coffee
La Colombe

address: 130 S. 19th Street

Renowned Philadelphia-based coffee company's Rittenhouse cafe is a little slice of continental Europe in the City of Brotherly Love.

phone: +1 215 496-9033

address: 15 S 20th St

Coffeehouse and bakery operated by the owners of the former Walnut Bridge Coffee House.
Sleep
Rittenhouse Square
address: 210 West Rittenhouse Square

A luxury 5-Diamond rated hotel.

phone: +1 215 561-7500

address: 1800 Market St

address: 1715 Rittenhouse Square

Renovated boutique hotel. Seasonal and couples specials are available.

Radisson Plaza-Warwick Hotel Philadelphia

phone: +1 215 735-6000

address: 1701 Locust St # 411

phone: +1 215 563-5006

address: 117 South 17th Street

A luxury Kimpton hotel near Rittenhouse Square, with complimentary wifi and hosting an evening wine reception. A LEED registered building following eco-friendly, energy-efficient standards.
Art Museum area
Connect
Free wifi
If there's something Philadelphia's plethora of students need, it's a local cafe with free wifi Internet access, and there are a handful of them scattered throughout Center City West. Of course, they can be of use for the traveler as well; most places will provide the password after you've purchased your coffee. However, unlike
Starbucks
, which are never in short supply, most of these locally-owned cafes encourage faster turnover and less "mobile office" syndrome by not providing electrical outlets.
address: 331 S. 22nd St.

Free Library of Philadelphia (Philadelphia City Institute Branch)

address: 1905 Locust Street

You'll need a library or a guest account.

Free Library of Philadelphia (Central Library)

address: 1901 Vine Street

You'll need a library or a guest account.

Tuscany Cafe

address: 222 West Rittenhouse Square

No password, but also incredibly slow.

Cosi

address: 1720 Walnut Street,

No password on internet, opens as late as 11 but lacks many power sockets.

LaVa

address: 21st and South Street,

Relaxed feel, password given on purchase, a bit of a walking distance from Rittenhouse however.