Philadelphia/Old City
Philadelphia
's
Old City
is home to many historical sites, galleries, restaurants, and bars. It is known for its active nightlife and cultural opportunities.
Understand
Old City Philadelphia, sometimes known as "Olde City", is the most historic square mile in the USA. The streets and most of the buildings are still of the original brick and stone. This vibrant old-world neighborhood is the home to many independently owned boutiques, galleries, restaurants, bars and clubs.
Philadelphia's most popular historic attractions — the Liberty Bell, Independence Hall, the National Constitution Center, Betsy Ross House, Penn's Landing — are all just minutes from each other. The area is also near the Pennsylvania Convention Center and several nationally renowned hospitals.
For shopping, visit the
3rd Street Corridor
from Chestnut Street to Vine to enjoy art, design and fashion hosted by the Philadelphia region's most exciting independently owned shops and galleries. Highlights include acclaimed boutique
Sugarcube
, 20th-century furniture design at
Mode Moderne
, and exhibitions at
The Center for Art in Wood
. It's a haven for fashionistas and clothing is tax-free.
The area has easy access to all major transportation arteries; it is ten minutes by car from the Philadelphia International Airport and Amtrak's 30th Street Station.
Old City hosts a lot of nightlife; expect to see a young, professional crowd here on weekends. The club section of the neighborhood consists of restaurants and bars that frequently showcase music while street musicians entertain outside.
Just east of Old City is Penn's Landing, which is on the waterfront. You'll find an array of hotels and restaurants. Every New Year's Eve and Independence Day, crowds gather on the Great Plaza to watch the fireworks. Nearby is Festival Pier, where many concerts are held.
Penn's Landing is the waterfront area, popular year-round with attractions such as an ice skating rink, concerts, and various city events. There are also many restaurants, hotels, and even a museum. Penn's Landing
Old City is between Front and Fourth Streets to the east and west, and generally bounded by Race Street to the north and Walnut Street to the south.
Get in
By car
You can find parking structures and rates with the
PPA Parking Finder
. Parking along the streets in Old City is metered, scarce and frequently with a two-hour limit.
By bus
Numerous SEPTA bus routes serve the Old City, as well as the
PHLASH Trolley
trolley that operates part of the year.
By subway
The
Market-Frankford Line
runs under Market Street with two stations serving Old City: 2nd Street and 5th Street.
See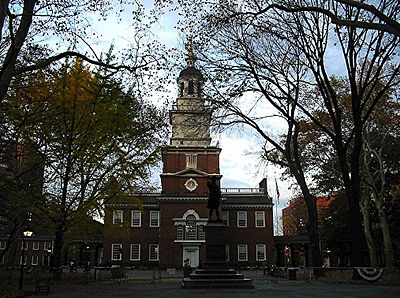 Independence National Historical Park and Visitor's Center

phone: +1 215 965-7676

address: 6th and Market Sts

This national park, covering several blocks of Old City Philadelphia, includes some of Philadelphia's most famous historic sites, including Independence Hall, the Liberty Bell, Benjamin Franklin's house and grave, and the house in which the Declaration of Independence was written. The park also includes a modern interactive museum, the National Constitution Center. The Independence Visitor's Center, where you must buy tickets to see Independence Hall, offers a wealth of information on historical sites and other attractions in the area. Costumed interpreters at the Visitor's Center are a great source of entertainment for children. The National Park Service provides a helpful map of the historical sites in the park.
Sites within Independence National Historical Park
address: Chestnut St between 5th and 6th Sts

The centerpiece of the park and one of the most important buildings of the Revolutionary period. Built as the Pennsylvania State House, this is where the Declaration of Independence was adopted on July 4, 1776, and where the U.S. Constitution was drafted in 1787, among other momentous historical events. The Independence Hall is listed as a UNESCO World Heritage site. Visitors to the park are encouraged to take a tour of the interior of the building, which is furnished with period pieces, including the exact desk and chair the Declaration of Independence was signed. Timed tour tickets must be reserved in advance online or at the Visitor's Center in order to enter. Tickets reserved online have a $1.50 processing fee, but are free at the Visitor's Center.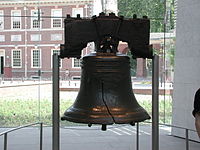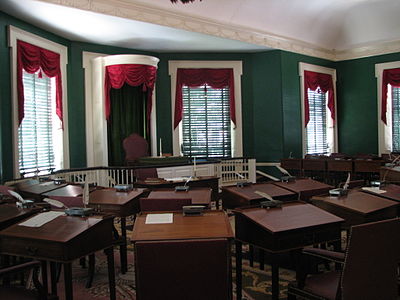 Some historic sites in Philadelphia are associated with the Independence National Historic Park but are not within its boundaries or the boundaries of Old City. These include the
Gloria Dei (Old Swedes') Church
in
South Philly
, the
Benjamin Franklin National Memorial
at the Franklin Institute in
Center City West
, and the
Edgar Allan Poe National Historic Site
in
North Philly
.
Important historical sites outside the park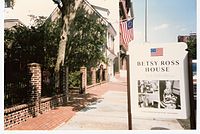 phone: +1 215 686-1252

address: 239 Arch St

This house, more than 250 years old, was the home of Betsy Ross. In 1777, Ross sewed by hand the first American flag, with its distinctive circle of thirteen stars. Visitors may tour the house independently, or purchase an audio guide for $5, and afterwards "meet" Betsy Ross and other colonial craftsmen in the courtyard of the house. A fun, low-key activity for children.

phone: +1 215 574-0560

address: off 2nd St, between Arch and Race Sts

Elfreth's Alley is the oldest continually inhabited residential street in the entire United States. The earliest dated house was built in 1702. The Alley comes alive in the summer, when historical reenactments take place regularly. Each house is privately owned, and visitors are not usually allowed to take a tour of the interior, except on "Fete Day" (the first Sunday of June) when most of the houses will be open for public touring. On all other days, however, the museum at numbers 126 and 124 is accessible to the public and offers a look at the lives of the houses' earliest inhabitants.

phone: +1 215 923-1438

address: 147 N 2nd St

The restored firehouse was built in 1902 and today is a museum of firefighting owned by the city of Philadelphia. The museum exhibits include firefighting equipment, photographs, uniforms and fire marks from the 18th century to the present.
Other attractions and museums
phone: +1 215 408-0112

address: 151 North Independence Mall East

Taking a self-guided tour of the first and largest US Mint in America is an interesting but often overlooked activity. The tour allows visitors to see how new money is made, and exhibits describe the history and coinage of the Mint. A gift shop sells commemorative and new coins. Please note that visitors will be asked to show government-issued ID before entering and have to pass through a security checkpoint. Photography inside the building is prohibited.

National Museum of American Jewish History

phone: +1 215 923-3811

address: 101 South Independence Mall East

Near Independence Hall and the Liberty Bell, the National Museum of American Jewish History is dedicated to chronicling the American Jewish experience.

The 'Real World' House

address: 249 Arch St

Fans of MTV's "The Real World" will recognize this former bank building, turned living space for the seven cast members of the show's 2005 season. Now the building, which stands next to the Betsy Ross House, is a gallery and wedding hall.

phone: +1 215-925-2222

address: 315 Chestnut St

Free museum that has an interesting collection of multimedia with art, scientific instruments, books, photographs and other exhibits that document the history of chemistry, chemical engineering and the life sciences.

phone: +1 215 923-8000

address: 141 N 3rd St
Penn's Landing
When it was built, I-95 effectively and disastrously cut off the Delaware river waterfront from the rest of the city. However, the walkways connecting Old City with Penn's Landing make it easy to get to the museums and sights on the water on foot. If you do make it over to Penn's Landing, here are some things to check out: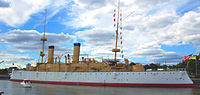 phone: +1 215 413-8655

address: 211 S Columbus Blvd

This museum has lots of interesting displays regarding the maritime history of Philadelphia, from colonial times through the days of slave-trading to the Industrial Revolution. Admission to the museum, which has some lively, but rather sparse exhibits, includes tours of the USS Olympia, built in 1892 and the oldest steel warship still afloat, and the submarine Becuna, used in the Pacific Ocean during WWII. Other highlights include a mockup of a navigation room and a place where you can view woodworkers handcrafting rowboats. Children will find touring the ships great fun, and adults may find the museum exhibits and the views of the Delaware River and the Ben Franklin Bridge interesting and relaxing.

phone: +1 215 625-0221

address: Columbus Blvd and Walnut St

Relaxing 12-minute ferry ride across the Delaware River to all the waterfront attractions in Camden, New Jersey. Offers a great view of the city from the river as well as the Ben Franklin Bridge. Ferries depart from Philadelphia every hour on the hour, and from Camden at 30 minutes after the hour.

Race Street PierPier that juts out into the Delaware River right by the Ben Franklin Bridge, offering great views of both the river and bridge. Includes a spacious lawn and benches. View the schedule of events for nights featuring musicians or outdoor movies. One can also enjoy one of the many fireworks displays on the river during the summer months from the pier.
Do
First Friday
If you happen to be in Philadelphia on the first Friday of the month, you must attend
First Friday
. From 5PM-9PM, art and design galleries along with boutiques housed in historic industrial spaces of Old City like
Rodger LaPelle
(most of which can be found in the area between Front and 3rd Streets, and Vine and Market Streets) open their doors to celebrate new monthly exhibitions. But the art, design and fashion is only half the story. First Friday is an ideal time to watch the different communities living in Philadelphia mingle, and watch the sun go down over the city. It's Philadelphia at its best.
Theater and performing arts
phone: +1 215 253-4276

address: 257 N 3rd St

Founded in 2005. Shows every Friday, the troupe has produced more than 300 performances of unscripted comedy. Travels to festivals and other parts of the country putting on fresh new acts every night.
phone: +1 215 922-1122

address: 40 N 2nd St

The Arden contains a 360-seat mainstage theatre and a 175-seat studio theater. The company produces five or six plays each season, with an additional two plays for children. The Arden has received 44 Barrymore awards and was named Philadelphia Magazine's pick for children's theatre in 2007.
phone: +1 215 925-9914

address: 230 Vine St

The Bride, as it is known, was founded in 1969 and is dedicated to producing and showing works generated by points of view that are "outside the mainstream," according to the center's website. The center contains a gallery and a 250-seat theater, where shows such as "Jazz on Vine," Philadelphia's oldest continuously running Jazz series, are performed. The Bride also hosts innovative dance and world music performances. A Philadelphia treasure.
Cinemas
phone: +1 215 925-2501, +1 215 925-7900 (movie line)

address: 125 S 2nd St

phone: +1 215 440-1184, +1 215 925-7900 (movie line)

address: 220 Walnut St

phone: +1 215 440-1181, +1 215 925-7900 (movie line)

address: 400 Ranstead St
Buy
In addition to myriad art galleries, Old City boasts design studios, modern furniture showrooms and amazing clothing boutiques. Also, it is the restaurant-supply outlet center of the city.
The 3rd Street Corridor
on 3rd Street between Chestnut and Vine Streets, is a premier shopping row which hosts over two dozen of the city's finest boutiques in the Philadelphia region. From vintage clothing at Briar, European furniture at La Roche Bobois, eclectic furniture at Reform, incredible contemporary and select vintage for men and women at Sugarcube, and womenswear at Vagabond. 3rd Street Corridor has the city's best locally owned independent retailers. Also of note are the array of salons and spas like Moko, Strands, Lakshmi, Hush and Spa Terme Di Aroma.
Eat
Drink
Old City is packed with restaurants, bars and smaller clubs from Front to 3rd Sts. and Race to Chestnut Sts. with the most concentration on 2nd and 3rd Sts. between Chestnut and Market Sts. Well-dressed attractive professionals crowd the sidewalks all night on the weekends, with the occasional celebrity too. Most of the venues are upscale, dressy and comparatively expensive with DJs and without; watch out for door policy and sometimes a line. There are too many to name and they're all right there, just look into the front windows to decide. You can also find more laidback drinking holes like Skinner's, Sugarmom's and Rotten Ralph's. Upstairs At Nick's has bands and special events. For a quieter drink, try Race Cafe or Continental. Cabs are everywhere at 2AM (closing time)
phone: +1 215 592-9533

address: 704 Chestnut St

Daily drink specials and seasonal selection of craft beers on draft. Bar fare menu featuring fish tacos and hand formed burgers.
Coffeehouses
phone: +1 215-351-5170

address: 211 Chestnut St

Free Wi-Fi available. Comfy atmosphere. Great place to get work done, meet friends, play board games or simply grab a cup of coffee. Spacious seating area.

phone: +1 215 629-9292

address: 221 Church St

For a great (strong) cup of coffee try Old City Coffee; their coffee is roasted on site.
Sleep
Budget
phone: +1 215 922-0222

address: 32 S Bank St

Located less than 3 blocks from the Liberty Bell and Independence Hall, this HI-affiliated hostel has free wireless internet and high-speed internet kiosks, free bed linens, no curfews, no lockouts. Affordable, clean hostel with loads of free activities, friendly & knowledgeable staff and plenty of outside tours you can book at the reception desk that's open 24 hours. All international travellers welcome; guests from the United States will need to provide either a college ID or a HI membership card along with government-issued ID with an address outside of a 100-mile radius from Philadelphia.

phone: +1 267-318-7062

address: 325 Cherry St

Small backpackers hostel with free wireless internet, security lockers, 24-hour reception, and laundry facilities. Dorms are either 4-bed or 8-bed and they are all mixed gender.

City House Hostel Liberty Bell

phone: +1 267-248-0402

address: 17 N 2nd St

Small backpackers hostel with free wireless internet, security lockers, 24-hour reception, and laundry facilities. Dorms are either 4-bed, 8-bed, or 12-bed and they are all mixed gender. Private rooms also available.
Mid-range
phone: +1 215 923-8523

address: 129 S 2nd St

This house was once home to Thomas Bond, who with Benjamin Franklin co-founded the Pennsylvania Hospital, the first hospital in Colonial America. Now a bed and breakfast, it has been rated one of the top 25 best historic inns by American Historic Inns. It over looks Philadelphia's Independence National Historic Park and the Delaware River. It has lovely Colonial furnishings and bountiful breakfast. There is wine and cheese and cookies in the evenings. No children under 10.

Wyndham Philadelphia Historic District

phone: +1 215 923-8660

address: 400 Arch St
Splurge
Hyatt Regency Philadelphia at Penn's Landing

phone: +1 215 928-1234

address: 201 S Columbus Blvd

phone: +1 215 238-6000

address: 1 Dock St

Established in 1986, it takes you back in time to the days of colonial Philadelphia. The hotel is located amidst lush landscaping and cobblestone streets in the most historic square mile in America and just four blocks away from Philadelphia's renowned Independence Hall.

Omni Hotel at Independence Park

phone: +1 215 925-0000

address: 401 Chestnut St

This hotel overlooks the Independence National Historic Park and is within walking distance of the Liberty Bell, U.S. Mint, Independence Hall and the Benjamin Franklin House.
Connect